Pamela M. Sutton-Wallace to Serve as Acting Executive Vice President for Health Affairs
University of Virginia President Jim Ryan today announced the formation of a search committee that will be charged with identifying candidates to be the University's next executive vice president for health affairs. The senior leadership position oversees the University of Virginia Health System and its clinical enterprise, which spans the Commonwealth of Virginia.
Ryan appointed Executive Vice President and Provost-designate M. Elizabeth "Liz" Magill to chair the committee.
"Our ultimate purpose, especially as a public university, is to serve the public through our teaching, research and patient care," Ryan said. "The next leader of the Health System will help lead those efforts, and I'm grateful to Liz Magill and members of the search committee for helping us find the best possible candidates."
Pamela M. Sutton-Wallace became the acting executive vice president for health affairs on May 1. Dr. Richard P. "Rick" Shannon announced in March that he was stepping down after having served in the postion since 2013.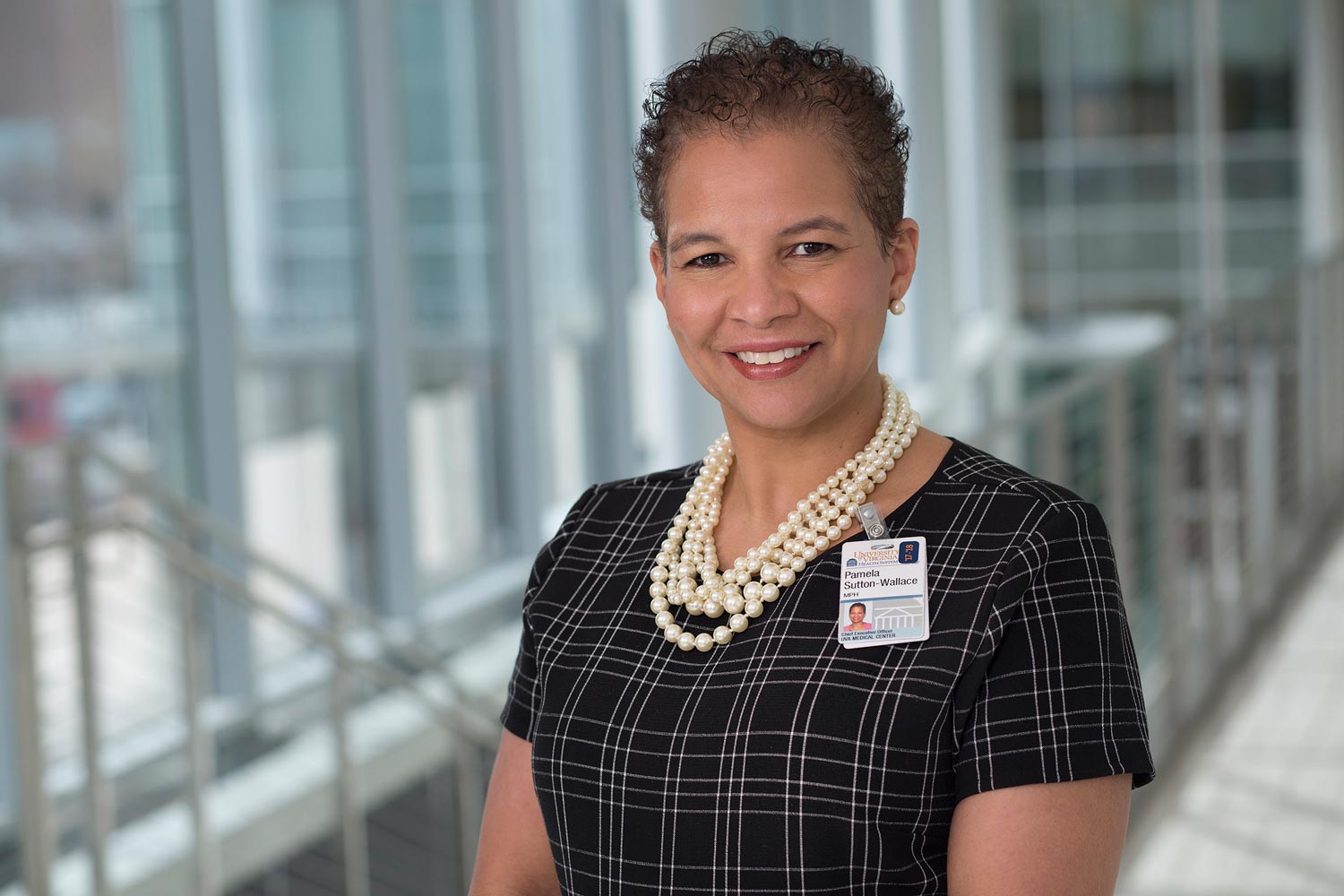 Sutton-Wallace was named CEO of the UVA Medical Center in 2014. Prior to arriving at UVA, she served as the senior vice president for hospital operations at Duke University Hospital from 2011 to 2014. She held several leadership positions with the Duke University Health System, including oversight of ambulatory services, inpatient operations and surgical services.
"The Health System is stronger today thanks to Rick's leadership, and I appreciate everything he's done over the past six years," Ryan said. "I also want to thank Pam Sutton-Wallace for agreeing to step in as acting executive vice president for health affairs. She has done an extraordinary job leading the Medical Center, and has earned the trust and admiration of everyone she works with; I am grateful for her leadership during this time of transition. I'm also grateful to Dean David Wilkes, Dr. Bobby Chhabra and Dr. Chris Ghaemmaghami for their leadership and support of Pam during this transition."
The executive vice president for health affairs reports to Ryan and is a member of his executive cabinet. The position develops the overall strategy of the UVA Medical Center, the School of Medicine, the School of Nursing, University Physicians Group and the Claude Moore Health Sciences Library. In addition, the position will work closely with regional clinical and educational partners.
The UVA Health System includes a 612-bed hospital, the UVA Children's Hospital, nationally recognized cancer and heart centers and primary and specialty clinics throughout Central Virginia and beyond. In addition to the UVA Medical Center being named the best hospital in Virginia for three consecutive years by U.S. News & World Report, UVA is also recognized for excellence by "Best Doctors in America" and "America's Top Doctors."
On an annual basis the Medical Center has approximately 30,000 admissions, more than 1 million outpatient visits and more than 62,000 emergency room visits. Research expenditures were in excess of $190 million.
In addition to Magill, the other members of the search committee are:
Dr. Reid Adams, Interim Chair, Department of Surgery.
Dr. L.D. Britt, Member, Board of Visitors, and Chair, Health System Board.
Dr. Randy Canterbury, Senior Associate Dean for Education, School of Medicine.
Pam Cipriano, Interim Dean, School of Nursing.
Dr. Leigh Cantrell, Associate Professor, Department of Obstetrics and Gynecology.
Jennifer "J.J." Wagner Davis, Executive Vice President and COO.
Corey Feist, CEO, University Physicians Group.
Doug Lischke, CFO, UVA Health System.
Dr. James P. Nataro, Chair, Department of Pediatrics.
Dr. James Orr, Chair, Health Foundation Board of Trustees.
Dr. Mitchell Rosner, Chair, Department of Medicine.
Melur "Ram" Ramasubramanian, Vice President for Research.
Pamela M. Sutton-Wallace, Acting Executive Vice President for Health Affairs and CEO, UVA Medical Center.
Lukas Tamm, Chair, Department of Molecular Physiology and Biological Physics.
Dr. David Wilkes, Dean, School of Medicine.
Additional information about the search, including how to submit nominations, is available online.
Article Information
May 14, 2019
/content/uva-appoints-search-committee-executive-vice-president-health-affairs