Jocelyn Willoughby, who earned her bachelor's degree from the University of Virginia and is currently pursuing a master's degree, has left her mark as a basketball star, Lawn resident and - as of Wednesday - Atlantic Coast Conference Scholar Athlete of the Year.
That latest accolade is one of many, as Willoughby's prowess and acumen on and off the court has impressed her professors, coaches and teammates, and drawn parallels with UVA-turned-NBA star Malcolm Brogdon.
Both were ACC stars, Lawn residents and earned reputations as deep thinkers, about much more than just basketball. Both also opted for master's degrees in public policy at UVA's Frank Batten School of Leadership, which Willoughby is currently pursuing.
Funnily enough, Willoughby had never met Brogdon – until last summer.
"It was a really cool experience because everyone has been like, 'You're the female Malcolm Brogdon,'" said Willoughby, with a chuckle. "When I actually met him, I said, 'A lot of people come to me and say I'm the female version of you and I just wanted the opportunity to meet you.'
"It was such a pleasure to talk to him about his experience in Batten, his transition to playing professionally and his thoughts on leadership and how he was able to manage it all when he was going through his career here at UVA. It was definitely a cool experience."
Even Brogdon, however, did not receive the ACC Scholar Athlete of the Year award. Willoughby is the fourth UVA player to receive the honor this year, joining Jordan Mack (football), Joe Bell (soccer) and Rachel Robinson (field hockey). It comes as the Cavaliers are preparing for the ACC Tournament, starting with Thursday's game against Syracuse.
Here are five things Willoughby – a New Jersey native who is planning on playing professionally at the conclusion of her UVA career – has loved most about her time as a student-athlete.
The People
"Right now, I'm in Batten, and one of the things that's really unique about the program is that you have students who represent different backgrounds and come from different experiences. Just to be able to talk to them and learn about their experiences and interests and why they came to Batten and what they hope to do after has been really stimulating. It's something I've really come to appreciate about being a student here."
Teammates
"The relationships you build with teammates are special. Celebrating Senior Day [last Sunday] and going through the past four years with these women has just been an incredible experience. I know that these are sisters and will be people in my life for a long time to come. The relationship piece with people who you've spent so much time with has been really important and has been a great part of the experience."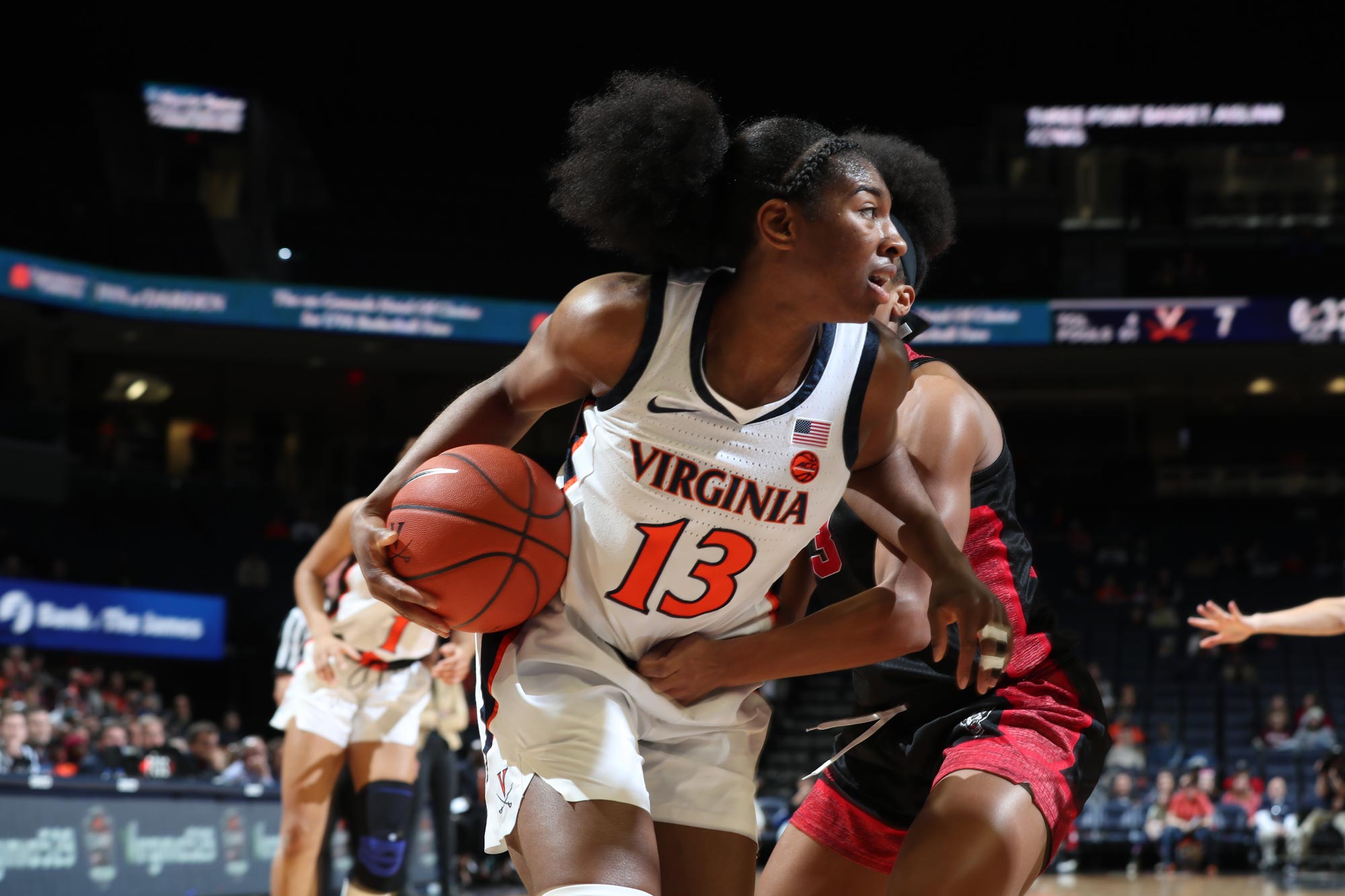 On the court, Willoughby was an All-ACC First-Team selection this season. (Photo by Matt Riley, University Athletics)
Connective Tissue
"One thing I've really enjoyed over the years has been being able to be that connection between Grounds and athletics as a student-athlete. I've invited professors and deans to my games and they've become women's basketball fans, and that's been really important to me. One is a season ticket holder and another will bring his twin daughters to our games. For them to be able to see what goes into the life of a student-athlete and gain a better understanding about what being a student-athlete is all about – because there are a lot of misconceptions – has been great.
"But then on the other end, for me to be able to talk to student-athletes and say like, 'There are these opportunities on Grounds that you can pursue,' or 'You may want to reach out to this professor' – it's been great to be able to bridge that divide. I think the athletics department overall is very conscious of the connection between the two and building those bridges. Just to have been able to be a part of that – and see those relationships grow over time – has been something that I've loved over the past four years."
Travel
"Granted we don't always get to see the ins and outs of the different cities and universities we travel to, but I had never been to Los Angeles before, or Costa Rica. To be able to learn about different cultures and hear different stories – our coach is from L.A. and I have teammates from there – has been great. Just to be able to travel and open my eyes to different experiences makes me think, 'Maybe I'd want to live in one of these big cities.' It's a unique opportunity as a student-athlete that you get to have."
Confidence and Leadership
"As I look to a life beyond basketball and a more traditional career, I think I've gained a lot of intangible skills that come with being a student-athlete – time management, teamwork, leadership, working under deadlines and pressure. There's so much that comes with the experience. I think life as a student-athlete is so dynamic and so many different things are thrown at you that you just find this renewed sense of confidence that you're able to apply to any field really.
"One time I was speaking at a first-year orientation and I told them, 'Just be confident in what you're doing because, day-to-day, you're given tasks that no other student that you encounter is going to do or will be able to do.' If you're able to tackle a 6 a.m. workout and get through that … have that same level of confidence when you go in the classroom. I just think that being able to manage stuff in the classroom and on the court brings out a level of confidence and so many life skills that will help along the way. I've really appreciated that."
Article Information
March 4, 2020
/content/uva-basketball-star-jocelyn-willoughby-named-acc-scholar-athlete-year