Two pharmaceutical companies working together – Pfizer and BioNTech – on Friday applied to the U.S. Food and Drug Administration for emergency use authorization for their vaccine against the virus that causes COVID-19. The news, along with continued progress other companies are making with potential vaccines, is generating much excitement for the possibility that, with federal authorization, an initial vaccine could be available on a limited basis before the end of the year.
UVA Today checked in with Dr. Costi Sifri, UVA Health's hospital epidemiologist, and Dr. Mitch Rosner, chair of the University of Virginia's Department of Medicine, about the news and what it means for UVA and the community. Their joint responses were provided by email.
Q. As medical experts who are intimately familiar with COVID-19 and its impact on the community, how encouraging is this latest development with Pfizer?
A. From the very start of the pandemic, our best hope for success and a return to normalcy was the development of an effective vaccine. We are very excited that the reported efficacy of this vaccine was high and it seems to be well-tolerated.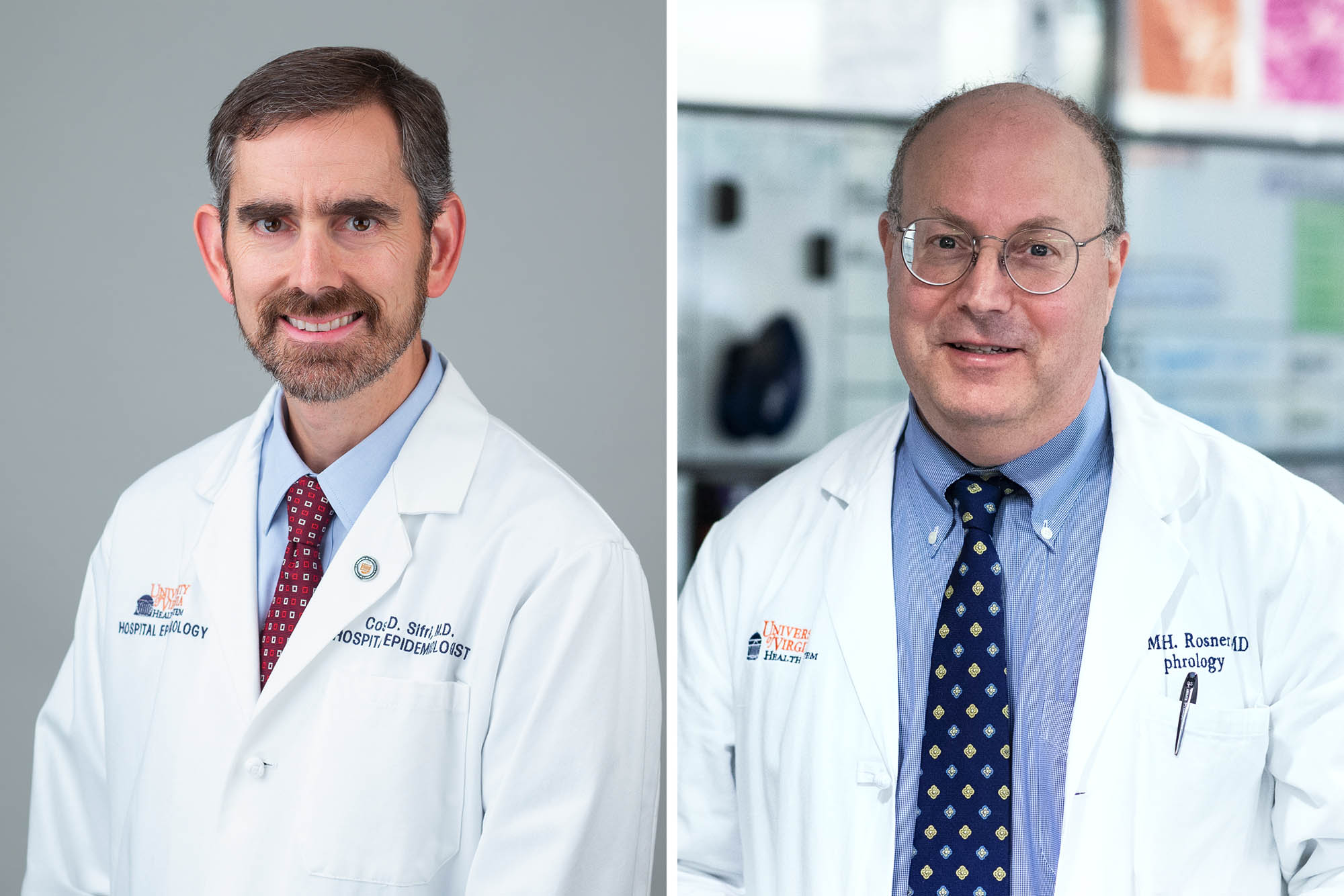 Dr. Costi Sifri, left, is UVA Health's hospital epidemiologist, and Dr. Mitch Rosner is chair of UVA's Department of Medicine. (Left-contributed photo; right photo by Dan Addison, University Communications)
It is really a landmark development in our fight against COVID-19. While we are looking forward to being able to review a full report of the trial results, the prospect of an effective vaccine for COVID-19 is a testament to the ingenuity and dedication of medical professionals and scientists from around the world.
Q. Does UVA Health determine how the vaccine is distributed? Do we know at this point who would get it first?
A. UVA does not decide the order of who receives vaccinations. The distribution will be determined by the Centers for Disease Control and Prevention at the federal level, and managed by the Virginia Department of Health.
But we know high-risk health care workers (those who have direct interactions with patients who have, or who are at risk of, COVID-19) are a top priority initially, likely to be followed by other essential workers such as first responders, people with higher risk of significant health problems associated with COVID-19 and the elderly.
The timing of all this is dependent on multiple factors, including FDA authorization of a vaccine or multiple vaccines, and the quantity of doses that are produced and then distributed. Immunization will be voluntary.
Q. What role do you think UVA Health will play in the administration of doses?
A. We anticipate having full responsibility for administering doses to our own Medical Center employees initially, and expect to have some role in distribution to broader populations after that. We will be working closely with the Virginia Department of Health on all of these plans.
Q. If the FDA and the Centers for Disease Control approve Pfizer's vaccine, when does UVA Health expect to begin receiving shipments of a vaccine?
A. According to the companies, if their vaccine candidate is approved, it could begin being distributed as early as December. We don't know at this point if UVA will receive any shipment that early, but we are planning and preparing to be ready and hope that vaccines would be shipped here at the earliest possible time.
Q. From an equipment and materials standpoint, how is UVA Health preparing for storing and administering what will likely be many thousands of doses?
A. We're evaluating these needs now. It depends on which vaccine might be approved and delivered. The Pfizer candidate, for example, requires extreme deep-freeze storage at temperatures of minus-80 degrees.
Beyond storage, we will be working to make sure we have plenty of materials needed to administer doses, such as needles, syringe, swabs and personal protective equipment.
Q. What about safety of the vaccines?
A. These vaccines in clinical trials are being developed and tested in the same way as other vaccines. These are very large clinical trials that are being conducted with the same rigor as other therapeutics. The trials are among the most thorough of any that are conducted for potential vaccines for infectious diseases.
One thing that is different with these is that the doses are being produced at the same time the tests are being conducted and approvals are being sought. This means if a vaccine is authorized, it will be ready for immediate distribution. We will have to be vigilant in watching for side effects as the vaccine rolls out to larger populations.
No vaccine will be approved for distribution without the authorization of both the FDA and the CDC.
Article Information
November 20, 2020
/content/uva-begins-prepare-potential-covid-19-vaccine