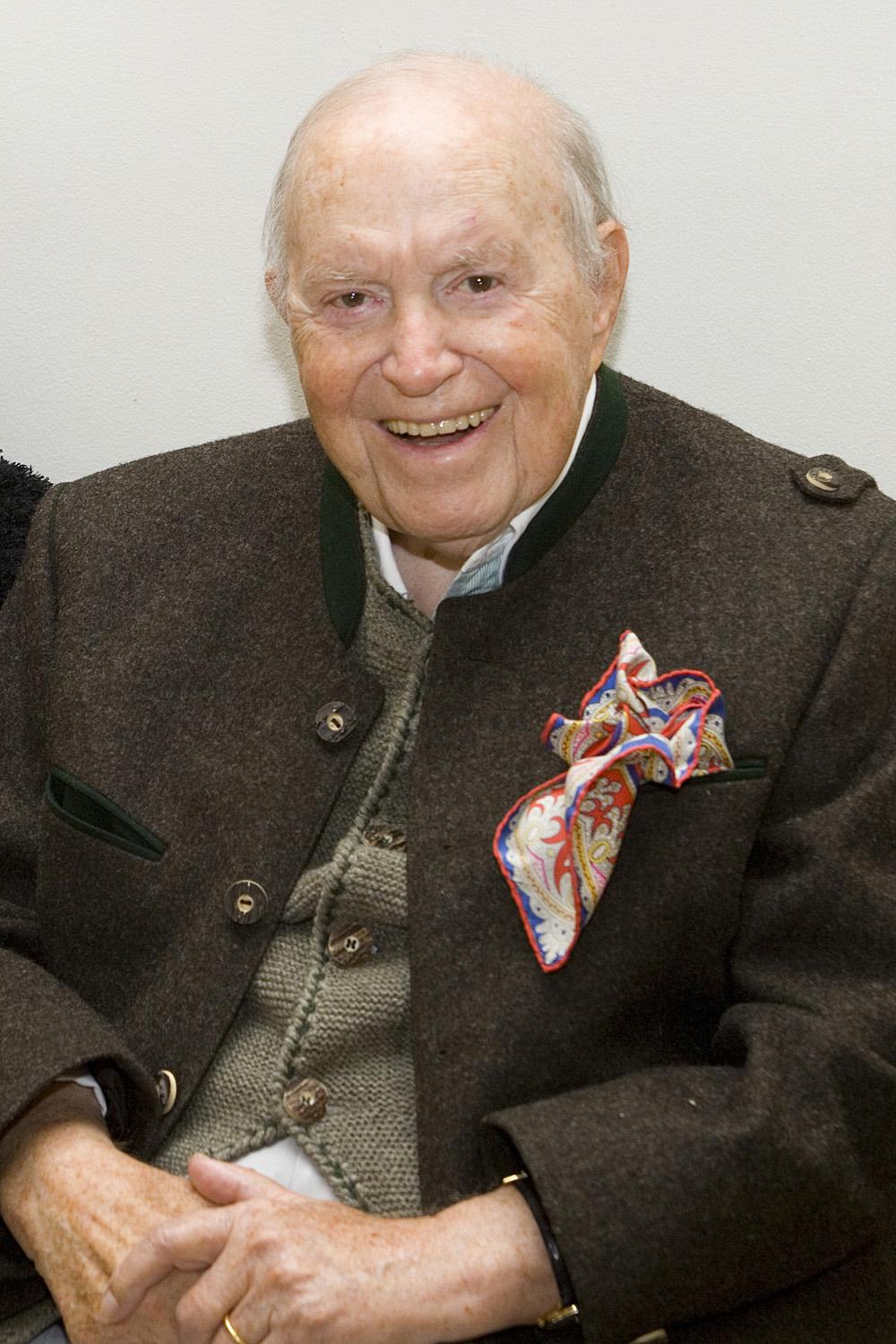 September 8, 2010 — John W. Kluge, a world-renowned businessman and philanthropist, died Tuesday at his home in Albemarle County, just two weeks shy of his 96th birthday.
Kluge – one of the University of Virginia's most generous donors – was, according to Forbes magazine, also one of the country's most generous philanthropists. He gave with both his heart and his head, as well as a bit of his signature wit.
In a 1995 New York Times story, he was quoted as saying that he would never want a building named after him. "In 100 years, the building is dusty. Nobody cleans the nameplate," he said.
Kluge gave more than $63 million to University initiatives over his lifetime. His interests and his gifts were broad and included programs to aid disabled and chronically ill children, boost prostate cancer research and provide scholarships for minority medical students. With his wife, Tussi, he provided funding for professorships in end-of-life care and enhanced the University's Kluge-Ruhe Aboriginal Art Collection, which he established in 1997 with more than 1,600 pieces of artwork from his private collection.
Perhaps his most visible gift was made in 2001, when Kluge gave the University his Albemarle County estate, which included historic Morven Farm plus 10 additional working farms. At the time the gift was valued at more than $45 million and was the second-largest single gift in the University's history. His hope was that Morven would be used for educational purposes.
In a ceremony in the Rotunda's Dome Room on the day the gift was announced, Kluge said, "I have gotten to know the University, to respect its commitment to excellence, and to see firsthand how it runs its business." His voice then filled with emotion. "I love this property," he added. "And I must tell you I will give it to the University knowing that it will implement my dream."
This spring, U.Va. students took seminar courses in Morven's history, architecture and landscape. Ongoing archeology projects have provided insight into the property's past.
U.Va. President Teresa A. Sullivan said she met with Kluge and his wife, Tussi, recently and that part of the discussion revolved around the progress at his beloved Morven and its integration into the academic community.
"I had the privilege of enjoying the company of John Kluge and Tussi on two recent occasions," Sullivan said. "He was one of the most charming and engaging individuals I have ever met. I was struck by his keen mind, his inquisitive nature and his extraordinary commitment to higher education."
She added, "John Kluge was a rare visionary whose interests spanned the arts, aid for minority students and innovative health care – and who used his many gifts to help make the world a better place."   
John O. Wynne, the University's rector, said he also was fortunate to have spent a good amount of time with the Kluges and will never forget the rich and lively conversations about a broad range of topics.
"He was a remarkable individual, a brilliant self-made man whose generosity knew few bounds. He was always interested in change and looking for ways to make things better. John's lifelong efforts to help mankind – especially through his giving to higher education – have been extraordinary."
U.Va., Wynne said, "will be forever indebted to John for his many gifts, but especially for his magnificent gift of Morven. The University has been blessed to have both John and Tussi as strong supporters of its endeavors."
Dr. Arthur Garson Jr., University provost, said, "John Kluge was a truly great man. Everything he did was huge: entrepreneurship, philanthropy and telling stories of his life. He lived in so many places simultaneously, but each received his full attention – as did everyone within chatting distance. His was tough love, giving and requiring a great deal, with supreme satisfaction by those with whom he dealt."
Kluge was born in Chemnitz, Germany, in 1914. A 1937 graduate of Columbia University, he served in U.S. Army Intelligence during World War II. He made his fortune in media and advertising, selling his collection of TV stations to 20th Century Fox in 1986 – sowing the seeds for what became the Fox network.
He was president, trustee and donor of the John W. Kluge Foundation, established in 1990, a family charitable giving foundation. In 1997, Forbes magazine estimated that Kluge had given away more than $160 million.
He is survived by his wife and three children.
Kluge's deep interest in medical care, both traditional and non-traditional, also has made a significant difference to the University and the community, according to Dr. Steven T. DeKosky, dean of the School of Medicine. "John has had a long commitment to children and the Kluge Children's Rehabilitation Center," he said.
A $3 million gift in 2006 from Kluge and his foundation supports two professorships in the schools of Medicine and Nursing in palliative care, helping students build knowledge and skills to assist patients with end-of-life issues. The gift also supports a variety of programs, including the Kluge Compassionate Care Lecture Series.
"His support of our palliative care and mindfulness programs opened our staff and students to new ways of thinking about how we care for our patients during particularly difficult illnesses," DeKosky said.
Dorrie Fontaine, dean of the nursing school, said that Tussi Kluge's commitment to compassionate care coupled with John Kluge's support enabled "Compassionate Care and Empathic Leadership," an initiative that will involve doctors, nurses, chaplains, social workers and others to improve the lives of patients and their families.
"John and Tussi were together as a loving, caring couple for 20 years," she said. "This was their vision, and we would love to realize that vision in the community and the University."
John T. Casteen III, president emeritus, who worked closely with the Kluges for many years, said he has long admired their thoughtful approach to philanthropy.  
"What I have admired most about John Kluge and about Mrs. Kluge is their clear vision of what they want to accomplish to benefit humankind," he said. "After more than a quarter-century of work with philanthropists of almost every kind and of all sorts of means, I have come to see the Kluges as the most purposeful philanthropists I have known. They have not given simply to attach their names to this or that; rather, they have given to support their personal visions of the world as it ought to be, and they have wanted individual persons to be the chief beneficiaries of their generosity."