The University of Virginia Board of Visitors voted unanimously Friday to approve a School of Data Science – the 12th school to be established in the University's 200-year history.
Envisioned as a "school without walls," the new school will connect people on and off Grounds working in a variety of fields – from humanities to engineering, medicine to social and behavioral sciences, policy and law to education – to participate in innovative academic programs and cutting-edge interdisciplinary research.
"It's not every day that we have an opportunity to start a new school at the University of Virginia," Executive Vice President and Provost Liz Magill said. "It's positively thrilling, especially because the SDS is on the cutting edge of an emerging field. The world is evolving and we are at the leading edge of the evolution in data science. The design of the school itself – both its open approach to research and discovery and its interdisciplinarity – is an exciting and innovative addition to our rich field here at UVA."
The final step to establish the school will be approval from the State Council of Higher Education for Virginia, with a proposal to be submitted next week. The UVA Faculty Senate voted unanimously in favor of the school in May.
The vision for the future School of Data Science, led and developed by UVA Data Science Institute Director and biomedical engineering professor Phil Bourne and colleagues, will be to make a positive impact on society through the application of data science to real-world issues; to train a diverse workforce to be responsible leaders in an increasingly data-driven society; and to undertake leading-edge interdisciplinary, open research to catalyze discovery and innovation.
"We are building on UVA's 200-year history – its commitment to developing leaders, to building programs that enrich and shape society, and to cultivating research that leads to ground-breaking discoveries," Bourne said. "And we're building on the Data Science Institute's five-year history, with our commitment to ethical and responsible science, diverse and inclusive teams, and transparent and collaborative environments.
"The School of Data Science at UVA represents a new model for higher education where academic and social barriers are broken down, and connections are created to enrich our lives and communities," Bourne said.
The Data Science Institute, founded in 2013 by Don Brown, the W.S. Calcott Professor of Systems and Information Engineering and co-director of the Translational Health Institute of Virginia, will serve as the foundation for the new school. The institute was established as the first pan-University institute at UVA and the only one to award a degree, the Master of Science in Data Science. That program has since been expanded to include an online M.S.D.S. and a dual-degree program that awards an M.S.D.S. and an MBA from the Darden School of Business.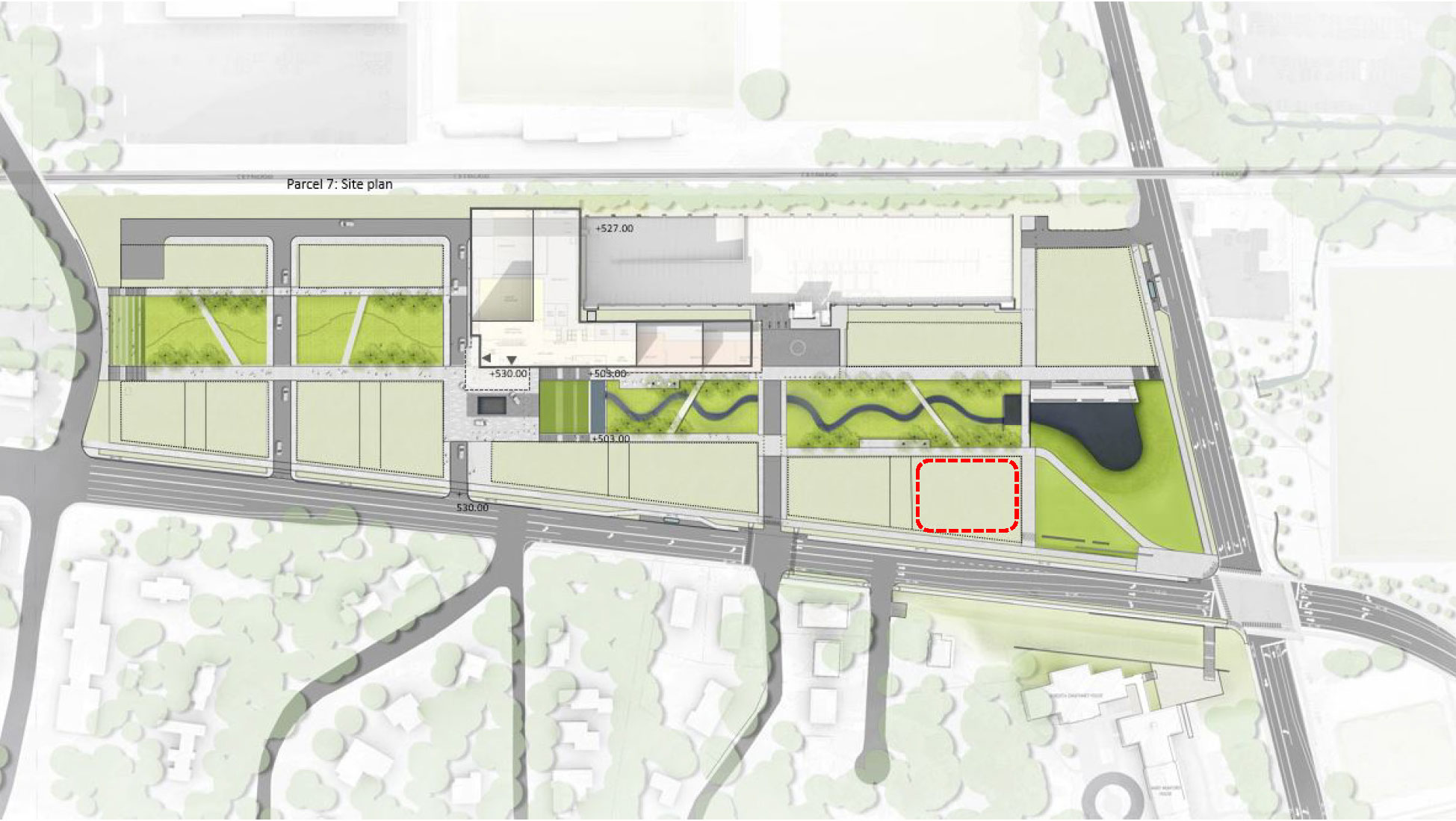 The proposed site for Data Science facility. (Image courtesy Office of the Architect for the University)
A key part of the Data Science Institute's master's programs is the collaborative cohort experience, focused on applying data science to real-world data and working with industry partners.
"The M.S.D.S. program is about working as a team, managing multiple priorities and learning how to communicate with clients and colleagues," said 2019 M.S.D.S. graduate Luke Kang, who is joining Proctor & Gamble as a data scientist. "You can take machine learning classes all over, but the capstone and cohort experiences offered at the DSI as part of the program are irreplaceable."
Bourne's vision for the new school includes plans to add undergraduate, certificate and Ph.D. programs serving students in an education pipeline from their undergraduate years through their professional careers.
The new school was made possible in part through a $120 million gift – the largest private gift in UVA history – from the Quantitative Foundation, founded by UVA alumni Jaffray Woodriff and his wife, Merrill Woodriff. An earlier $10 million gift from the Quantitative Foundation also helped to establish the Data Science Institute.
The majority of the gift will be used to hire faculty and staff, and to fund joint appointments and fellowships for students, researchers and visiting fellows from within and outside the University. Bourne plans for the school to work in close collaboration with other schools, departments and units, developing unique, innovative interdisciplinary research and education programs through satellites and centers, rather than traditional departments.
Plans for the school also include the construction of a 70,000-square-foot academic building to be located in the Emmet/Ivy corridor. The planned 14-acre parcel at the intersection of Emmet Street and Ivy Road will be developed to enhance cross-disciplinary interactions between University partners and those in the community around three interrelated nexuses – creativity, democracy and discovery – according to UVA President Jim Ryan's draft strategic plan for the University. The corridor will ultimately house other departments and initiatives, visual and performing arts spaces, and a hotel and conference center.
Learn more about the planned School of Data Science here.
Article Information
June 7, 2019
/content/uva-board-approves-establishment-school-data-science