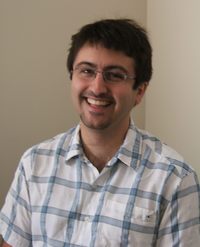 Cameron Mura, an assistant professor of chemistry at the University of Virginia, has been awarded a prestigious five-year National Science Foundation Early Career Development award for $728,000 to investigate the 'Sm' family of RNA-associated proteins. The work should provide a new understanding of the role this protein plays in the functioning of cells in organisms from humans to primitive bacteria.
NSF's Faculty Early Career Development Program supports junior faculty who perform outstanding research, are excellent educators and integrate education and research in their work.
"The biological information that defines an organism is stored in its genetic material – its DNA – and that information is converted into myriad proteins to assemble a living, functional cell," Mura said. "Many molecular steps are involved in going from DNA to protein.
"The past two decades have taught us that the biomolecule RNA (ribonucleic acid) plays a key role in many of those molecular steps. In fact, RNA was likely the ancestral molecule at the dawn of life, as it can both store information (like DNA) and act as a chemical catalyst (like protein enzymes). By being able to bind many RNAs and other proteins, a family of so-called 'Sm' proteins enables the many RNAs in a cell to do their jobs in all known forms of life."
Sm proteins were discovered as the antigens – the harmful substance – in the autoimmune disease lupus, and they are now known to pervade much of RNA metabolism. The name 'Sm' comes from Stephanie Smith, a Rockefeller University hospital patient from whose blood the proteins were identified in the 1960s. Since that time, human Sm proteins have been linked to cancer, and a bacterial Sm protein named 'Hfq' helps regulate cell-to-cell communication networks known as 'quorum sensing.' Quorum sensing, in turn, is of major biomedical significance because it underlies biofilm formation and bacterial production and development (for example, in hospital-acquired staph infections).
Mura's NSF project is more basic than applied, ultimately seeking to determine the evolutionary origin of the functional diversification of the Sm family. Leveraging both experiment and computation, the Mura lab's interdisciplinary program relies particularly heavily on approaches from structural biology, in silico molecular simulations, bioinformatics and experimental biochemistry.
Mura ultimately seeks to understand what Sm/RNA complexes look like in atomic detail (structure), their assembly pathways and dynamical behavior (function) and the interrelationships between Sm and Sm-like systems (evolution).
Using the NSF funding, he hopes to eventually paint an accurate picture of how modern RNA cellular metabolism developed, and the molecular roles played by Sm proteins in the evolution of these processes. A question he hopes to answer is: How did the Sm family evolve into such a versatile scaffold for constructing RNA-based assemblies, ranging from an RNA splicing molecular machine in humans to RNA "chaperones" in bacteria, while maintaining its basic identity at the level of protein structure?
"Deep-branching bacteria, and species from the ancient Archaeal branch of life, offer a unique window into this question," Mura said.
Beyond its research impact, Mura's project will educate and train more than a dozen undergraduate and graduate students in primary research, across several disciplines that include biology, chemistry and computation.
A "UVaCompBio" undergraduate program that Mura devised as part of this grant will utilize an active-learning, team-based approach to prepare students from the biosciences for quantitative biology and give undergraduates from the quantitative sciences a working appreciation of the fascinating nature of complex biological systems.
"That twofold goal will, in turn, achieve the ultimate goal of empowering students to be fearless learners who can work at the interfaces between seemingly unrelated scientific disciplines," he said.
In receiving this grant, Mura acknowledged the contributions of students who have worked in his lab, including current undergraduates Ellen Schleckman and Berk Ekmekci and graduate students Jen Patterson, Peter Randolph, Kim Stanek, Charles McAnany, Thushani Nilaweera and Matt Cline.
Prior to starting at U.Va. in 2008, Mura earned his Ph.D. in biochemistry and molecular biology at the University of California, Los Angeles, and was then an Alfred P. Sloan/Department of Energy fellow in computational molecular biology at the University of California, San Diego.
More information about the Mura lab can be found here.
Article Information
December 13, 2013
https://news.virginia.edu/content/uva-chemist-receives-nsf-career-award