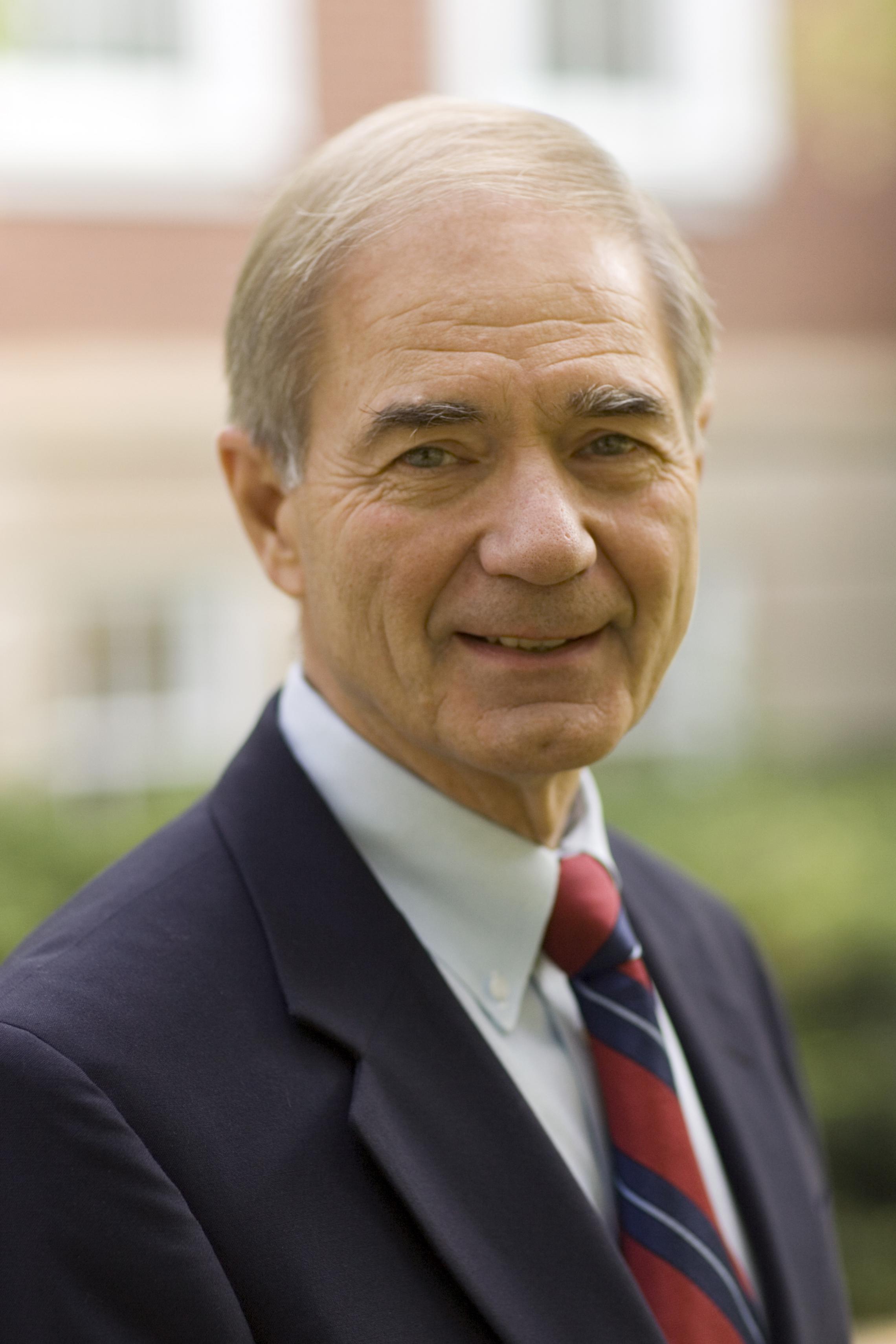 March 18, 2011 — Leonard W. Sandridge will step down from his duties as the University of Virginia's executive vice president and chief operating officer at the end of this academic year. He joined the University 44 years ago as a classified employee and worked his way up the ranks to his current post – a job he says is the best in the country.
To honor his extraordinary service, President Teresa A. Sullivan asked the U.Va. community to "mark April 4 on your calendars in bold red letters.
"That's the day we will gather as a community to honor one of the University's most effective and influential leaders of the past half-century," she wrote in a recent e-mail.
A low-key picnic luncheon, complete with barbecue, cole slaw and country music – some of Sandridge's favorites – will take place at the John Paul Jones Arena from 11:30 a.m. to 2 p.m. Sullivan, U.Va. Rector John O. Wynne and President Emeritus John T. Casteen III will give remarks starting at 12:30.
"His devotion to the University – and to those who live and work in our University community – is reflected in his every action, whether it be meeting with legislators in Richmond or mingling with his friends in Facilities Management as they set up chairs for Finals," Sullivan wrote. "And while there are still those who insist on addressing him as 'Mr. Sandridge,' he much prefers that we all call him 'just Leonard.'"
Though he doesn't relish the spotlight, Sandridge, who has worked with five of U.Va.'s eight presidents, has been recognized for his work a number of times. He won the Thomas Jefferson Award, U.Va.'s highest honor, in 1993, had a road named in his honor by the Board of Visitors in 2006, and in February 2010 received a commendation from the Virginia General Assembly for his service.
What has gone into shaping such a remarkable administrator?
In past interviews, Sandridge has emphasized the importance of letting excellence with integrity guide everything.
"If we are constantly striving to be the best that we can be, and we do it with full integrity in all our dealings, I think the rest takes care of itself," he said in a 1997 Inside UVA article.
In that same interview and subsequent ones, he also shared the following about his life and time at U.Va.:
• "I came here in February 1967 in an internal audit position. There was only one other auditor here at the time. I often say I must have been a horrible auditor, because after about three months I was assigned to other areas of the University. I worked on everything from preparing the financial report to tagging equipment."
• "I had an interesting childhood. I think it influenced me a lot. I had good parents. They were not financially well off. My mother was a nurse. My father never graduated from high school. ... I grew up in Crozet, and it was a place where people cared about you. I had good schoolteachers. ... I have a strong work ethic; my father did. But I thought that was the way it was supposed to be."
• His early jobs included: Daily Progress newspaper carrier (age 10); gas station attendant (age 13); and Albemarle County high school bus driver (age 16). Since age 10, Sandridge hasn't been without a job, except for a couple of weeks.
• He earned a B.A. from the University of Richmond in 1964 and a master's in accounting from U.Va. in 1974. An ROTC graduate, he served on active duty in U.S. Army from 1964 to 1966 and retired from the Army Reserve in 1984.
• "My most memorable moment – this is not one of those that I or anyone is most proud of – was in May of 1970 ... following the Kent State shootings. One of the things that occurred during that period is that U.Va. students objected to uniformed police officers being on Grounds. The University gave several of us young administrators a Buildings and Grounds truck at night for about a week to 10 days. So we worked during the day in our regular jobs, then we'd come back at night and patrol the Grounds."
• "The first computer I ever saw in an office was in 1980. Up until then, we had added up and typed all of the budgets by hand. It took literally days for everybody to add it up and double-check it. If you had a letter that you had to respond to, you knew it would take two or three days for your response to get there. Now I can have an exchange of three or four messages in 10 minutes," he shared in the 1997 Inside UVA Q&A.
• "I really believe in team effort. Collectively, we can do a whole lot more than we can individually." 
• "I don't think there is anything that I have seen that was more important to our future and to the quality of the place than the admission of women in 1970. … We're a better place because of that," he told the Daily Progress in a February 2011 interview.
• "I have a great deal of respect for the people that you don't immediately think of when you're talking about a higher education institution. … One of the things that I most enjoy is when a person putting bark down around a tree calls me by first name," he told the Progress.
• Thomas Jefferson wanted only three things written in his epitaph. When asked in his 1997 Inside UVA Q&A what he would want, Sandridge responded, "If I had to settle for three things, it would be: he was honest; he worked hard; and he cared about people."
After his retirement in May, Sandridge will continue to "do what's right," as he's often known to say. He will serve as a consultant to the University and also plans to spend a good bit of time with his wife, Jerry, and their four grandchildren as this new phase of his life unfolds.
—By Rebecca Arrington
Media Contact
Assistant Director of Media Relations Office of University Communications
rpa@virginia.edu (434) 924-7189