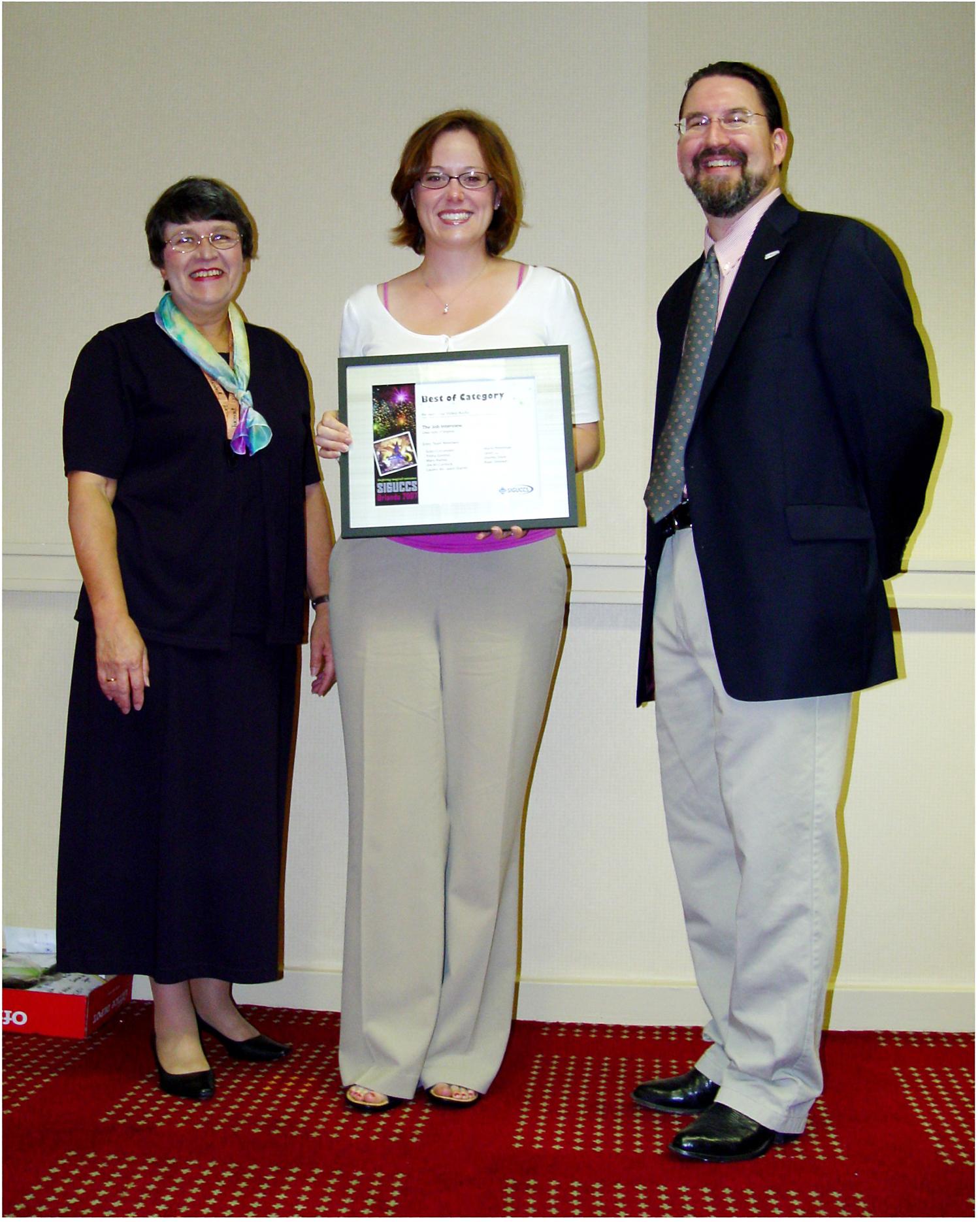 Oct. 16, 2007 – A short video about the perils of unflattering information posted on the Internet, created by the University of Virginia's Office of Information Technology and Communications, was lauded with a first-place award from the Association for Computing Machinery's Special Interest Group for University and College Computing Services.
The award was presented at the national college computing association's annual conference in Orlando, Fla., on Oct. 10. The video, titled "The Job Interview," took the "Best of Category" award for a promotional audio/video piece, one of the 14 judged categories. 
In the video, a job applicant, Mr. Thomas, played by U.Va. drama graduate student Ryan Stinnett, faces a selection committee that notes he has impressed them, but they have "just a few more questions." The dour-faced committee then asks him to explain an entry on his personal blog, "Midnight Confession.com" and a picture of himself on "Me and all my friends.org." Mr. Thomas stammers and backpedals to try and explain the embarrassing material as the short ends with the tagline, "What happens on the Web,
Stays
on the Web."
The 70-second video was written and directed by Scott Crittenden, a systems analyst in Information Technology and Communication. "We created this video to get our message across to students in a humorous, to-the-point way," said Crittenden. "It's a gratifying culmination of our efforts to be recognized by SIGUCCS for a national award. About a dozen people contributed to this piece, and I think the teamwork shows."
Creating the video was one of the University's contributions to the "Who's Watching Charlottesville?" campaign to promote cyber security awareness in the Charlottesville-Albemarle area during October. The campaign is a cross-sector community initiative (partners include the U.Va. Community Credit Union, the University of Virginia, the City of Charlottesville, Albemarle County, Charlottesville City Schools, Albemarle County Schools, and Piedmont Virginia Community College) to help area residents learn how to better protect themselves online. 
The "Who's Watching Charlottesville?" Web site,
www.whoswatchingcharlottesville.com
, features short videos addressing computer security issues, such as preventing identity theft, along with details on the five "Who's Watching Charlottesville?" community events in October. U.Va. will host one event, dealing with phishing scams and smarter use of social networking sites like Facebook and MySpace, on Oct. 31 from 12 noon to 1 p.m. in Newcomb Hall, Room 389 (snacks provided).
View the award-winning video at:
www.whoswatchingcharlottesville.com/videos/TheJobInterview.mov
Learn more about the award at the SIGUCCS Web site:
www.siguccs.org/Conference/Fall2007/awards_winners.php
.
###