As Sunday's graduates gathered near the Rotunda before the procession, one mother found her daughter and handed out donuts to her and others who were earning degrees from the Curry School.
President Jim Ryan, presiding at Final Exercises for the second time in his 10-month tenure, joked about how much experience he had conferring the degrees, having done so for the first time the day before. (Read the full text of Ryan's remarks.)
Ryan recognized departing UVA leaders Tom Katsouleas, the executive vice president and provost; Rick Shannon, executive vice president for health affairs; Fontaine; Allan Stam, the dean of the Batten School; and Dr. Marcus Martin, vice president and chief officer for diversity and equity, who will be retiring for a second time, as well as Fontaine.   
He also mentioned the athletes who couldn't participate in Final Exercises, and congratulated the men's lacrosse team, headed to the final four of the NCAA Championships, as well as the women's golf team, playing in its NCAA Championship in Fayetteville, Arkansas.
In addition to congratulating the graduates, Ryan also acknowledged the dedication of their families and the University's faculty and staff.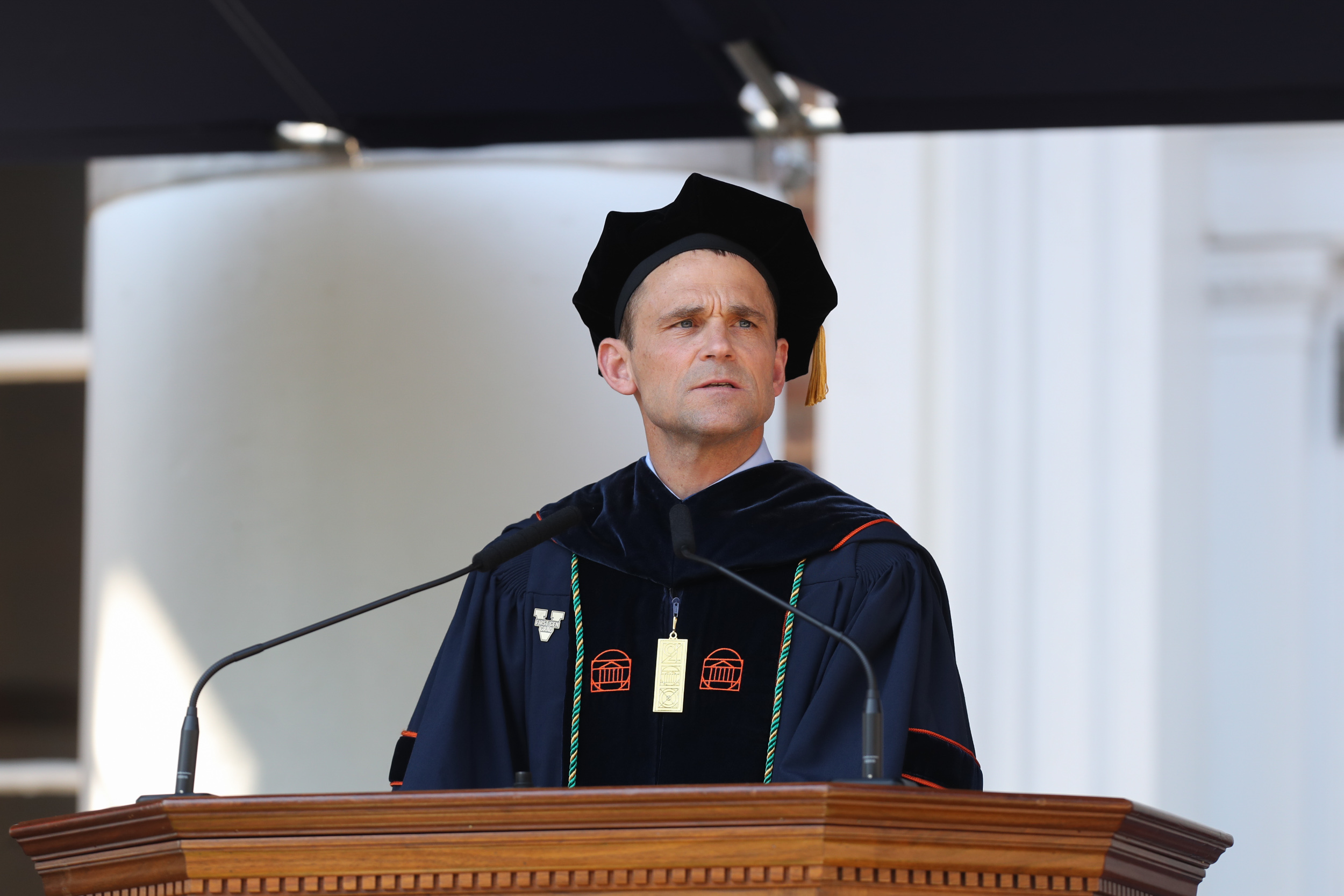 President Jim Ryan addressed graduates on Sunday.
He made "one simple request," of the graduates, "which is to remember what happened here. … I want you to remember the feeling of being here, in this place, with these people, and carry it with you.
"Remember what it felt like to be surrounded by a diverse group of fellow students, who were as compassionate as they were talented.
"Remember what it felt like to spend time with faculty who cared about something as much as you did, and who opened your eyes in ways you never could have predicted."
Charlottesville resident Elizabeth Pappas was thrilled to be earning her bachelor's degree from the School of Continuing and Professional Studies. Four years ago, she was in the hospital with a feeding tube, being treated for severe Crohn's disease, uncertain if she'd be able to finish her degree. Her capstone project focused on therapeutic writing, which she studied with faculty member Charlotte Matthews and found helpful in dealing with her own illness.
"Charlotte helped me all the way, and I want to give back," Pappas said.
UVA Board of Visitors Rector Frank M. "Rusty" Conner told the graduates they inspire hope for the future. [Read full comments here.]
"As we celebrate what you have accomplished, I want you to know, I want you to understand, I want you to remember that because of who you are, because of what you have accomplished, because of your time on these Grounds, you give us immense hope for the future – your future and that of our nation.
"For each of you, we hope that your life is one of meaningful accomplishments, supportive and sustainable relationships, and a feeling of worth and fulfillment in your endeavors."
Fontaine, a critical care and trauma nurse, has been Sadie Heath Cabaniss Professor of Nursing and dean of the School of Nursing since 2008. She served as UVA's fifth nursing dean since the school's founding in 1901.