Libertas is in orbit, and University of Virginia engineering students are working to establish communications.
Libertas is a small space satellite developed and built at UVA during the last three years. In April, NASA launched it into space from its Wallops Island Flight Facility on Virginia's Eastern Shore, and on July 3, astronauts aboard the International Space Station deployed the cube-shaped spacecraft, called a "CubeSat," into free orbit, along with two others built at Virginia universities.
This weekend, the U.S. Air Force provided orbital data to University engineering students that will help them locate and communicate with their spacecraft.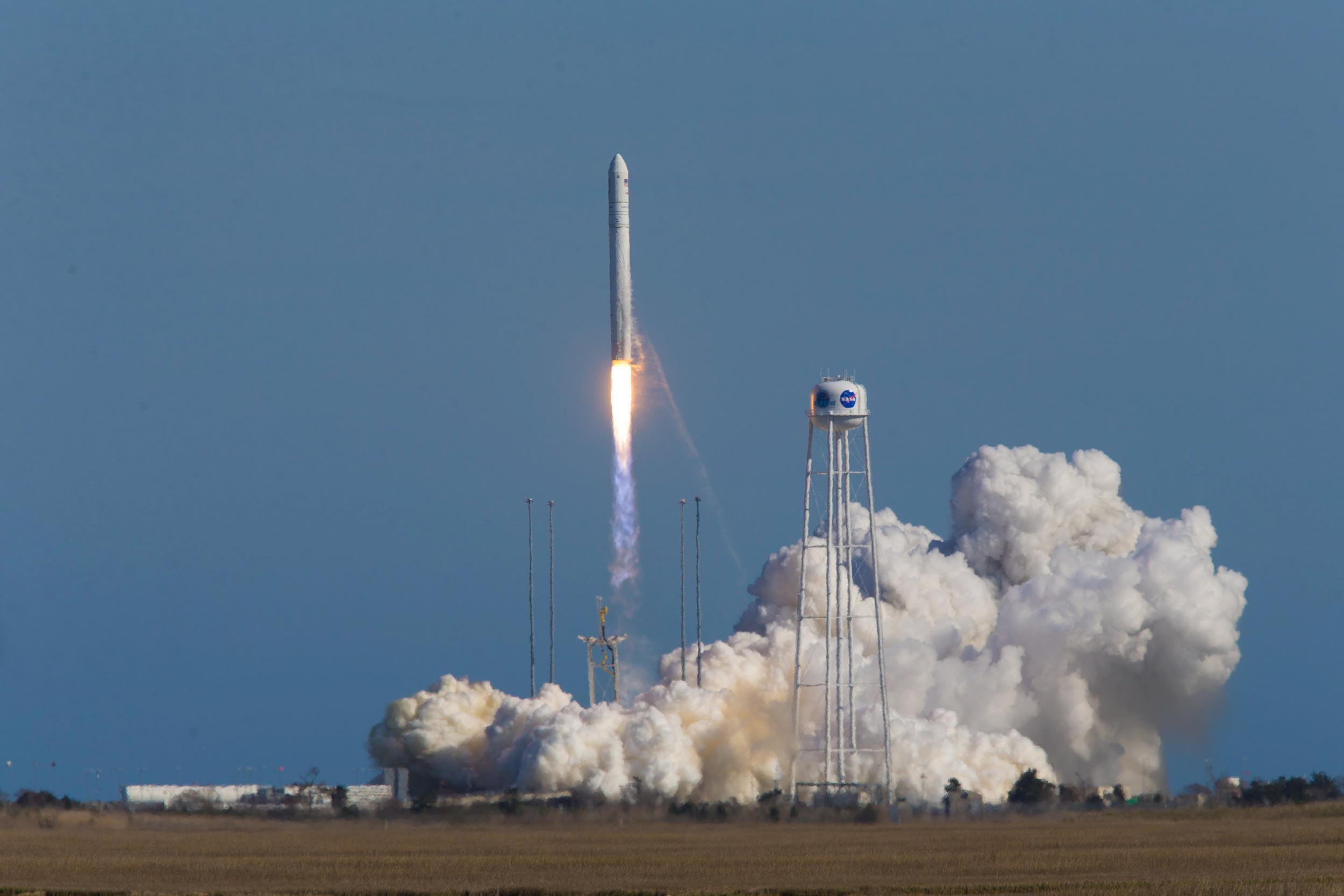 Student-built satellites were launched into space on April 17 from Wallops Flight Facility on Virginia's Eastern Shore. (Photo by Dan Addison, University Communications)
"This new orbital data is helping us determine where to point our UVA antennas in a vast sky so we can make contact with our spacecraft," said Chris Goyne, the mechanical and aerospace engineering professor who mentored students throughout the development and construction of Libertas.
Once communications are established, Goyne's students will, over the next several months, use shortwave radio to provide instructions to their craft and download atmospheric drag data for later analysis. The goal is to help NASA better understand the effects of the Earth's tugging atmosphere on low-orbiting satellites.
This is real science and engineering conducted by students operating a real-world mission for the space agency.
"This project is such a wonderful achievement and it is a reflection of all the hard work and dedication of our students, and of the faculty and volunteers that have provided the students with guidance," Goyne said. "Now we face the challenge of establishing that our spacecraft is healthy and active, and the collection of our valuable science data can begin."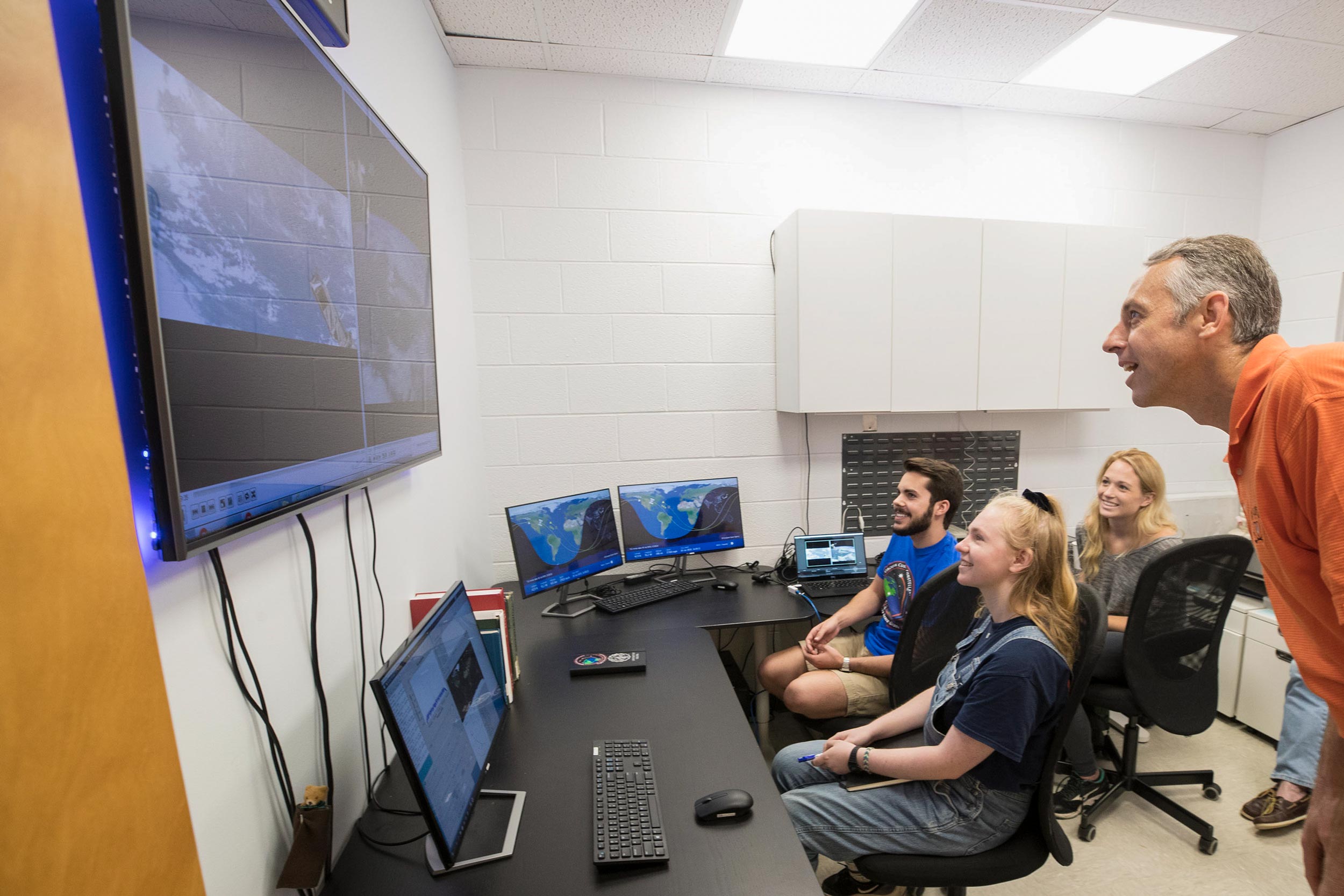 Engineering students Connor Segal, left, Hannah Umansky and Kathryn Wason watch the recent deployment of Libertas from the International Space Station with professor Chris Goyne. (Photo by Dan Addison, University Communications)
Libertas, named for the Roman goddess of liberty on the back of Virginia's state seal, is only about 4-inches cubed and weighs about three pounds, but it houses complex electronics, sensors and communications equipment – in miniature.
Students will manage its operations from a mission control station they've set up at UVA's School of Engineering and Applied Science. The craft is circling Earth at about 250 miles above sea level.
Data from the satellite will be captured and transmitted with each pass – from horizon to horizon – for the life of the mission. With each orbit (and there will be thousands of them), the satellite will come incrementally closer to Earth until, in about a year, it will enter the densest part of our atmosphere and burn up.
By then, enough data will have been collected and sent to NASA to bring new understanding to how satellite orbits "decay" over time in varying atmospheric densities.
The data from Libertas will be compared with information from the two similar CubeSats built at Old Dominion University and Virginia Tech. Those crafts were deployed along with Libertas, but are establishing different altitudes. Hampton University is providing technical support for data analysis.
"The eventual success of this mission will be a testament to what our students can achieve when challenged with a complex engineering and scientific project, as this continues to be," Goyne said. "UVA now joins a small club of spacefaring institutions, thanks to their ingenuity."
The overall project, called the Virginia CubeSat Constellation mission, is sponsored by NASA and the Virginia Space Grant Consortium.
Article Information
July 15, 2019
/content/uva-cubesat-deployed-students-seek-contact-ground-station