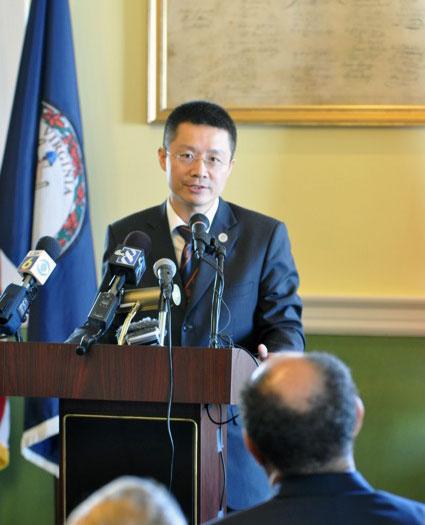 Virginia Gov. Terry McAuliffe announced Wednesday the largest Chinese economic development investment and job creation project in the history of the commonwealth – $2 billion and 2,000 jobs.
Shandong Tranlin Paper Co. Ltd., a world-leading pulp and paper company, will base the project at an 850-acre campus located at the James River Industrial Center in Chesterfield County near Richmond.
The project will bring jobs to Virginia and will have direct and indirect economic impacts through additional revenue for farmers and investment back into the community through higher paying jobs at Tranlin. The economic benefit to farmers in the region could exceed $50 million annually, when the business gets under way.
Jerry Zhiyuan Peng, chair and CEO of Tranlin, has roots in Virginia. He is a 2003 alumnus of the University of Virginia Darden School of Business and member of the Darden School Foundation Board of Trustees.
"The training at Darden and the ongoing learning I received from the school over the years not only prepared me for the challenges during my years in finance and banking, but also equipped me with the broader perspective to take on a rather entrepreneurial CEO role in this new endeavor," said Peng. "There is much I learned that is constantly put into play here — strategy, branding, sustainability and certain operational insights. Even more important are building the trust, bridging the gaps and resolving the problems on a daily basis."
Tranlin developed an innovative technology to make paper, using residual agricultural material, such as corn and grain byproducts normally left in farm fields after harvest. The process will allow for preservation of farmland and further economic return. The harvest of straw in the spring and corn stalks in the fall for use by Tranlin will offer two new cash crops for Virginia producers, since they were previously considered waste and not a revenue stream.
The company has further harnessed the environmentally sustainable technology to pioneer a method that transforms the waste byproducts from the paper-making process into organic fertilizer. From an ecological perspective, Tranlin prides itself on a process that leads to an environmentally friendly emission, resulting in the discharge of clean water.
"The core of the Tranlin model and history can be found in three words that I believe are the future of the Chinese economy and business: innovation, sustainability and entrepreneurship," Peng said.
Tranlin hired Darden alumnus Yue Zhu, who graduated in May, and has brought in three of the school's rising second-year students as summer interns.  
"Jerry offered me the opportunity to join Tranlin, which would not have happened if I had not come to Darden," Zhu said. "The project is extremely exciting because it represents an increasingly popular trend of outbound investment led by Chinese companies and also a unique chance to apply the general management skills learned at Darden from Day One. It is amazing to work in a business that would benefit all the stakeholders, especially consumers and farmers. This will be a historic deal, and I am ecstatic to be part of it," he said.
Peng noted that Tranlin is headquartered in Shandong, China, home of Confucius – a philosopher whose thought shapes much of Chinese culture. Peng added that it is a delightful coincidence that Tranlin's first overseas investment is in Virginia, home of Thomas Jefferson, whose ideas permeate U.S. culture and history as founder of U.Va. and author of the Declaration of Independence.
"Advanced manufacturing jobs are the heart of a strong and growing 21st-century economy. This investment symbolizes the economic recovery taking place across the nation and will be transformational for the economy of Chesterfield County and the surrounding region," Gov. McAuliffe said. "The opportunity to welcome a leading, global company's first U.S. manufacturing operation and simultaneously strengthen Virginia's relationship with China is invaluable."