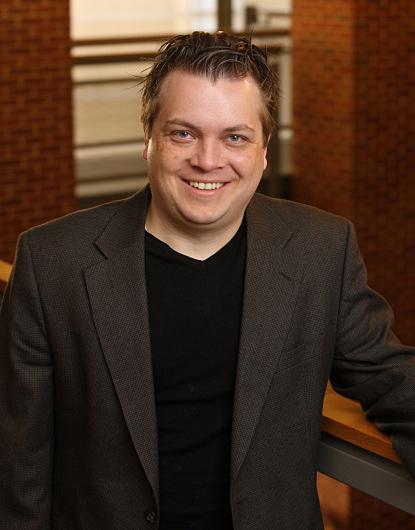 For pharmaceutical companies, creating new medicines is a complicated and costly process that has become even more difficult and expensive. The cost of developing one new drug, according to the Tufts Center for the Study of Drug Development, increased from $800 million in the late 1990s to approximately $1.2 billion in the early 2000s.
According to the Congressional Budget Office, "pharmaceutical firms invest as much as five times more in research and development, relative to their sales, than the average U.S. manufacturing firm."
In addition to the financial investment, for every 10,000 compounds that enter the pipeline, only one will likely receive approval. Even drugs that survive long enough to reach the clinical trial stage have only a 16 percent chance of being approved. For those that make it, it will have taken 10 to 15 years on average to go from discovery to testing to the marketplace.
Research being done in the lab of Michael Shirts, a University of Virginia assistant professor of chemical engineering, should help to diminish the cost and time involved in drug development and manufacture. His lab has been involved for several years in developing methods to computationally design small molecules that work as drugs by tightly interacting with medically relevant proteins. Shirts' new work on understanding the thermodynamics of molecular crystalline materials, especially drug molecules, using advanced atomistic simulation methods, will allow these drugs to be formulated and processed more safely, easily and cheaply.
"Drugs in solid form," Shirts said, "can pack together into a number of different ways, depending on their shape and the interactions they have with each other. Imagine trying to predict how to best fit a large number of identical plastic toys into a box given the new toy's shape – it's a very similar problem. The way the drugs pack together when first produced may not be the most stable packing overall, which means the drug sitting on your shelf might be far less soluble in the body, and thus less effective than it was when it was made or tested. It would be far more cost-effective to predict these effects well before we even try to synthesize a new compound."
As a result of this proposed new research, Shirts has received a CAREER award from the National Science Foundation. The highly competitive award is the agency's most prestigious honor in support of junior faculty who exemplify the role of teacher-scholar.
"It's a wonderful honor to get this award," he said. "These grants are decided in large part by other practicing researchers, so it was great to be acknowledged by these peers for the quality of my research and the direction I want to take it."
Shirts said the $450,000 grant will expand his research program. "We've been focusing on just one part of the drug design process so far, predicting how drugs bind to their target. This research will allow us to look at other parts of the whole complicated drug production process, including behavior in different processing conditions and long-term stability of the drug, moving toward a comprehensive set of tools for designing newer, more effective drugs."
Future applications of this research, Shirts said, involve the development of other room-temperature crystalline materials such as pesticides, ceramics, food additives and explosives to help ensure storage stability. In addition, he has been investigating collaborations with other Engineering School researchers to use these methods to rapidly search for different alternative arrangements of atoms in metals and oxides for improved magnetic materials and sensors. 
"If we can provide good predictions about how different structures might behave, then we can help experimentalists better focus their efforts," Shirts said.
In addition to receiving the CAREER Award, Shirts has also been the recipient of the ACS OpenEye Outstanding Junior Faculty Award in Computational Chemistry, the University of Virginia FEST Distinguished Young Investigator Award and the NIH Ruth L. Kirschstein National Research Service Award. He also was a Fannie and John Hertz Foundation Fellow.
Shirts received his AB from Harvard University and his Ph.D. from Stanford University.
Media Contact
Director of Communications, School of Engineering and Applied Science
jpp4j@virginia.edu (434) 924-1381