As the University of Virginia celebrated Thomas Jefferson's 274th birthday on Thursday, the four winners of the 2017 Thomas Jefferson Foundation Medals – each distinguished in fields Jefferson held in high regard – gave public talks on Grounds.
The University and the Thomas Jefferson Foundation at Monticello – the independent, nonprofit organization that owns and operates Monticello – jointly awarded the medals in Law, Citizen Leadership, Global Innovation and Architecture during Founder's Day festivities.
This year's recipients were Loretta Lynch, the 83rd attorney general of the United States; Alice Waters, a chef, author and advocate of local, sustainable agriculture who founded the Edible Schoolyard Project and Chez Panisse Restaurant & Café in Berkeley, California; N.R. Narayana Murthy, the founder of global software company Infosys, whose "global delivery model" became the foundation for IT services outsourcing from India; and Yvonne Farrell and Shelley McNamara, Irish founders and directors of Grafton Architects, renowned for their creative and visionary academic and educational buildings.
UVA President Teresa A. Sullivan and Leslie Greene Bowman, president and CEO of the Thomas Jefferson Foundation at Monticello, presented the medals – struck for the occasion – at a luncheon at the University. Recipients were also honored Wednesday with a private dinner at Monticello. Kari Evans, the executive director of UVA's bicentennial celebration, represented UVA at a wreath-laying ceremony at Monticello on Thursday. A second wreath was laid at the Jefferson Memorial in Washington, D.C., where alumnus Brian Leung, president of the Young Alumni Council and a member of UVA's Bicentennial Commission, represented UVA.
At 4 p.m. on Founder's Day, Sullivan and other UVA leaders dedicated Skipwith Hall, which will host the University's Division of Facilities Management. Named after enslaved master stonemason Peyton Skipwith, it sits on the former site of the University quarry.
Sullivan also presided over a tree-planting ceremony near the Rotunda to honor former University Protocol and History Officer Alexander G. "Sandy" Gilliam. Each year on Founder's Day, the University plants a tree to celebrate an individual who has made lasting contributions to the University. Gilliam worked at UVA for 39 years, as a special assistant to three presidents and as secretary to the Board of Visitors. Though he is now retired, he can still be seen on Grounds daily. (Previous tree-planting honorees are listed here.)
Below, read more from each medalist's public talk.
Farrell Discusses Contemporary Academic Architecture, Parallels with Jefferson
Irish architects Yvonne Farrell and Shelley McNamara, directors of the Dublin firm Grafton Architects and the Thomas Jefferson Foundation Medalists in Architecture, are known for their contemporary academic buildings, which now grace campuses from Milan, Italy, to Lima, Peru.
On Wednesday, Farrell addressed a crowd of faculty, students and community members in UVA's Old Cabell Hall Auditorium. McNamara, who along with Farrell teaches at the Accademia di Mendrisio in Switzerland, was unable to attend because of teaching commitments.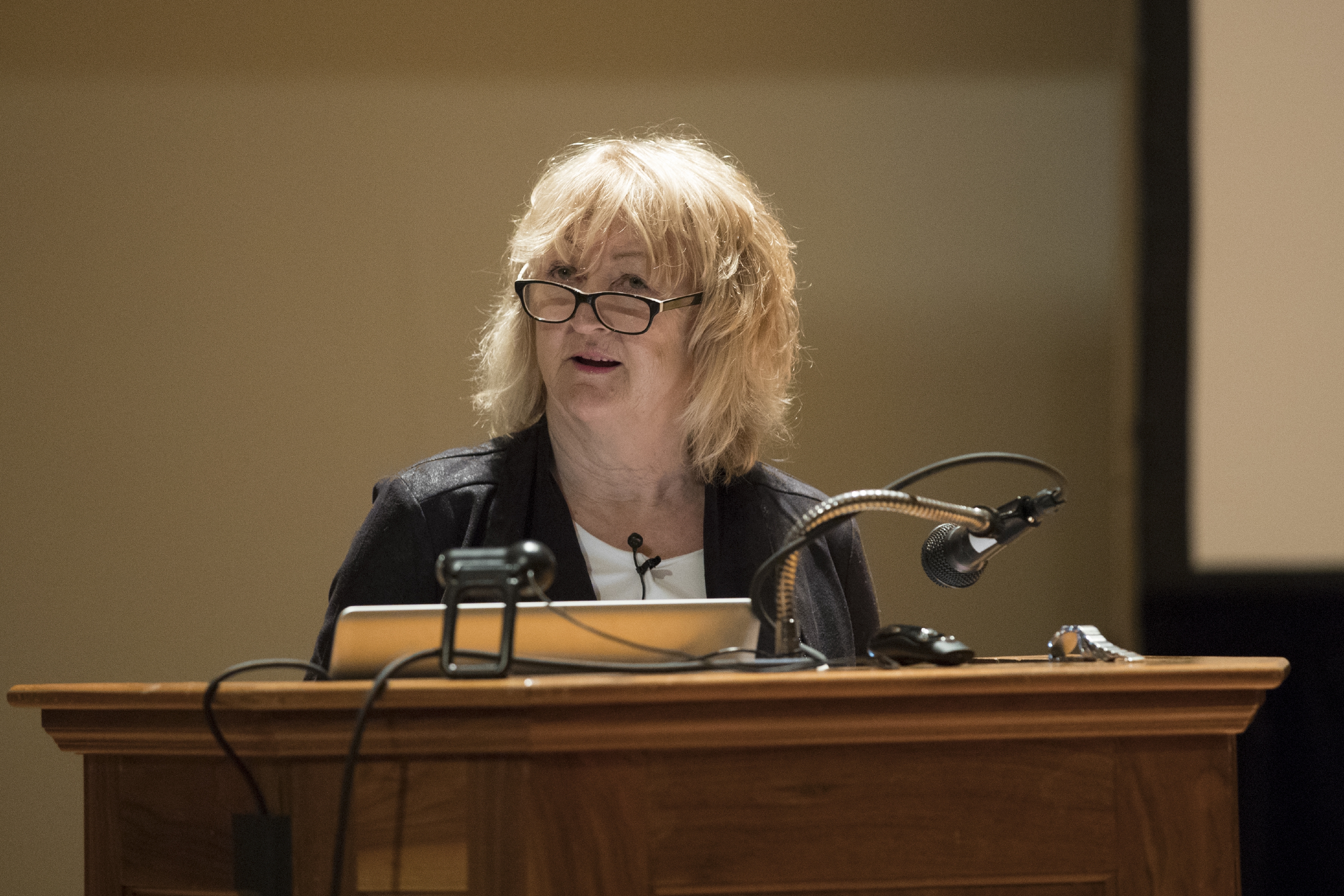 Yvonne Farrell spoke in Old Cabell Hall on Thursday. (Photo by Dan Addison, University Communications)
Introducing Farrell, Ila Berman, the dean of UVA's School of Architecture, said Farrell and McNamara's work reimagined a contemporary version of Jefferson's Academical Village, citing projects completed for universities in Lima and Milan.
"Each are outstanding examples of the capacity of architecture to contribute to the making of public space to the benefit of society as a whole," Berman said.
Farrell also drew connections between Jefferson's designs for the University and her own work.
"Buildings become evidence of what we value," she said. "I have been struck by my visit here, having spent time at Monticello and at UVA, that these spaces are loaded with meaning. We are standing on Jefferson's imagining and his interpretation."
In particular, she said, she was struck by the value of the Lawn as an open gathering space at the heart of the University, providing an iconic stage for both big events and everyday interactions.
The architect shared numerous plans and diagrams from her firm's current or recent projects, including designs for the University of Technology and Engineering in Lima, the Universita Luigi Bocconi in Milan and the London School of Economics and a design for the University of Paris-Saclay, a cluster of research buildings being built outside of Paris as a Silicon Valley-style enclave of innovation. For each project, she offered reflections and practical tips for the architecture students in the audience, who might one day do similar work.
Sharing one project for the Toulouse School of Economics in France, Farrell pointed out how she and McNamara had attempted to incorporate many aspects of the city's history into the new building, much as Jefferson integrated the ideals of the young American republic within the early University.
"[Jefferson] wanted people to be in community, but also to feel where they are in the universe," Farrell said. "That is what we are trying to do in Toulouse. All of these beautiful aspects of this really beautiful city can be embedded in the minds of the students and researchers that will be in this building."
After her talk, Farrell said, she was eager to spend more time on the Lawn and in the surrounding gardens.
"I am really looking forward to spending time in these amazing and historic spaces, made by simple brick but used in an incredibly poetic way," she said.
– Caroline Newman
Murthy Puts Fairness Above All Else in Career As Legendary Entrepreneur
Infosys founder and former CEO and Chairman Narayana Murthy is a man of countless accomplishments, a legendary entrepreneur and committed philanthropist who is credited with helping to jumpstart an Indian technology boom that revolutionized industries.
Speaking Wednesday at UVA's Darden School of Business, however, Murthy said he hoped his enduring legacy would be a commitment to basic human decency.
"I want a stone on my grave that says: 'This was a fair person,'" Murthy said. "Fairness, to me, in every transaction, is extremely important."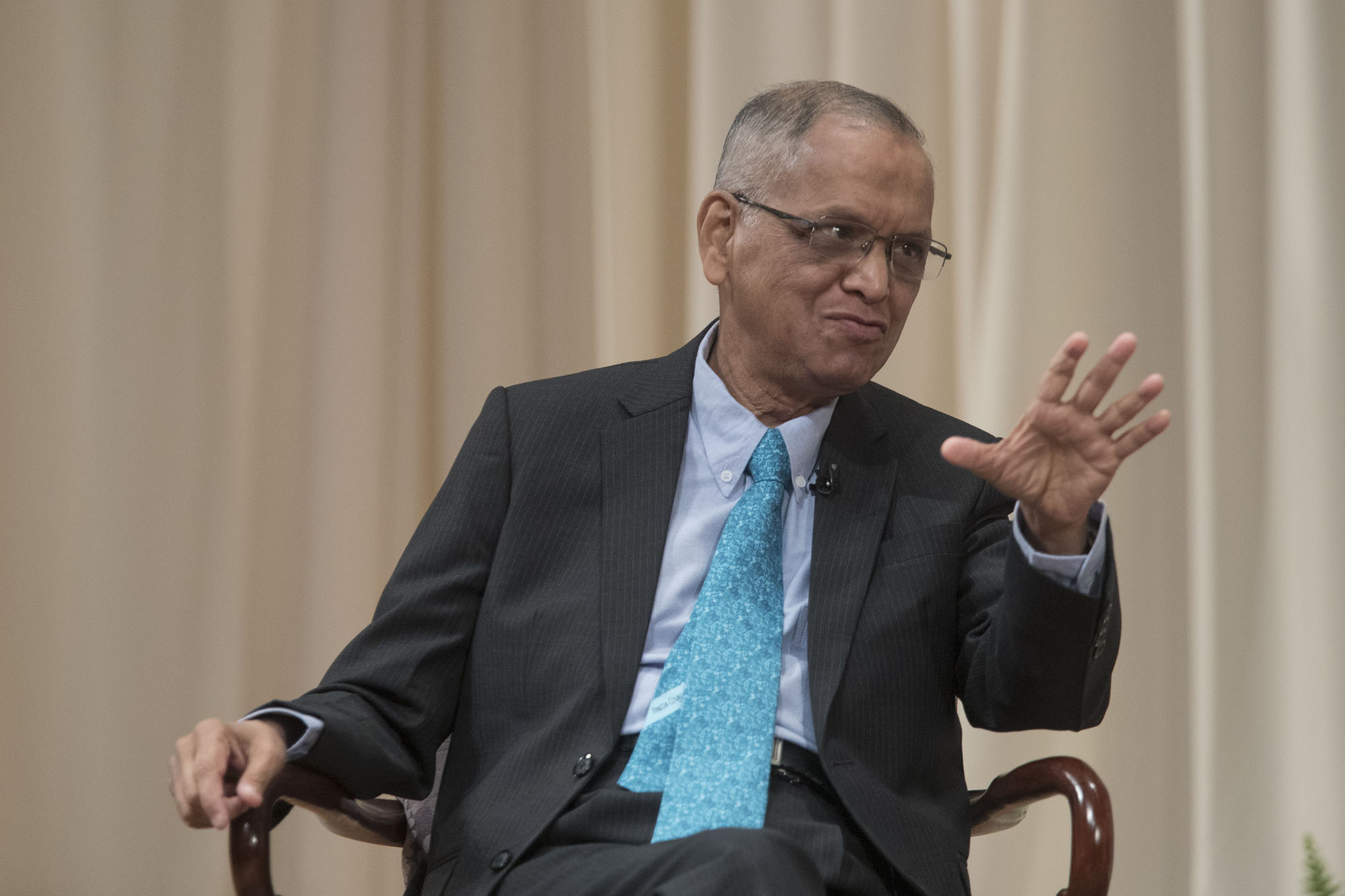 Infosys founder and former CEO and Chairman Narayana Murthy spoke Wednesday at the Darden School of Business. (Photo by Dan Addison, University Communications)
Indeed, Murthy presented the story of growing Infosys ­– from six people and a $1,000 pool of capital into a multinational giant at the forefront of an ever-changing sector – as a smooth one defined by values and fairness in his public talk with Dean Scott Beardsley in Darden's Abbott Auditorium. The former CEO said a solid foundation with his supportive family, trusting colleagues and encouraging customers helped him remain positive about the company's journey from inception to information technology giant.
Murthy and Beardsley engaged in a wide-ranging discussion on technology, corporate governance and global affairs as part of the events commemorating the presentation of the Thomas Jefferson Foundation Medal in Global Innovation, which the Indian entrepreneur formally received Thursday.
Considered one of the most influential global business leaders in the modern era, Murthy is credited with designing the "global delivery model," a pioneering information technology approach. Today, the publicly traded consulting and IT company Infosys is one of the largest and most influential technology companies in the world.
Coincidentally, Murthy said his father, a high school teacher, would often quote Jefferson when insisting that his children learn to cultivate the courage of their convictions.
Murthy credited his company's explosive growth in part to an early ingrained value system that fostered "hope and trust" among its stakeholders and ultimately helped the company become one of India's most respected companies.
"Good governance is all about maximizing shareholder value while ensuring fairness, transparency and accountability to all stakeholders," Murthy said, adding that shared trust inside and outside the company gave Infosys "the enthusiasm to achieve the impossible."
A strong proponent of the social responsibilities of corporations, Murthy said every decision made by corporate leaders should first pass the basic filter of: "Will this decision of mine enhance respect for my company from society and will this decision of mine enhance respect for me from my employees?"
If such questions became fundamental to corporate decision-making, society would be happier and healthier, said Murthy, who at one point defined success as "the ability to put a smile on the face of people when I enter a room."
The commitment to cultivating goodwill continues at Infosys today, Murthy said, claiming its corporate slogan – "Powered by intellect. Driven by values." – continues to shape its hiring decisions.
"Anyone who wants a position at Infosys has to demonstrate intellect and values," Murthy said. "Nothing else."
Within the technology industry, Murthy looked ahead to a future of opportunity that was being informed by the key trends of increased automation and the consumer demand to access technology-assisted content "anytime, anywhere, on any device."
While automation presents opportunities for companies at the presumed expense of huge numbers of employees, Murthy said he believed new solutions would emerge for workers.
"I am a great believer in the power of the human mind," Murthy said. "What appears impossible today will be made a convincing possibility because of the human mind, and we have seen how the human mind has transformed this world from the Stone Age to where we are today. I don't think that's going to end."
– Dave Hendrick
Waters Discusses 'Slow Food Values' in a Fast Food World
Shortly after accepting the Thomas Jefferson Medal in Citizen Leadership, Alice Waters spoke to students at UVA's Frank Batten School of Leadership and Public Policy about the need for what she calls "slow food values" in a fast food world.
"I do feel strongly that all the serious problems we face today – every one of them – are fundamentally connected to food," she said.
Waters, who founded the Edible Schoolyard Project and is vice president of Slow Food International, has worked around the globe to promote sustainable food sources and greater access to nutritious, local food for schoolchildren.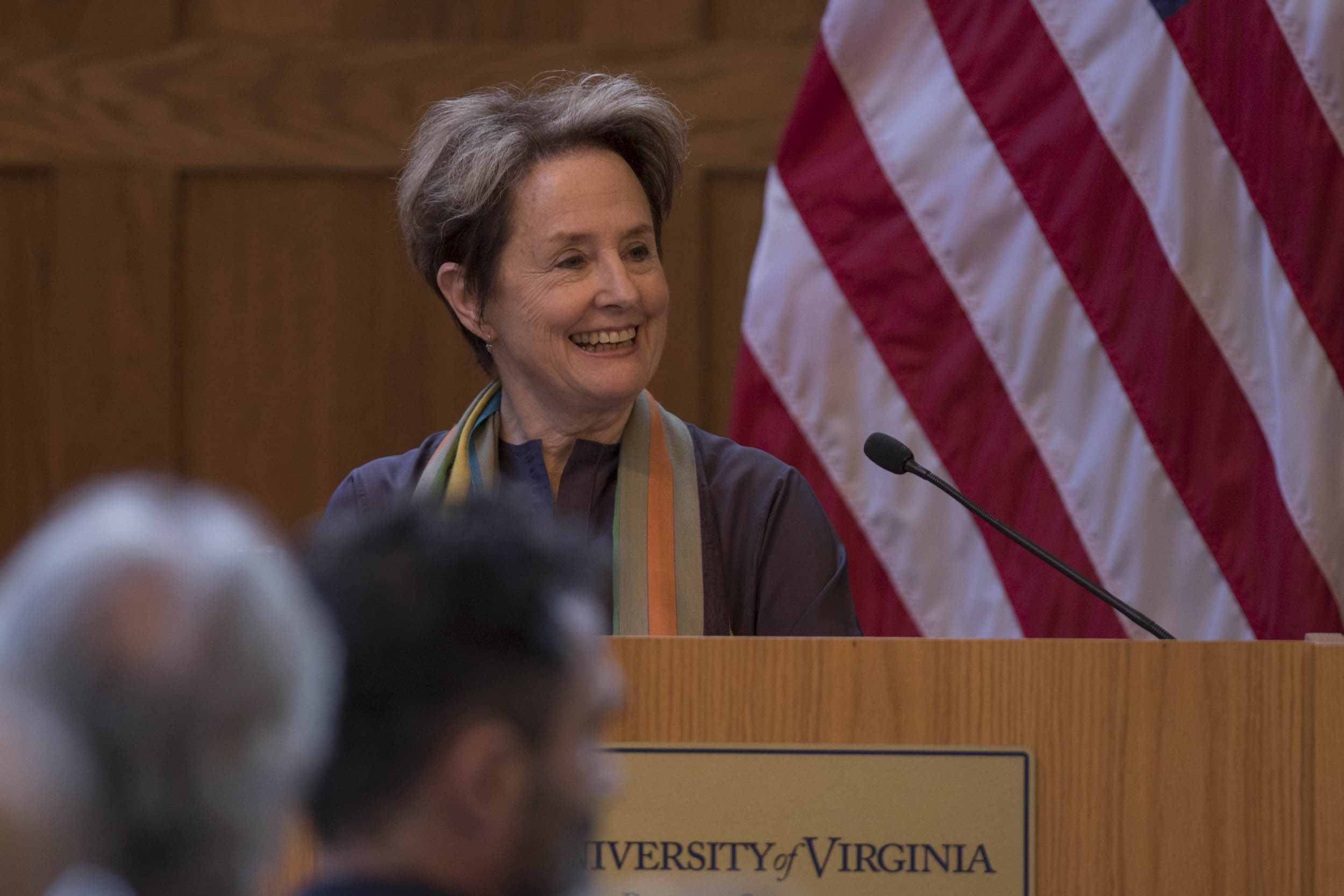 Alice Waters, recipient of the Thomas Jefferson Medal in Citizen Leadership, spoke Thursday at the Batten School. (Photo by Sanjay Suchak, University Communications)
Since she began the Edible Schoolyard Project in 1995, it's spread from a single schoolyard garden in Berkeley, California, to more than 5,000 schools around the globe.
As an advocate, Waters' greatest concern is that fast food values have permeated nearly every aspect of our culture. She spoke to students about how fast food values like uniformity, speed, availability and cheapness have skewed our expectations in everyday life and led to a devaluing not only of quality food, but of quality interaction with the world around us.
As an example, Waters pointed to the way that society's reliance on uniformity has made us less willing to try new things and engendered an expectation that we should have access to certain items and a certain lifestyle wherever we go.
She warned that these kinds of expectations close us off to new experiences and lower our willingness to embrace diversity in all aspects of life.
To combat the rise of these traits, Waters urges the teaching of "slow food values" from the earliest days of school. Among these, she listed ripeness, interconnection, diversity, generosity, collaboration and simplicity.
At a time when Americans have become accustomed to having nearly every kind of food available to them throughout the year, Waters said it's important that people once again place emphasis on ripeness – not just that something looks ripe in a store, but that it is the peak time to eat something based on the season and climate of their home.
"Ripeness may sound esoteric, but it is a value that means there is a right time for everything," she said.
She explained that in life there is a right time for everything and even pointed out that historical successes – like those led by Jefferson and his fellow Founding Fathers – were able to happen in part because the timing was just right.
Waters closed by reminding students that we are all interconnected, to each other and to the world around us, by the food we eat, and encouraged them to join her for "the delicious revolution."
– Katie McNally
Former AG Loretta Lynch Says Lawyers Carry Unique Burden to Pursue Truth
The pursuit of justice is inextricable from the pursuit of truth, and lawyers carry a special burden because of it, former Attorney General Loretta Lynch, this year's recipient of the Thomas Jefferson Foundation Medal in Law, said in a Thursday talk at the School of Law.
"Do we take the often-difficult path to follow truth wherever it leads, or do we simply follow the ever-increasing volume surrounding the ideas we already think we know?" Lynch asked the crowded auditorium of mostly law students.
Lynch said the current climate of bitter partisanship is nothing new and will only be overcome by truly listening to opposing viewpoints — something that lawyers are well-trained to do. They must hear and consider all sides. They must seek to understand the strengths of their opponents' arguments and the weaknesses of their own.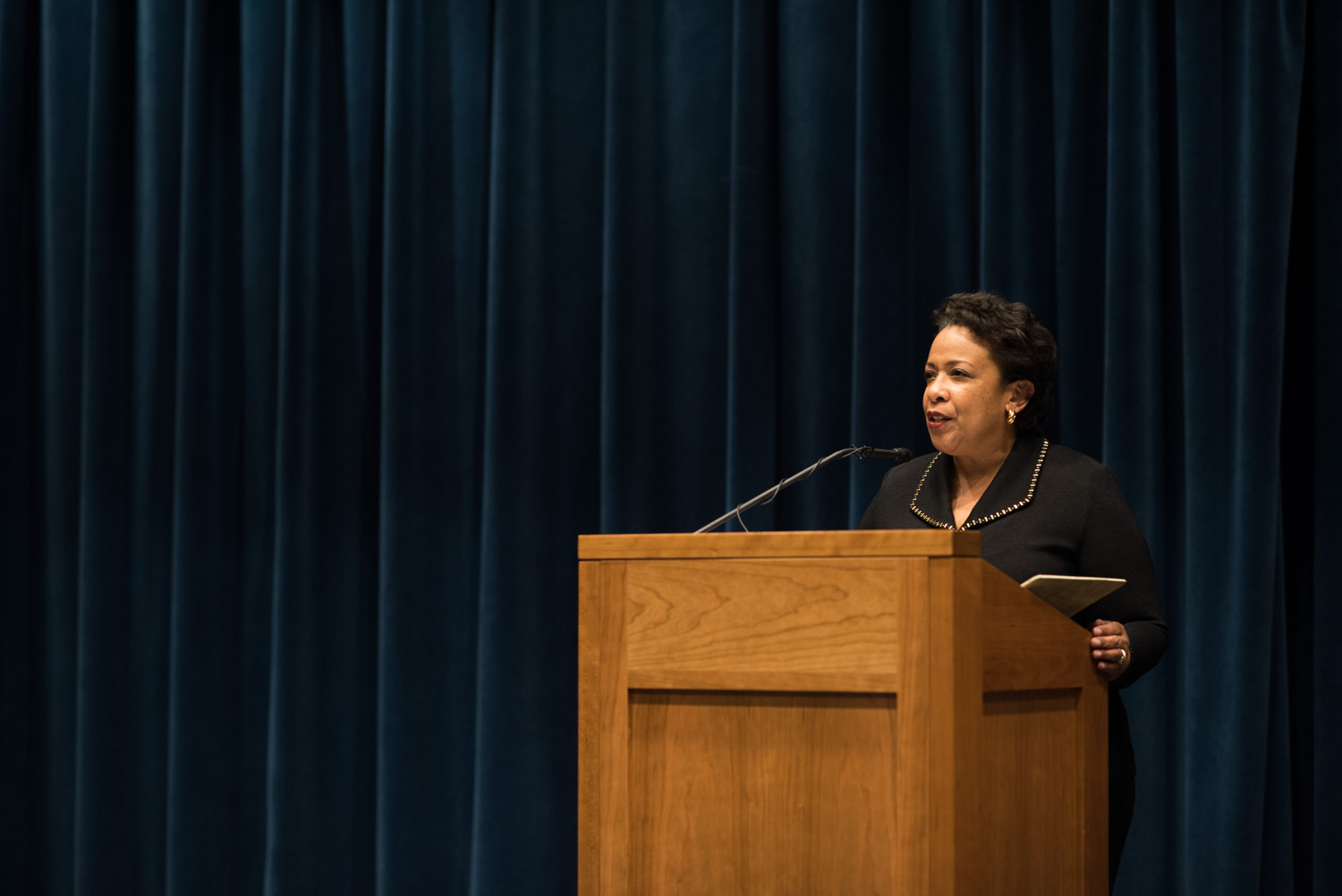 Former Attorney General Loretta Lynch, this year's recipient of the Thomas Jefferson Foundation Medal in Law, spoke Thursday at the Law School. (Photo by Jesus Pino)
In doing so, "you become less tied to your beliefs simply because they are yours," she said.
In her time serving as attorney general, Lynch said, she aspired to let truth guide her in her decision-making. For example, when states began passing stricter voter ID laws that disenfranchised minority voters disproportionately, her department cited research that disproved the assertion that in-person voter fraud was a significant problem, she said.
"A review of the facts, carried out by the Justice Department not during just my tenure, but [also] by my predecessor's, shows that these laws were disproportionately ruining minority voters," Lynch said. "And they were all passed in the name of curbing in-person voter fraud."
During her time in office, Lynch also went on a multiple-city listening tour to promote community policing and to help strengthen relationships in communities where residents and police had a history of distrust. She said the tour was about being able to see "the truth in someone else's perspective, in someone else's pain."
That tour was important, she said, because how communities regard law enforcement affects the quality of service everyone receives.
Lynch was sworn in as the 83rd U.S. attorney general on April 27, 2015, and was the first African-American woman to hold the position. She previously served in the Obama administration for five years as the U.S. attorney for the Eastern District of New York. She also led that office, located in Brooklyn, from 1991 to 2001 under President Bill Clinton. She first joined the office in 1990.
During her career, Lynch has successfully prosecuted cases involving narcotics, guns, organized crime and public corruption.
She holds a J.D. from Harvard Law School and an A.B., cum laude, from Harvard College.
- Eric Williamson
 
Media Contact
Article Information
April 13, 2017
/content/uva-founders-day-celebrations-honor-achievement-fields-jefferson-admired