Sam Campbell is serious about wildlife preservation – and now he has an avenue by which he can seriously pursue it.
Campbell, a 2017 University of Virginia graduate, will study the African wildlife trade in Asia as one of this year's 18 Luce Scholarship recipients.
The Luce Scholars Program is a fellowship program launched by the Henry Luce Foundation in 1974 to enhance the understanding of Asia among potential leaders in American society. The program provides stipends, language training and individualized professional placement in Asia.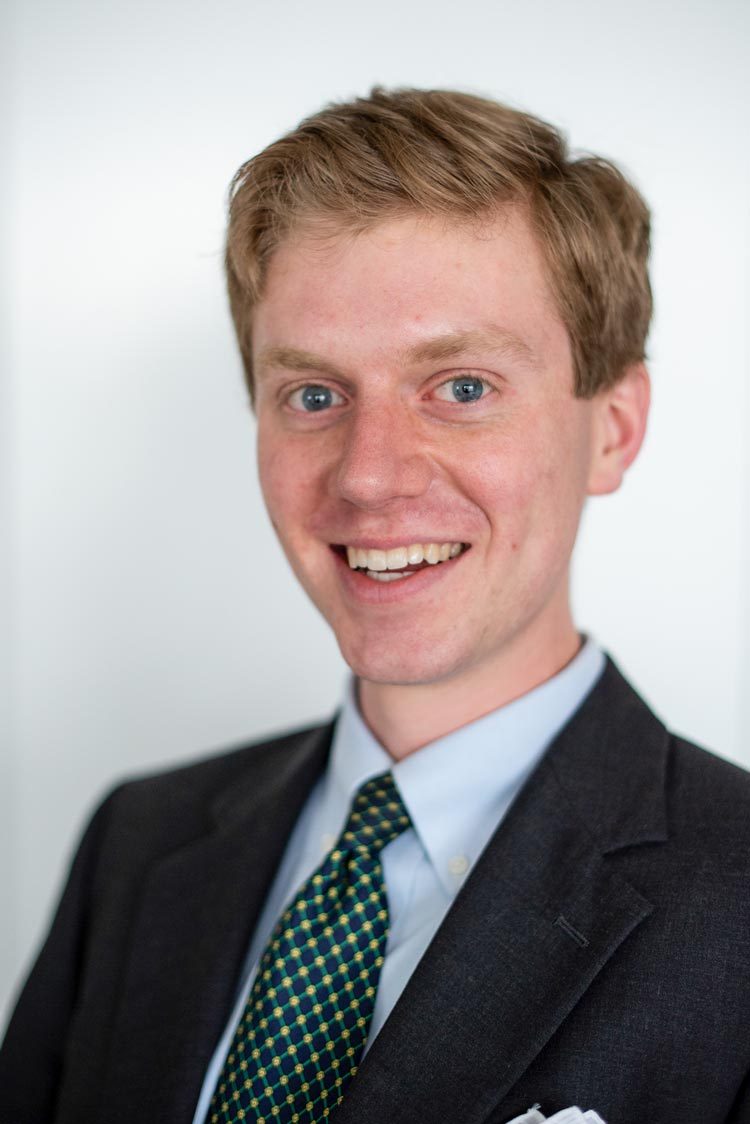 Sam Campbell, a 2017 alumnus of the College of Arts & Sciences, will study wildlife trafficking in Asia on a Luce Scholarship. (Photo by Amanda Bensel)
"The Luce Scholars Program will give me the opportunity to study the Asian wildlife trade, the main source of consumer demand fueling poaching crises for both African and Asian species," Campbell said. "In working with Asian conservation professionals, I hope to learn ways of limiting illegal trade and making any legal trade sustainable."
Campbell, of Charlottesville, was a global development studies and French double major, and he wrote his global development studies thesis on human-elephant conflict in eastern and southern Africa.
"I have had a lifelong passion for wildlife conservation, particularly African wildlife, and this is a key aspect of it," he said. "Wildlife populations can only survive if their human neighbors benefit from their conservation."
David Edmunds, director of the interdisciplinary global development studies program, cited Campbell's "insatiable appetite" for learning and connecting with others. He is also blessed with a sense of humor that gives him the ability to laugh with others and at himself, Edmunds said.
Edmunds recounted a meeting in Senegal with participants from Africa, Asia, Europe and Latin America. Edmunds and Campbell were in the country working with an organic farming organization.
"During our meetings, Sam was one of the key translators for the mixed French and English-speaking audience, demonstrating quite a lot of endurance and patience with an often difficult and frustrating task," Edmunds said. "The French speakers, in particular, were absolutely thrilled that he was able to help them."
Though their trip to Senegal had nothing to do with wildlife preservation, Edmunds said he knows of Campbell's passion for it.
"He has been to East Africa and was really struck by the complexity of the issue, and the high stakes," Edmunds said. "I trust him to have the right mix of courage, care and intelligence to do the work well. It won't be easy. Sam is a really good student, writing and reasoning very clearly, but his true strengths are in working with others across cultural and social differences, on matters of consequence."
Campbell said understanding the Asian wildlife trade is key to protecting African wildlife species from poaching. He thinks the Luce Scholars Program will provide him invaluable connections and support.
"I plan to spend the next year studying the wildlife trade in Asia, especially trade in African wildlife and wildlife parts, like elephant ivory and rhino horn," he said. "Afterward, I will gain grassroots wildlife conservation experience working with community conservation programs in sub-Saharan Africa.
"I will then pursue a master's in conservation policymaking. After the master's, I will go on to work for an international governing body for wildlife conservation, such as the Convention on International Trade in Endangered Species of Wild Fauna and Flora, or a U.S. federal agency that conducts international conservation projects like the U.S. Fish and Wildlife Service."
An Echols Scholar, Campbell performed undergraduate research projects in Tanzania with the Jefferson Public Citizens Program and the Center for Global Health. He is an Eagle Scout and a graduate of Charlottesville High School. Campbell currently works in Raleigh, North Carolina at PRA Health Sciences, a pharmaceutical research company conducting clinical trials for new drugs around the world.
Campbell is UVA's second Luce Scholar in as many years. Madeline Rita has been working for the Reproductive Health Association of Cambodia in Phnom Penh, Cambodia, where she is involved with the Youth Health Program and the Secretariat of the 10th Asia Pacific Conference for Reproductive and Sexual Health and Rights, which the association is hosting in Siem Reap, Cambodia, in May.
"This has probably been the most meaningful year of my young adult life," Rita said. "I have learned, and continue to learn, Khmer, made wonderful friends involved in Phnom Penh's unique artistic, feminist and LGBTIQ communities, traveled throughout Southeast Asia, and developed many new professional skills from my incredible colleagues at RHAC. This year has heightened my passion about reproductive health and has shown me how important creativity, inquisitiveness and authentic solidarity are to this critical work."
Rita plans to remain in Phnom Penh to continue her work with the Asia Pacific Conference for Reproductive and Sexual Health and Rights before returning to the U.S. for medical school in the fall of 2020.
Article Information
February 26, 2019
/content/uva-grad-use-luce-scholarship-save-african-asian-wildlife