The University of Virginia's Class of 2016 has distinguished itself in many ways, earning dozens of prestigious national and University-wide honors and scholarships. This year's graduating class has a Rhodes Scholar, two Truman Scholars, two Goldwater Scholars, two Beckman Scholars, two Davis Prize for Peace recipients, six Fulbright Scholars and a Schwarzman Scholar.
There are also 11 Community-Based Undergraduate Research Grant recipients, 34 recipients of the Harrison Undergraduate Research Awards, 45 recipients of the Jefferson Public Citizen awards, 53 Rodman Scholars, 238 Echols Scholars and 35 Jefferson Scholars, as well as six "Double 'Hoo" Research Award winners, four Center for Global Health grant winners, and three recipients of University Awards for Projects in the Arts.
Rhodes Scholar
Russell Bogue of Guilford, Connecticut, a politics honors program major with an economics minor, was named a Rhodes Scholar. The award, valued at between $50,000 to $175,000, fully funds two or three years of study at the University of Oxford in England. Rhodes Scholarships are awarded on the basis of high academic achievement, integrity, a spirit of unselfishness, respect for others, potential for leadership and physical vigor.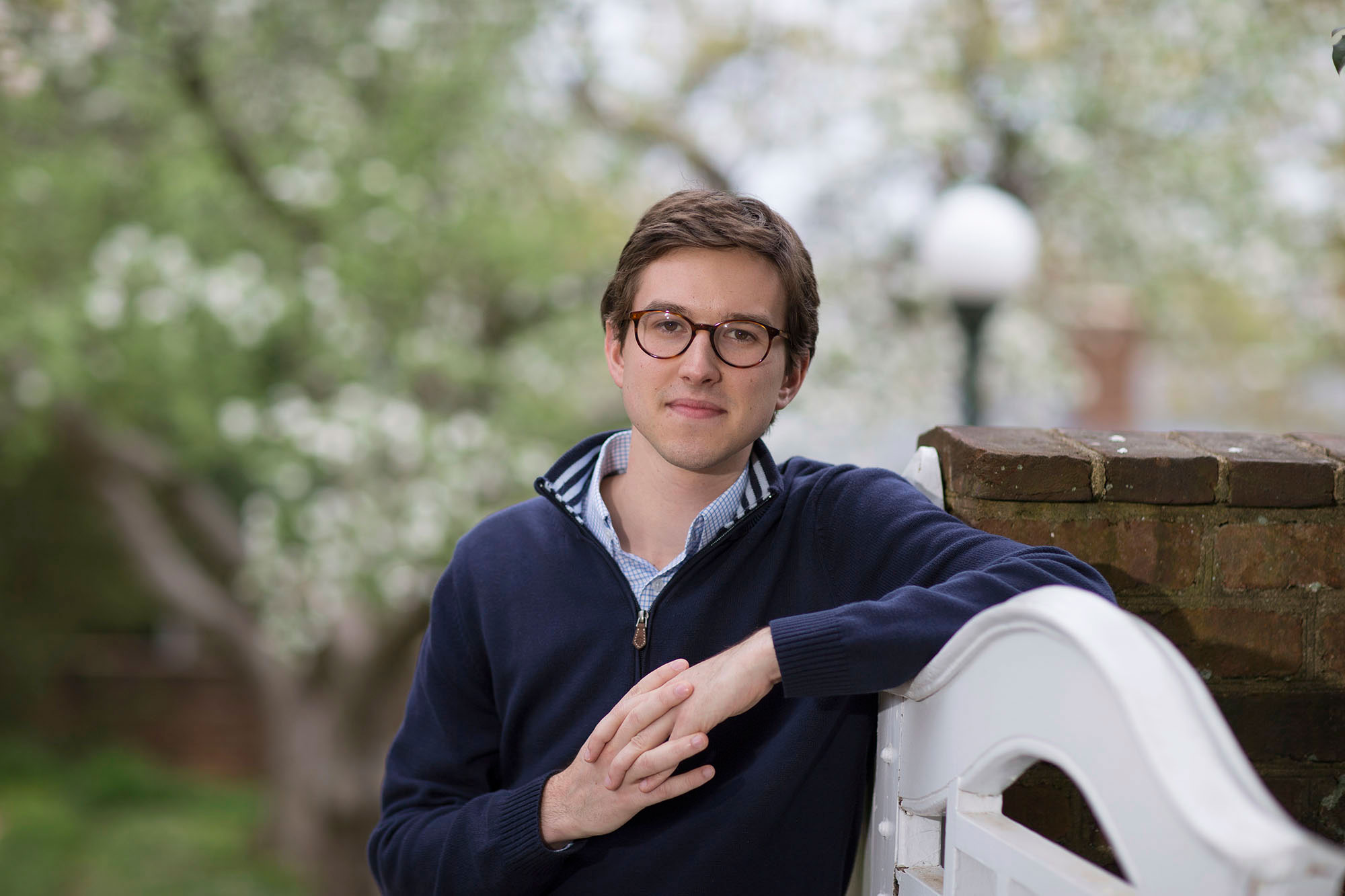 Russell Bogue, a Rhodes Scholar, has been researching two areas: the intersection of politics and economics, and the political opinions of Taiwanese youth. (Photo by Dan Addison)
Bogue, who graduates May 21, has been involved in two research areas: the intersection of politics and economics, where he is helping politics professor emeritus Stephen Rhoads update portions of his book, "The Economist's View of the World"; and a self-directed project on the political opinions of Taiwanese youth.
"After studying some Chinese politics, I found the question of reunification with Taiwan to be incredibly interesting," said Bogue, who also studied Mandarin Chinese. "I can't think of a precedent in modern politics for the relationship that currently exists between the People's Republic of China and Taiwan. However, this question won't be resolved by the current generation of political leaders, but rather by the next generation – today's college students. So I wanted to hear their thoughts."
Bogue was the Anson M. Beard Jr. Jefferson Scholar, an Echols Scholar, National Advanced Placement Scholar, National Merit Scholar and a Presidential Scholar from the state of Connecticut. He was co-founder and editor in chief of Seriatim: Journal of American Politics; a member of the executive committee and vice chair for trials on the Honor Committee; an opinion editor at the Cavalier Daily; and a member of the ministry team and leader of third-year Bible study at the Reformed University Fellowship. He was scholarship chair of the Beta Theta Pi fraternity, public policy chair of One in Four, language consultant and hospital volunteer for Volunteers with International Students, Staff and Scholars Program a student lecturer in the Cav Ed Program, fellowship committee member and vice president-elect of the Raven Society and a member of the University's squash club. 
He was elected to Phi Beta Kappa and received a Harrison Undergraduate Research Award for his research in Taiwan and a Jefferson Trust grant for Seriatim. He placed third in the Virginia Press Association's column writing category and was a finalist for a U.S. Department of State Critical Language Scholarship.
He plans to pursue dual law and public policy degrees, and eventually pursue a career in political research, academia and/or government service.
Harry S. Truman Scholars
Two Harry S. Truman Scholars will walk the Lawn this year: Lia Cattaneo of Falls Church, a civil and environmental engineering and environmental sciences double major; and Russell Bogue (see above). The scholarship provides them with about $30,000 toward their graduate education.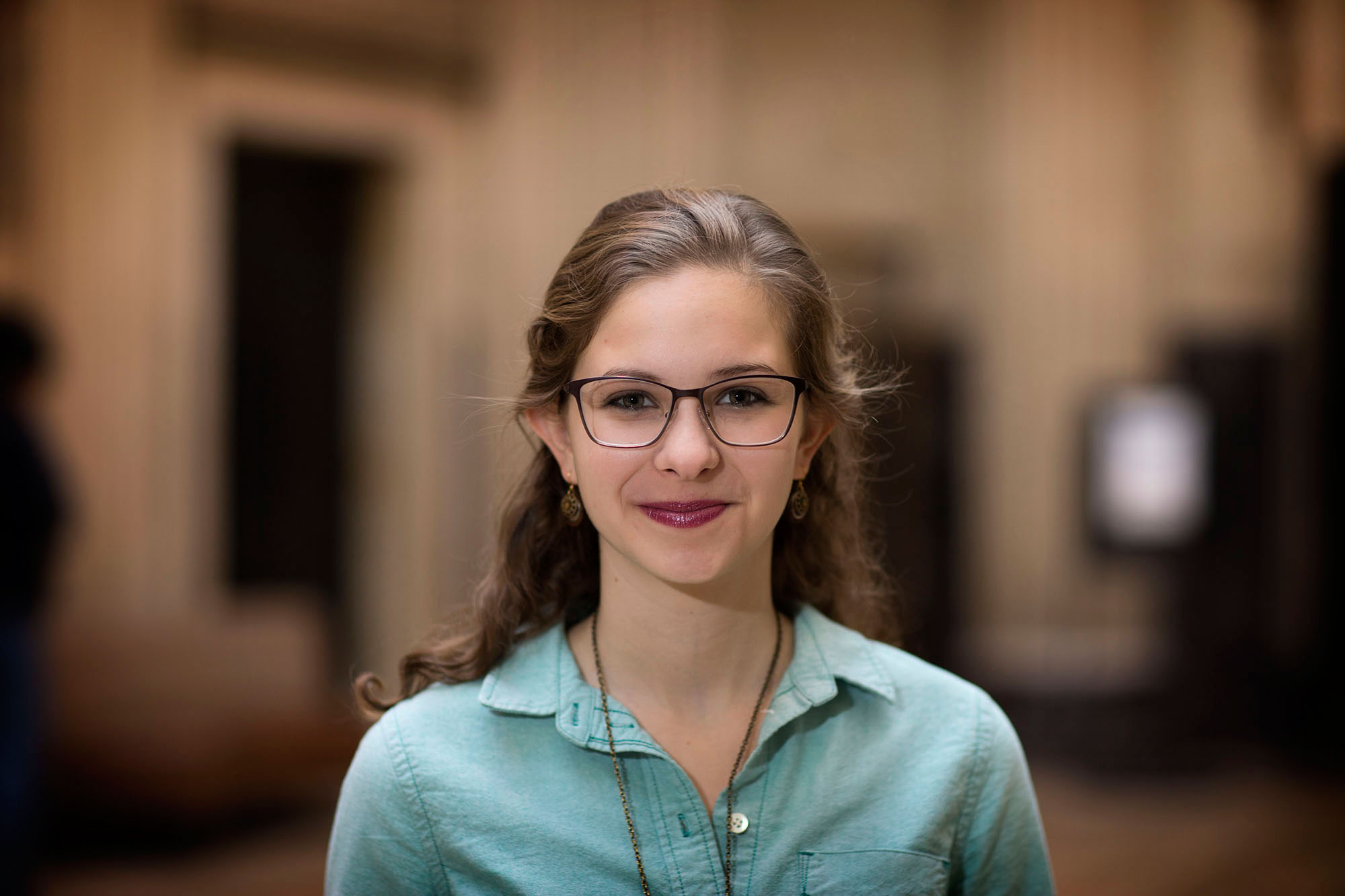 Lia Cattaneo, a civil and environmental engineering and environmental sciences double major, received a Truman Scholarship. (Photo by Dan Addison)
Cattaneo said she plans to work with climate issues, but adds that technological solutions are not enough. "I am passionate about creating solutions to climate change and want a strong technical background to ground my understanding of the challenges and opportunities in my field. But we need policy, too. Receiving the Truman Fellowship emphasizes my commitment to the policy aspects of climate and energy and will keep my career grounded in public service."
Cattaneo co-chaired the Student Council Sustainability Committee, co-founded the Climate Action Society, served on the board of directors of Madison House and as president of the club figure skating team, and was an intern for the Brody Jewish Center. She is a graduate of the School of Engineering and Applied Science's Science and Technology Policy Internship Program, and a member of UVA Master Planning Council, the Raven Society, Tau Beta Pi Engineering Honor Society and Chi Epsilon Civil Engineering Honor Society. She was a Rodman Scholar and co-author of two peer-reviewed scientific journal articles.
She wants to work for the federal government or a non-governmental agency on climate change, then return to school to pursue an interdisciplinary Ph.D. focused on energy innovation and industrial ecology.
Schwarzman Scholarships
Benjamin Harris of Grundy will study public policy and economics in China as part of the inaugural class of international Schwarzman Scholars.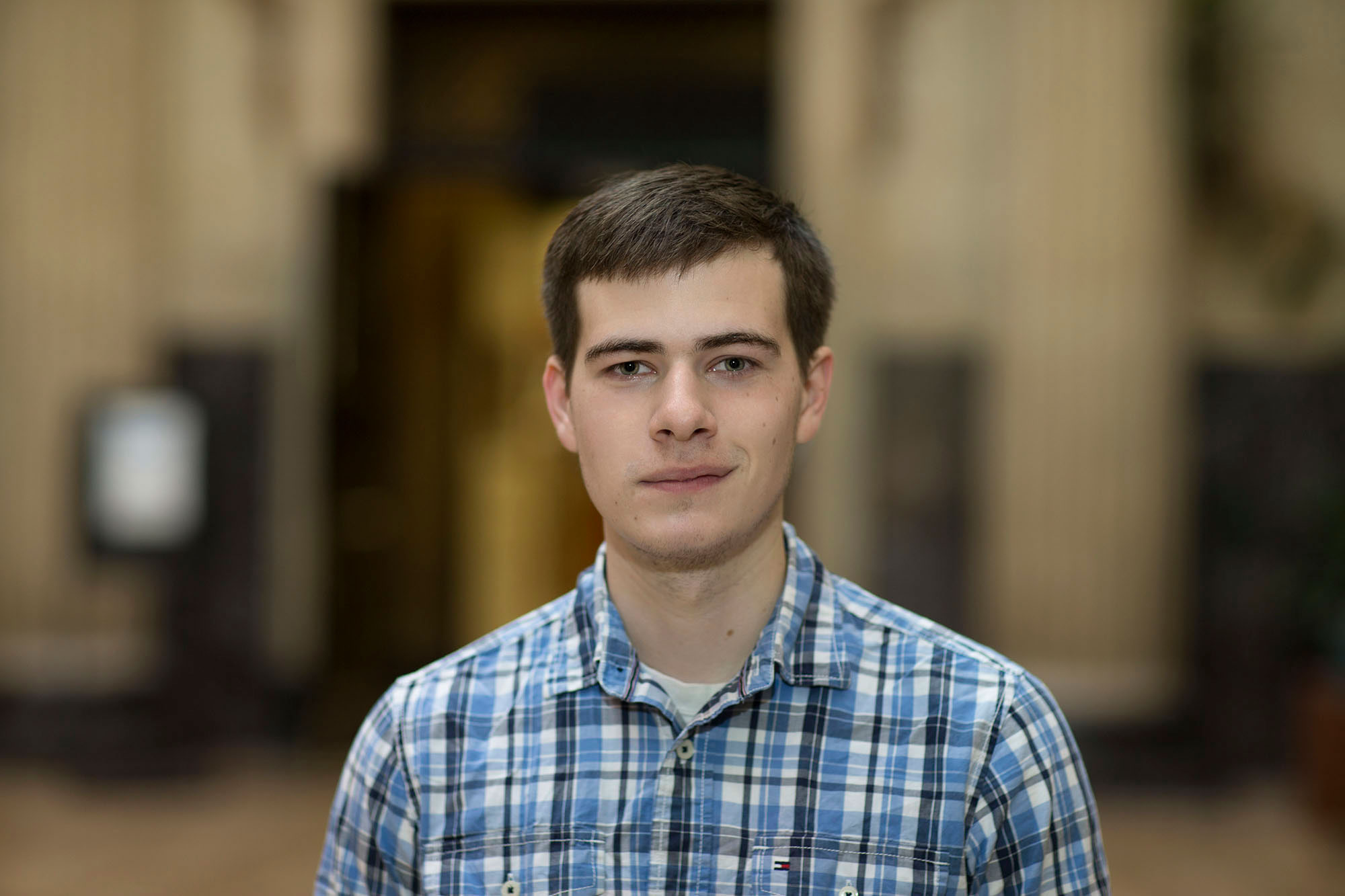 Benjamin Harris, a double major in political and social thought and physics, with a minor in foreign affairs, will study public policy and economics in China in the inaugural class of international Schwarzman Scholars. (Photo by Dan Addison)
He will receive funds for a one-year master's degree program at Tsinghua University in Beijing, a base for the country's scientific and technological research. The scholars will live in Beijing for a year of study and cultural immersion, attending lectures, traveling and developing a better understanding of China.
The inaugural class consists of 111 Schwarzman Scholars selected from more than 3,000 applicants, making the program one of the most selective in the world. Students were picked from 32 countries and 71 universities, with 44 percent from the United States, 21 percent from China and 35 percent from the rest of the world.
The class will study and live at the newly constructed Schwarzman College on the Tsinghua campus. Expenses for each scholar are fully funded by the program.
Harris, a double major in political and social thought (a distinguished majors program) and physics, with a minor in foreign affairs, wrote his thesis on how nuclear weapons affect relations between nations, focusing on interactions between nuclear and non-nuclear states.
He said he looks forward to continuing his research in China. "I get to study the defining issues of my field in the most important arena. Perhaps more importantly, I'll be studying with, and taught by, amazing people from all around the world, and I'm really attracted to that sort of tight-knit community."
He plans to pursue a Ph.D. and possibly teach international relations. Last fall, Harris taught his own class about game theory and strategy, using popular board and video games.
A Jefferson Scholar and an Echols Scholar, Harris was a member of the Washington Literary Society and Debating Union, Phi Beta Kappa and the Raven Society.
The Schwarzman Scholars program was inspired by the Rhodes Scholarship, and is designed to meet the challenges of the 21st century and beyond. Its planned $450 million endowment will support up to 200 scholars annually from the U.S., China and around the world for a one-year master's degree program at Tsinghua University in Beijing.
Goldwater Scholarships
Two graduates received research scholarships from the Barry M. Goldwater Scholarship and Excellence in Education Foundation: Catherine C. Henry of Great Falls, a biomedical engineering major in the School of Engineering and Applied Science; and Kathryn Marqueen of Richmond, a chemistry and economics major in the College of Arts & Sciences.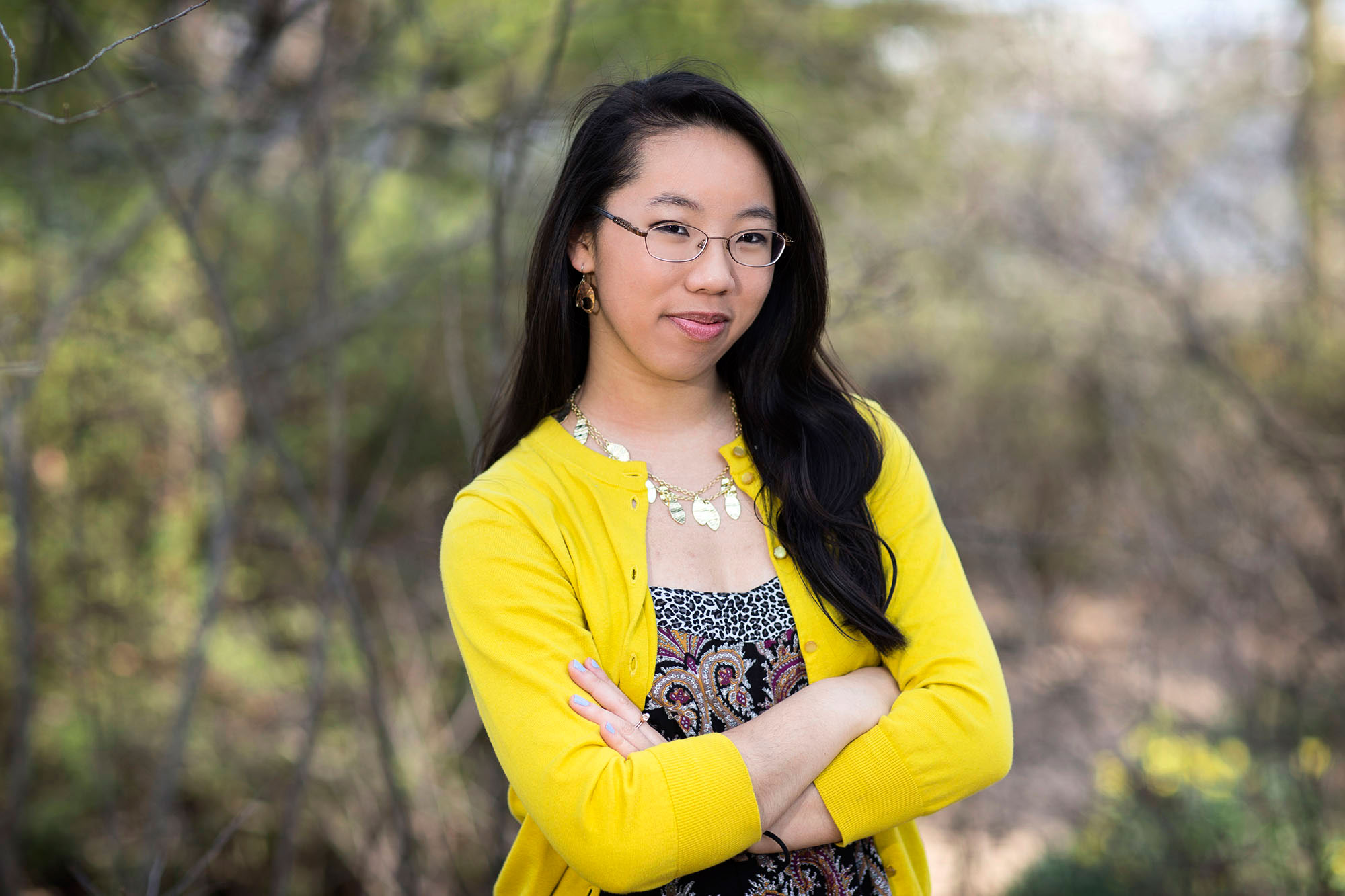 Kathryn Marqueen, a chemistry and economics major, received a Goldwater Scholarship. (Photo by Dan Addison)
The Goldwater Foundation gives the scholarships to second- and third-year students who intend to pursue careers in mathematics, the natural sciences or engineering. The one- and two-year scholarships offer up to $7,500 for tuition, fees, books and room and board.
"Cardiovascular disease is a particular interest of mine, since I have multiple family members who have struggled with or passed away due to the disease, and with the prevalence of heart disease in this country so high, it is such an exciting field for research," Marqueen said. "I am excited to see this field progress toward better understanding and more effective treatments, knowing that millions can benefit from these research efforts."
An Echols Scholar and a member of Phi Beta Kappa, she served as a teaching assistant for introductory chemistry and organic chemistry lab beginning in her second year. She received a Harrison Undergraduate Research Award and a Minerva Award from the College Council for her independent research. She was also president of The Musicians on Call at UVA, a volunteer group of student musicians who perform in the UVA Medical Center.
Marqueen has been involved in research since high school and has been listed as a co-author on studies in several peer-reviewed journals. She plans to attend medical school, having already been accepted to the FlexMed Program at the Icahn School of Medicine at Mount Sinai at the end of her second year. There, she plans to continue research, with the professional goal of using her clinical knowledge in translational research studies, to serve as a bridge between the laboratory and the patient's bedside.Henry's research focused on muscular dystrophy. "There is a dire need for new treatments for Duchenne muscular dystrophy," she said. "People afflicted with DMD die in their early 20s from either respiratory or cardiac failure. The current treatment only mitigates some of the symptoms and, ultimately, results in more health problems. By learning more about how the disease affects the diaphragm, more effective treatments can be created that prevent respiratory failure and improve the length and quality of life of DMD patients."
Henry is a Rodman Scholar, and won a Harrison Undergraduate Research Award and a Raven Scholarship. She was president of Tau Beta Pi, served on the Dance Marathon Fundraising Committee, and was a member of the Cavalier Marching Band.
She is also the lead inventor on a patent for a method and device for cleaning a tool called an intramedullary reamer, and she presented research at the Seventh World Congress of Biomechanics and 2015 BMES Annual Meeting. Henry was a student researcher in the laboratory of biomedical engineering associate professor Shayn Peirce-Cottler, on a project that investigates dye usage in the detection of abrasions on rape victims with different skin tones; she wrote two papers that are in the process of being submitted to journals for publication.
She has been on the Dean's List, received Intermediate Honors and had a student clerk internship as a researcher at the Nuclear Medicine and Radiology Departments at the University of Iowa.
Henry plans to pursue a medical degree and a Ph.D. in biomedical engineering.
Congress established the Barry Goldwater Scholarship and Excellence in Education Program in 1986 to honor Sen. Barry Goldwater, who served his country for 56 years as a soldier and statesman, including 30 years in the U.S. Senate.
Beckman Scholars
Rachel Stadler of Poquoson, a biomedical engineering major in the School of Engineering and Applied Science, and Henry (see above) received Arnold and Mabel Beckman Foundation scholarships.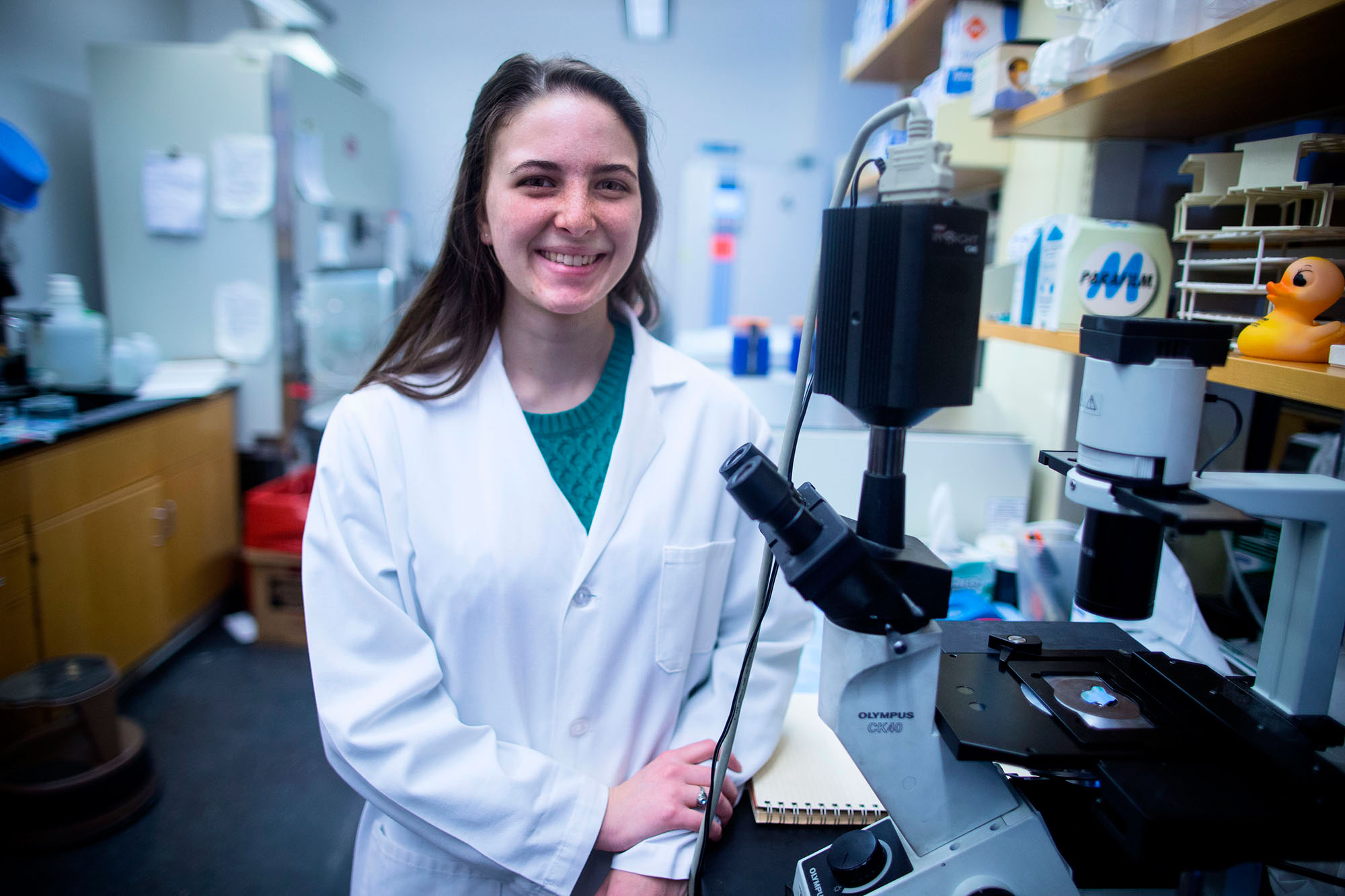 Rachel Stadler, a biomedical engineering major in the School of Engineering and Applied Science, is researching infectious diseases. (Photo by Sanjay Suchak)
UVA is one of 10 universities to receive a Beckman Scholars Award to benefit its students in 2016, selected largely because of the quality of its scholars and its approach to mentoring and training. The scholars are selected locally and the funds provide each undergraduate researcher with $19,300 in salary and travel for two summers and one academic year.
Stadler's research revolves around infectious diseases, particularly toxoplasma gondii – pathogenic parasites that are a leading cause of death attributed to foodborne illness and are linked to malaria.
"My goal is to understand how the parasite moves so that it can be prevented from infection," Stadler said. "Because of its close relationship to malaria, my work may also lead to a better understanding of a broader preventative measure for the family of broadly infectious pathogens. I love the challenge of working with toxoplasma."
She presented her research at the Biophysical Society Annual Conference in San Francisco. She plans to pursue a Ph.D. in infectious diseases and work with the World Health Organization or the Centers for Disease Control and Prevention.
Stadler was a member of the Cavalier Marching Band and Kappa Kappa Psi, the national honorary band service fraternity.
Double 'Hoo Research Awards
Six undergraduate winners of Double 'Hoo research awards will graduate this year. The awards pair undergraduate students with graduate student mentors to work on proposed research projects.
They are William Henagan of Atlanta, a history major, with a minor in entrepreneurship; Robin Leiter of Arlington, an aerospace engineering major with a minor in astronomy; Declan McCarthy of Salem, an environmental chemistry major; and Jenna Van Dyck of Alexandria, a cognitive science major concentrating on neuroscience with a minor in Spanish, all in the College; and C.J. Norsigian of Flemington, New Jersey, and Matthew Sutcliffe of Cumberland, Rhode Island, both biomedical engineering majors in the Engineering School.
Center for Global Health Scholars
Four Center for Global Health Scholars will walk the Lawn this year.
Three were part of a team examining education platforms for refugee students, using messaging as a tool for learning and performing data tasks: Porter Nenon of Charlotte, North Carolina, a political and social thought major; William Henagan of Atlanta, a history major with a minor in entrepreneurship, both in the College; and Kaija Flood of Reston, a Master of Public Policy student in the Frank Batten School of Leadership and Public Policy.
The fourth, Emily Romano of Wilmington, Delaware, a global public health major in the College, is part of a team that will survey Rwanda district hospitals to determine whether local physicians would be willing to use locally produced honey to treat acute-care burn injuries.
Arts Awards
UVA annually grants support to students who want to follow their muses through the University Award for Projects in the Arts program. There are three arts awards winners in this year's graduating class.
Alex Jones of Arlington, an interdisciplinary major in the distinguished major program focusing on arts administration, with a leadership minor in the McIntire School of Commerce, wrote and directed her first film, which explored the contradictory qualities that lie within individuals. A member of Alpha Chi Omega, HackCville Media and Amoeba Films, Jones plans to pursue a master's degree and a career in film production.
Genevieve Joy Campbell of Richmond, a double major in studio art (with a concentration in printmaking) and Spanish, studied American culture on the fabled Route 66, the major western highway during the mid-20th century. She was a support team member of The Student Hip Hop Organization, a student disc jockey for WTJX radio, an active member of St. Paul's Memorial Church and a member of the Big Head Brigade artist collective. Also a recipient of a Skinner Scholarship, she plans to pursue an arts career.
Rebecca Beauchamp of Washington, D.C., a poetry-writing major, composed a multi-media piece on the stereotypes of female artists. Beauchamp served on UVA's Arts Board and was editor of Oculus, the undergraduate research journal. She was the literary editor of the Declaration, a news-and-commentary publication, and the recipient of the 2014 Wagenheim Literary Award for an essay on gender schematics in the children's novel. She served as an arts administration teaching assistant under architecture lecturer George Sampson. She completed an independent study with artist-in-residence Claude Wampler. Her work has been published in Queen Mobs Tea House, 491, Pine Hills Review and Bird's Thumb. She has a chapbook, "Necessity of Foreplay," that was published by Glass Press of the Future. She has performed her multi-media pieces in California, Washington, Baltimore, Richmond, Blacksburg and other major cities.
Davis Projects for Peace
Two graduates are part of a team that was awarded a Davis Projects for Peace grant for its proposal to promote civic engagement in Ghana.
Sheila Otwe, who was born in Ghana and is currently living in Alexandria, an anthropology and sociology major, and Henry Sarpong of Sterling and Ghana, a biology major, plan to spend a month this summer at the University of Ghana at Legon, facilitating civic engagement for youth.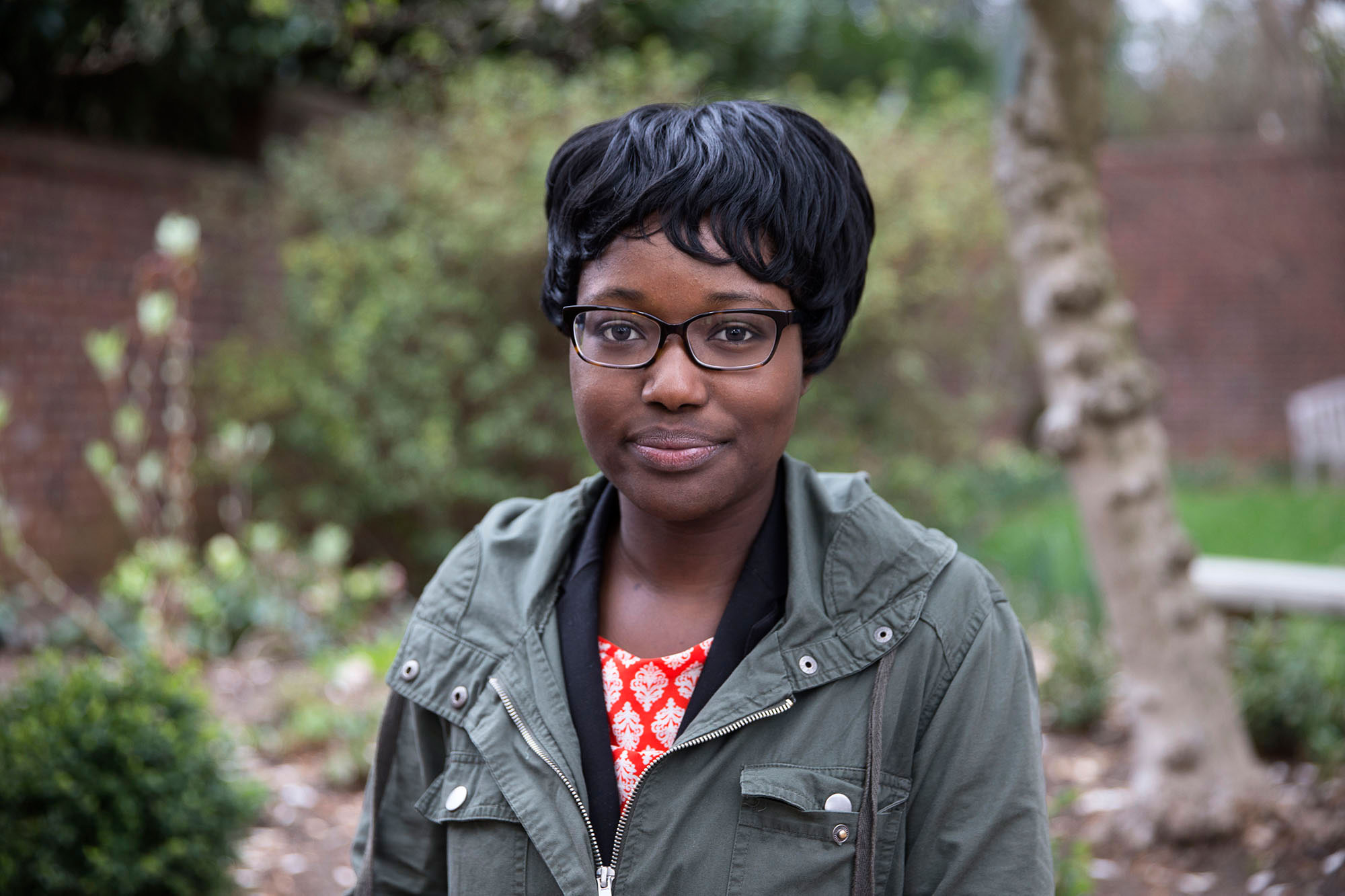 Sheila Otwe, an anthropology and sociology major, will spend a month this summer at the University of Ghana at Legon, facilitating civic engagement for youth. (Photo by Dan Addison)
Davis Projects for Peace awarded 120 projects nationwide $10,000 each for implementation this summer. The organization was the vision of philanthropist Kathryn W. Davis on the occasion of her 100th birthday in 2007. Until her death in 2013, Davis was intent on advancing the cause of peace and sought to motivate tomorrow's leaders by challenging them to find ways to "prepare for peace."
According to their project proposal, the team "will engage with students in workshops to explore conceptual and practical frameworks of citizenship, acquire skills in project design and proposal writing, and develop project proposals to support their community's development."
The Citizens Initiative, a civic engagement NGO, will support the student participants with mentorship and funding to implement their projects once the four-week program is over.
Otwe was an events coordinator for the Organization of African Students and treasurer of United Sisters, an organization dedicated to the issues affecting women through education, discussion, service and an emphasis on improving self-esteem and creating a culture of sisterhood among marginalized women. She was also the UVA representative of the Skimm, an organization that provides email newsletters with summaries of the latest headline news. 
A graduate of T.C. Williams High School, she is interested in community organizing or public service before going to graduate school.
Sarpong was a member of the Daniel Hale Pre-Medicine Honor Society and the CUREU organization at the University, a faith-based organization that focuses on raising funds to support children and families in need of medical treatment in underdeveloped countries. He was a volunteer with Charlottesville Abundant Life Ministries and a staff volunteer at Herndon Adult Day Health Care Center in Fairfax County.
A graduate of Kumasi Anglican Senior High School in Ghana, Sarpong plans to attend medical school after taking a year off to gain more on-hands experience in a clinical setting.
Article Information
May 19, 2016
/content/uva-graduates-excelled-scholarship-and-research-0