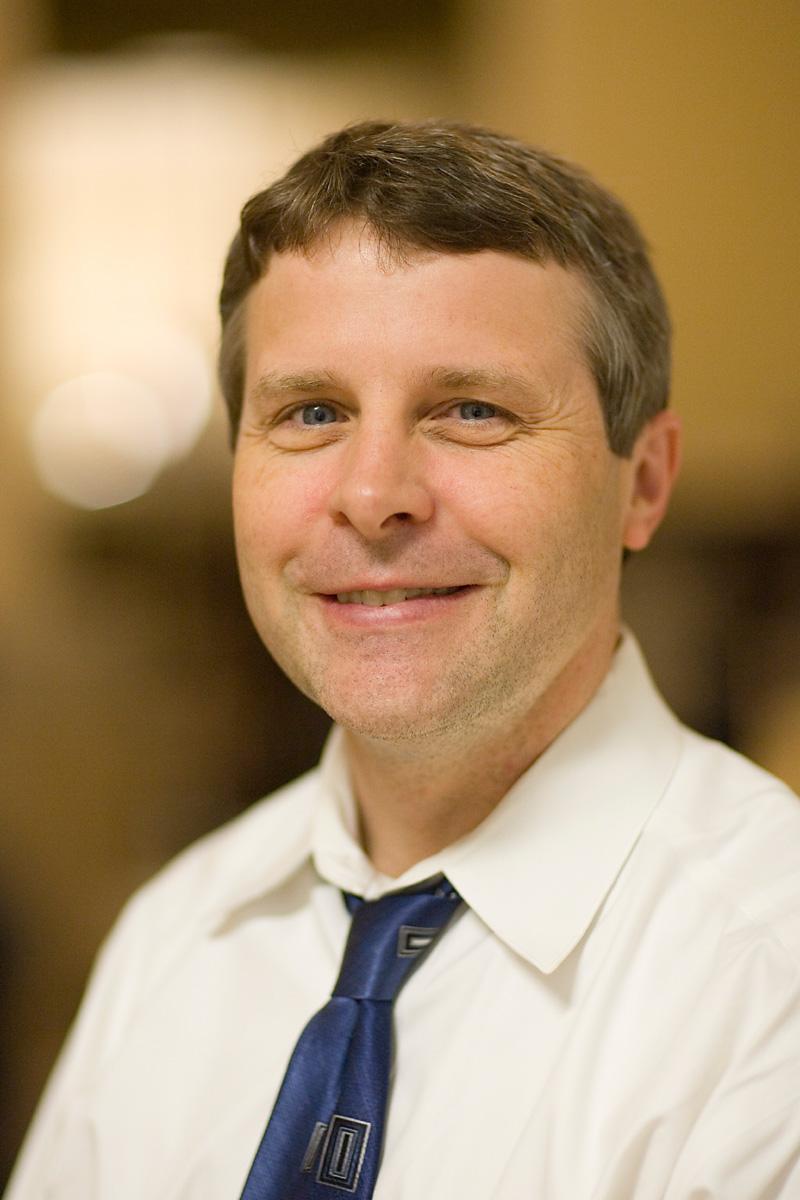 Sept. 15, 2006 -- Scot French, University of Virginia associate professor of history and African American Studies, has been named director of the Virginia Center for Digital History, an independent center in the College of Arts & Sciences located in Alderman Library.  Founded in 1998 by U.Va. historians Edward L. Ayers and William G. Thomas III, VCDH is a leader in the use of digital technologies to promote the teaching and learning of history and to transform the teaching, understanding and access of American history.
French has been involved in humanities computing since his graduate student days at U.Va. in the early 1990s. He was a member of a team that assisted Ayers – now dean of  U.Va.'s College of Arts & Sciences -- in developing the ground-breaking "Valley of the Shadow" electronic project. 
"Digital history is still very much in its formative stages and there are no experts in the field. We are all finding our way, one step at a time," Ayers said. "As a result, directing VCDH requires just the skills Scot so clearly possesses: energy, creativity and an ability to work with many constituencies."
French, in turn, acknowledges the pioneering efforts of Ayers in establishing this new field and demonstrating, through his scholarship on the Civil War and Emancipation, its great potential for transforming historical research and teaching. "Ed [Ayers] has been influential in shaping my intellectual development and created a model of collaboration that I have adopted," French said.  
From 1997 until this year, French served as assistant/associate/interim director of the Carter G. Woodson Institute for African-American and African Studies, where he developed numerous Web-based teaching and research tools for course work and workshops. In conjunction with VCDH,  French and then-Woodson Institute director Reginald Butler developed the digital archive "Race and Place: An African American Community in the Jim Crow South." The project was designed to engage emerging scholars — outstanding minority students — interested in pursuing advanced degrees in humanities and the social sciences. The digital archive includes oral histories, maps, census databases, city records, political materials, personal papers, newspapers, images and other materials related to the era of segregation in one community in the South.
To share humanities computing with those at historically black colleges and universities as well as communities outside the academy, French and Butler developed "The Chesapeake Regional Scholars Summer Seminar in African-American Studies: New Approaches in Teaching and Research in the 21st Century." The annual program, which ran from 1997-2000, featured hands-on training, lectures and workshops that paired scholars and community organization members to create public history Web sites.  
French was appointed VCDH director in late July, and is already exploring the use of new technologies and collaborations. "I am working to assemble a team to bring it into a next era," said French, who envisions expanding staff and assembling a resource of experts to address the various digital needs of historians and foster the use of new and emerging technologies to push the boundaries of digital history and create new ways to visualize history.
High on his list is a new Web interface that would link all of the various VCDH projects thematically, and allow users to explore related data drawn from different projects.
"It's a time to rethink existing projects and envision new ones," French said. For example, he would like to have the various VCDH projects – most of which stand alone now -- "speak to one another" more directly by situating them within regional, national, and global contexts; illuminating common themes; and allowing users to explore points of intersection.
For the past two years, French has been developing a digital history project through his co-directorship of the Woodson Institute's Center for the Study of Local Knowledge. He and a team of student researchers,  headed by Schuyler Esprit and LuAnn Williams, are gathering and digitizing data to develop an archive that would bring together research materials related to Vinegar Hill, a once-thriving African-American business and residential district in Charlottesville, Va., that was razed as part a broad urban renewal initiative in the 1960s. Through maps, data, photos and the use of cutting-edge technology such as photo-wrapping, French plans to create a virtual reproduction of the neighborhood that will allow users to "walk the streets" and experience history "through the eyes of everyday people."  Local in focus, the project will place the history of Vinegar Hill within the broader historical contexts of Jim Crow, civil rights, and African American community life from 1865 to the present.
Collaboration and outreach, long a hallmark of VCDH, are two initiatives French plans to expand. The center works with undergraduate and graduate students to enhance their scholarship and conducts workshops and programs and provides teaching materials for primary and secondary school teachers to help integrate digital resources into their curriculum. Last year, in conjunction with course work, a group of undergraduates produced "Rising Up," a documentary film incorporating footage from the center's "Civil Rights Television News Archive, 1950-1970." Two K-12 initiatives, "The Virginia Experiment: Growing Seeds of Democracy in Four Hundred Years of American History" and "Perspectives, Identity, Legacy: Democracy in American History Education," will benefit history teaching and curriculums in the Charlottesville and Roanoke, Virginia areas respectively.
Another collaborative effort envisioned by French would link the African nation of Angola, where extensive records of the slave trade are rapidly deteriorating, with Brazil, the destination of many of those seized as slaves in Angola and shipped to the New World. Assistant professor Roquinaldo A. Ferreira, who is co-teaching a course with French this semester on "Africa in the Atlantic World," is seeking funding for an electronic project that would study the slave trade between the two countries and relate it to larger historical developments, as well as shed light on the African diaspora in the Americas. That kind of collaboration "is very exciting to me," French said.
The Virginia Center for Digital History is an independent center within the College of Arts and Sciences at the University of Virginia. At its founding, VCDH was charged with creating new forms of historical scholarship and with performing public service and outreach. In these roles VCDH is home to a number of digital projects spanning the range of American history, built for use by K-12 educators and the general public, as well as by college students and scholars.
Current VCDH projects include The Valley of the Shadow; Virtual Jamestown; Civil Rights Television News Archive, 1950-1970; The Countryside Transformed; Race and Place: An African American Community in the Jim Crow South; The Eastern Shore of Virginia and the Railroad; The Geography of Slavery Project; The Dolley Madison Project; "The Ground Beneath Our Feet": a documentary film series; and "One Hundred Years of Life on the Lawn."