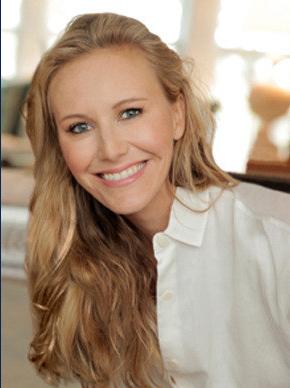 Two-time University of Virginia women's volleyball most valuable player Amy Mitchell Griffin, a major supporter of U.Va. athletics, will be honored on National Girls and Women in Sports Day when the Cavalier women's basketball team hosts Clemson University on Feb. 2 at 2 p.m. at John Paul Jones Arena.
National Girls and Women in Sports Day brings national attention to the achievements of female athletes and to issues facing girls and women in sport. The annual event, co-sponsored by the U.Va. Athletics Department and the Women's Center, recognizes outstanding women who have excelled in and supported sports while at U.Va. and afterward. The theme of this year's event is "Celebrating Lifelong Leadership in Women's Athletics."
Griffin, who graduated from the University in 1998 with a B.A. in English, was a team captain and two-time most valuable player of the Cavalier volleyball team whose leadership and commitment to U.Va. athletics has extended well past her playing days. Over the last decade, Griffin has been one of the University's most generous student-athlete alumni, with major gifts to the volleyball program and also for the renovation of the track and field facility. She is a former member of the Virginia Athletics Foundation Board of Trustees.
Since 2006, she has made multiple donations to her alma mater's athletic programs. In 2011, Griffin gave $5 million toward a state-of-the-art track and field facility, which will include new locker rooms, a track, lights, scoreboard and seating for 1,500 fans.
"We are very excited to welcome Amy Griffin back to Grounds for this special event," U.Va. athletics director Craig Littlepage said. "With her dedication to our athletics program when she was a student-athlete and her continued support as a benefactor of our current student-athletes, she is truly a role model and an exemplar of lifelong leadership."
Griffin will be the featured guest at a pre-game reception and will be honored on the court at halftime of the Virginia-Clemson women's basketball game.
Griffin's career has included being a marketing manager in the sports and promotions department of Sports Illustrated magazine in New York. She and her husband, John Griffin, oversee the John and Amy Griffin Foundation and Albemarle County's Oakencroft Farms, which they switched from producing wine to producing grape juice.
National Girls and Women in Sports Day will also feature a pre-game sports festival held in the men's basketball practice court at John Paul Jones Arena. The festival will include seven sports stations for youth to visit, including basketball, field hockey, football, golf, lacrosse, soccer and volleyball. Youth completing all seven stations will receive a complimentary T-shirt. Admission to the festival, to take place from 12:30 to 1:45 p.m., is free with a game ticket.
There will also be activities for youth set up in the main lobby of the arena starting at 12:30 p.m., including a sign-making station, face painting, a balloon artist and inflatable games.
Recent honorees at Virginia's National Girls and Women in Sports Day celebration include Olympic gold medal swimmer Lauren Perdue; Paige Selenski and Michelle Vittese, members of the Cavalier field hockey team and gold medal winners at the 2011 Pan Am games with USA Field Hockey; Natalie Randolph, former U.Va. track standout and then-varsity football coach at Calvin Coolidge High School in Washington, D.C.; Lindsay Shoop, former U.Va. rower and Olympic gold medalist; and Barbara Kelly, a longtime U.Va. athletics administrator.
Fans may purchase game tickets through the Virginia Athletics Ticket Office online, by phone or in person. The Virginia Athletics Ticket Office is located in Bryant Hall at Scott Stadium and open weekdays from 9 a.m. until 5 p.m. Telephone purchases can be made by calling 1-800-542-UVA1 (-8821) or locally at 434-924-UVA1 (-8821).