On Monday night in the Rotunda, University of Virginia President Jim Ryan awarded 13 staff members "Hoos Building Bridges" Awards, honoring them for fulfilling his vision of a year ago, when he first asked new students at Opening Convocation to "build bridges" between fellow students, members of the faculty and staff, and the broader Charlottesville community.
"Building bridges" has become a common refrain during Ryan's first two years in office, and the division of Human Resources established the Hoos Building Bridges Award to recognize Academic Division and Medical Center staff who collaborated across units, departments and schools.
This year's 13 honorees represent many different parts of the University, from the Medical Center to the art department and UVA Career Center. They fulfill many different roles at UVA, but all share at least one thing in common – a desire to partner with others around Grounds to make the University better.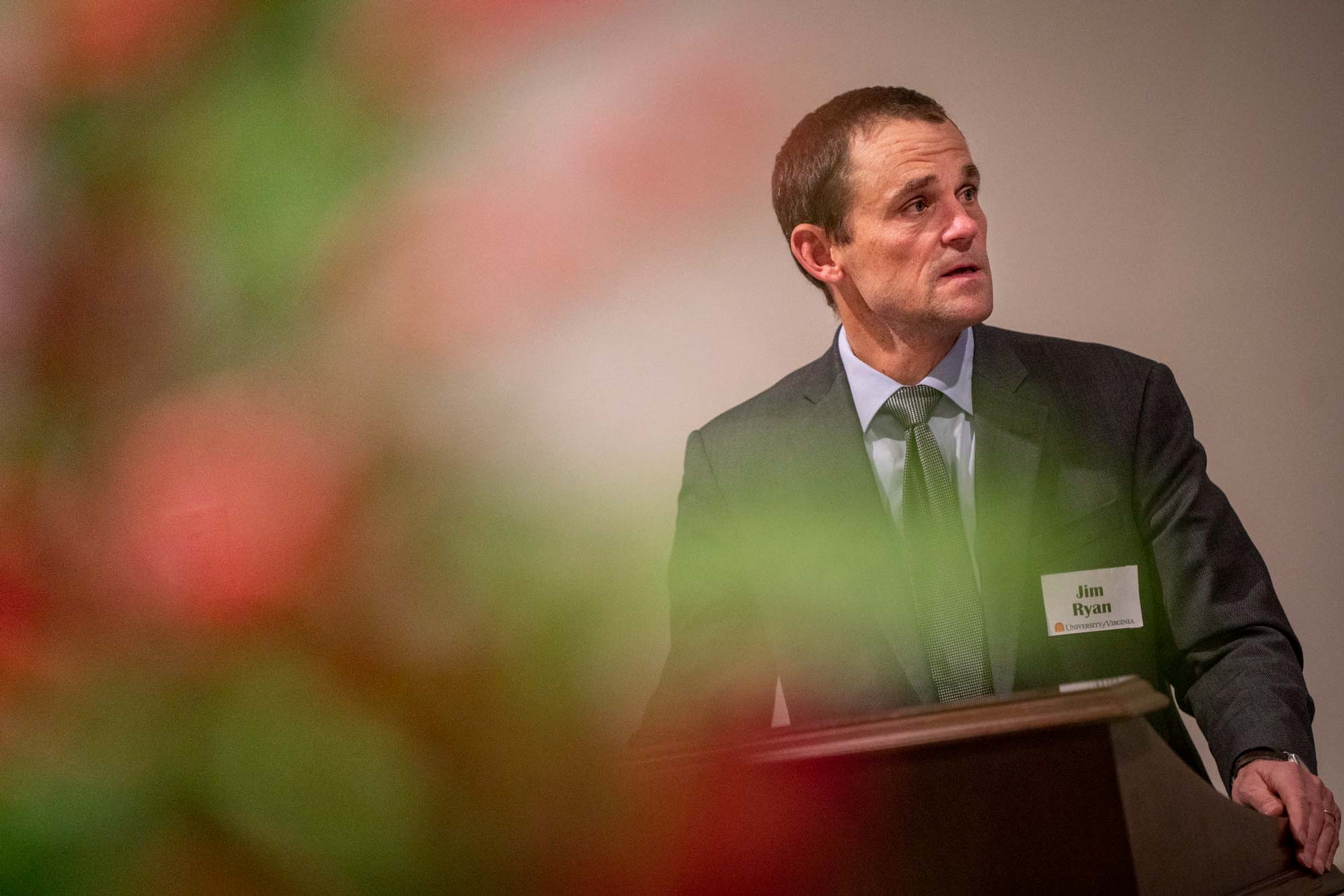 Ryan thanked the award winners and spoke about each person's efforts to build bridges at UVA. (Photo by Sanjay Suchak, University Communications)
"A community is only as strong as the connections within it, and all of us grow by making connections with others," Ryan said at Monday's reception, noting that he particularly wanted the award to focus on staff members, who he called "the beating heart" of UVA.
"I really appreciate all that you do," he said. "One of the most enjoyable parts of creating an award is reading about what the recipients are doing. It has been a joy to me to become familiar with what you are doing. I hope this will help people understand the difference you are making and inspire others to continue building bridges."
Each award winner was presented with a monetary award and a framed certificate. Nominations for the next round of the biannual Hoos Building Bridges Awards will open in January.
Meet this year's honorees, including three individual awards and three team awards.
Kate Bidwell Horton
Kate Bidwell Horton, the medication use policy coordinator in UVA's Department of Pharmacy Services, was nominated for her work addressing drug shortages, a national problem that the UVA Medical Center must constantly monitor.
Her coordination of drug shortage strategies, nominator Scott Anderson wrote, "has been unprecedented and unequalled at UVA," helping UVA Health manage an increasing number of drug shortages nationally and minimize impact on patient care.
Horton created a Drug Shortage Task Force that brings people together across medical disciplines for weekly meetings to monitor the availability of certain drugs and manage inventory. She also led the creation of a UVA intranet database accessible to team members involved in patient care.
"These strategies have helped UVA manage shortages at a remarkably high level, with minimal disruption to patient care," Anderson said.
Vibha J. Buckingham
Vibha J. Buckingham, the associate director of Educational & General Custodial Services in UVA's Facilities Management Division, was recognized for helping many colleagues advance in their jobs and make connections at the University.
"She takes those who feel 'invisible' and develops them into strong, independent and contributing professionals," nominator Sandra Ann Smith wrote, calling Buckingham "an unrecognized leader who tirelessly and passionately supports those facing challenging life circumstances – whether they are in UVA or outside UVA in the greater Charlottesville community."
Buckingham came to UVA in 2011 and quickly built up training programs in her division. Smith noted that she has mentored and motivated many frontline staff, enabling six to rise to supervisor, one to advance to a management position and many others to reach top performer status for the first time in their careers. Buckingham also collaborates extensively with other university and K-12 colleagues who seek her expertise, and mentors refugees as they begin their lives in Charlottesville and the U.S.
"Vibha is a motivating force at the University to virtually everyone with whom she comes in contact," Smith concluded. "For those especially lacking in life's advantages, Vibha assesses their needs and gives them the tools, mentoring, education and motivation to be more tomorrow than they are today. Only someone who truly lives inclusion can make this happen."
Victoria Valdes
Victoria Valdes is the assistant director of the Visual Resources Collection in UVA's McIntire Department of Art. She was nominated for forging connections between the art department and the Department of Drama, especially around the management of UVA's extensive prop collection.
Valdes worked with Christine "Sam" Flippo in the drama department to photograph and catalog props in the Culbreth Theater collection, helping make props accessible even when Flippo – previously the only person able to locate many of the props – was unavailable.
Valdes used her expertise in "Artstor," the database and cataloging system she manages for the art department, and worked with several students to create a similar system for props. The result is a fully interactive database available not only to students, faculty and staff across Grounds, but to other universities, colleges and theater groups.
Already, Valdes, Flippo and students have photographed and edited more than 1,200 photos and uploaded 530 to Artstor's catalog.
"Sam and Victoria anticipate that fully cataloging and publishing the extensive props collection may take up to three years total, but by completion we will have created a fully interactive photographic catalog that will be accessible to borrowers across numerous institutions," nominator Daniel Steven Weiss wrote.
Melissa Goldman and Rachel Kiliany
Melissa Goldman is the fabrication facilities manager in the School of Architecture, and Rachel Kiliany is the health promotion specialist at UVA Student Health.
They were nominated for their work with the Staff Senate, where, while serving as co-directors of University Partnerships, they created from scratch a "Chairs Summit" that regularly brings together leaders from the Staff Senate, Faculty Senate, General Faculty Council, Student Council, Graduate and Professional Council and the Medical Center Team Members Council.
They also developed "Constituency Corner," a dedicated time in Staff Senate meetings for senators to share feedback, questions and concerns raised by staff members in their areas.
Nominator Michael Wayne Phillips, former co-chair of the Staff Senate, said Goldman and Kiliany worked hard to keep everyone organized and in touch, and to keep each group informed of what the other was doing.
"They are both wonderful people individually, and as a team they have accomplished more than I ever could have imagined," Phillips said.
"Their efforts will continue to reap benefits and build more bridges over time as these two initiatives continue to grow," co-nominator and current Staff Senate co-chair Kristie Smeltzer said.
Susan Jackiewicz and Paul Muddiman
Susan Jackiewicz is the administrator for UVA's Neurosciences & Behavioral Health Center, and Paul Muddiman is the manager of the Contact Center at UVA Health. They were nominated for their work creating and co-chairing the Situational and Violent Events Committee, something they voluntarily took on in addition to their daily duties.
Part of UVA Health's BeSafe initiative, the SAVE Committee reviews safety issues flagged by employees and works on techniques and policies to prevent future problems.
The committee consists of both frontline staff and leadership. They use events reported through the BeSafe system and testimonies from frontline staff to identify where intervention is needed and what will help keep everyone safe.
"Both Susan and Paul put in a lot of hours on top of their duties in order to create a safer place for anyone here at UVA," nominator Kelli Huffer wrote. "They saw a need and stepped up when no one asked them to."
Kim Sauerwein, Rebecca Coulter, Chris Joly, Dr. Chris Holstege, Dr. Heather Borek and Dr. Meredith Hayden
Kim Sauerwein, Rebecca Coulter and Chris Joly work in the UVA Career Center, while Dr. Chris Holstege and Dr. Heather Borek work in the Medical Center and Dr. Meredith Hayden works in Student Health.
Together, they are creating "Observe," an initiative that is making it easier for undergraduate students interested in health care to shadow UVA clinicians, something nominator Everette Fortner called "a longstanding need within the pre-health community."
"Clinical observation allows student exposure to the daily routine of a clinician, fosters relationships with health care professionals and serves as an opportunity for students to reflect on service as it relates to their future career as a clinician," Fortner said. "This program seeks to build bridges between pre-health undergraduate students and clinicians at UVA Medical Center, aiding students in the exploration, reflection and validation of their future health care career."
The Career Center will oversee publicity for the program and recruit first- and second-year students, while Holstege, Hayden and Borek will facilitate recruitment of their colleagues and work with various Medical Center departments to help students find shadowing opportunities.
Media Contact
Article Information
December 17, 2019
/content/uva-honors-inaugural-hoos-building-bridges-award-winners