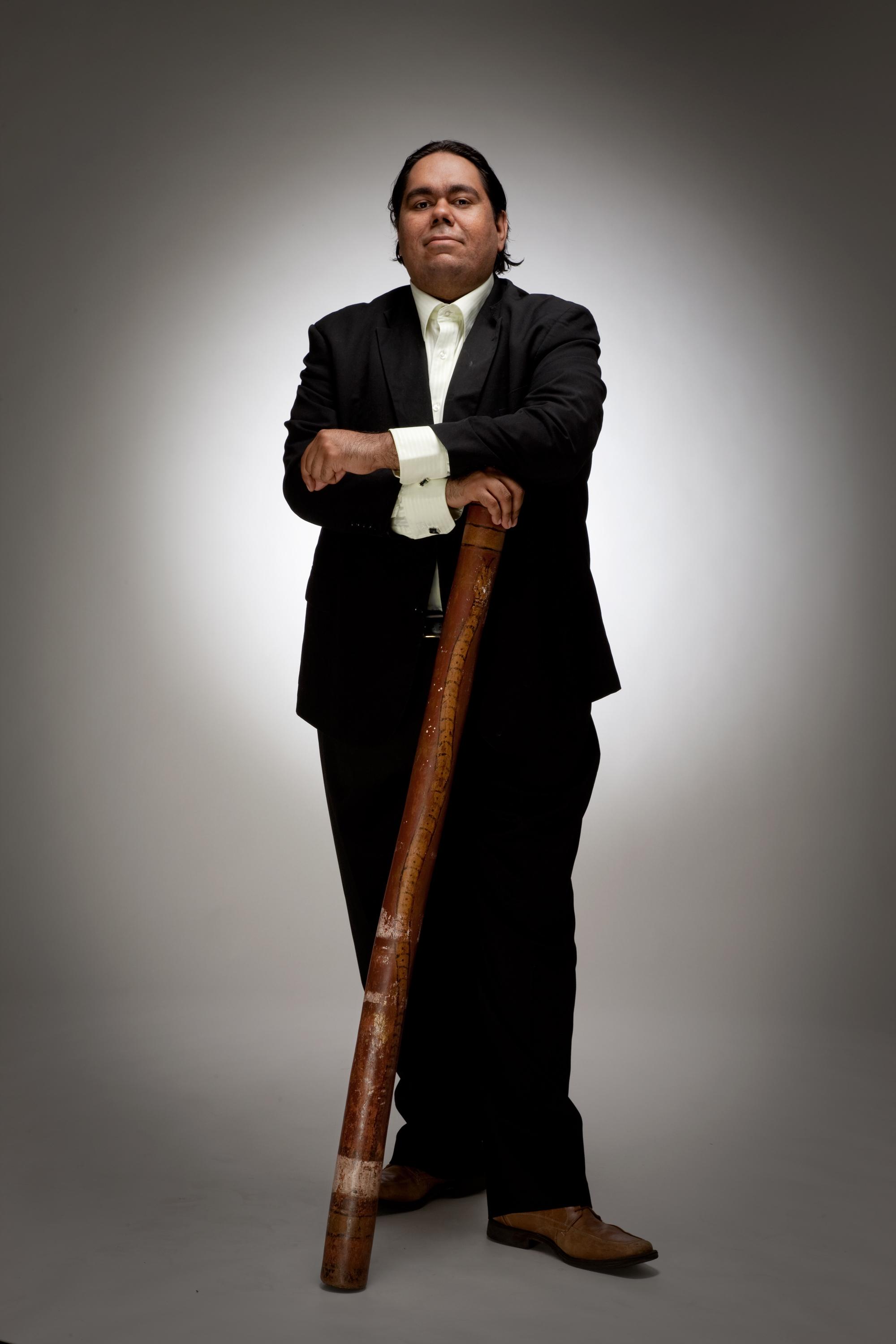 The University of Virginia's Kluge-Ruhe Aboriginal Art Collection will bring composer and musician William Barton to Charlottesville for several special performances, including a concert with Charlottesville High School students.  
On Wednesday at 7 p.m. at U.Va.'s Culbreth Theatre, Barton will perform with the Charlottesville High School Orchestra String Ensemble, led by Laura Mulligan Thomas. The ensemble has garnered a national reputation for excellence, consistently winning top prizes at music festivals all over the country. Tickets are $10 ($5 for museum members, free for university and high school students and can be purchased at the U.Va. Arts Box Office website, by calling 434-924-3376 or by emailing tickets@email.virginia.edu.
On Saturday, Barton will participate as a speaker at TedXUVa. He will perform two original compositions, "Petrichore" and "Bird Song at Dusk," with the McIntire String Quartet, made up of U.Va. students Irene Lee, Nate McLean, Michael Lankenau and Michael Dettmar. Ayn Balija of the McIntire Department of Music directs the students. "Bird Song at Dusk" includes poetry written and performed by William's mother, Delmae Barton. Tickets and information can be found at www.tedxuva.com. 
William Barton is an Aboriginal from Mount Isa in northwestern Queensland, Australia. For more than 20 years, he has practiced as a performer of the extended technique of the didjeridu. He has toured internationally since age 15 as a soloist and in collaboration with traditional dance groups, fusion rock and jazz bands, orchestras, string quartets and mixed ensembles.
Barton plays electric or acoustic guitar simultaneously with the didjeridu in a style he calls "didge-fusion." Highlights of Barton's career include performing at Carnegie Hall with the Adelaide Symphony Orchestra, presenting a private concert to Queen Sofia of Spain, and composing and performing a world premiere of new work with the Berlin Philharmonic at the Sydney Opera House. Most recently, his album "Kalkadungu" was named best classical album by ARIA in 2012.
The didjeridu is a wind instrument originated by Australian Aboriginal people, and was traditionally played in tandem with ceremonial dancing and singing.