Jocelyn Willoughby and Zoe Morse both excelled as athletes at the University of Virginia.
In basketball, Willoughby was the Atlantic Coast Conference's scoring leader. In soccer, Morse was a defensive star who helped lead the Hoos to a No. 1 ranking for much of this past season.
But playing sports was merely one facet of their UVA experiences.
Both earned high marks in the classroom. Both immersed themselves in extracurricular activities and student life. Both, in essence, personified the term "student-athlete."
It was with this in mind that UVA's Department of Athletics announced Tuesday it had nominated the pair for the 2020 NCAA Woman of the Year Award.
Rooted in Title IX, the NCAA Woman of the Year Award was established in 1991 to recognize graduating female student-athletes who have exhausted their eligibility and distinguished themselves in academics, athletics, service and leadership throughout their collegiate careers.
The nominees represent all three NCAA divisions, including 259 nominees from Division I, 126 from Division II and 220 from Division III. Nominees competed in 24 sports, with multisport student-athletes accounting for 128 of the nominees.
During her time at UVA, Willoughby, an East Orange, New Jersey native, often drew parallels with UVA-turned-NBA star Malcolm Brogdon.
Both were ACC stars, Lawn residents and earned reputations as deep thinkers about much more than just basketball.
Both also opted for master's degrees in public policy at UVA's Frank Batten School of Leadership, which Willoughby continues to pursue as she begins her WNBA career with the New York Liberty.
Even Brogdon, however, did not receive the ACC Scholar Athlete of the Year award, which Willoughby did just before the ACC Tournament in March.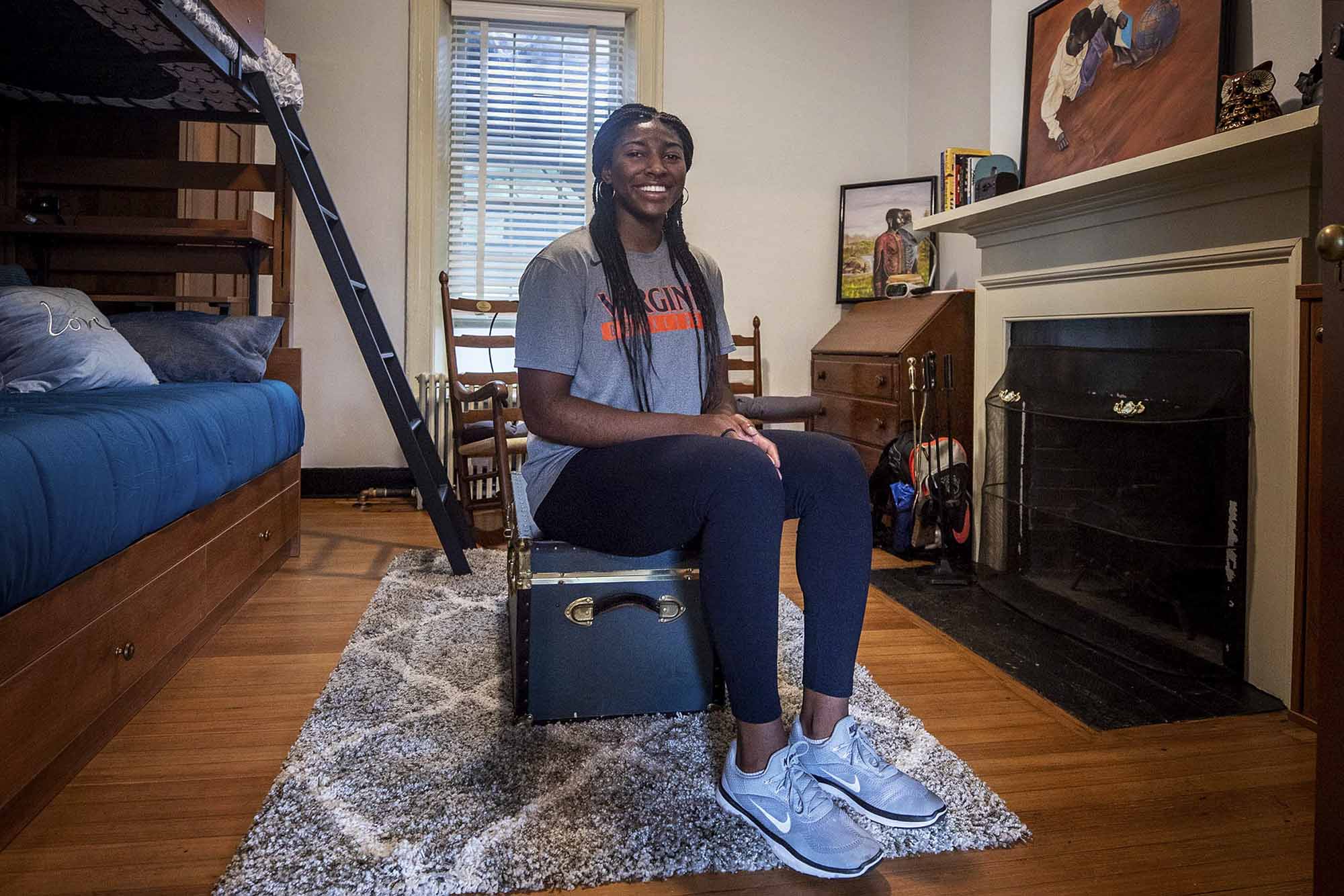 Willoughby was a first-round pick in the WNBA Draft. (Photo by Sanjay Suchak, University Communications)
Willoughby was also named to the 2019-20 All-ACC Academic Team, making her Virginia's first four-time recipient of that honor. She was also the second player in program history to receive an NCAA postgraduate scholarship, joining Cathy Grimes, who did so in 1985.
"As I look to a life beyond basketball and a more traditional career, I think I've gained a lot of intangible skills that come with being a student-athlete – time management, teamwork, leadership, working under deadlines and pressure," Willoughby said. "There's so much that comes with the experience. I think life as a student-athlete is so dynamic, and so many different things are thrown at you that you just find this renewed sense of confidence that you're able to apply to any field, really."
As a senior captain last season, Morse – an East Lansing, Michigan native who majored in global public health and minored in environmental science – helped start Green Athletics, a student-run group that collaborates with UVA's Office of Sustainability and the Department of Athletics to encourage and support sustainability across all athletic platforms.
The club – which has organized zero-waste events, reduced water and energy consumption at sports venues and collaborated with Charlottesville residents on projects such as sports gear donations – was one of Morse's many passions.
Morse was also a member of the Student Athlete Mentors, the primary substance abuse prevention program in the athletic department, which also focuses on athletes' mental health and body image, among many things.
Like Willoughby, Morse lived on the Lawn.
And, like Willoughby, she was a student-athlete in the truest sense.
Morse was named to the All-ACC Academic Team for the third time in her career en route to becoming an ACC Postgraduate Scholarship winner.
"It's [a] cliché about how [universities] want you to be a student-athlete, not an athlete-student, but UVA really does give you a space to pursue your interest outside of sports, while also allowing you to be the best athlete, the best person you can be," said Morse, who was selected in January by the Chicago Red Stars of the National Women's Soccer League.
"Our athletic department is really trying to help you be well-rounded – a good person, a successful student and a successful athlete. And I think that's something that I'm really proud to say that I've come from."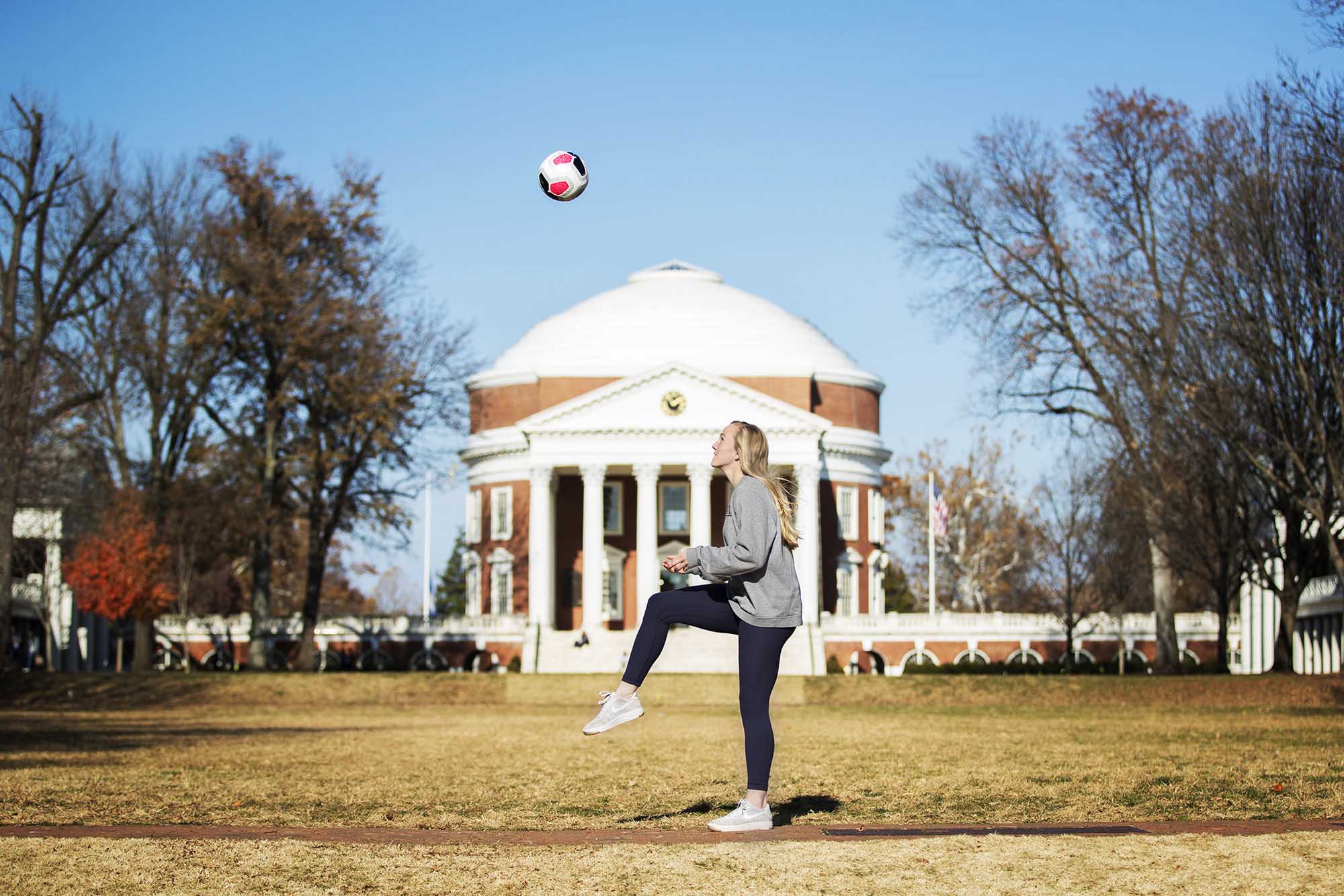 Morse was a member of the Student Athlete Mentors during her time at UVA. (Photo by Dan Addison, University Communications)
Morse and Willoughby are among a record 605 female college athletes nominated for the award.
Member schools are encouraged to honor their top graduating female college athletes each year by submitting their names for consideration for the Woman of the Year Award. Schools can recognize two nominees if at least one is a woman of color or international student-athlete.
Conference offices will select up to two nominees each from their pool of member school nominees. Then, the Woman of the Year selection committee, made up of representatives from the NCAA membership, will choose the Top 30 honorees – 10 from each division.
From the Top 30, the Woman of the Year selection committee will determine the top three honorees in each division and announce nine finalists. The NCAA Committee on Women's Athletics then will choose the 2020 NCAA Woman of the Year, who will be named this fall.
Article Information
July 15, 2020
/content/uva-nominates-two-2020-ncaa-woman-year-award