In the few days since University of Virginia deans Ian Baucom and Alex Hernandez announced a new academic program geared toward working adults – particularly UVA staff – interest has been strong.
UVA Edge, a yearlong, six-course, online program, aims to give workers who might only have a few college courses under their belts – or none at all – a way to develop digital and human skills that can be useful in their careers and a new path to a degree.
During this moment, with the coronavirus pandemic keeping people isolated, workplaces and classrooms upended, the economy in flux and society's inequities exposed more than ever, the University is looking for ways to help people keep pursuing important goals. That requires innovation.
A partnership between UVA's College and Graduate School of Arts & Sciences and its School of Continuing and Professional Studies, the new UVA Edge program offers students a chance to earn 20 academic credits over a calendar year. A pilot geared toward UVA staff begins in January.

UVA Edge helps achieve a goal in the University's 2030 "Great and Good" strategic plan to expand educational opportunities, and responds to the recent Racial Equity Task Force recommendations that in part call for expanded and improved career development.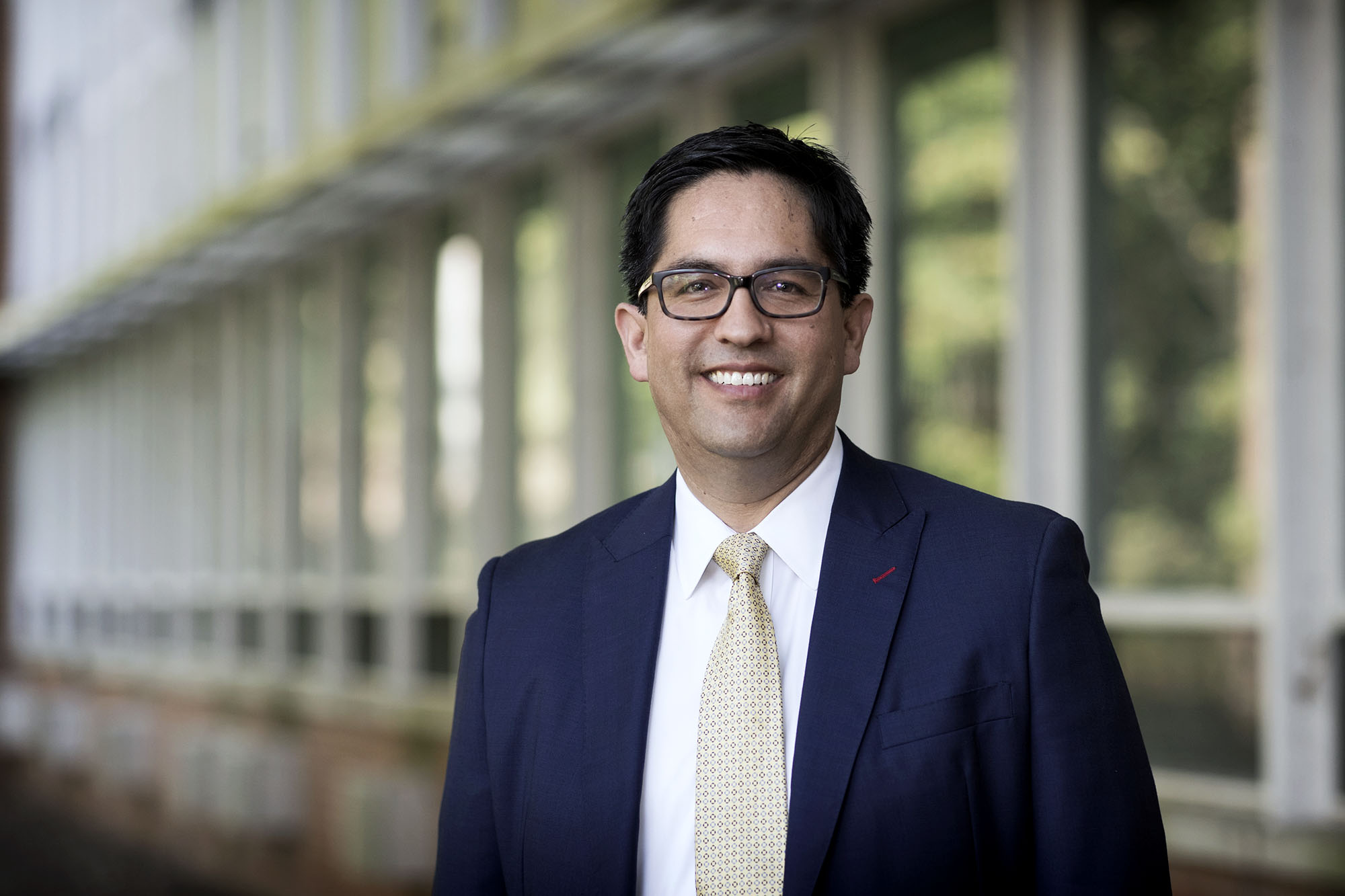 Alex Hernandez, dean of the School of Continuing and Professional Studies, said he has heard from UVA employees that they are excited about the new academic program. (Photo by Dan Addison, University Communications)
UVA Edge presents courses in accessible, online formats while accommodating work and family schedules. Applications are already being accepted; the deadline is Dec. 7 for the program that begins in January.
The courses will focus on digital skills and human skills – both of which are critical for success, said Hernandez, who came to UVA almost two years ago to lead the School of Continuing and Professional Studies.
"Human skills" are the kind of things people will always do that technology cannot (as the website describes): "think critically, communicate effectively, lead with values and empathy and adapt to new situations."
"Human skills are vital in the workplace, but often hard to develop," Hernandez said. "And we believe they are best developed through the liberal arts."
Arts & Sciences Dean Ian Baucom said he is thrilled to partner with the School of Continuing and Professional Studies to help bring a liberal arts-based education to adult learners in this new way.
"The critical-thinking skills a liberal arts education provides every student are even more relevant today to succeed in this fast-changing world," Baucom said in an email. "Designing a program that helps adult learners earn a college education in these uncertain times is, I believe, an urgent and vital task of the University."
The Oct. 7 email announcing the program immediately stirred interest, Hernandez and other faculty organizers said in recent Zoom meetings. "People are excited to have this opportunity that hasn't been available before," he said.
UVA is backing the program and committed to keeping it affordable by enabling eligible UVA employees to use their educational benefit without having to pay first and then be reimbursed, administrators said.
The full value of the program is $10,844, including materials, but accepted students who begin classes in January can expect to pay $100 per term, for a total out-of-pocket cost of $300 for three terms, after the application of available employer benefits. 
Rachel Most, a professor of archaeology who is associate dean for undergraduate academic programs in Arts & Sciences and also coordinates the work of the College's Curriculum and Educational Policy Committee, said she's committed to helping this new group of students just as she has been to the traditional residential students on Grounds for four years.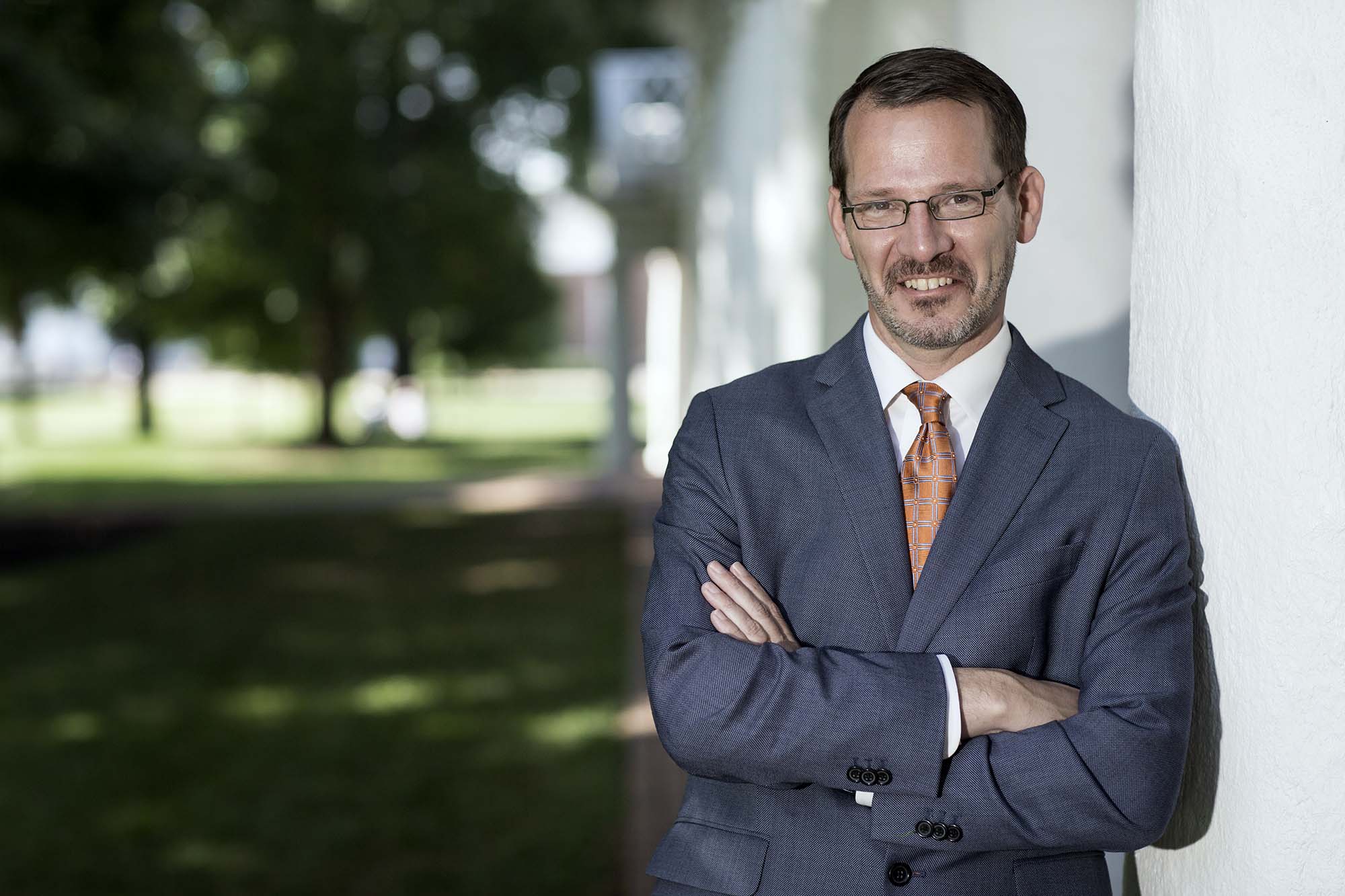 Arts & Sciences Dean Ian Baucom said it's important to bring a liberal arts-based education to adult learners in this new program. (Photo by Dan Addison, University Communications)
"As a first-generation college student myself, I think it's wonderful to provide opportunities like this, created for working adults who want to go on to get degrees," she said.
UVA Edge is adapting a curriculum similar to UVA Launchpad, a summer program offered to regular undergraduate students who lost internships and other opportunities due to the coronavirus pandemic.
Politics professor David Leblang explained UVA Launchpad, the brainchild of Baucom and Hernandez.
In January, Leblang, in his new role as senior adviser to the Arts & Sciences dean for special projects, was beginning to explore whether the College could contribute to programs in Northern Virginia. With faculty appointments in the Frank Batten School of Leadership and Public Policy and the Miller Center, Leblang directs Batten's Global Policy Center and has been involved in several public service projects.
When the pandemic hit, many summer options for students went out the window. To provide an opportunity for students, the deans proposed UVA Launchpad, through which students could earn six credits combining coursework in liberal arts with technology skills.
UVA Launchpad was such a huge success, they wanted to further the deans' vision, Leblang said, and UVA Edge took shape.
The UVA Edge curriculum consists of two courses apiece in the spring, summer and fall semesters of 2021. The program mixes live, online classes with instruction that can be accessed any time, totalling 20 credits. That arrangement should give adult students a connection with faculty and other students, while also giving them flexibility.
The series of courses begins with "Knowledge in the Digital Age" and "Digital Essentials," moving into "Reflective and Persuasive Writing" and one of two data analysis courses in the summer, and in the fall, "High-Impact Behaviors in the Workplace" and a capstone project in which students can use the skills they've learned. "The [capstone] course also focuses on the ethical demands of participation in a democracy, and their relationship to knowledge, education and work," according to the course description.
Leblang said Baucom's innovation group had to examine what UVA could do in the midst of the pandemic.
"One question we had was, 'How can we reach out to community members?' It's a way to give back to the folks who work on Grounds, especially in a time of crisis. This first iteration is focused on UVA staff, but we hope to expand the program to the community and state eventually," he said. "This is a service we can provide to citizens."
Course instructors will come from both schools, including faculty and graduate students, UVA staff and alumni.
"We've had tenture-track faculty members jump at the opportunity to teach these courses," Leblang said. Teaching in the program will be good experience for graduate students, too. "The ability to say you've taught online is going to help grad students in the future."
The School of Continuing and Professional Studies will support the UVA Edge students up front to make sure they're comfortable with the technology tools and the class environment. The school has worked successfully with nontraditional students in its Bachelor of Interdisciplinary Studies undergraduate degree program for 20 years.
"We believe a UVA education can be transformational, and UVA Edge gives more people access to our University," Hernandez said. "This is part of fulfilling our mission to serve the public."
To those considering the program though it might seem scary, he added, "You can do this! We are here to support you."
Article Information
October 13, 2020
/content/uva-opens-its-doors-little-wider-working-adults