On a quiet Monday morning, former Justice Department official Paul Monteiro appeared at Charlottesville High School via videochat to speak with students about all the professional opportunities that a college degree opened up for him.
Monteiro served as the Justice Department's acting director of community relations under President Obama and, like many of the students he addressed, was the first in his family to consider college and face down the financial burden of earning a degree.
His chat was one in a series of 50 such talks taking place in classrooms all across the commonwealth as part of a new University of Virginia-sponsored speaker series.
"Virginia is for Job Lovers: Virtual Commonwealth Career Series" is the result of a recent partnership between UVA's Virginia College Advising Corps and the UVA alumnae-founded non-profit, DreamWakers. It's designed to promote college access and attendance for low-income, first-generation and under-represented students.
"Our VCAC college advisers are already in the schools every day helping students to figure out their educational and career path after high school, but sometimes a pop of inspiration is needed," Virginia College Advising Corps Director Joy Pugh said. "That is why the partnership with DreamWakers is so valuable to us. We hope that this unique exposure to high-caliber speakers provides that extra push of motivation for a student to persist in their education and pursue their career goals."
An AmeriCorps-affiliated program, the Virginia College Advising Corps was founded at the University in 2005 and trains recent UVA graduates to offer "near-peer" college advising support to high school students and help them apply to a range of higher education institutions. They currently have 22 advisers serving in 26 high schools across Virginia.
University alumnae Monica Gray Logothetis and Annie Medaglia founded DreamWakers in 2014 at UVA's i.Lab. Their organization uses free videoconference technology to bring exceptional career speakers into underserved fourth- through 12th-grade classrooms across America. Their goal is to match classrooms with speakers – usually individuals who grew up in hometowns or socio-economic statuses similar to the students they're addressing.
"The mission of VCAC aligns perfectly with that of DreamWakers in that VCAC focuses on serving first-generation college students, and DreamWakers is proud to have in our speaker roster some of the most remarkable first-generation college grads and first-generation immigrant professionals in the country," Logothetis said. "These chats tend to be especially powerful for first-generation college students who might not have frequent access to first-gen role models who were once in their shoes."
At Charlottesville High, Monteiro spoke to a mix of 11th- and 12th-graders in Allen Robinson's "Advancement Via Individual Determination" class. Many of the students were interested in becoming first-generation college students themselves and were eager to ask Monteiro about his experience as the son of immigrants and the first in his family to attend college.
"Most of our [Advancement Via Individual Determination] students have a path to college that hasn't been paved quite as smoothly as it has been for others," Robinson said. "Many are first-generation college-bound, and most haven't had a chance to speak at length with a mentor in their field of interest. That's what made DreamWakers such a perfect opportunity for them."
Although neither of his parents attended college, Monteiro said they always stressed the importance of a college degree as a "ladder out" to a better life. He encouraged students to take that lesson to heart and to be willing to work hard for what they want throughout college and afterward.
In describing his path from college to law school and eventually a place in the Obama administration, Monteiro's chat played into the College Advising Corps' larger goal of highlighting the benefits and possibilities that await students if they choose to pursue a degree. Students were able to ask about his work with the Justice Department and many were interested in hearing not only about how he achieved that position, but also in the ways he used his education and training to work with communities around the country.
After having submitted Charlottesville High as a possible site for a DreamWakers chat, Laura Widener, the school's College Advising Corps adviser and 2016 graduate of the College of Arts & Sciences, was thrilled to see the high level of engagement among students and their excitement about asking Monteiro questions.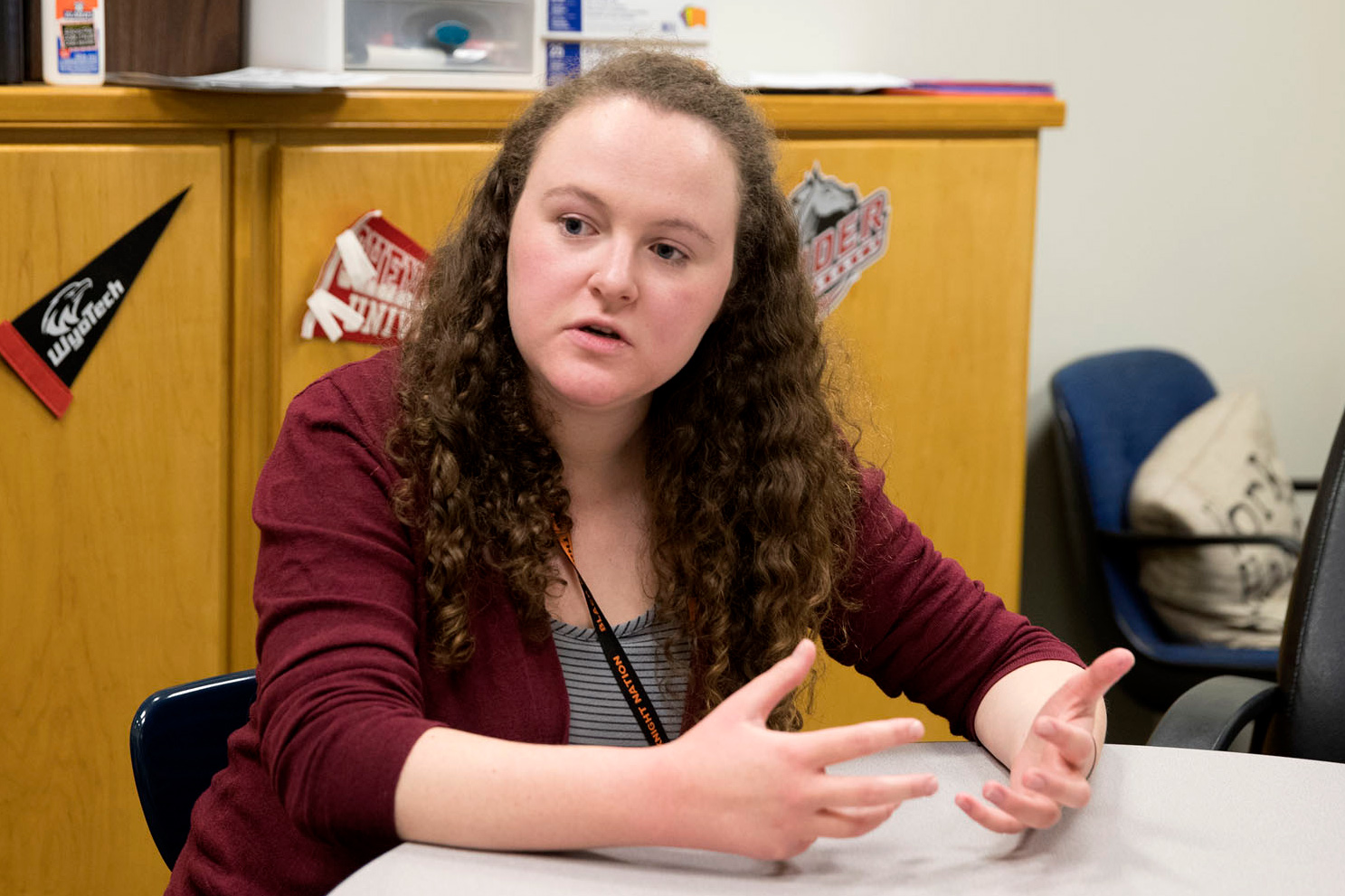 "I thought it was amazing and educational for the class," she said. "I find that the students who come to me more often are the ones who don't have the experience of having a parent or family member in college, so it's wonderful for them to have access to more resources and role models like this."
Although the Virginia series is only a few weeks old, Logothetis has said the DreamWakers would consider expanding the partnership to the National College Advising Corps, the nationwide program modeled after VCAC's example. In the meantime, DreamWakers and the Virginia College Advising Corps are looking forward to the many Virginia video chats still ahead between now and June.
"By connecting first-generation college students with positive role models, we are putting in front of this next generation – and asking them to interact with – very real examples of what it means to inspire others, live a clear set of values, strive for personal and professional goals and give back to community," Logothetis said. "These are the characteristics we need more of, in Virginia and beyond, today and in the future."  
Article Information
February 10, 2017
/content/uva-partnership-puts-dream-higher-education-focus