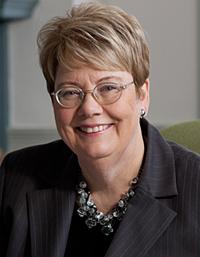 University of Virginia President Teresa A. Sullivan received the 2013 Advocate for Higher Education Award Wednesday evening at the Public Relations Society of America's Counselors to Higher Education Senior Summit, being held in Washington, D.C.
Sullivan delivered the organization's Pat Jackson Lecture Wednesday evening on "Building a Cathedral: Leadership in American Higher Education," followed by a dinner and her award presentation.
The theme of the summit, which runs through Friday, is "Strategic Leadership in a Time of Disruption: Helping Your Team and Your Institution Gain Relevance."
Michael Warden, vice president for institute communications at the Georgia Institute of Technology in Atlanta, headed the committee that chose Sullivan as this year's higher education advocate.
According to Warden – who chairs the society's section on communications and public relations counselors to chancellors and presidents at higher education institutes, both public and private – the award Sullivan received was created in 2009 to recognize an individual who has done the most to advocate on behalf of American higher education, from the president of an institution to a legislator to a citizen or an alumnus.
Warden said that he and the 12-member executive committee were unanimous in their choice of Sullivan.
"She represents the best qualities of a leader in terms of her performance under fire, her professionalism, her resilience and the grace in which she handled the pressures of the last year and continues to do so today," Warden said.
Chartered in 1947, the Public Relations Society of America is the world's largest and foremost organization of public relations professionals, with more than 21,000 members across the United States, from recent college graduates to the leaders of the world's largest multinational firms.