An interest in government, a passion for social justice and a deeply rooted understanding of the teachings of the Catholic Church: these puzzle pieces eventually fit together to land assistant professor Nichole Flores at the University of Virginia.
"My work is concerned with religion and the common good and religion in public life," Flores, who teaches courses in religious studies, said. "I felt it would be a really neat opportunity to speak about the contributions of Catholic thinking and Catholic social thought within the rigorous and exciting public context of UVA."
Flores has been taking advantage of that opportunity since she came to Grounds in the fall of 2015. Informed by the degrees she earned in political science, divinity and theological ethics, Flores' teaching and research focuses on Catholic social thought as it pertains to issues such as human trafficking, racism and bioethics. But Flores also emphasizes that the teachings of the church can extend to every area of human life, regardless of one's religious beliefs.
"A lot of people are hesitant to look at Catholic social thought because it sounds like something that only has to do with people who go to Catholic churches," Flores said. "But, in fact, the way the Catholic tradition understands itself is having relevance beyond its own believers and that it has something to say about justice and goodness to the whole world."
Take, for instance, the role of Catholic thought in sports.
"In the National Football League, we have star athletes who are at risk of having concussions, and Catholic theology has something to say about what society owes to athletes and what justice requires in those cases," Flores said. "Sometimes it really shocks people that there can be resources for thinking about health and wellness and the good of every human person from within a tradition such as Catholicism."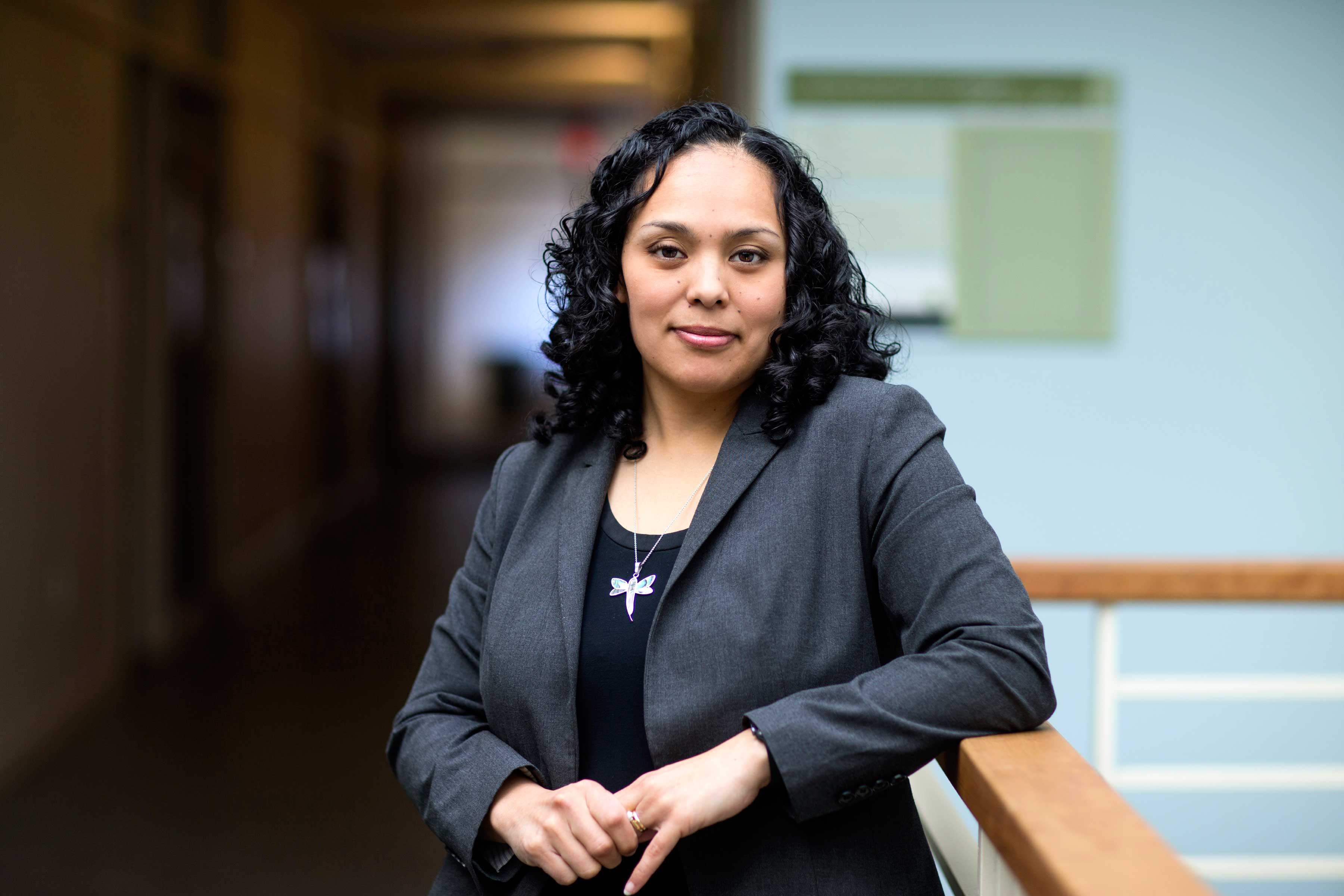 "The Catholic tradition understands itself is having relevance beyond its own believers and that it has something to say about justice and goodness to the whole world," Flores said. (Photo by Dan Addison, University Communications)
In this way, Flores says, Catholic social thought can serve as a "moral toolkit" for thinking through life's tough issues and questions, such as human trafficking.
"The human rights tradition that is broadly affirmed across many different philosophies and religions is at least in part borne out of Catholic thinking, in terms of the kinds of rights that are owed to humans by virtue of their existence," Flores said. "Catholic social thinking says that as long as one person is enslaved or is being trafficked, then there is something wrong that needs to be addressed."
In her classes, Flores emphasizes this concept by asking students to carefully consider the clothes they're wearing or the mobile devices they're holding in their hands.
"It hits home with students that there's a possibility within our global economy that somebody was abused or trafficked somewhere within that commodity chain," Flores said. "That's really disturbing to students regardless of their religious or philosophical backgrounds."
In addition to teaching, Flores is currently writing a book that reflects on the role of aesthetics – in religion, the arts and music – in Latino political participation, a concept that she says can also extend to the political participation of other minorities.
"My argument isn't necessarily that we should govern with religious intention, but that as we have conversations about justice, about what it means to live together in a society and about civil rights, our ability to engage with the beautiful can help move the ball forward," Flores said.  
In her time at UVA, Flores said she hopes to prepare students to investigate the social world and ask questions about what's going on behind the scenes.
"At UVA, we are training leaders for public life – people who will one day be our elected officials, business leaders, lawyers and doctors – to think in ways that look beneath the surface," she said. "The kinds of conversations we have in my classes could potentially shape life for people here, for people beyond this space here in Charlottesville and at UVA, and also for people several generations to come. For me, that's the most important contribution I want to make."  
Editor's note: This is another installment in an occasional series profiling members of a generational wave of new faculty members at the University of Virginia.
Article Information
October 11, 2016
/content/uva-professor-examines-injustices-through-catholic-lens