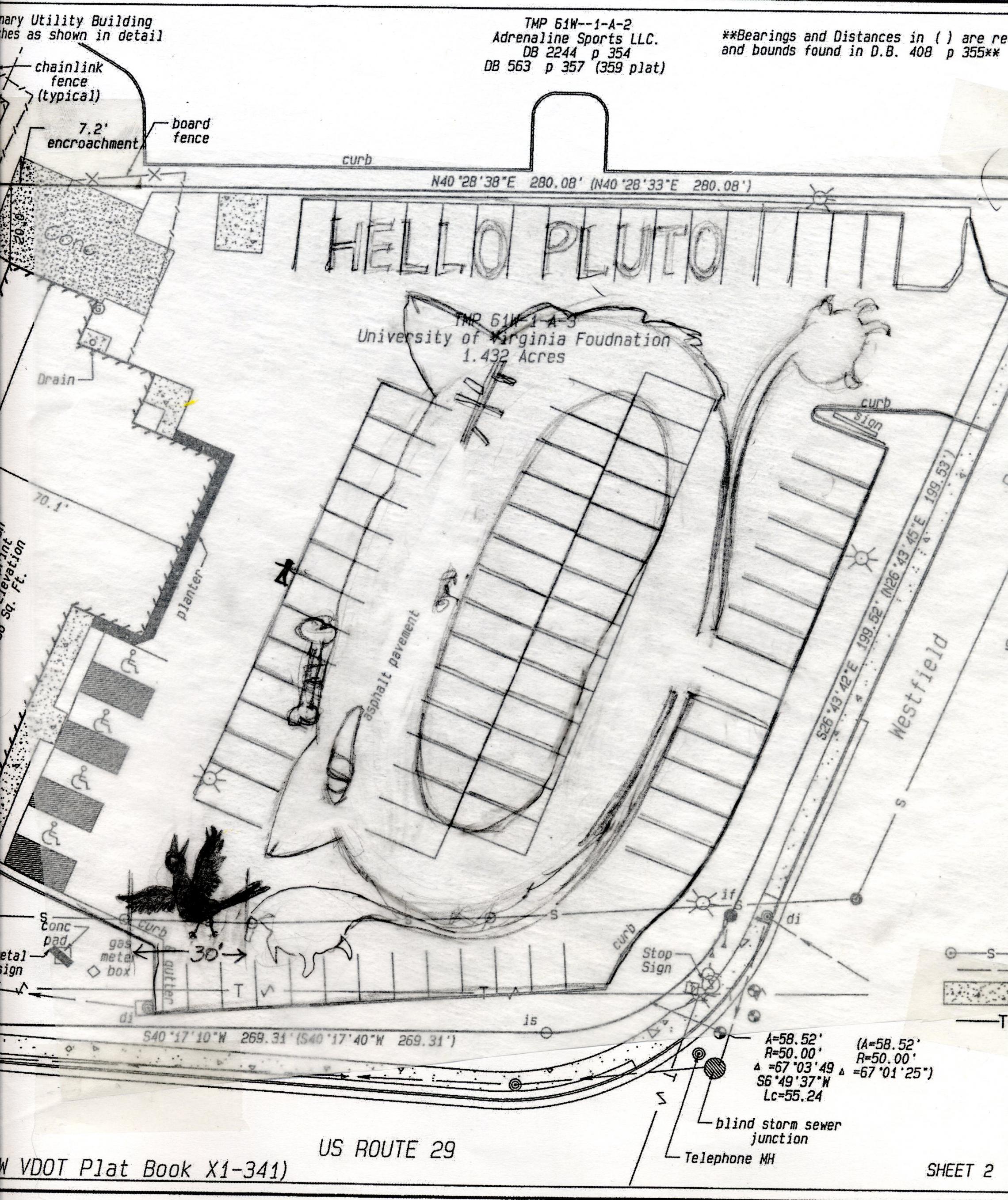 April 3, 2012 — A group of artists and students, working under the direction of University of Virginia artist and studio art professor Megan Marlatt, plan to create a large painting on an asphalt parking lot beginning April 6.
The artists and students, known as "The Cardboard Collective," includes students Marie Bergeron, David Cook, Carmen Diaz, Shiry Guirguis, Margaret King, Brendan Morgan and Cherith Vaughan and Marlatt's husband, photographer Richard Robinson.
The painting, titled "Hello Pluto, Good-bye Kitty," is based on Edgar Allan Poe's short story "The Black Cat" and will be painted on a large parking lot at the southwest corner of U.S. 29 and Westfield Road, owned by the U.Va. Foundation. Made up of hundreds of painted, one-eyed black cats on the asphalt, Pluto the cat in full form will only be visible from the air or via Google Earth, should Google Earth update its aerial photograph of the site.
Upon completion of the painting, an opening reception will be held at the site on May 12, from noon to 2 p.m.
Marlatt warns that too much rain in April may hinder progress of this project.
Marlatt's public art and site-specific work includes a monumental digitally-printed vinyl banner, "The Hatter of Rockville," for Rockville, Md. She has created fresco murals at Emmanuel Episcopal Church in Rapidan; St. Michael's Episcopal Church in Piscataway, N.J.; Charlottesville City Hall; and the Memphis College of Art in Tennessee.
Non-traditional modes of realizing public art have included temporary grass and asphalt paintings at the Hillwood Museum of Long Island University, Louisville Water Tower in Kentucky, the District of Columbia Arts Center in Washington and the Atlanta Arts Festival.
Some of Marlatt's past work has involved co-creating with communities and non-profits like City Arts Workshop in New York City, leading young and old artists in creating murals for their schools and community centers. These community collaborative murals were created at Casa Prac Inc, a bilingual outreach organization, in New Jersey and Washington House and Central Park East No. 2 School, both in New York.
She has brought this practice into her teaching as a professor in U.Va.'s College of Arts & Sciences, where her students have created about 15 major murals over the last 10 years for non-profit organizations, schools and municipalities. In addition, Marlatt has taught fresco painting several summers in Italy for U.Va. and the Montserrat College of Art in Beverly, Mass.