The University of Virginia's Board of Visitors voted today to rename Ruffner Hall in honor of Walter Ridley, the first African American to earn a doctoral degree from UVA.
Born in Newport News in 1910, Ridley earned bachelor's and master's degrees from Howard University before applying for a doctoral degree from UVA. After seeking admission to the University over the course of many years, he was finally admitted to the Curry School of Education and completed his doctorate in 1953. Ridley went on to pursue a successful career as an educator and an advocate for state resources for African American education.
Ridley also holds the distinction of being the first African American to earn a doctoral degree from a historically white university in the South.
Ridley's grandchildren – Alyssa, Carl and Mark Scheunemann – said in a joint statement on behalf of Ridley's descendants that they were "honored and excited" about the renaming:
Dr. and Mrs. Ridley would have been delighted, as would their daughter, Yolanda Ridley Scheunemann, and their son, Don Ridley. Although the thinking on this change predates the current moment of civil unrest around issues of discrimination against African Americans, the timing of this announcement could not be more appropriate. Theodore Parker, an abolitionist minister, said in a sermon in 1853, "I do not pretend to understand the moral universe. The arc is a long one. My eye reaches but little ways. I cannot calculate the curve and complete the figure by experience of sight. I can divine it by conscience. And from what I see I am sure it bends toward justice." We commend the University of Virginia for doing the difficult, messy work of self-examination and taking an active role in bending that moral arc toward the ideals and values we endeavor to embody ever more fully.
The decision to honor Ridley was the outcome of an ongoing process of review regarding the namesakes of the Curry School of Education and Human Development and Ruffner Hall, a building in which many education courses are conducted.
Last month, President Jim Ryan and the University Committee on Names offered their support for the name change as part of an extensive process initiated by School of Education Dean Robert C. Pianta and the school's leadership in 2018 to examine the life of William H. Ruffner and J.L.M. Curry, including their contributions to public education and their actions and beliefs regarding slavery and racial segregation.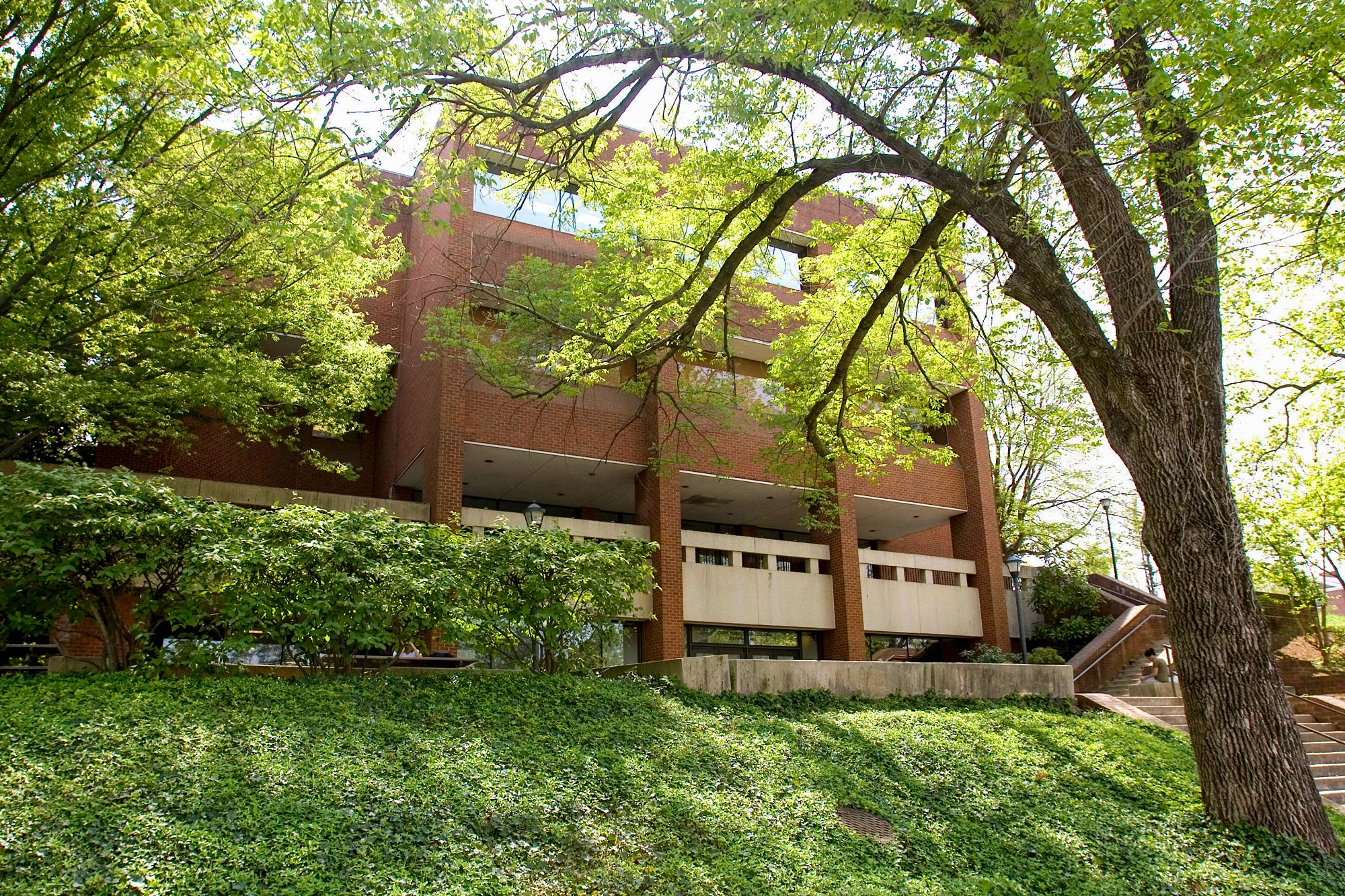 The newly renamed Ridley Hall is the longtime home of the Curry School of Education and Human Development. A name change for the school remains under consideration. (Photo by Dan Addison, University Communications)
In response to the board's vote, Pianta said, "We are delighted to celebrate Walter Ridley's pathbreaking leadership and contributions to education and society. As a school dedicated to realizing human potential, we can look to Mr. Ridley's writing, statements and actions as models for engaging in our work. We are fortunate that he chose the University as a place to continue his education and are honored by our association with him."
The board's vote was unanimous in favor of celebrating Ridley's life and contributions by naming a building after him.
"I am proud to cast a vote to name a building where future education leaders will be taught after a man who made such tremendous contributions to education and racial equity in our commonwealth," said James B. Murray, rector of the Board of Visitors. "I want to thank Dean Pianta and his team, the University Committee on Names and President Ryan for their diligent work to provide the board with the information necessary to make this important decision."
Today's Board of Visitors meeting was compressed and conducted online due to the COVID-19 pandemic. As a result, the board indicated it would address the proposal for removing Curry as the namesake of the education school at a later date.
"I'm very pleased that the board voted to approve our recommendation to honor Walter Ridley, and I look forward to the chance to have a fuller conversation about our recommendation regarding Curry," Ryan said.
As part of its review process, the Committee on Names established a special subcommittee to augment the Curry School's findings, chaired by John C. Jeffries Jr., the David and Mary Harrison Distinguished Professor of Law and the University's senior vice president for advancement.
The committee engaged noted historian Gary W. Gallagher, the John L. Nau III Professor in the History of the American Civil War, to conduct additional research into the lives of Ruffner and Curry.
In an extensive report, Gallagher examined the lives, accomplishments and attitudes on race and segregation of both Curry and Ruffner.
Ruffner was a native Virginian and minister who served as superintendent of Virginia's public schools and then as the first president of the Female Normal School at Farmville, which is now Longwood University. Like Curry, Ruffner also contributed to public education in Virginia, but his accomplishments are overshadowed by his clear support for segregation and his stated belief that African Americans were intellectually and morally inferior to whites.
Gallagher's analysis also concluded that Ruffner did not have any connection to the University of Virginia that would strengthen the argument for his importance to the history of the institution.
The decision to remove the Ruffner name and replace it with that of Ridley follows other board actions regarding facility names. In 2017, the University re-dedicated the former Jordan Hall to Dr. Vivian Pinn, a 1967 graduate of the UVA School of Medicine who was the only woman and African American in her class. They also voted to change the name of Lewis House to Yen House after W.W. Yen, the first international student to earn a bachelor's degree from UVA. The previous namesakes of those buildings, Harvey Jordan and Ivey Foreman Lewis, were proponents of the debunked theory of racial eugenics.
In 2019, the University renamed the Barringer Wing at the UVA Medical Center West Complex after Dr. Francis S. Collins, a UVA alumnus who served as the director of the National Human Genome Research Institute and currently directs the National Institutes of Health. The wing's previous namesake, Paul Brandon Barringer, was a physician and former chair of the UVA faculty from 1896 to 1903 who also supported eugenics.
In March 2019, the Board of Visitors approved the naming of a new student residence building on Brandon Avenue after Julian Bond, a pioneer of the civil rights movement and longtime UVA professor of history. Bond House contains more than 300 single rooms in four-bedroom student apartments and also houses the University's Democracy Initiative, a global center for the study of democracy.
Article Information
June 4, 2020
/content/uva-renames-building-walter-ridley-first-african-american-earn-doctoral-degree