Ramasubramanian's office reports that in 2018-19 alone, funding was up 4.6% over the previous year, with a 2.1% increase in the total number of awards. Fifty-six of the awards across the University's 12 schools were for $1 million or more.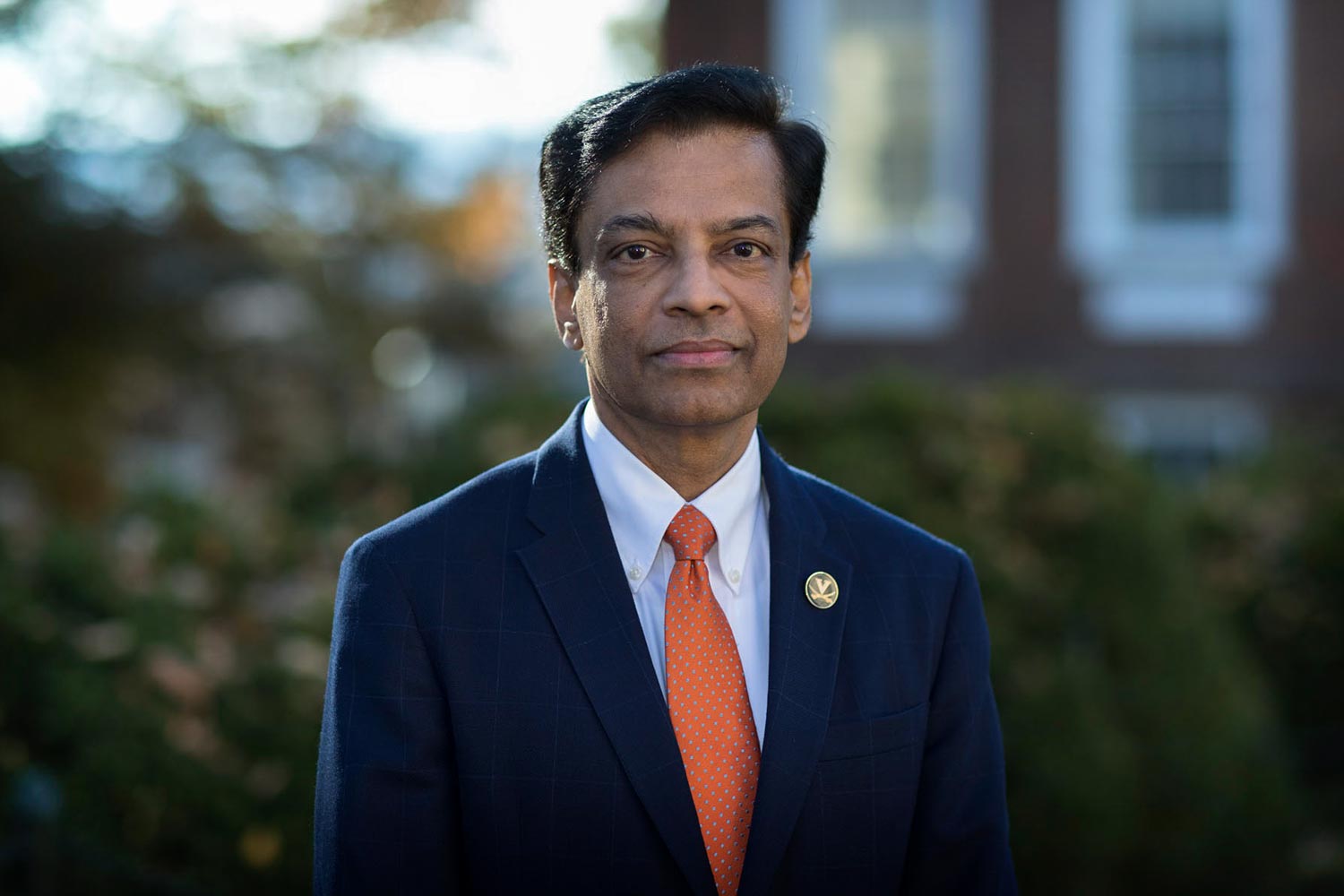 Melur K. "Ram" Ramasubramanian, vice president for research, praised the effectiveness of UVA faculty in securing research funding. (Photo by Dan Addison, University Communications)
The School of Medicine, in 2018-19, this year earned more than $226 million in awards from all sources, while the School of Engineering received more than $73 million. The College and Graduate School of Arts & Sciences won more than $50 million, and the Curry School of Education and Human Development earned more than $29 million. The University's other schools won a combined $32 million.
Overall, federal funding is up by $129 million over five years, representing a 64% increase.
"The growth in federal dollars speaks to the effectiveness of UVA's faculty in securing funding for their ideas in a highly competitive environment," Ramasubramanian said.
The National Institutes of Health is the main source of all funding, providing $207 million this year, a 66% increase over five years ago. National Science Foundation funding this year is $42.5 million, a 72% increase over five years ago. Department of Defense funding, now at $41.8 million (nearly as much as NSF funding), is up 137% over five years ago, when it was just $17.6 million.
"Department of Defense funding went up significantly this year due to several new awards, such as a large Defense Department award to Kevin Skadron in engineering for developing new computer architecture, and awards that the new Biocomplexity Institute brought to UVA," Ramasubramanian said.
Click on the names of the funding agencies below the graph to remove them from the visualization.
One of UVA's strategies, Ramasubramanian said, will be to improve the success rate of winning large-scale, center-level and institute-level federal grants to dramatically increase overall funding.
The University's strategic plan focuses on five areas: democracy, environmental resilience and sustainability, precision medicine, the brain and neuroscience, and digital technology and society. Each area draws on UVA's existing strengths, and represents both challenges and opportunities, Ramasubramanian said.
"The University is taking a coordinated approach through its centers, institutes, initiatives and labs to amplify the work of our faculty," he said.
"Our outstanding teams of faculty, staff and students across all the schools have propelled us over the $400 million mark in research funding," Executive Vice President and Provost Liz Magill said. "Meanwhile, researchers in the five focus areas are targeting interdisciplinary approaches that improve the chances of receiving grants down the road. I look forward to celebrating their continued success."
Here are some of the larger grants that helped the University reach $412 million in 2018-19:
Kevin Skadron, computer science professor, has a five-year, $29.7 million grant ($5.5 million this year) from the Semiconductor Research Corporation, a consortium that includes technology companies, universities and government agencies, for a national center that is creating a new generation of computers that couple data storage and central processing.
Karen Johnston, professor of neurology and public health, is using a five-year, $23 million NIH grant (nearly $4.7 this year) for the Integrated Translational Health Research Institute of Virginia, or iTHRIV, a collaboration of public and private institutions in Virginia that shares resources to speed discovery for better health outcomes.
Kodi S. Ravichandran, professor of microbiology, immunology and cancer biology, has a $12.16 million NIH grant ($2.43 million this year) for a study to better understand vascular inflammation.
Kevin Pelphrey, professor of neurology, is using a three-year, $6.89 million NIH grant (nearly $2.3 million this year) to study autism spectrum disorders in girls.
Malathi Veeraraghavan, professor of electrical and computer engineering, is leading a $7.6 million contract from the Defense Advanced Research Projects Agency to develop sophisticated algorithms that will detect and stop global cyber attacks.
Jonathan Kipnis, chair of the Department of Neuroscience, received the prestigious Director's Pioneer Award from NIH, a $5.6 million grant over five years to study the brain-immune system link.
Gregory Townsend, professor of infectious diseases, has a $4.84 million grant this year from the Virginia Department of Health to improve the health of low-income or uninsured people living with HIV/AIDS.