University of Virginia faculty members and students have taken on the complex subject of black girlhood in several ways – on the academic front, through an emerging interdisciplinary field focusing on black girlhood; and in positive community engagement. Their aim is to understand what holds girls of color back while developing and supporting programs that help them thrive.
For researchers such as assistant professor Corinne Field and others, it has become clear that broad efforts to help all girls, or all African-American youth, are not specifically empowering black girls. Their work is urgent and the potential benefits to society are great.
"More black girls are thriving artistically, culturally and in many other ways, but research shows they historically have been subjected to racial and gender biases that stand in the way of greater successes," Field said. "Our goal is to conduct research about the experiences of black girls in ways that will elevate the conversation and yield greater opportunities."
UVA is among more than 50 institutions participating in the Collaborative to Advance Equity Through Research, a national coalition committed to taking meaningful action to support and improve research addressing the lives of women and girls of color.
"This is a multi-year effort with deep UVA roots," Field said. A member of the College of Arts & Sciences' newly designated Department of Women, Gender and Sexuality, Field is the co-founder of the History of Black Girlhood Network, an informal collaboration among scholars working to promote research into the historical experience of black girls from the 16th century to the present in Africa, the Americas and Europe.
With 2003 UVA alumna LaKisha Simmons, an assistant professor of history and women's studies at the University of Michigan, Field organized the Global History of Black Girlhood Conference, coming up Friday and Saturday in the auditorium of the Albert and Shirley Small Special Collections Library, which will bring UVA faculty and students together with other scholars and artists.
"The Global History of Black Girlhood Conference is just one way for UVA to express its commitment to the Collaborative to Advance Equity through Research, and to the collaborative's goals," Vice Provost for Academic Affairs Archie Holmes said. "UVA supports research addressing the lives and experiences of women and girls of color because we know that making this research available, present and visible changes the academic landscape.
"When academe commits to talking more about women and girls of color," Holmes said, "we encourage them to join us, to learn with us and contribute to the body of knowledge. We want girls of color to come to Grounds to be our students, and these women to build a successful academic career here. Their full and equal participation is essential in our society."  
Students from a range of ages are playing major roles in exploring history and current issues in the conference and other UVA projects.
A Vision of Empowered Black Girls
Abigail Akosua Kayser, a doctoral student in curriculum and instruction in UVA's Curry School of Education and a former teacher, said she sees much potential in the black girls and teens she is working with this school year. As part of the conference, they'll be showing on Friday a slice of their lives and featuring their local role models in a short documentary Kayser oversaw, "Black Girlhood: Access and Assets."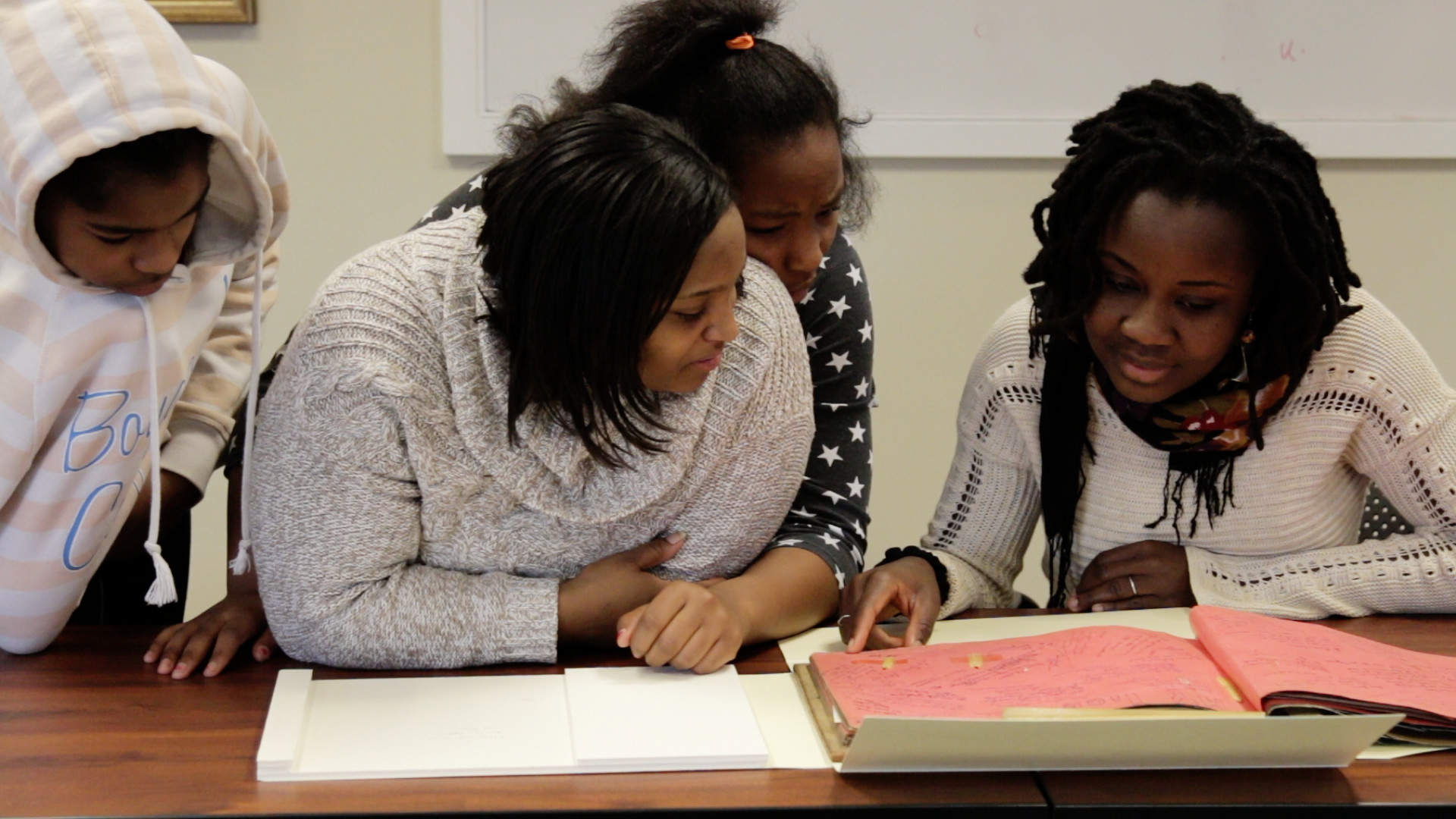 After growing up in Accra, Ghana, Kayser came to Northern Virginia when she was 16. She found more educational opportunities in the U.S. than what had been previously available to her, and attended UVA, majoring in psychology and graduating from the B.A./M.T. program in 2008.
Her interest in teaching grew from volunteering with a Madison House program, Cavs in the Classroom, as an undergraduate, she said. She taught in Charlottesville and Albemarle County schools for six years before returning to Curry to pursue a Ph.D.
"From the moment she began our program, she expressed a desire to address the needs of historically underserved students in her teaching, research and service," said her adviser, Stanley Trent, an associate professor of education. "Her work with the Global History of Black Girlhood Conference is yet but one example of what she is doing to reach this goal. She is a positive role model for these young women, some of whom she taught in third grade. I look forward to seeing the incredible work she will do once she leaves us."
Kayser joined forces with Annalee Jackson, a third-year undergraduate student majoring in youth and social innovations and studio arts printmaking, to win a "Double 'Hoo" research grant last year to examine mentoring programs and what adolescent girls of color say they need to help them grow to become contributing members of the Charlottesville community.
Kayser wanted to create a program that would feel empowering, build confidence and give them a more positive mindset about succeeding in school and in life. A national conference, "Know Her Truths: Advancing Justice for Women and Girls of Color," held last spring at Wake Forest University, inspired Kayser to put video cameras in the hands of a group of black girls from Charlottesville, a few of them former students she has known since they were in her third-grade class. Through UVA's Arts Mentors program, which recently joined the Madison House student volunteer center, she became the program adviser and began working with the group, "Sisters of Nia." The group is part of the City of Promise program, a collaborative effort of public agencies, nonprofits, public schools and neighborhood residents to build a cradle-to-college-and-career pathway for Charlottesville children.
Before they interviewed each other on camera, the girls, who range from sixth to 12th grade, chose several local African-American women they consider role models and wanted to interview, including UVA history professor Claudrena Harold and Leah Wilson Puryear, director of Upward Bound at UVA. Light House Studio and its managing director, Zoe Cohen, provided technical guidance and production.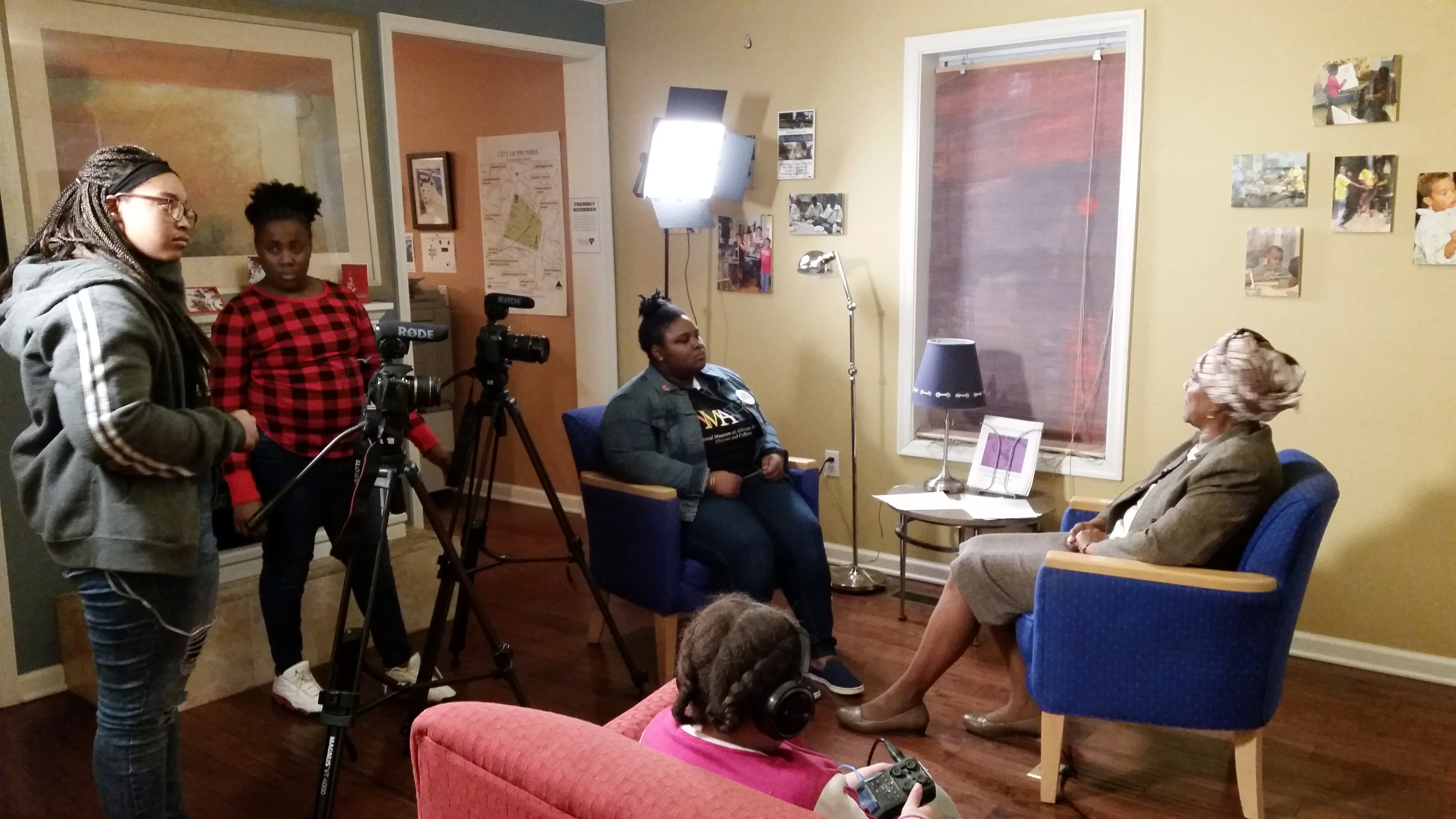 "For many years we've collaborated with City of Promise to teach their student population filmmaking workshops," Cohen said. "Through our workshops, students learn many soft skills – for example, communication, collaboration and time management – in addition to the technical skills – operating a camera, interviewing, recording audio, lighting."
"Our film project has taught me a lot about some of the advantages and distinct differences that we have as black girls that help us to lead the way and set the bar high," Charlottesville High School sophomore Zyahna Bryant said. "I have reflected a lot on society's standards and expectations for me. I have decided that I define myself and I make the rules."
Kayser intends to continue mentoring girls and to seek other enriching experiences for them. She's also continuing her doctoral research on "how teachers can support the social and academic outcomes of culturally, linguistically and economically diverse students," she said.
With that in mind, and under the guidance of adviser Stanley Trent, Kayser and Jackson, along with undergraduates Madelaine Martin, Abigail Jordan and Eleanor Sechler, are working on a related project, funded by a UVA Jefferson Public Citizens research grant, to study culturally and linguistically responsive teaching in Albemarle County Public Schools.
Students Focus on Black Girlhood in the Past
Field taught an advanced undergraduate seminar on the "Global History of Black Girlhood" last fall, which included students participating in archival research. Because the topic is relatively new in the discipline of history, she said their work was "groundbreaking."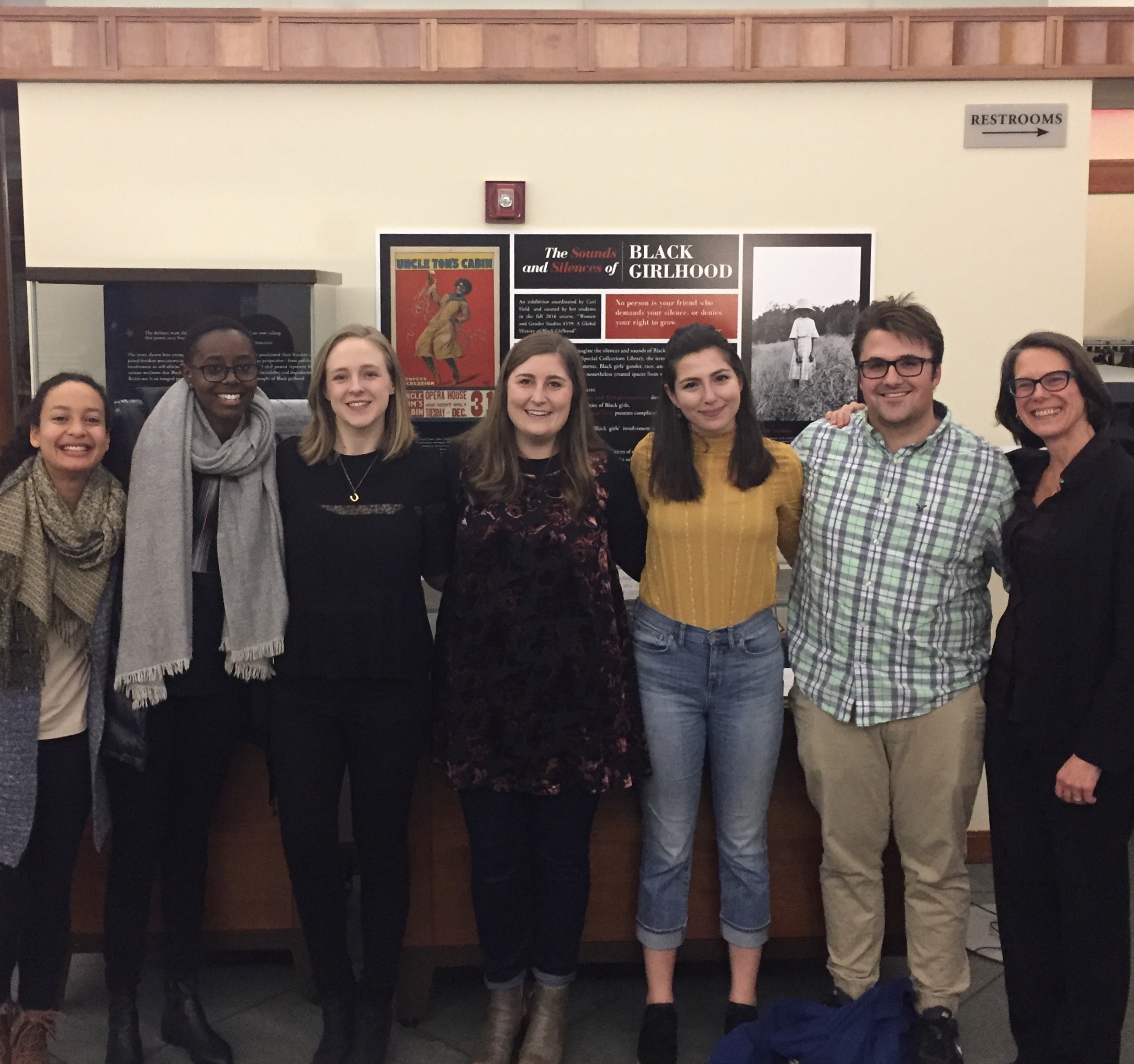 "Finding archival sources by and about black girls is difficult, even for professional historians, because most collections are organized around the concerns of white adults," said Field, the author of "The Struggle for Equal Adulthood: Gender, Race, Age and the Fight for Citizenship in Antebellum America."
The students, working with library curators Molly Schwartzburg, Holly Robertson and Erin Pappas, rose to the challenge. After they identified and researched the significance of primary materials in Special Collections related to the global history of black girlhood, they focused their exhibit around the core themes of identity, resistance and voice, Field said, and wrote essays about the sources, which included personal letters, newspaper articles and photos from the library's Jackson Davis Collection of African-American Educational Photographs. The resulting exhibit, "Silences and Sounds of Black Girlhood," is on display in the Albert and Shirley Small Special Collections Library's first-floor gallery through March 24 (and can be viewed online here).
The exhibit covers 15 topics, ranging from the development of education for black children to unequal treatment in rape cases and more. There's even a piece on the retelling of Lewis Carroll's "Alice in Wonderland" with Alice being black – Maia Wojciechowska's 1972 children's book, "Through the Broken Mirror with Alice."
"The exhibit was so important to me because it was the first exhibit on the global history of black girlhood," said Gates Millennium Scholar Diana Wilson, a third-year student from Newark, New Jersey, majoring in sociology and women, gender and sexuality.
"Through this exhibit we combatted the lack of accurate perceptions of black women, scholarship on black women and the consistent degradation of black women," Wilson said. 
Bridging Past and Present in the Academy
UVA undergraduate students are playing a significant role in this week's conference, organizing a Saturday panel discussion, inviting peers from other universities to submit papers and reviewing their work.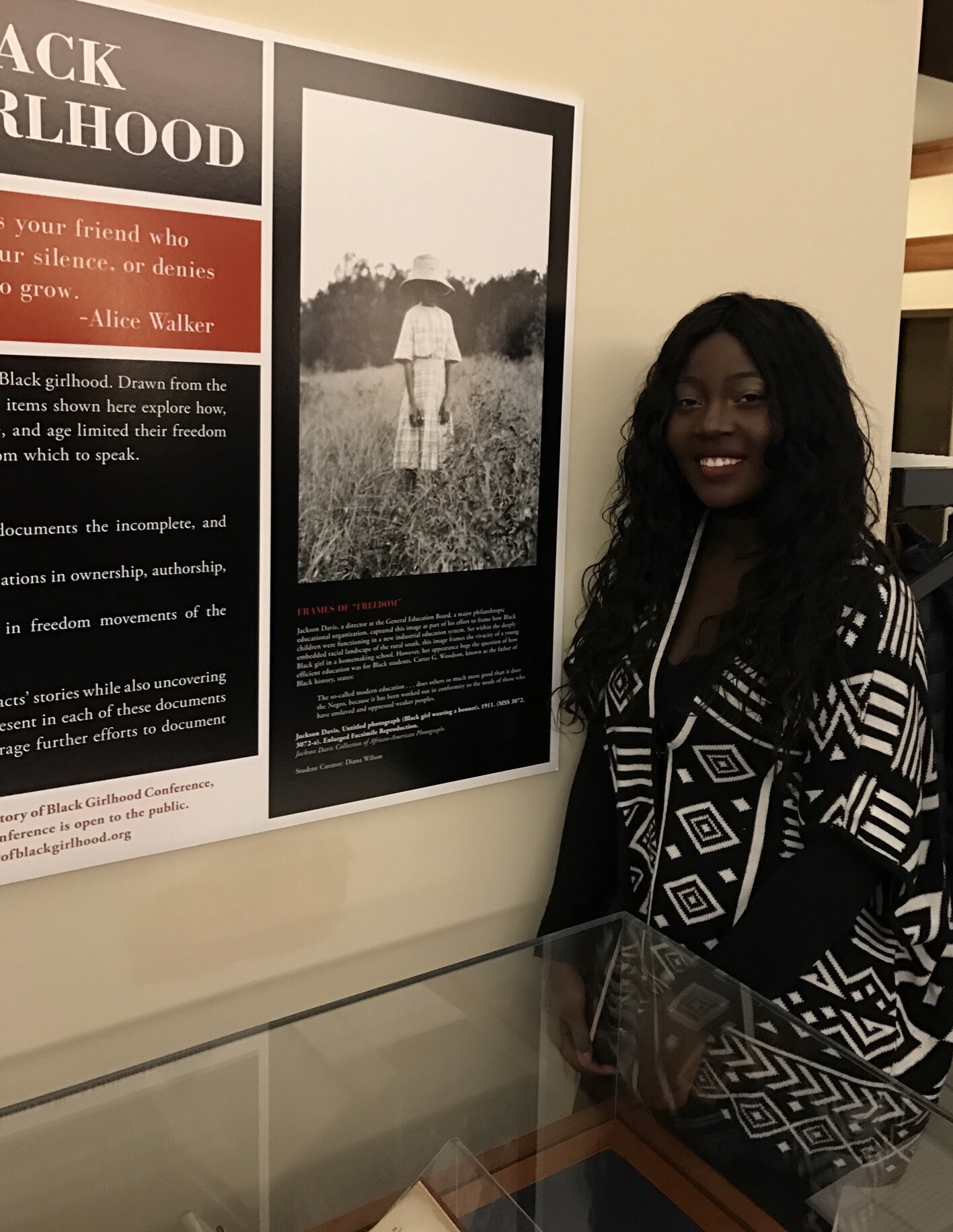 Wilson, one of the organizers, said in an email she loved the class she took with Field and wanted to help with this conference, to see that it "truly represents and illuminates black girlhood in all its many facets. Most importantly, I wanted to be a part of all this #BlackGirlMagic."
Field sought different ways to include the participation of black girls and young women in the conference to link the recovery of history with attention on today's issues.
"We believe the time is ripe for an interdisciplinary and inter-generational conversation focused on the historical experience of black girls," Field and Simmons wrote about the conference. "In the past few years, new work has emerged that centers black girls' stories, lives and perspectives."
Simmons, who earned a bachelor's degree from the University in history and women's studies in 2003, credits her UVA education with opening the door to the scholarship she is doing today, including that for her award-winning book, "Crescent City Girls: The Lives of Young Black Women in Segregated New Orleans." The book had its roots in a Harrison Undergraduate Research Award that funded a trip to New Orleans for archival research, which resulted in her honors thesis about racial identity in the early 20th-century of the city, she said.
Expanding scholarship on topics such as black girls' and women's history and how it contributes to today's landscapes also offers creative interpretations and opportunities for the future.
"We hope that our scholarship will continue to be inspired by black girls and young women who are contributing to conversations about the meaning and nature of race in today's world," Field and Simmons wrote, "just as we hope our academic scholarship might help historicize the intertwined nature of racism and sexism that black girls and young women currently face."
Article Information
March 14, 2017
/content/uva-researchers-focus-what-black-girls-experience