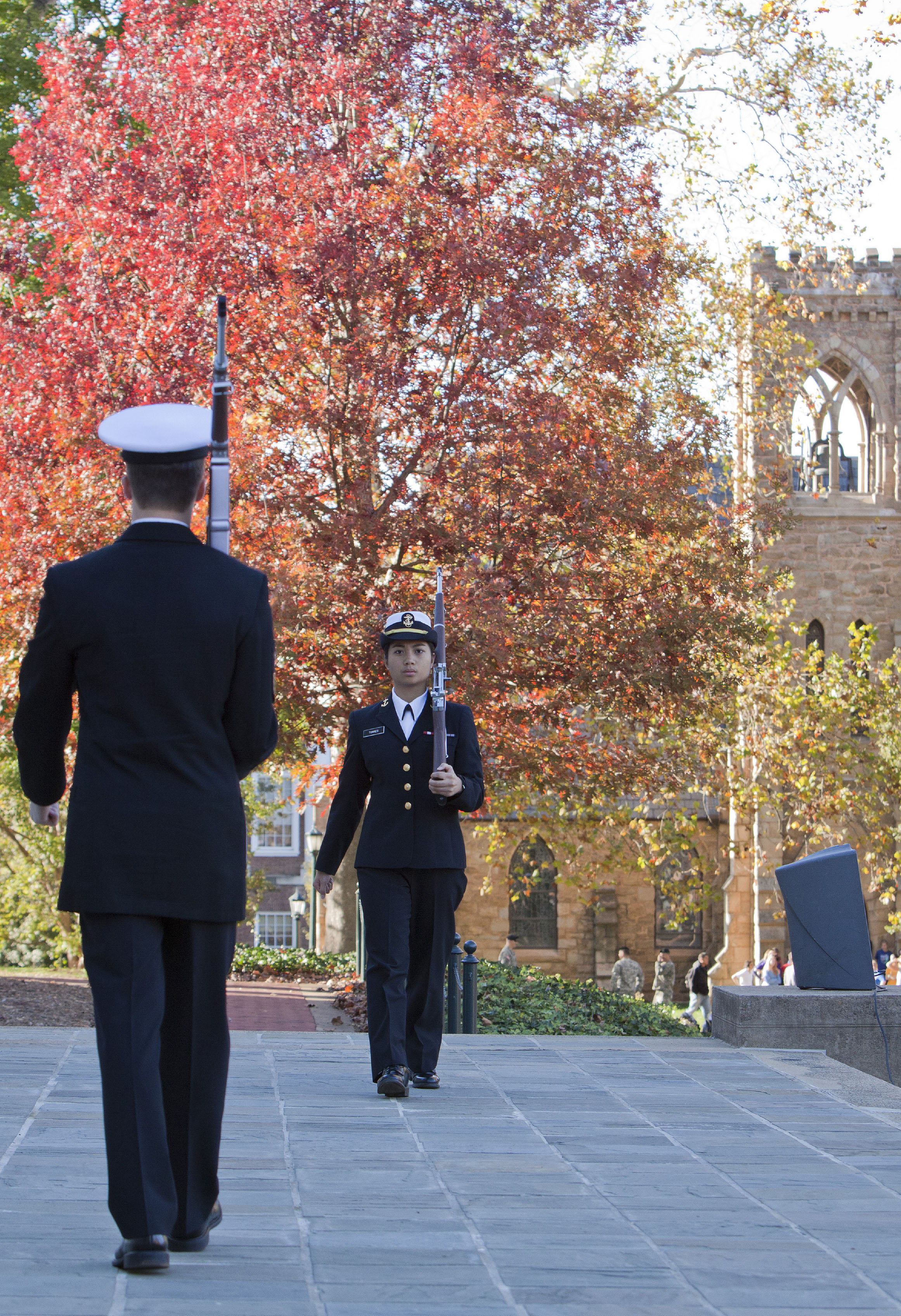 ROTC detachments at the University of Virginia will hold a unique joint ceremony to mark the POW/MIA Vigil and Veterans Day.
The annual vigil will start on Monday at 3 p.m. on the North Steps of the Rotunda. ROTC participants from the Army, Air Force and Navy units will march back and forth in 15-minute shifts for 24 hours.
The vigil will culminate Tuesday at 3:30 p.m. with a Veterans' Day Ceremony. Cadets and midshipmen from the three service units will sing the national anthem and a color guard, led by Air Force Cadet John Newell, will march the colors onto the Rotunda's north plaza.
Air Force Cadet Mark Schissler, the master of ceremonies, will introduce the keynote speaker, retired U.S. Marine Col. Arthur J. Athens, director of the U.S. Naval Academy's Vice Admiral James B. Stockdale Center for Ethical Leadership. Athens plans to speak on Stockdale's legacy of leading with vision, honor and unselfishness.
Following the keynote address, Air Force Cadet Sarah Bergdahl will present a history of the United States flag and Newell will lead a flag-folding ceremony.
"It is a tradition to have a flag folding at a military member's retirement ceremony and is more symbolic of that on Veteran's Day," Bergdahl said.
The flag ceremony will be followed by a 21-gun salute by American Legion Post 74 and trumpeter Kyle Ruempler playing "Taps." Schissler will give closing remarks.
About 300 cadets and midshipmen from the three ROTC units are expected to participate in the vigil and ceremony. The ceremony is free and open to the public.
Media Contact
University News Associate Office of University Communications
mkelly@virginia.edu (434) 924-7291
Article Information
November 07, 2013
https://news.virginia.edu/content/uva-rotc-units-honor-veterans-pows-and-mias-veterans-day