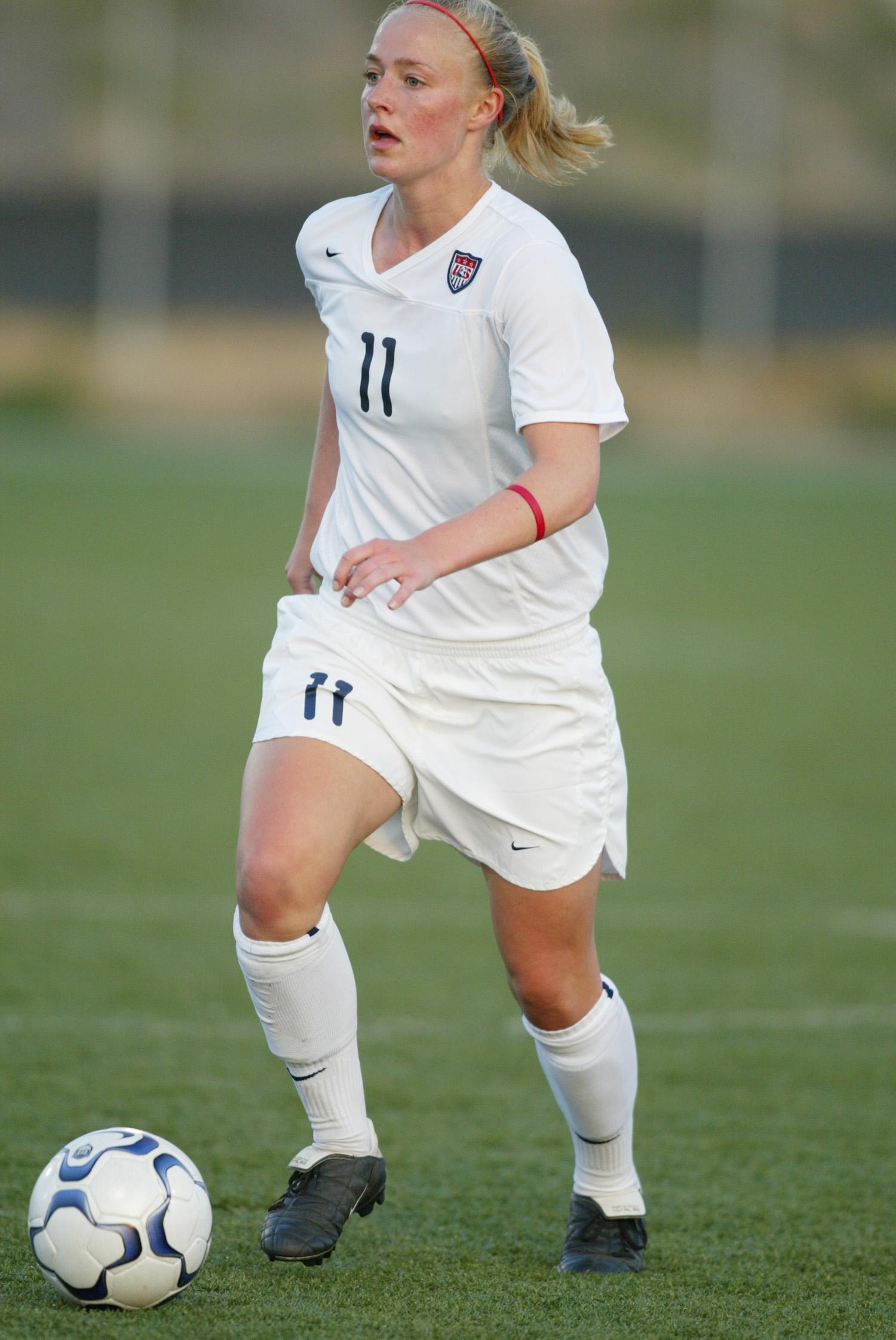 April 29, 2008 — When University of Virginia soccer player Rebecca Sauerbrunn was named the National Soccer Coaches Association of America Scholar Athlete of the Year at the end of the spring 2007 season, she could not have been more stunned.
"I was extremely surprised and very honored," Sauerbrunn, a St. Louis, Missouri, native, said. "I never thought of myself as a student worthy of getting recognition or a soccer player worthy of recognition. I just try to work hard at everything I do."
However, Sauerbrunn's coach and friends saw the award and her placement on the 2007 NSCAA Division 1 All-America Team as suitable recognition of her dedication on the soccer field and her achievements in the classroom.
"Over her time at Virginia, she has been an example to everyone," said Steve Swanson, head coach of the U.Va. women's soccer team. "She has always been conscious of her academic responsibilities, and she devotes an enormous amount of time to her soccer as well. In all the time I have known Becky, she has been just a joy to be around and a joy to coach. She is someone you can build a team around."
Sauerbrunn played four seasons as a defender for the Cavaliers. She was the 2007 ACC Defensive Player of the Year and, just this week, received the IMP Award as Virginia's top female athlete for the 2007-08 academic year. An English major, she plans to graduate in December after taking this semester off from school to play with the U.S. Women's National Team and the Under-23 National Team. She traveled with the U-23 team to England and Spain and competed on the senior national team at the Four Nations tournament in China in January.
Sauerbrunn described playing with the senior national team as a challenging yet unforgettable experience.
"Every training session, lift or meeting was done to the best of everyone's ability," she said. "That's a demanding and draining thing to bring every day. But the experience made me realize that the more you put into something, the better the reward after. It was surreal to get my first two caps [or appearances] with the women's national team, and I know I will never forget it.
"I broke my nose in the first game, so that will also make it hard to forget."
Throughout her time at U.Va., Sauerbrunn said she has worked hard to balance her soccer schedule with her class and homework obligations, often finishing her assignments in a post-practice ice bath or on 3 a.m. trips back from away games.
Swanson, who also coached Sauerbrunn on the U-16 National Team, said she has the work ethic to go far in her sport.
"I think the reason Becky has been successful, and the reason she will continue to be a success, are her values," Swanson said. "She is well-grounded, responsible, selfless, dedicated and hard-working. These are timeless values that you find in all top athletes. She has led by example from the moment she stepped on Grounds."
Although she's out of collegiate eligibility, Sauerbrunn still trains with the Cavaliers when she is not traveling with the national team. When Sauerbrunn graduates, Swanson said the squad will miss the qualities she brings to the program.
"Obviously, on the field we will miss her, but also just the kind of person she is," Swanson said. "Hopefully, the standards and examples that she set have passed down to players of the younger generation."
According to her U.Va. teammate Sarah Curtis, along with dedication and talent, Sauerbrunn also has a great sense of humor and love of pranks, which she pulls off with the help of "a great poker face."
"She is an amazing young woman, and I have met few people who love soccer as much as she does," Curtis said. "Becky has always been someone I've been proud to call my friend and teammate."
Sauerbrunn said her love of soccer started when she was growing up in St. Louis.
"I have enjoyed soccer from a very, very young age," Sauerbrunn said. "St. Louis has a rich history of soccer and so I grew up watching the St. Louis Ambush, a MISL team back in the day. Just being surrounded by soccer at a young age gave me a great respect and love for the sport."
Although she undoubtedly has a promising career ahead of her, Sauerbrunn said she will miss life as a student at the University.
"You get so close to a group of people and then, all of a sudden, are separated," Sauerbrunn said. "I also will miss the college atmosphere – barbecues on the weekends, teams to support, music blaring from the people next door."
Sauerbrunn hopes to play again with the U.S. National Team, which may call up more players as the Beijing Olympics approach. She also plans to play for the Washington Freedom in the new women's professional league starting up next spring. After she finishes her playing career, Sauerbrunn plans to become a teacher.
— By Catherine Conkle