When University of Virginia first-year student Aly Hussein was growing up in Egypt, he played a lot of squash – one of the most popular sports in the country.
However, Hussein, who is from Cairo, only remembers attending one professional match.
"And I was pretty young – so I didn't really know what was going on," said Hussein, smiling.
That's what will make Wednesday night so special for Hussein and several of his UVA squash teammates.
Pro players Paul "Superman" Coll and Miguel "The Colombian Cannonball" Rodriguez – two of the best players in the world – will be putting on a clinic and then playing an exhibition match against each other at the Boar's Head Sports Club's McArthur Squash Center.
Coll, a New Zealand native, is the reigning French Open champion. Rodriguez, who hails from Colombia, is the reigning British Open champ.
The longtime friends and rivals have won close to three dozen world titles between them.
"They're two of the most explosive, dynamic guys on the tour right now," said Dean Russell, the head squash pro at Boar's Head. "They are legitimately human-highlight reels. If you watch the world tour highlights, it's comprised of them. They fly around the court diving and have unreal pick-up and shot-making skills."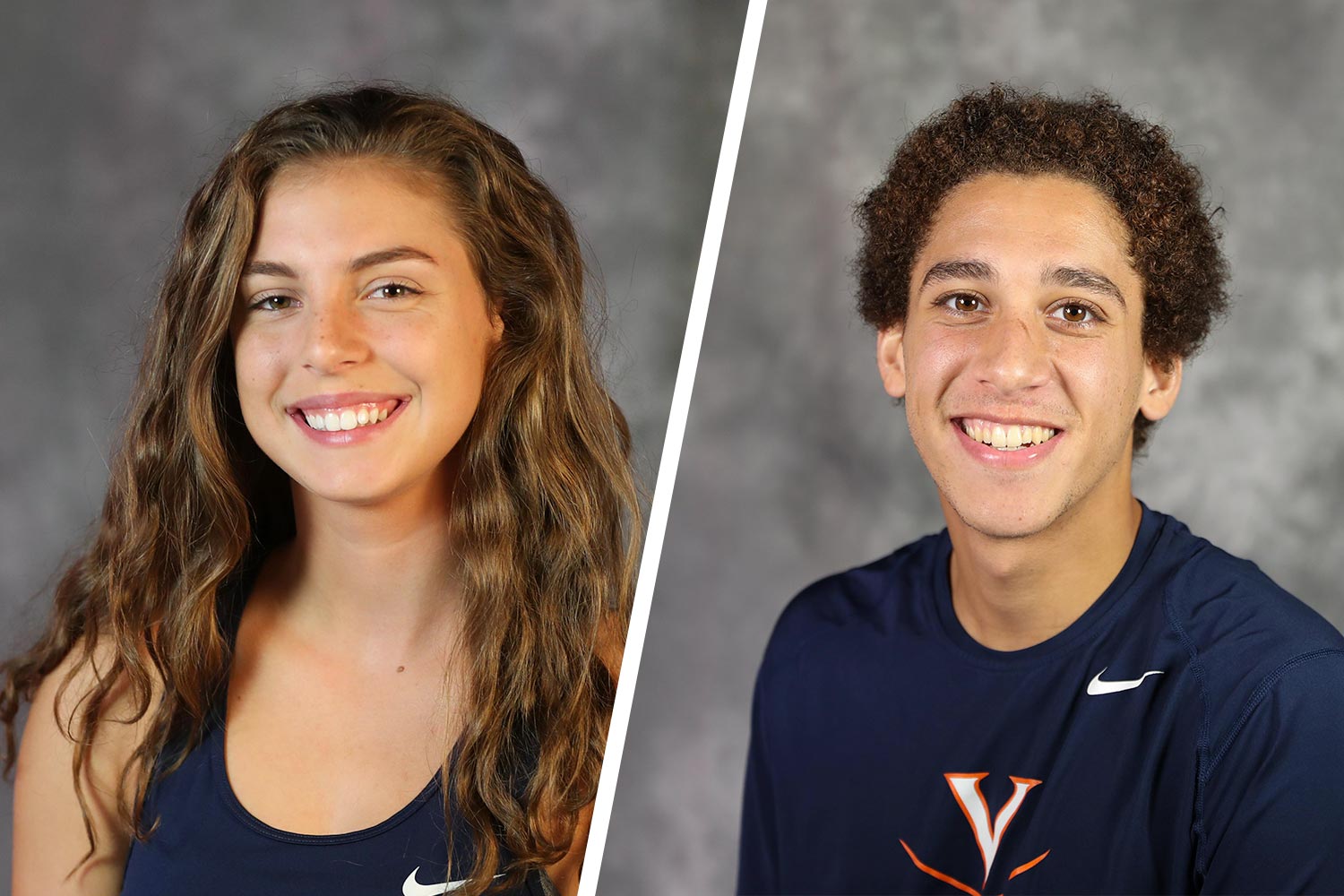 UVA squash players Emma Jinks, left, and Aly Hussein hope to play on the pro tour someday.
Players from the UVA men's and women's teams will have the opportunity to hit on the court with Coll and Rodriguez and ask questions.
"I think learning what their normal daily routines are, what their recovery stuff is like and also just getting an understanding of what to expect if I were to ever go on to the pro circuit myself will be great," said Emma Jinks, a second-year student from Canada. "I'm thinking that might be an option for me after I graduate from UVA. So just getting a sense of what the highlights of it are – and what the rough parts of it are – will be really helpful."
"When do they train? How do they train? What kind of food do they eat?" added Hussein, who attended Tabor Academy in Massachusetts for four years prior to coming to UVA. "That will be really interesting to find out."
Hussein, whose father runs a shipping company in Egypt, is planning on majoring in commerce or economics before giving the pro tour a shot. Only the very best squash players in the world earn enough money to make it a full-time career – something Hussein and Jinks are well aware of.
"You can travel and just play the sport you love for a year or two," Jinks said. "I think that's just a really valuable life experience."
Jinks said she will probably major in sociology, but is also taking a lot of pre-med requirements to keep her options open.
On Wednesday she'll be taking on teammate Maria Moya in one of the lead-up matches to the main event, which has been billed as "Mayhem at McArthur."
Hussein will be playing teammate Omar El Torky.
"When we play it will probably feel a little bit different," Hussein said. "We've played each other in practice before but not in front of a lot of people watching.
"But I'm excited. It will be a fun match."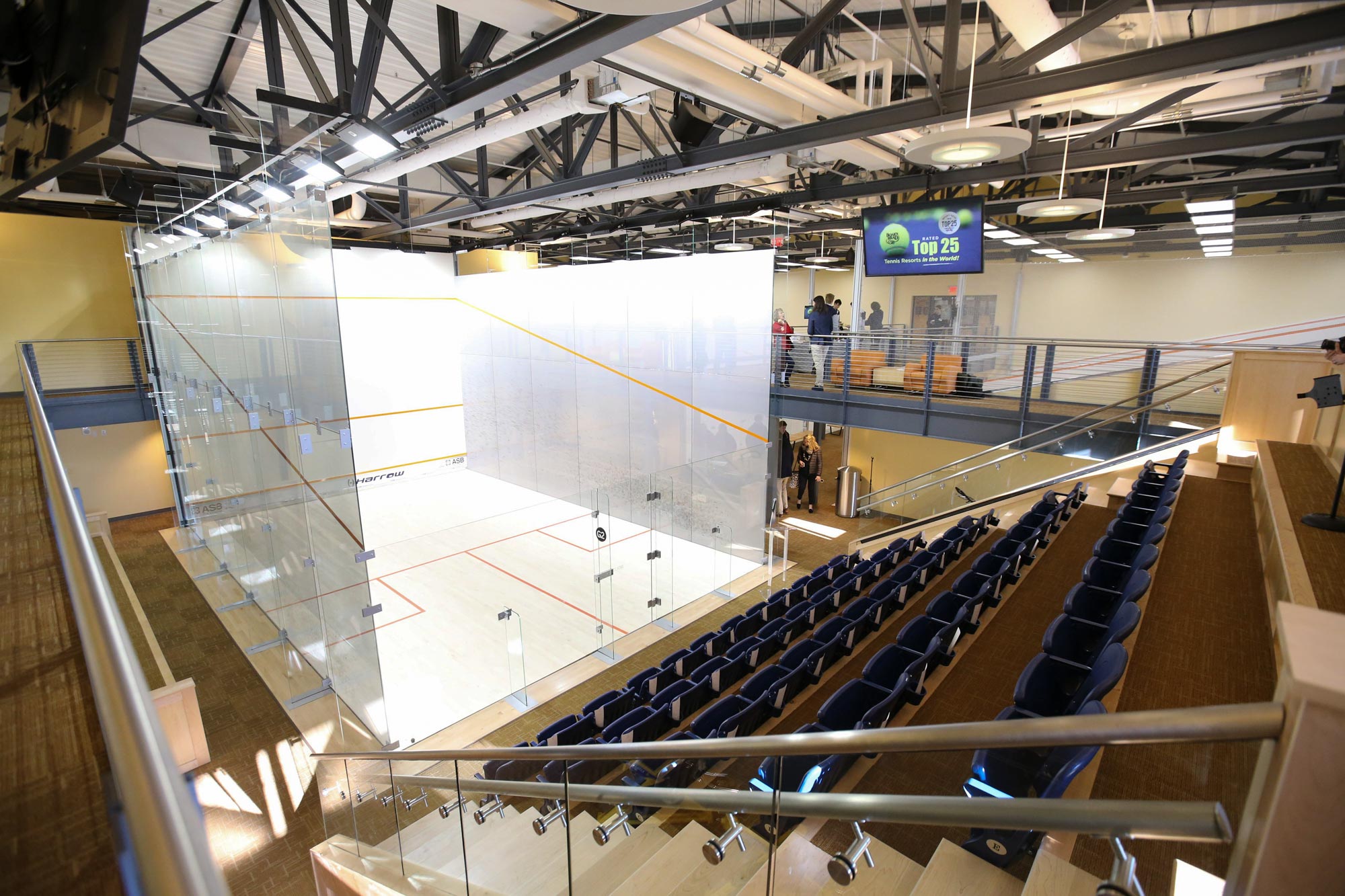 An exhibition squash match at the Boar's Head Sports Club has the Charlottesville squash community excited. (Photo by Jim Daves, UVA Athletics)
The McArthur Center, which was recently expanded, is widely considered the best squash venue in the United States and one of the best in the world.
"The idea was to bring world-class talent to a world-class facility and to try and expose the greater Charlottesville community to squash," Russell said. "It's a lifetime sport, there's no better workout you can get in such a short amount of time and it's also great for kids' coordination."
UVA squash coach Mark Allen expects the evening to pay dividends for his players down the road.
"Three of these four players are first years and getting the chance to play a competitive match, on the all-glass court, in front of a crowd of 200-plus will be very useful preparation as we have a couple of crucial matches at home this season, including top-5-ranked Columbia University," Allen said. "Then after their own matches are done, they, along with all our players, can't wait to watch the match between Miguel and Paul as they are arguably the two greatest entertainers on the world tour right now. It promises to be a great evening of squash for anyone who comes to watch."
Added Hussein: "It will be great having them here. It will be amazing to see where I am and what I need to improve on. To have this opportunity is great."
Article Information
October 1, 2019
/content/uva-squash-players-will-have-front-row-seat-mayhem-mcarthur