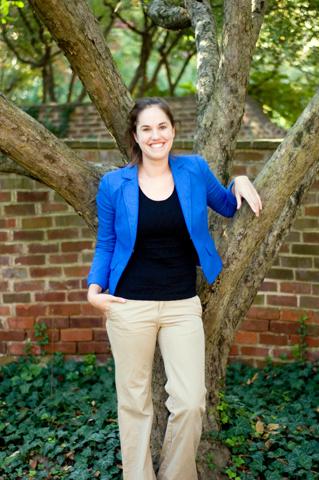 Elizabeth Leet, a doctoral candidate in French at the University of Virginia and an English lecturer at the Université Paris-Est Créteil in France, has been chosen the recipient of the Phi Beta Kappa Society's 2014 Mary Isabel Sibley Fellowship in French Studies.
The fellowship, which carries a $20,000 stipend, is awarded to women conducting original research in either Greek or French.
"Lise Leet's sparks of brilliant creativity, her openness to engaging with alternative viewpoints, and her energetic dedication to her studies mark her as an extremely promising scholar," said Amy Odgen, Leet's adviser and associate professor of French medieval studies and gender studies at U.Va.
Leet intends to apply the stipend to her research of feminist theory as she edits and digitizes medieval French literary works alongside veterinary manuals and training journals.  
By using evidence found in medieval texts, Leet hopes to explain how women's high capabilities in horsemanship allowed them greater social freedoms and challenged notions of female docility and the "damsel in distress" identity typically assigned to medieval women. Their relationships with horses were "symbiotic," Leet says, and allowed for interspecies communication as opposed to aggressive domination. 
The research will contribute to Leet's dissertation, "Women, Horses, and the Coming-Together of Species in High Medieval Literature," in addition to a journal article that Leet plans to produce.
"Although horses in medieval works have received some attention in the past, Lise's dissertation will make a significant contribution by looking at literary works alongside veterinary and training manuals, and by considering both in the light of the most recent theories of how human and non-human animals not only communicate, but even shape each others' identities," Ogden said. "Her preliminary findings suggest quite surprising similarities between medieval and modern conceptions of horse-human relationships and also point to some exciting new interpretations of well-studied works."
Leet was previously awarded the Mellon Dissertation Fellowship and the First-Year Full Fellowship by U.Va.'s Department of French Language and Literature. She also received a Bourse Jeanne Marandon fellowship for French scholarship from the Société des Professeurs Français et Francophones d'Amérique.
Working on her dissertation in Paris, Leet is currently a doctoral candidate in a bi-national doctorate program between U.Va. and the Université d'Orléans.
She also participates in the teacher exchange program at the Université Paris-Est Créteil while studying books as physical objects written in codex form and historical handwriting at the École Nationale des Chartes and the Institut de Recherche et D'histoire des Textes. 
Leet received her master's degree in French literature from Middlebury College and her bachelor's degree in French from Wellesley College.  
At. U.Va, Leet is a member of the Graduate Advisory Board for the Institute of the Humanities and Global Cultures and is also a judge for the University Judiciary Committee.
The Phi Beta Kappa Society is the nation's oldest and most recognized academic honor society. It has chapters at 283 colleges and universities in the United States and more than half a million members throughout the country.
Media Contact
Assistant Director of University News and Chief Copy Editor, UVA Today Office of University Communications
danh@virginia.edu 434-924-6857