As Virginia's legislative session winds to a close this weekend, the commonwealth's assorted senators and delegates won't be the only ones capping the end of a busy season.
Each year, about 40 teenagers from all corners of Virginia converge on the state capitol to serve as pages in the state Senate, a time-honored job that sees them doing everything from taking lunch orders to circulating amendments and learning firsthand how laws are made. 
The man at the center of the Senate's page program is Bladen Finch, a student in the public administration certificate program in the University of Virginia's School of Continuing and Professional Studies. Finch, a former page himself, has one of the most unique jobs in state government, and as the session neared adjournment he took some time to talk about what it's like running the page program and why he decided to continue his education at UVA.
Q. How does someone become a Senate page?
A. Each year, we have an average of 40 young people from all over the state. They have to be 13 or 14 on the first day of session, which is the second week of January every year. (The Senate page program is different than the House of Delegates' program, which has its own rules).
There are 20 Senate districts that have a direct page appointment each year, which means the legislator appoints someone. Then we have six leadership appointments, and the clerk of the Senate works with other senators to appoint young people. At a minimum, we're going to have 36. The application usually opens around Aug. 1 of each year.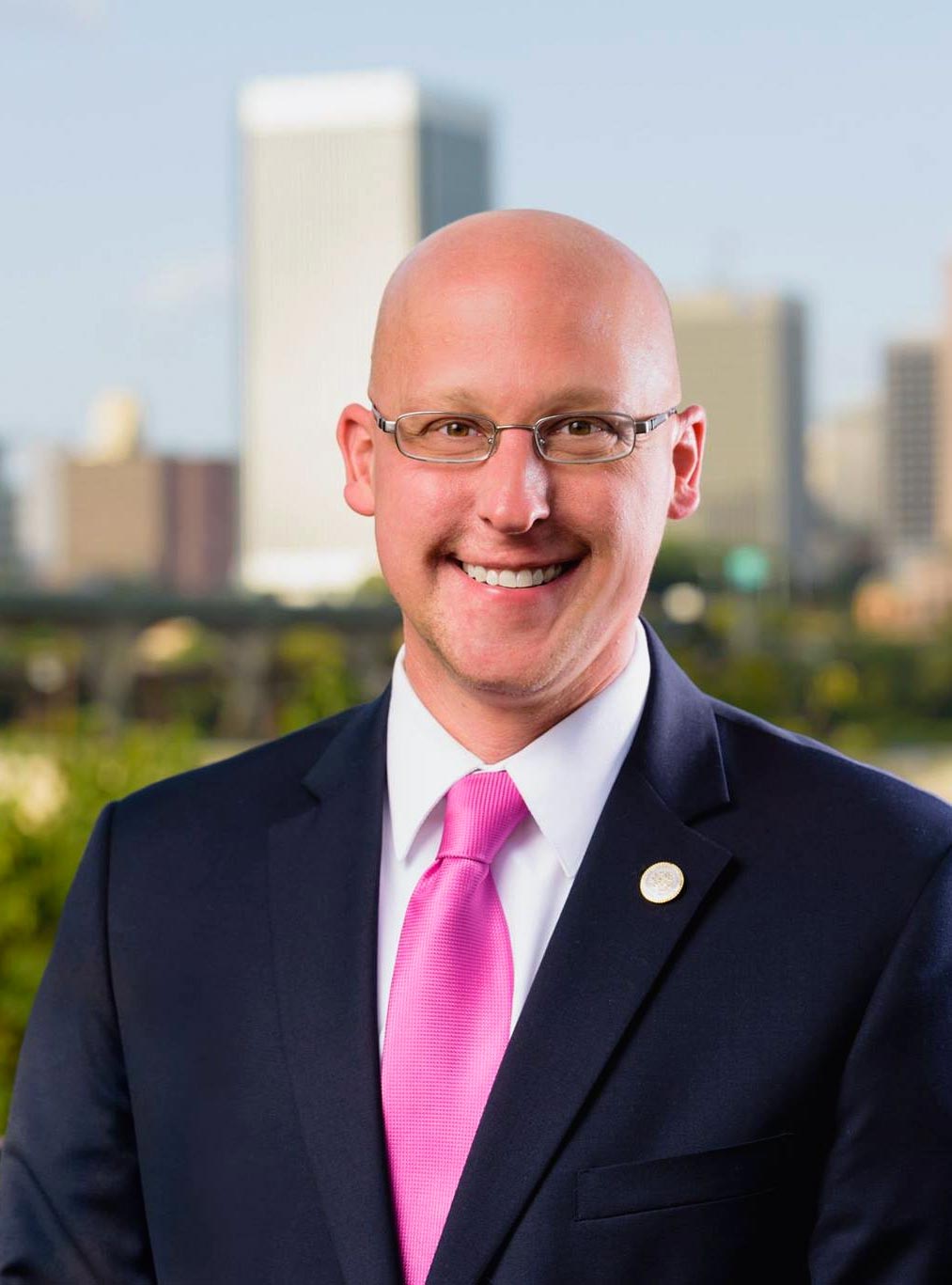 Bladen Finch, who heads the state Senate's page program, is also pursuing further education through UVA's School of Continuing and Professional Studies. (Contributed photo)
Q. What does a page do, exactly? 
A. The program itself is really divided into three sections. The first core pillar centers on preserving the tradition of service to the legislature and all the jobs with which our young Virginians are tasked. That includes the completion of basic administrative tasks all the way up to more complex projects over the course of several days. 
The second core pillar is the professional development component, a series of lectures and activities that we hope gives them an affinity for public service. Each week has a theme, and those range from money management to local government to public service.
We have partnerships with nearly 60 professionals who serve as county administrators, city councilors, public defenders, firefighters and bankers. Many of our partners are former Senate pages. They engage the class in discussions and activities that help each class understand the far reaching impacts of the decisions made in Richmond.
Our third core pillar centers on service beyond the confines of Capitol Square. Every page class also has to complete a mandatory session-long community service project. For this, we have essentially adopted the Central Virginia Food Bank. The Senate pages are tasked with drumming up support and excitement amongst senators and staff. I typically make one trip each Monday with four Senate pages to hand over donations from the previous week. The day after the legislative crossover, my team and I take the entire class to the distribution center where we work for approximately three hours. They present the service project to the governor at the end of the session. 
Each of the three core pillars lead up to the program capstone, a one-hour mock legislative floor session. The team to which they are assigned at the start of session also serves as their mock committee. Each team is assigned a topic to consider, research and develop a policy proposal. The capstone is an hour during which we turn them loose to demonstrate knowledge of the assigned topic, public speaking and parliamentary procedure skills. The pages sit in the senators' desks, and the senators serve as Senate pages.
Senate pages have been an integral part of Virginia's upper chamber since at least 1850. We have a tremendous responsibility to secure the future of that tradition as we strive to inspire and prepare the next generation of representatives, town managers, county administrators, public safety officers and civic leaders.
Q. What's a day like for a page working in the Senate? 
A. Prior to the first day of official service, my team and I facilitate two days of very intensive training. That includes a mandatory etiquette class, in which skills such as table manners, thank-you note-writing and conversation skills are emphasized.

Senate pages cycle through a three-team system, and each team has different responsibilities. The Capitol team assists with calendar distribution, clerk's office coverage and providing basic concierge services during peak hours of the day. The General Assembly Building team is tasked with covering key Senate departments, furnishing concierge services at our information desks, collecting recycling and staffing committee meetings (in a backup clerk capacity). These two teams are also assigned to answer telephone calls and staff the building entrances to distribute umbrella bags on rainy days. The floor team provides support during floor sessions. Those duties range from compiling signatures on co-patron forms to distributing floor amendments.
Any member of a team may be asked to speak in front of a group or visiting delegation about their experience and role in the legislative process. In many instances, these young people are the first impression someone has toward the legislature. They are trained in core elements of customer service, standards that are applicable when working with high-level officials down to everyday members of the public. 
Q. Sounds like you've got quite the busy job. What motivated you to go back to school, and why pick UVA and SCPS?
A. One of my primary objectives was to gain some knowledge that would allow me to invest further in the page program, as well as my own career aspirations. 
We have the honor to be a part of 400 years of representative government here, so traditions are very important. However, keeping the experience relevant to changing times requires flexibility. 
I knew I wanted to go back to school, and I needed similar flexibility. Being able to complete schoolwork when it's convenient for me, obviously while still meeting the instructors' deadlines, was a key factor in deciding to go with UVA School of Continuing and Professional Studies. My experience with UVA as a working adult has been nothing short of amazing.
I am flourishing in my third class, despite a very hectic work schedule, and I cannot wait to finish the remaining two classes in the certificate program. I plan to combine these credits with other graduate courses when I am finished at SCPS. The goal is a full graduate degree.
Photo at top published under Creative Commons.
Article Information
March 5, 2020
/content/uva-student-general-assembly-session-whirlwind