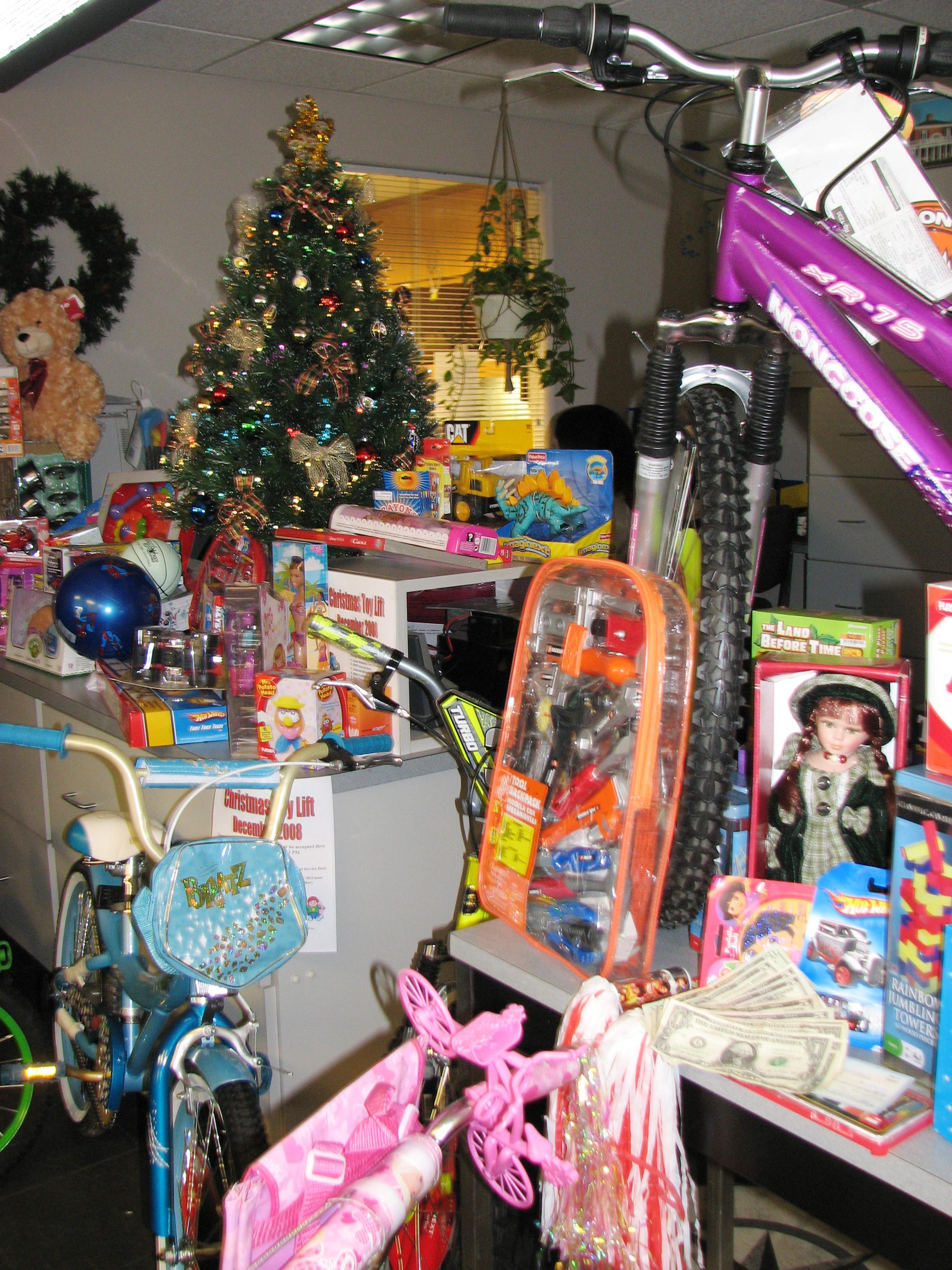 December 15, 2008 — When Christmas season rolls around, members of the University of Virginia community are eager to ensure happy holidays for many families in the greater community.
Here are just three such efforts, from U.Va. Facilities Management; Madison House, the student volunteer organization; and the Darden School of Business.
Facilities Management
For several years, customer services manager Brenda Buttner has organized support in her department for Toy Lift, the local holiday effort that this year — its 20th — will provide new toys to more than 3,000 children in Central Virginia.
With the economy, Buttner wasn't sure how the toy drive would go this year, but she was happily surprised. "This year has been the most successful," she said. "I was overwhelmed at the amount of toys and money donated."   
Of course, the fun factor helps. "A few of us in the office exchanged names and purchased toys for each other as if we were buying for children," she said. "It was really fun to not only receive a toy purchased for you, but to purchase a toy for your co-workers as if they were 8 or 10 years old."
Buttner and a colleague went toy shopping with money donated by department members. Another Facilities Management employee purchased and donated two bikes, and a third bike showed up one morning, along with a box of toys.
Dec. 5 was the last day to contribute because, the next day, toys would be collected for distribution. "We sent out another note Thursday reminding everyone that they had just one more shopping day. By the end of that day I had received $110," Buttner said.
"I was on cloud nine and ready to go shopping again," she said. "Then when I came in on Friday morning, I could not believe what I saw — two more bikes! It just bought tears to my eyes."
All told, five new bikes would be going to children, along with other collected toys and last-minute monetary donations. Buttner also contributes money she raises from selling ornaments, bracelets and pins.
The support this year, she said, was overwhelming. "A great big thanks to Facilities Management," she added.
Facilities Management also collected nonperishable food for the Thomas Jefferson Area Food Bank.
"Facilities Management employees are always willing to give back to our community, as these two initiatives show," said Betty Wooding, information officer.
Madison House
Surrounded by piles of food and gifts, U.Va. students worked until the last minute to finish sorting and distributing items for 107 families. The students are Holiday Sharing volunteers at Madison House, the student volunteer center at U.Va., and have worked for months to identify needy families and organize sponsors for this holiday season.
Those efforts culminated Dec. 6, when local families came to Madison House to receive their gifts.
"I've been involved with this program since my first year at U.Va.," said Jennifer Hsu, Holiday Sharing head program director and anthropology major, "but with the current economic crisis, the families we sponsored needed aid this year more than ever. The outpouring of generosity from the U.Va. and Charlottesville communities was absolutely heartwarming, and we are grateful to have been able to share food and gifts with so many needy individuals this holiday season."
The Holiday Sharing program, which has brought holiday cheer and charity to greater Charlottesville for more than 35 years, is entirely student-run. Volunteers work with the Salvation Army to identify families in need and — with the help of generous sponsors from the community — are able to provide donations specifically tailored to the needs of that family.
"This was our most successful year to date," Madison House associate director Elizabeth Bass said. "The program directors and volunteers did an incredible job of recruiting sponsors and coordinating the Holiday Tree program to collect food and gifts for so many local families. Distribution went smoothly and I think the families and kids were very grateful and excited."
Ninety-one students volunteered with Holiday Sharing this semester. More than 3,300 students volunteer weekly through Madison House programs.
— by Ben Eppard
Darden School of Business

While most holiday parties include music, good food and people having fun, the Holiday Celebration at the U.Va. Darden School of Business included an additional component: Before staff and faculty attended the party, many of them spent part of their day helping others in the community.
"When we were organizing the Darden staff and faculty holiday gathering, the idea of including a public service piece was recommended," said Ted Forbes, executive director of the Darden School Foundation. "The committee felt that was a great idea. It really took off."
The employee celebration began at 3:30 p.m., but at noon teams of Darden volunteers hit the streets of Charlottesville, where they spent time helping various organizations in need of holiday assistance. A large group visited nursing homes, where they decorated and sang for residents.
"It was really fun," said Susan Wormington, Darden's director of publications. "So many people wanted to be involved with nursing homes that we ended up dividing the group into three teams. Our team sang for residents and decorated the Christmas tree there."
Besides the visits to three nursing homes, employees assisted with Habitat for Humanity and the Shelter for Help in Emergency. In addition, teams gathered, purchased and wrapped presents for a number of charitable organizations such as Jeffrey's Gifts, which provides gifts of comfort to pediatric cancer patients and their families. Darden employees donated money so the volunteers could purchase the gifts.
New and gently used clothing was collected and donated to local charities.
"Over 100 people volunteered," said Jim Kurre, human resources director at the Darden School. "Plus, many people who were unable to volunteer instead donated money and gifts in order to support the effort. So, it's difficult to tell just how many Darden employees pitched in, but the number is quite impressive."
Later in the day, employees met in the PepsiCo Forum for Darden's holiday celebration. The volunteers were recognized and a slide show featuring photos from the day's earlier public service activities was shown.
"It was a success and a good way to celebrate the holidays," said Fred Telegdy, a multimedia developer who serves on Darden's Staff Council. "We got to spend time with our friends and co-workers and we helped others."