Three University of Virginia students will pursue master's degrees in global affairs, concentrating on public policy, at China's Tsinghua University next year as Schwarzman Scholars.
Campbell Haynes of Nashville, a third-year law student; Ankita Satpathy of Monroe Township, New Jersey, a politics honors major focusing on foreign affairs and minoring in history; and Varun Sharma of Jersey City, New Jersey, concentrating on finance and information technology in the McIntire School of Commerce, were named Monday as 2019 Schwarzman Scholars. 
The Schwarzman Scholarships for graduate study in China were created in 2013 by private equity firm manager Stephen Schwarzman, who modeled them on the Rhodes Scholarships. The program, housed in Schwarzman College at Tshingua University in Beijing, fully funds participants' expenses, including travel costs and a modest personal stipend.
Courses are taught in English and draw on some of Tsinghua University's most accomplished professors, as well as visiting scholars from leading global institutions. Beyond the classroom, scholars gain exposure to China and a broad network of important relationships through unique internships, mentorship opportunities, high-profile speakers and travel throughout China.
Haynes, Sharma and Satpathy will join the program's fourth cohort, 147 scholars from 38 countries and 119 universities, with 40 percent from the United States, 20 percent from China and 40 percent from the rest of the world. They are the fourth, fifth and sixth Schwarzman Scholars from UVA.
Andrus Ashoo, director of UVA's Office of Citizen Scholar Development, praised the three Schwarzman recipients.
"I could not be more pleased for each of these students," Ashoo said. "It is wonderful to see the diversity of interests among them: domestic politics, international diplomacy and finance as a force for good.
"However, working with each of them has been a real treat, thanks to what they have in common – a humility and hunger to find and implement solutions for a better tomorrow in their respective fields. Those two qualities will take them far, and I look forward to watching their continued development as Schwarzman Scholars and beyond."
Campbell Haynes
"The Schwarzman Scholarship is a dream come true," Haynes said. "It means I'll be able to learn about China, in China, and bring that knowledge back home to Tennessee."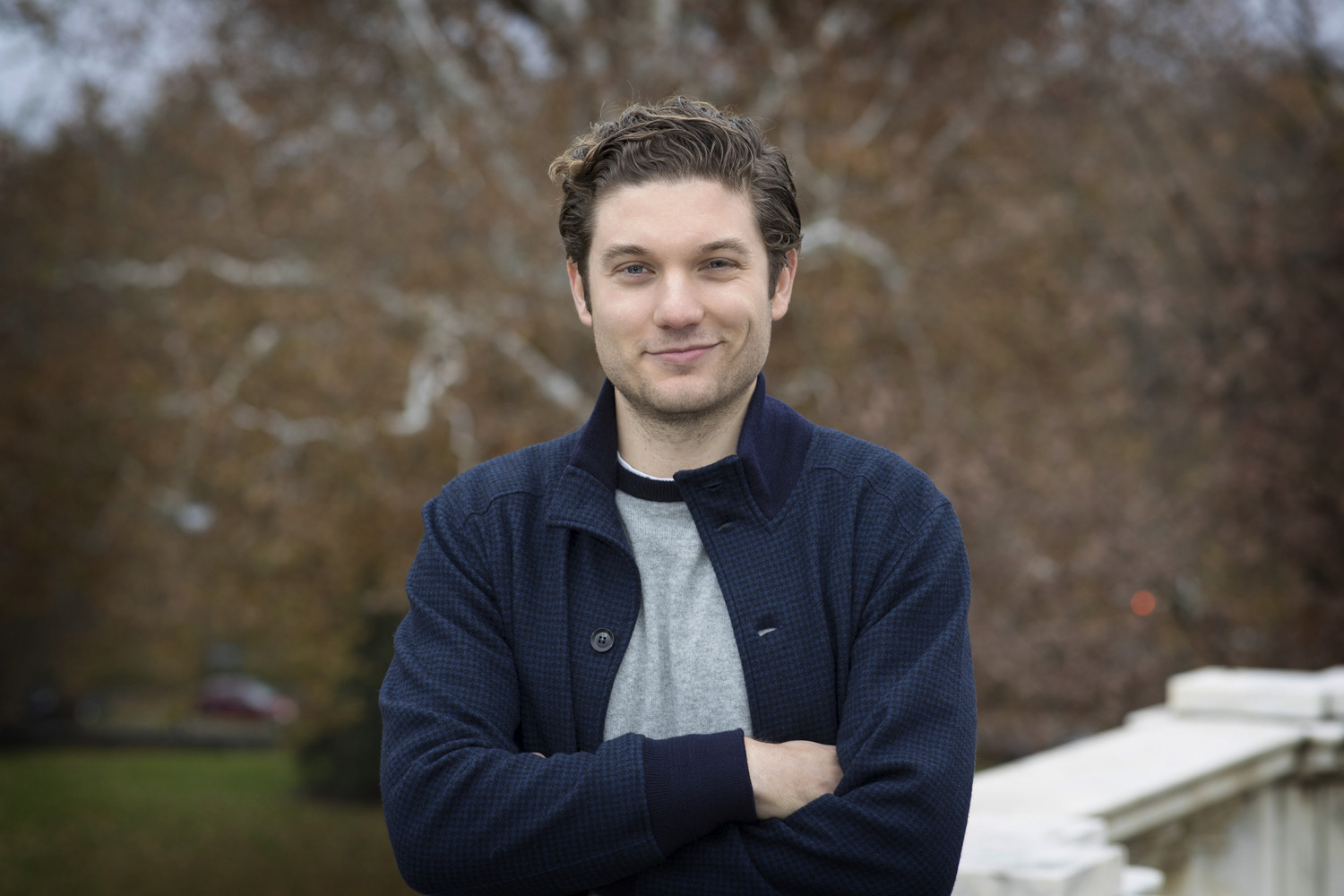 Campbell Haynes is a third-year law student.
Haynes received a bachelor's degree in government from Dartmouth College before attending UVA Law.
He is editor-in-chief of the Virginia Law Review, and a member of the Raven Society, the American Constitution Society, the Minority Rights Coalition at North Grounds and the Virginia Law Democrats.
Haynes expressed a combination of disbelief and gratitude at receiving the scholarship. "I wasn't expecting to get it and feel so lucky to be able to go to China next year," he said. "And I just felt insane gratitude for the friends, family and professors who helped me get here."
Leslie Kendrick, vice dean of the Law School and the David H. Ibbeken Research Professor of Law, praised Haynes as an extremely gifted lawyer and scholar.
"Beyond that, he has a strong sense of purpose and a commitment to doing good in the world," she said. "In his time abroad, he will represent everything that is the best about UVA, and I expect him to return with still more knowledge and skills to put to the task of making the future brighter."
Micah J. Schwartzman, Joseph W. Dorn Research Professor of Law, said Haynes is "a superstar."
"He is a natural leader who is thinking hard about how to achieve justice locally and globally," Schwartzman said. "He is the perfect person to represent UVA in the Schwarzman Scholarship program."
Melody Barnes, a distinguished fellow at the School of Law and a senior fellow and Compton Visiting Professor in World Politics at the Miller Center, called Haynes a young leader of unlimited potential.  
"He relishes being challenged and is animated when considering new ideas or different perspectives," she said. "He also knows what he doesn't know and actively seeks knowledge. However, what makes Campbell so unique is that his considerable intellectual gifts are matched by his character and maturity. He'll absorb all there is to experience in China and represent UVA beautifully while doing so."
Ankita Satpathy
Satpathy, a fourth-year politics honors major, has academic interests that include U.S. foreign policy, human rights, refugees and migration, as well as conflict resolution and stabilization. She said she will focus her studies primarily on international studies.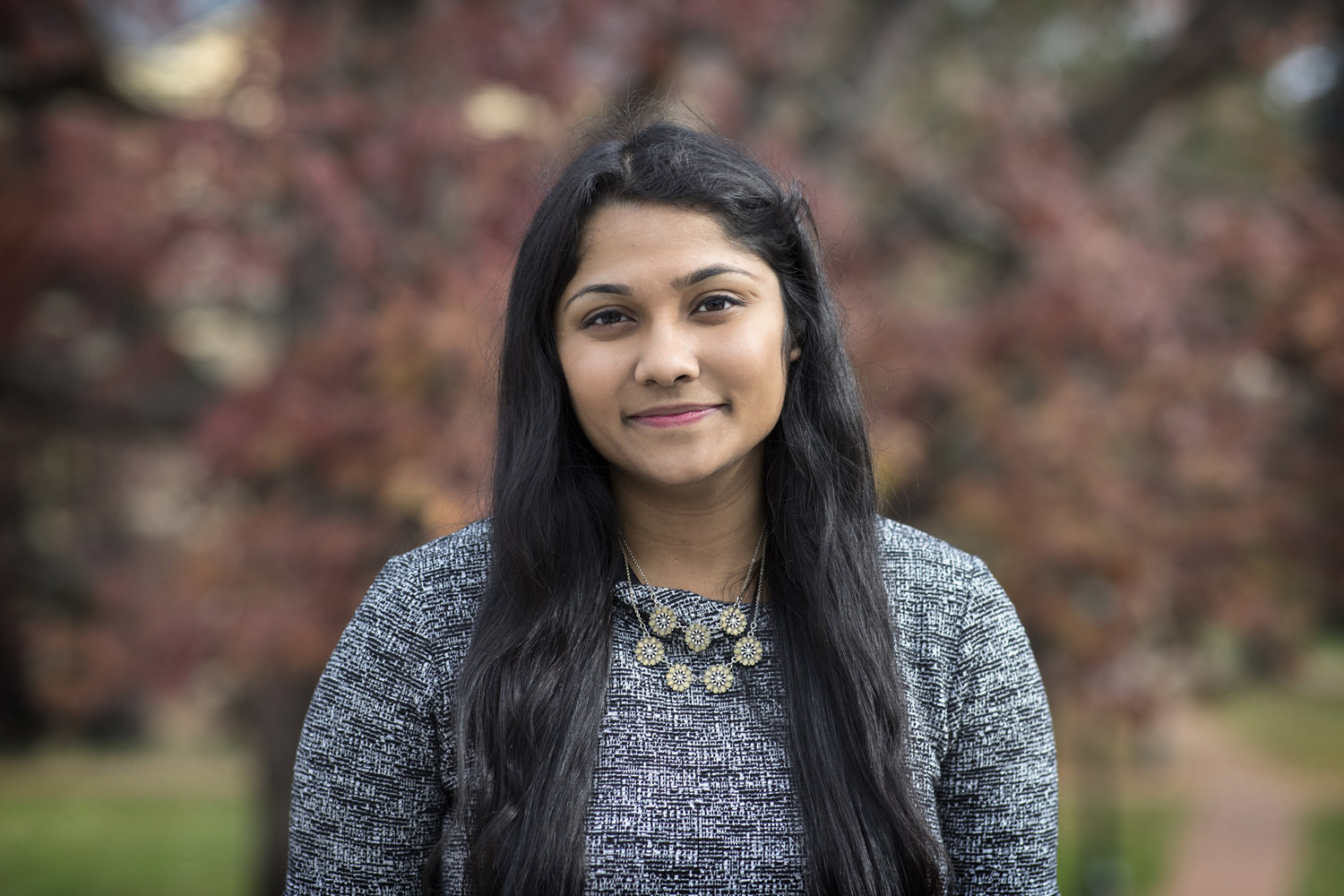 Ankita Satpathy is a politics honors major.
"I am writing an undergraduate thesis on the use of sanctions as a diplomatic tool and their relative effectiveness," she said.
She is currently serving as the vice chair for hearings for the University Honor Committee and was formerly an Honor Committee support officer. A resident adviser to first-year students, she has been an intern at the Miller Center and a research assistant for politics professor David Leblang.
Leblang said Satpathy will be an outstanding representative of UVA in China.
"We have written a paper on U.S. immigration policy that focuses on temporary protected status, the findings of which were published in the Washington Post," Leblang said. "We are currently working on an additional paper that examines labor market policy – broadly conceived – as a mechanism to increase economic development, which, in turn, should decrease the demand for both legal and illegal entry into the U.S. Her work on this project has been invaluable, bringing new insights and understandings to our work."
An Echols Scholar, Satpathy was the secretary general for last year's Virginia Model United Nations, an annual international policy simulation held at the University for approximately 1,000 high school students each year. She has also been a senior writer for the Cavalier Daily, the independent student newspaper, and a Madison House volunteer.
She has been an intern for the State Department's Bureau of Educational and Cultural Affairs and for the Legal Aid Justice Center of Central Virginia.
"Ankita is a hard-working, thoughtful, inquisitive student who will benefit enormously from this experience in China," Mel Leffler, Edward Stettinius Professor of American History, said. "It is wonderful for her to have this opportunity. Her selection is a reflection of the terrific students who we are training here."
A graduate of Monroe Township High School, Satpathy plans to pursue a career in diplomacy or international policy analysis, with particular attention to human rights.
"I view pursuing a master's in global affairs in China as a wonderful way to further my education and jumpstart my career," she said. "I am particularly interested in U.S.-Sino relations and how they are evolving in the context of China's ongoing rise and America's recent foreign policy pivot away from multilateral institutions. I am eager to examine this critically important relationship in depth."
Satpathy said she was pleased to be part of an international program that unites young leaders from across the globe and confronts them with questions about the world's most pressing issues.
"As someone who values civic engagement and considers myself a citizen-diplomat, I deeply admire the program's core mission of building connections among young future leaders," she said. "I feel incredibly blessed and humbled to have received a Schwarzman Scholarship. I am excited to grow personally and professionally in China, and I am immensely grateful for the constant support of my family, professors, mentors and friends. I could not have achieved this without them."
Varun Sharma
Varun Sharma, a fourth-year commerce student concentrating on finance and information technology in the McIntire School of Commerce, has been researching whether experiencing China's Cultural Revolution as a child has an impact on the risk tolerance of the managers of Chinese firms, as a part of the Global Commerce Scholars program.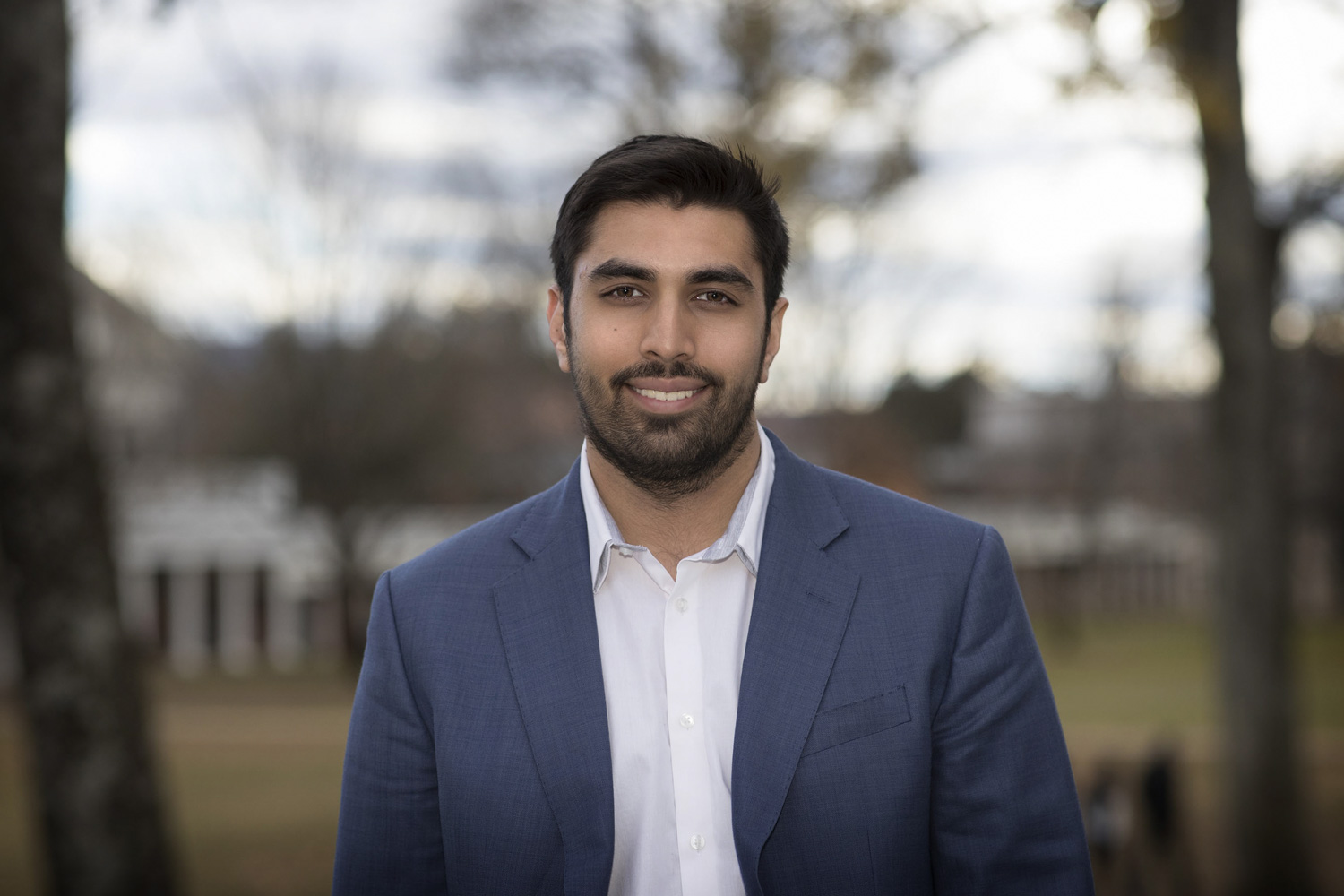 Varun Sharma is a commerce major.
Sharma said he has been fascinated with China for years and that the Schwarzman Scholarship will give him the opportunity to engage with and explore the country.
"I first became interested in China during a Model UN conference in high school," he said. "I was fascinated by a fast-growing nation that was looking to establish itself on the world stage. When I came to UVA, I enrolled in Chinese language classes, and I've been studying the language ever since. I look forward to combining the business and China parts of my undergraduate education as a Schwarzman Scholar."
Hsiang-ning Sunnie Wang, now coordinator of the Chinese language program and an instructor in Chinese applied linguistics at the University of British Columbia, taught Sharma for several years while she was at UVA. Wang said she had seen Sharma grow into a well-rounded student and a young leader with high aspirations and a steadfast determination to pursue a career in public service.
"He always raises thought-provoking, philosophical questions to myself, his peers and individuals he encounters in diverse settings," Wang said. "Never satisfied with a given answer, he will instead use it to launch into a deeper investigation, hoping to find answers and solutions himself. In class, he would often challenge me with logically constructed arguments, demonstrating his independent and autonomous learning capabilities, as well as his strong passion for knowledge."
Sharma respects and acknowledges people's different opinions and is open to uncertainty and contradiction while exploring the truth, Wang said.
"He sets extremely high academic standards for himself and exhibits strong resilience when facing challenges," Wang said. "He is a student with vision, ambition, maturity and integrity, completely capable of representing the spirit of UVA, where his education has equipped him with the fundamental tools necessary to explore the world. He is now ready for the next step in his journey – entering into the global community and answering his call to serve the public."
Gary A. Ballinger, an associate professor of commerce in the McIntire School, said Sharma always has a positive outlook and is willing to ask "why?"
"Varun has such an active mind and a desire to understand diverse economic and social systems that he's going to greatly benefit from the opportunity and challenge that studying in China will give him to see how economic and social systems operate under different assumptions," he said. "He'll be a terrific representative of the University because he is very skilled at asking research questions, wants to find and uncover new ways of seeing problems, knows how to do research to resolve those questions, and consistently produces excellent academic work."
Sharma is the co-founder and president of HooThinks, a group that offers pro-bono strategic and operational consulting services to student organizations at UVA; a senior counselor for the University Judiciary Committee; and an undergraduate teaching fellow in the Department of Economics. He previously served as treasurer of the Jefferson Literary and Debating Society, a staff writer for the Virginia Review of Politics, and Under-Secretary-General for Business and Charity for the Virginia Model United Nations Conference.
A Jefferson Scholar and an Echols Scholar, Sharma also received the Founder's Grant, an award that funded his participation in the UVA in Shanghai Intensive Chinese Language Program.
A graduate of Dr. Ronald E. McNair Academic High School, Sharma ultimately aspires to work in the field of impact investing, identifying companies that balance social and financial returns.
Article Information
December 5, 2018
/content/uva-trio-earn-schwarzman-scholarships-chinese-rhodes