Every morning, Emily Cox goes on a run in Port Meadow, a vast green expanse beside the River Thames in Oxford, England dotted with ponies, picturesque bridges and the towering ruins of Godstow Abbey.
Then the University of Virginia's first Ertegun Scholar walks the few short blocks from her house to the University of Oxford's Ashmolean Museum. It's home to the archives of French impressionist Camille Pissarro, one of the artists she is researching during her year at Oxford.
Cox graduated from UVA in 2017 with a degree in art history, one of only 100 College of Arts & Sciences graduates to earn a degree last year in just three years. When she walked the Lawn, she had already been accepted in the Mica and Ahmet Ertegun Graduate Scholarship Programme in the Humanities, which brings top graduate students to Oxford for master's and doctoral programs.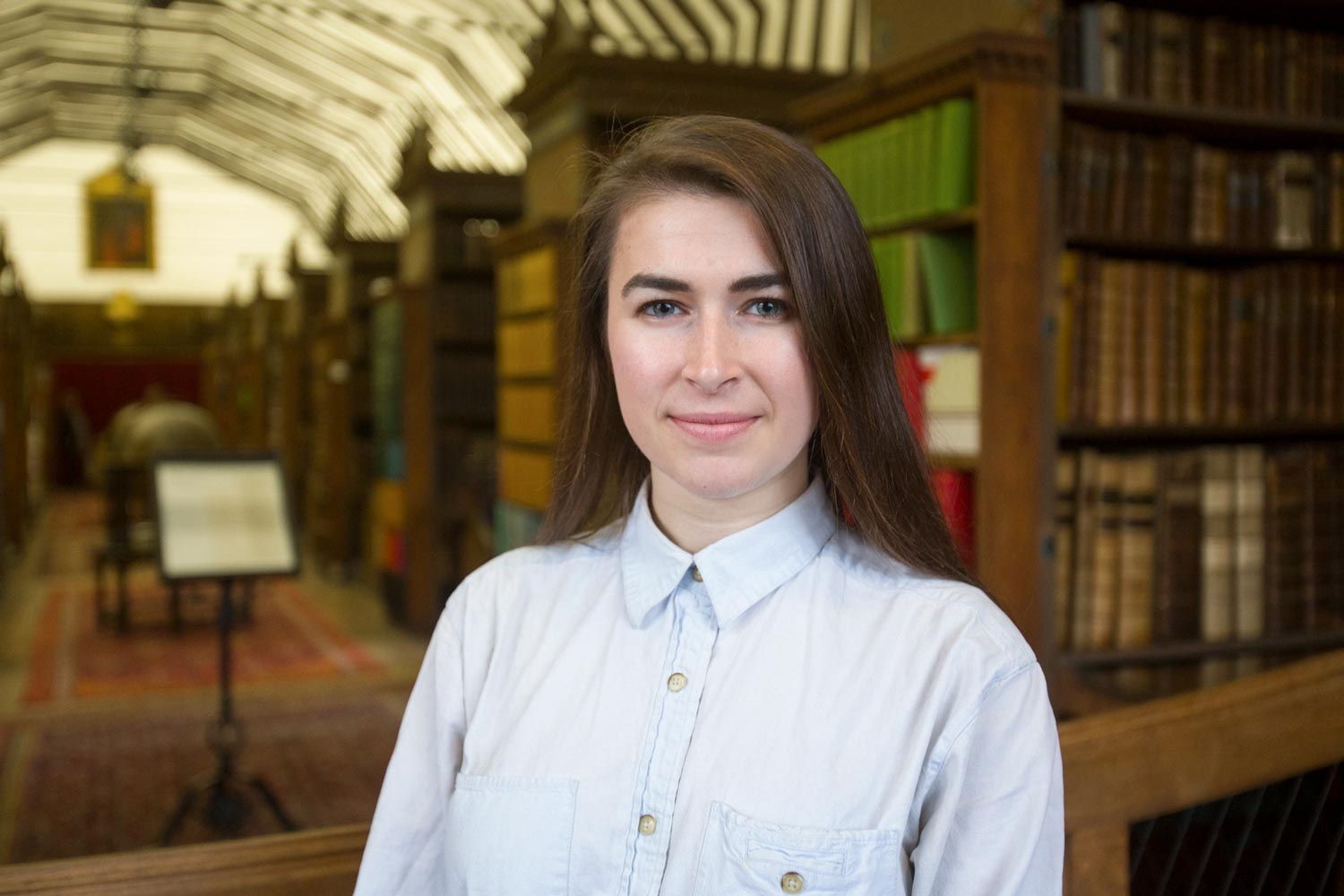 Cox in the library of St. John's College at Oxford.
After completing the program this summer, Cox will enroll at Yale University to pursue a Ph.D. in art history. She hopes to become a director or curator at a major art museum.
"My pipe dream is to be the director of the Met [in New York City]," she said. "There is something so powerful and important about working with a painting in front of you, thinking about how to show it to people so that they will love it the same way you do."
For now, though, she is concentrating on her research on Pissarro and William Morris, an English artist and prominent socialist who, like Pissarro, worked toward the end of the 19th century.
"I am using those two artists to look at transnational artistic exchange between England and France in the 1890s and in the 15-year period leading up to World War I," Cox said.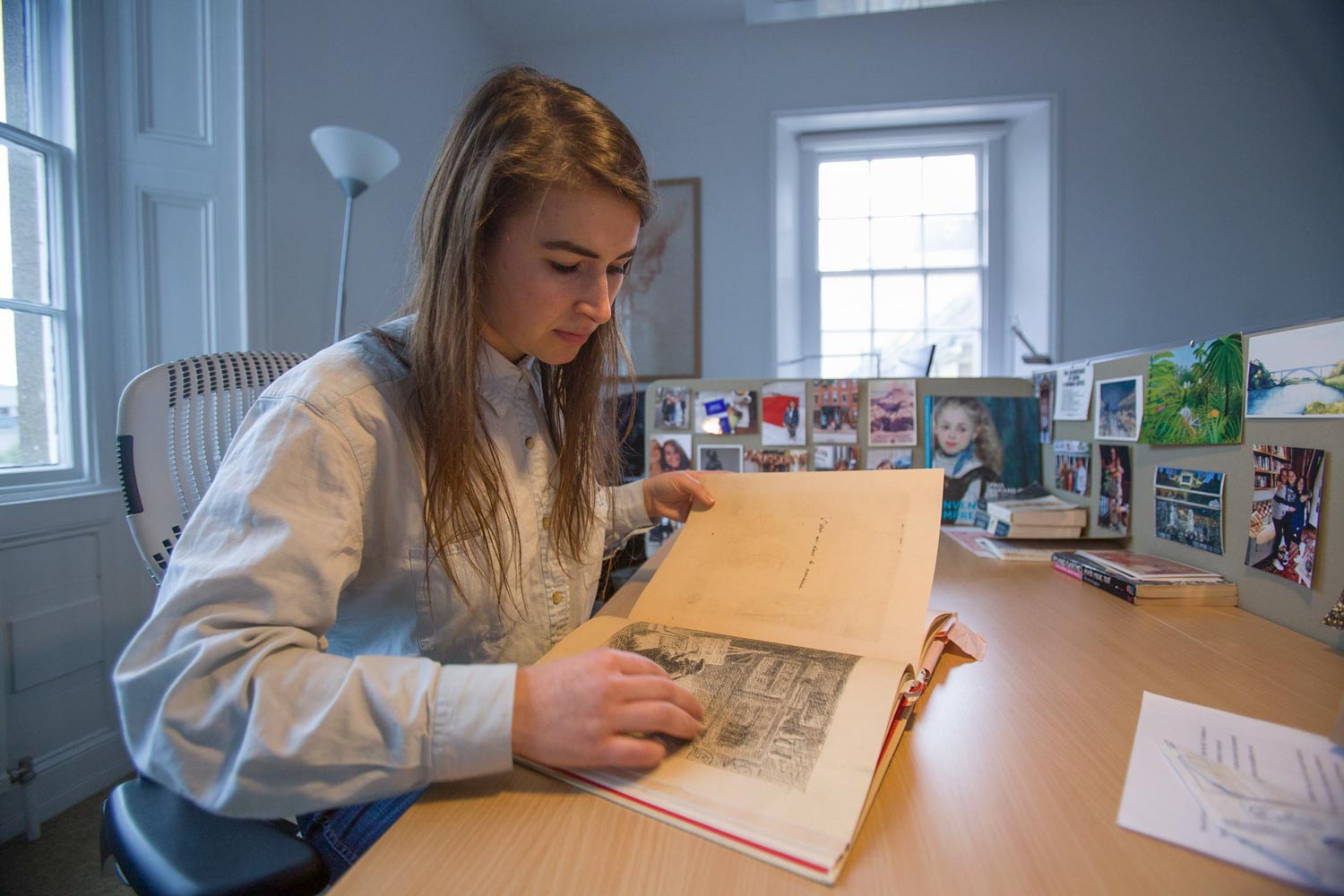 Cox in her office at Ertegun House, which she shares with other Ertegun Scholars from around the world.
Both men were part of new movements in art, such as Impressionism and the Pre-Raphaelites, that would eventually lead to the abstract movements of the 20th century. Most interesting to Cox, both were also part of insurgent political movements like socialism and anarchism in the chaotic years of the fin-de- siècle.
"We don't talk about it as much now, but these were really radical movements at the time, right before the major political and artistic upheavals of the 20th century," she said. "I'm interested in seeing how art drove politics, and how politics drove art."
At Oxford, Cox is surrounded by the art she studies.
A Pissarro painting hangs just a few feet from her office in Ertegun House, and she can pore over Pissarro's notes and letters at the Ashmolean Museum. She recently found notes from a lecture that Pissarro's son, Lucien Pissarro, gave on none other than William Morris.
As for Morris, his former house – where he helped to organize the socialist movement in England – is about a 30-minute bus ride from Cox's residential college, St. John's College. She's also visited Morris' archives in London, as well as archives in Paris and Amsterdam, all easily accessible from the United Kingdom.
"Oxford is such a great place to be to study these two artists," she said.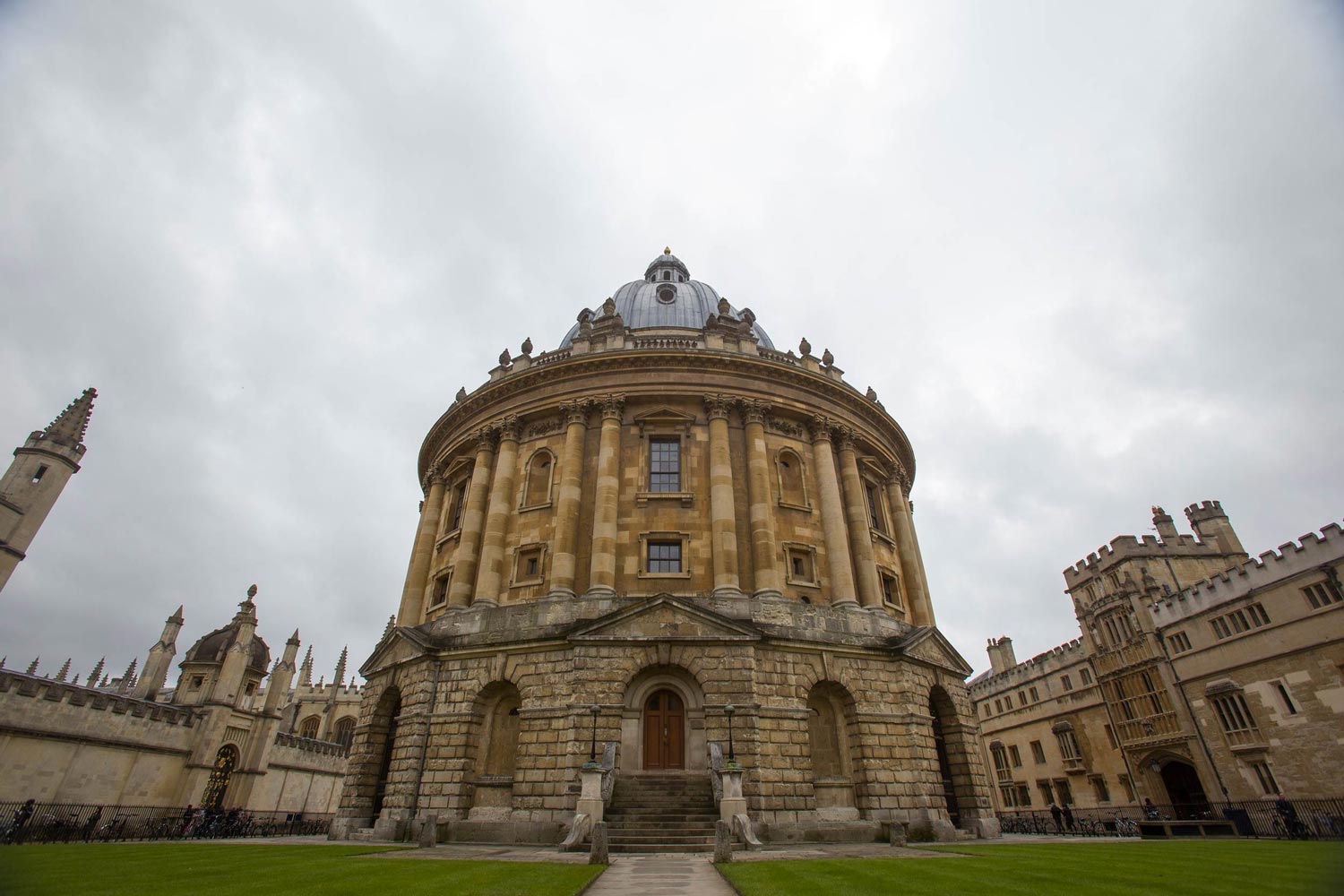 Cox said she spends a lot of time in Oxford's famous Radcliffe Camera, which functions as the main reading room of the university's Bodelian Library.
It's also the perfect place to learn from scholars in other disciplines. Cox, who is the only Ertegun Scholar focused on art history, is co-organizing a May conference, "Words/Works/Walls: Conceptual Architectures in Visual Culture," that is drawing professors from all over the United Kingdom and Europe. It's an unusual opportunity for a graduate student, but Cox has support and funding both from the Ertegun program and Oxford's History of Art department.
"It is an undertaking that is close to my heart, and the biggest project I am working on outside of my coursework," she said.
On a daily basis, Cox works with other scholars at Ertegun House, where she shares offices with 15 other scholars from all over the world studying everything from archaeology to literature.
"Everyone knows so much about their own work, but what is really nice is that everyone is also curious about each other's work," Cox said. "I am always being pushed by the people I work with, and I feel like they really care about what I do."
They have become a tight-knit community, sharing not just their work, but their favorite cultural traditions and meals. Cox even organized a Thanksgiving dinner for the group.
"I had to convince everyone that marshmallows really do belong on sweet potatoes," she said, laughing.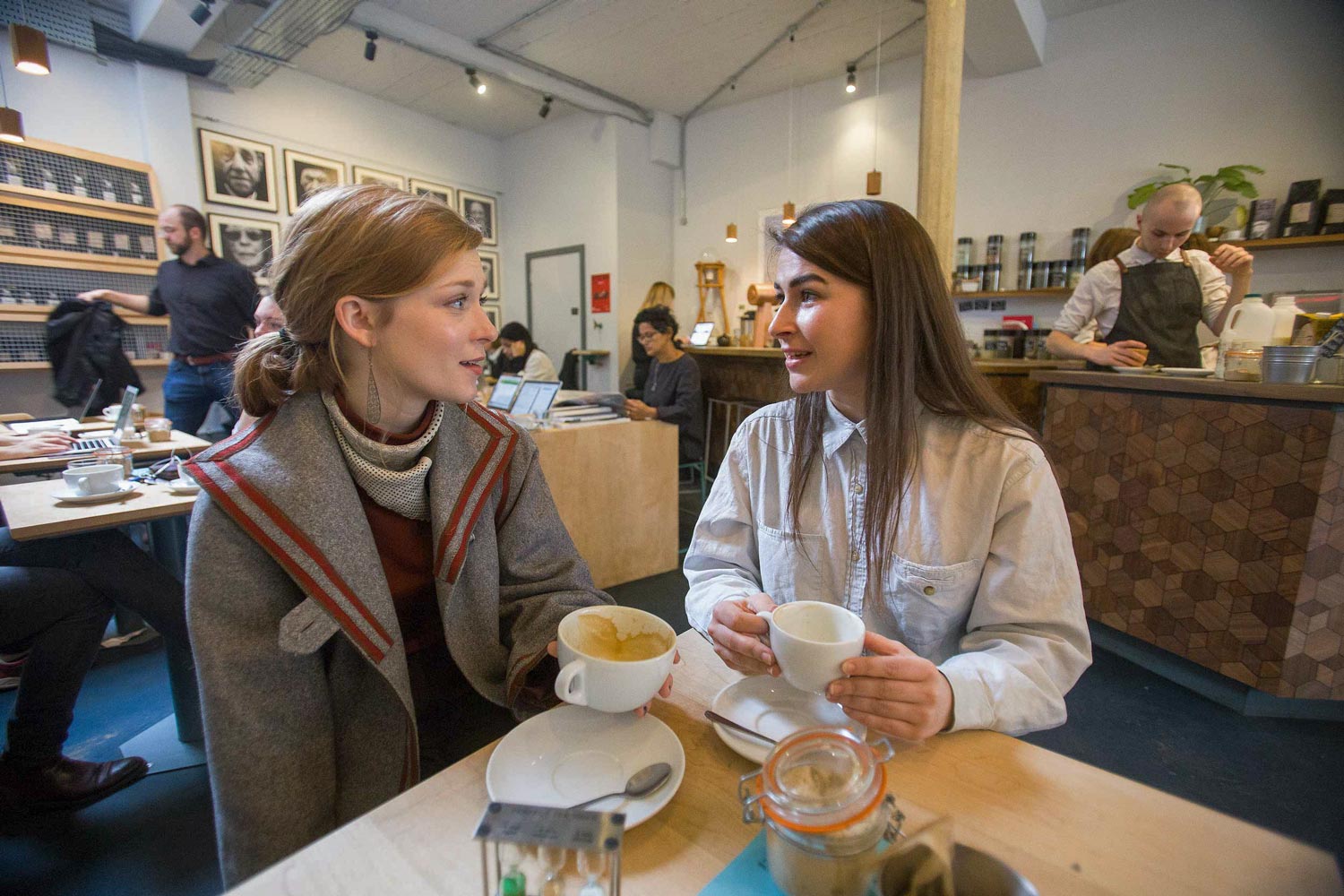 Cox, right, with her friend and fellow art historian, University of North Carolina graduate Meredith Miller, at Society Café, one of their favorite coffee shops in Oxford.
The curiosity of her fellow Ertegun Scholars reminds her a lot of UVA, Cox said.
"When I got to UVA, I was happy to meet so many people who were intellectually curious, who were passionate about what they did and really interested in what others were doing," she said. "It's similar to Oxford. Everyone has a specialty, but everyone is also something of a Renaissance man, so open to learning about anything."
Some of Oxford's traditions also remind her of UVA, Cox said.
"In my college, we have Formal Hall, long dinners where we put on special robes – it feels a bit like Hogwarts," she said. "It reminds me of some of the traditions at UVA – you take them with a grain of salt, but they can be a lot of fun."
Between classes, Cox has found time to meet up with some of her fellow 'Hoos in Europe.
Fellow 2017 graduates Aryn Frazier and Lauren Jackson are with Cox in Oxford, where both are Rhodes Scholars.
Cox has also met up with Sarah Koch, a Marshall Scholar studying in Edinburgh, and with English Professor Michael Levenson, who leads UVA study-abroad programs in London. Levenson toured London's National Portrait Gallery with Cox, helping her with some of her research.
"It has been so nice to have a nexus of UVA people over here," she said.
Media Contact
Article Information
March 22, 2018
/content/uvas-first-ertegun-scholar-loving-her-time-oxford