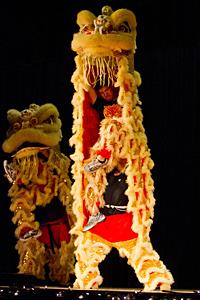 February 20, 2012 — A dragon ran up and down the aisles of Burley Middle School's auditorium on Saturday, jumping on audience members, flipping about the stage and making jokes. However, this dragon was only a costume, worn by six rather acrobatic members of the University of Virginia's Vietnamese Student Association during the "Tet Show," the association's celebration of the lunar New Year.
In 1983, the Vietnamese Student Association became the first Asian/Asian-Pacific-American group on Grounds. Today, more than 100 students are involved in the group.
In Vietnam, Tet is usually celebrated over a three-day period, honoring ancestral heritage and focusing on bringing in good luck for the new year. This year, Tet was celebrated Jan. 23.
The theme of this year's Tet Show was "discover," manifested in two ways. Kevin Houston, second-year biology major in the College of Arts & Sciences and co-culture chair of the event, said organizers hoped to bring together people who are interested in learning more about Vietnamese culture alongside those of Vietnamese descent who wished to connect to their heritage.
More than 60 student performers appeared during the event – acting, dancing, singing or emceeing – entertaining nearly 200 guests.
"On one side, you have the performers who are working so hard and coming together and bonding," Houston said. "And then you have the audience that comes from different daily lives … to watch this performance and bond together and with each other."
The discover theme resonated with Jane Ma, a fourth-year chemical engineering major in the School of Engineering and Applied Science and mathematics major in the College, who is part Vietnamese. "Going to these events have made me realize how I've lost touch with the Vietnamese culture," she said.
The centerpiece of the Tet Show was a five-act play written by club members called "A Tet Carol," in which Elle, a Vietnamese-American student at U.Va., brings her Caucasian boyfriend home to meet her family for Tet. When Elle expresses distaste for Vietnamese culture and Tet, the Spirits of Tet show her the past, present and future of her relationship with her Vietnamese culture and realizes why it should still be important to her.
Lam Bui, second-year biology and psychology major and co-culture chair of the event, explained that the play hoped to teach Vietnamese-American students how to be comfortable in both their Vietnamese and American culture. In the end of the play, the main character realized that she can be both Vietnamese and American at the same time.
For Ma, the Tet show helped her reconnect with her family's past. "Seeing the opening dragon dance performance and the like brought back memories of childhood," she said. "In that way, Tet Show serves its purpose to remind us what Tet is about: staying in touch with cultural roots and rekindling that invaluable appreciation for loved ones."
— By Lisa Littman