The University of Virginia and a group of partner institutions will take an important step toward promoting a more diverse STEM workforce and professoriate through more than $1 million in new funding from the National Science Foundation.
The funding will support a "Bridge to the Doctorate" program for graduate students in STEM fields and extend the educational mission of the Virginia-North Carolina Louis Stokes Alliance for Minority Participation, of which UVA is the lead institution.
The overarching goal of the VA-NC Alliance is to increase the quantity and quality of underrepresented students in the academic pipeline who pursue undergraduate and graduate degrees in STEM, which refers to science, technology, engineering and mathematics fields.
Led by UVA, this consortium of 12 institutions is one of more than 50 such collaborative programs across the U.S. in the NSF's Louis Stokes Alliances for Minority Participation. The other partner schools are: in Virginia, George Mason University, Old Dominion University, Piedmont Virginia Community College, Thomas Nelson Community College, Virginia Commonwealth University and Virginia Tech; and in North Carolina, Bennett College, Elizabeth City State University, Johnson C. Smith University and St. Augustine's University.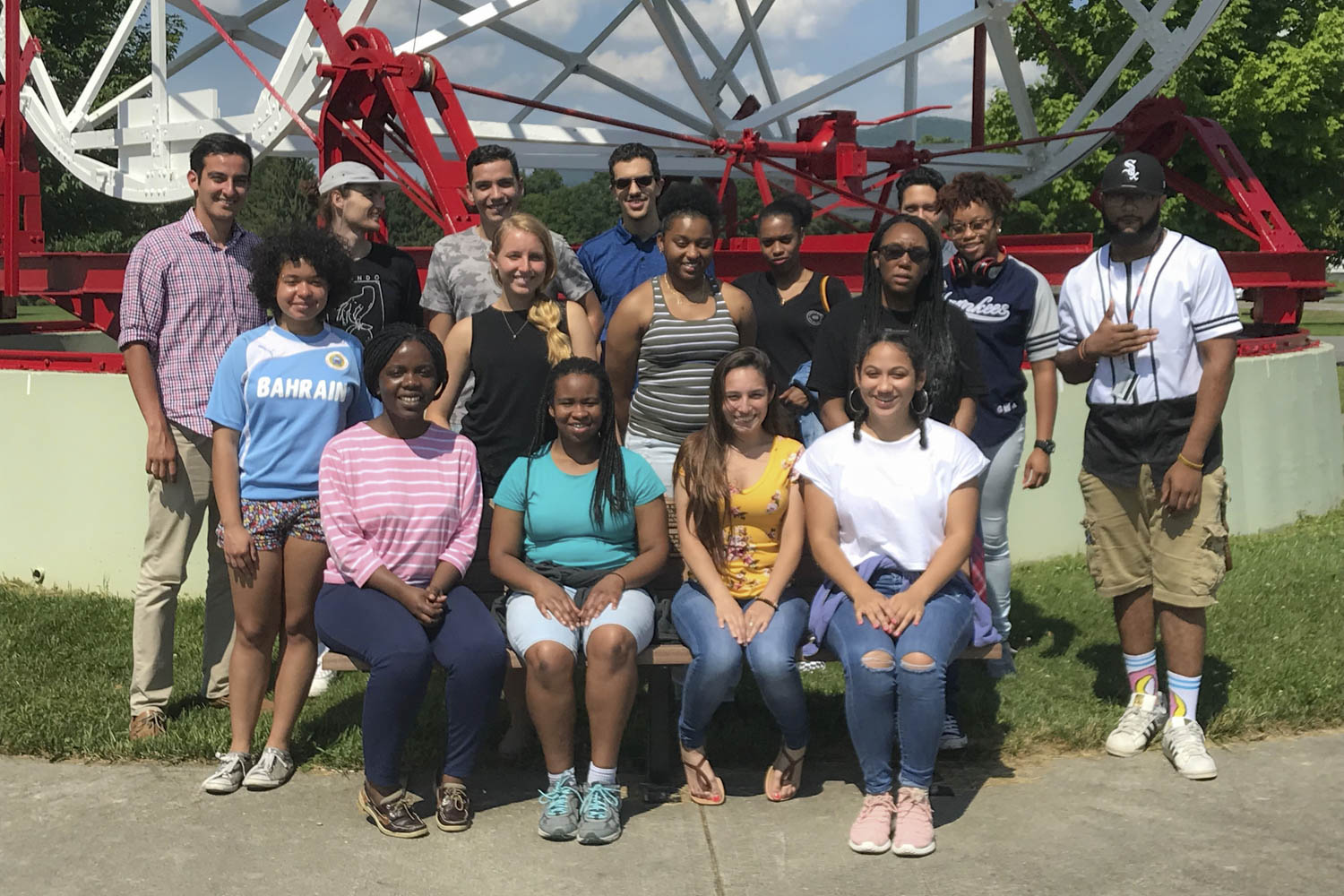 Students in the Virginia-North Carolina Alliance program pose for a photo in front of the Reber Telescope at the Green Bank Observatory in Green Bank, West Virginia. (Contributed photo)
Charlottesville's National Radio Astronomy Observatory, which had previously collaborated with the alliance, was also added as a partner last year.
"With the Bridge to the Doctorate funding, I anticipate that the high value and impact of the VA-NC Alliance over time will become more apparent at the University of Virginia as we all strive to make the STEM fields more diverse and inclusive," said Dr. Marcus Martin, principal investigator for the alliance and UVA's vice president and chief officer for diversity and equity. "Since 2007, the number of degrees earned by underrepresented minority undergraduate STEM students at VA-NC Alliance partner schools increased by 174 percent, while the number of those enrolled in STEM disciplines increased by 90 percent."
The $1,075,000 grant will go directly to supporting underrepresented STEM graduate students at UVA, with the goal of contributing to the nation's critical need for a more diverse STEM workforce and professoriate.
In addition to the Bridge to the Doctorate program, the total NSF funding to the VA-NC Alliance equals approximately $14.5 million, awarded in three previous phases beginning in 2007.
"Previously, our funding was solely for undergraduate students; those programs and activities will continue," said Kristin Morgan, a co-principal investigator who works in UVA's Office for Diversity and Equity. She is the program director of the VA-NC Alliance, while Maurice Walker is the program coordinator.
"Now UVA has the opportunity to strengthen its recruitment of underrepresented minority graduate students, both regionally from VA-NC Alliance partner schools and nationally through the NSF's Louis Stokes Alliances for Minority Participation program," Morgan said.
The Bridge to the Doctorate selection process will be holistic and rigorous in its efforts to identify students who will continue their STEM education, Morgan said. UVA's graduate school application process will now include a checkbox for applicants to indicate that they were members of Louis Stokes Alliance programs at their undergraduate schools, which will make them eligible for the Bridge to the Doctorate award.
"In order for students to be eligible to receive Bridge to the Doctorate funding, they must have been a certified LSAMP student at their undergraduate institution," Morgan said. "Having worked with our partner schools, many of them since 2007, we have extensive contacts with faculty and staff who meet on a quarterly basis and who bring their students to our annual undergraduate research symposia. Through these personal contacts we plan to conduct our regional recruitment for the program."
This summer, the ninth cohort of VA-NC Alliance undergraduate students are spending eight weeks doing research at UVA.
"While alliance students are hosted here each summer, we use this as an opportunity to prepare them for the graduate school application process and encourage them to consider applying to UVA," Morgan said. "Our hope with the summer research program has always been to increase interest in STEM graduate school programs in general, and in UVA as a specific destination."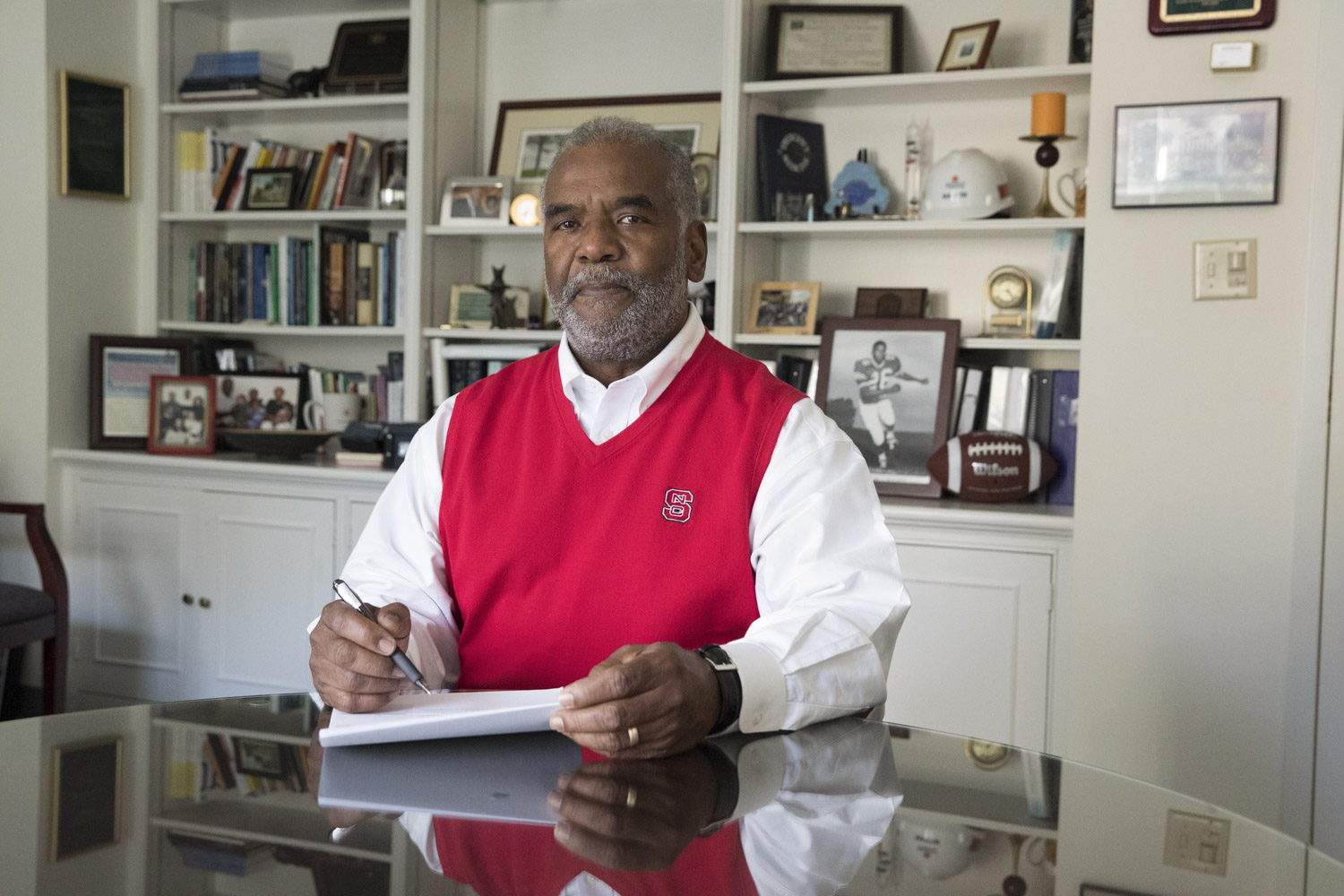 Dr. Marcus Martin, principal investigator for the program, said the new grants will eventually make an impact on diversity in the ranks of doctoral students. (Photo by Dan Addison, University Communications)
The Bridge to the Doctorate program will employ evidence-based recruitment, retention and professional development activities, including an individualized three-week residential transition program. These graduate fellows will be paired with faculty mentors and will meet on a regular basis with Keisha John, director of diversity programs in UVA's Office of Graduate and Postdoctoral Affairs and now also the Bridge to the Doctorate program director and a co-principal investigator, in addition to Archie Holmes.
"Beyond the direct impact of this program on the recipients and their home departments, it should improve the culture of diversity and inclusivity at UVA," John said. "Undergraduates from underrepresented backgrounds will have more role models in their classrooms and laboratories, research will benefit from a tremendous new pool of talent, and faculty will benefit from a more diverse cohort of students to work with and mentor." 
Recognizing that many underrepresented minority graduate students are first-generation doctoral students, another key feature of the program, John said, is that it will "provide a cohort atmosphere where they will take part in professional development activities that will equip them to become leaders in the STEM workforce."
The Bridge to the Doctorate at UVA will support 12 fellows who will receive annual stipends and cost-of-education allowances, including tuition, graduate student fees and health insurance.
"Significant to the VA-NC Alliance's proposal was that UVA agreed to provide a stipend commensurate with those provided by individual departments and cost-of-education allowance for the remaining years up to six, assuming the fellows are in good academic standing," Martin said.
"Once the VA-NC Alliance had longevity and had been in existence for at least 10 years, it became eligible to apply for this Bridge to the Doctorate funding," he said. "As the lead institution for the VA-NC Alliance, UVA applied to be the first partner school to host the Bridge to the Doctorate program, something we and our partners have looked forward to for a number of years."
The Bridge to the Doctorate sites typically rotate every two years; with future funding, the VA-NC Alliance Bridge to the Doctorate program would rotate to its partner schools that offer STEM Ph.D. programs: George Mason, ODU, VCU and/or Virginia Tech. 
Media Contact
Office of the Vice President and Chief Officer for Diversity
klm3q@virginia.edu 434-243-6660
Article Information
June 22, 2018
/content/va-nc-alliance-gets-1m-grant-increase-minority-students-stem-phd-programs