Valerie Gregory remembers when a letter circulated in the Office of Admission that people thought was cute – a 13-year-old girl from out of state wrote that it was her dream to go to the University of Virginia. Gregory, the admissions director of outreach, decided to take her seriously and respond.
"Hold onto this dream and work hard at school," she wrote. She asked her daughter, who was about the same age, if she would write to the girl, too. That girl did become a Wahoo and eventually a successful lawyer, and she still keeps in touch with Gregory today.
This is just one example of how Gregory has reached out to potential UVA students and continued those relationships for the past 22 years.
After countless events where she inspired high school students to aim for college and consider the University of Virginia, no matter what their financial circumstances, the associate dean is saying goodbye to road trips (and more recent virtual meetings with colleagues and students) – and hello to retirement.
On her last day Sept. 1, with everyone still working from home, her colleagues from around the University took the time to drive by her house to shout their congratulations.
UVA President Jim Ryan announced at the Friday Board of Visitors meeting that the auditorium in Peabody Hall will be named in Gregory's honor. A special ceremony will be held once it's safe to gather in person.
"Her legacy at UVA will live on," said Dean of Admission Greg Roberts.
Blame it on the coronavirus pandemic. The quarantine forced Gregory to slow down, and she realized maybe she really could retire, she said recently by phone. The thought of retiring had crossed her mind before, but she hadn't found the time to reflect about the next phase of her life.
"Spring was such an adjustment. It had been a long time since I've slowed down like this," she said. Her time would've been spent going to meetings and events, visiting potential students and their families in churches and homes. "There were many nights I was not home for dinner and now my husband is glad to spend more time together in the evenings."
Gregory's career began in elementary education as a teacher, and she later served as principal of Charlottesville's Clark Elementary School for about 10 years when she decided to take a sabbatical.
She likes to joke that the UVA job was an accident, she said. During her time off, she responded to a University ad for an admissions counselor, even though she didn't think she get the job. When she asked the late Dean of Admission Jack Blackburn why he decided to hire her, he replied that it was her "people skills." The University was putting new effort in diversity recruitment at the time, and he knew it was important for this person to connect with others.
"Jack saw something in me that I don't think I saw in myself at the time," Gregory mused. "He nurtured me and showed me why I needed to be here."
Gregory herself is known for her nurturing approach and combining a willingness to listen with high expectations.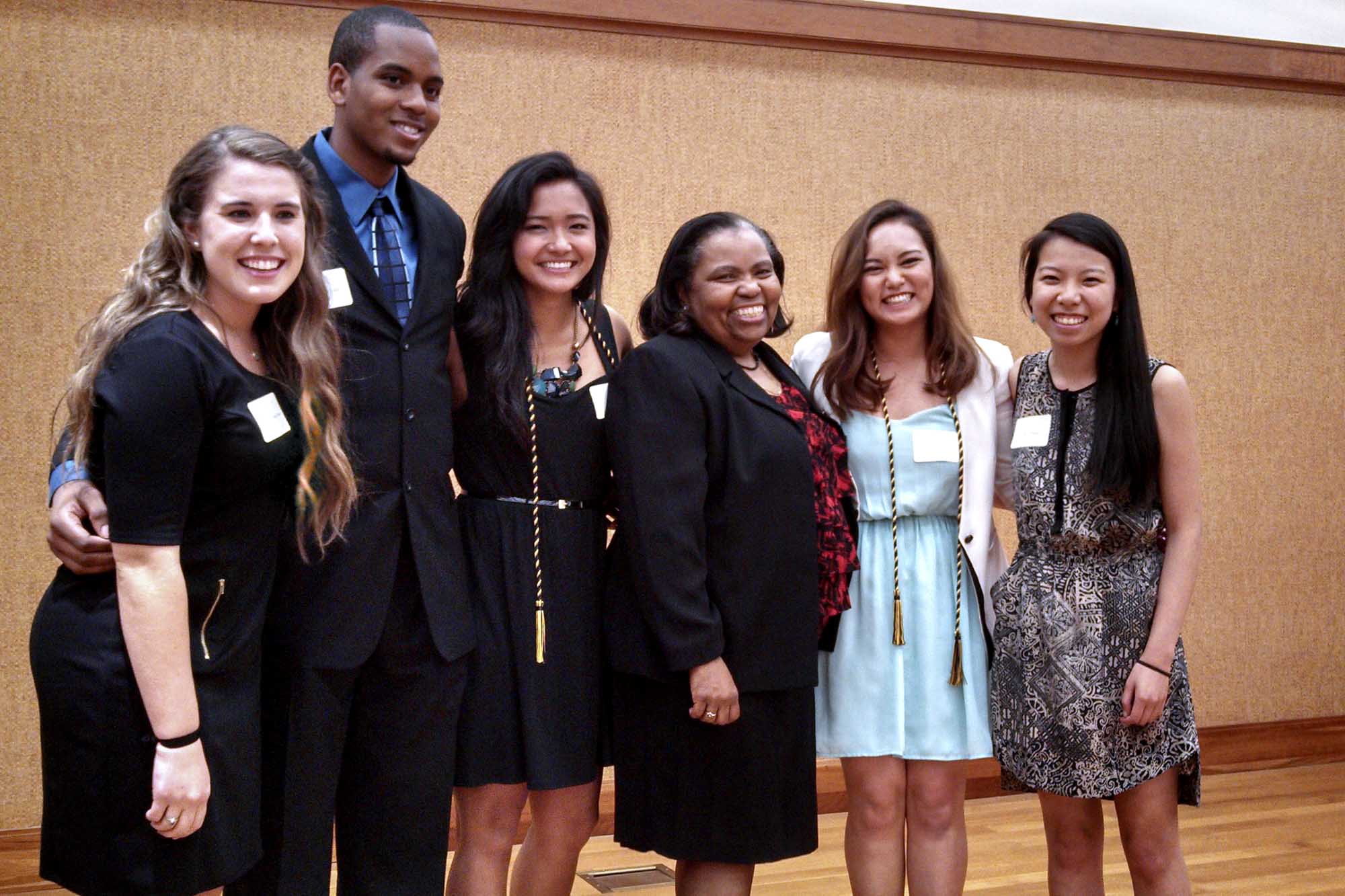 Gregory supported student successes, like these students several years ago who earned University Achievement Award scholarships. (Photo courtesy of the Office of Admission)
Current Dean of Admission Greg Roberts came to the Grounds several years after Gregory and noted that one of her great strengths has been maintaining relationships after students were admitted and arrived at UVA – not technically in the job description.
He said he can't remember a single time ever seeing her get flustered or upset. "She put everyone at ease, and people looked to her for support and guidance. She's thoughtful and warm," Roberts said. "You can't overestimate the importance of relationships in our line of work."
She also managed institutional partnerships with education organizations, such as QuestBridge and The Posse Foundation, that are devoted to boosting underrepresented students' access to higher education.
"Valerie's efforts have contributed to impressive gains in minority student enrollment at UVA, especially over the past decade. In fact, the most recent class is the most diverse ever, with record numbers of African American and Hispanic students starting this fall," Roberts said. He also credited Gregory as integral to the rising number of entering first-generation students, which has increased 58% over the last five years.
Roberts praised the way she brought her team together after the white supremacist marches of Aug. 11 and 12, 2017, and held fall open house programs for African American and Hispanic/Latinx students.
"We welcomed hundreds of high school seniors to Grounds that fall, and there were deep concerns. Parents afraid to send their children to UVA and Charlottesville," he said. "To see Valerie and her team greet families and offer support and guidance was inspiring. In tough times especially, leaders like Valerie Gregory step up and take charge. The following spring, we enrolled the most diverse class in University history."
Students typically have described what an impact she has had on them and thousands of others – students like QuestBridge scholar Johntrell Bowles. A global development studies and anthropology major who graduated in May, he now works for the federal government in Philadephia.
"As I reflect on my time spent at UVA, I realize that the first and last building I was in was Peabody Hall (Gregory's office)," he said. "The first time was when she welcomed me and the other QuestBridge scholars to UVA, and the last time was as I assisted her in cleaning out her office."
Bowles wrote in email that fewer than 5% of those in the Indiana community he came from held bachelor's degrees and the QuestBridge scholarship was his ticket to a better start.
"Dean Gregory, or 'Mama' Gregory to most students, was my first point of contact as she welcomed me to UVA all the way from my home state of Indiana. Because I had spent 10+ years in the foster-care system, I wondered what my support system would look like for this new area of my life. Dean Gregory became a mother for me, for she always welcomed me with open arms, warm hugs, and genuine dialogues that helped guide me through my time at UVA.
"Very often I tell her that if it wasn't for her, I am not sure where I would be. Through QuestBridge, she has given many students like me a chance to succeed where we never imagined."
Sherese Bonner, a fourth-year student originally from New Kent who's in the Frank Batten School of Leadership and Public Policy, said meeting Gregory at a college fair at her church helped her decide to attend UVA.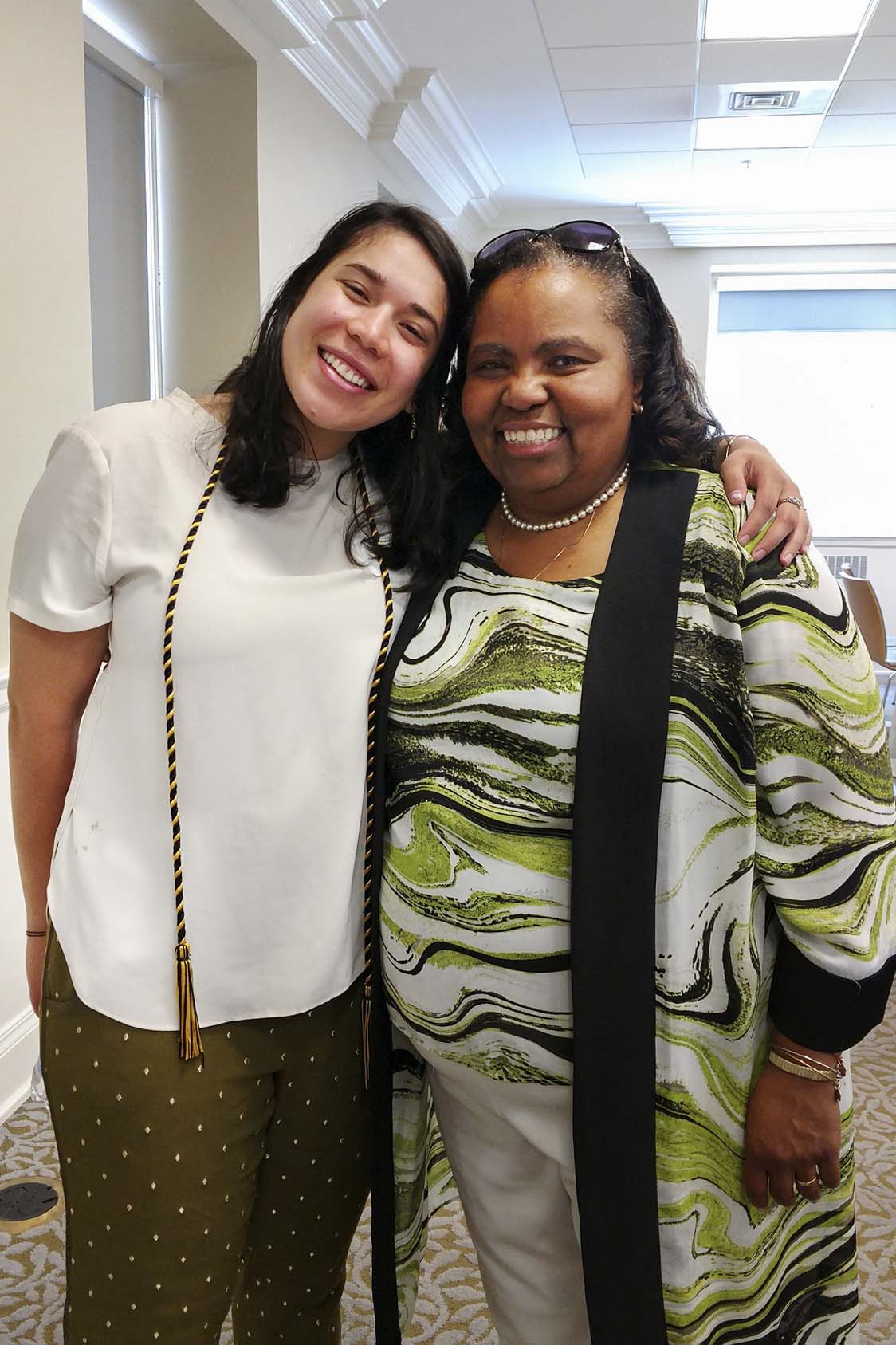 Gregory maintained connections with many students like Kathryn Perez, left, after they came to UVA. (Photo courtesy of the Office of Admission)
"What I appreciate about Dean Gregory is her welcoming spirit and her accessibility to students," Bonner wrote in email. "She has been a constant source of encouragement throughout my years at UVA. … I could not have expected a better mentor, adviser and friend."  
Now that the time has come – Gregory's last day was Sept. 1 – she will continue to take things slow for a little while. "That is the beauty of this time – my life has been so planned, especially my professional life," she said.
Of course, the pandemic is still affecting daily activities. Gregory loves to travel, she said, but the only kind of trips she might take would be short ones – like driving up to the mountains on a fall weekday.
She also hopes it'll be safe enough to travel to see family in the near future. She has a daughter practicing law in North Carolina and two brothers living in Georgia. Gregory, whose mother died in February, said she would love to visit her favorite aunt, her mother's sister, who lives in South Carolina and is close to 90.
But she is really looking forward to watching her brothers fishing so she can fry up a pan of fresh fish for them after a long day on the water. "I'm thinking about having good times with them," she said.
She admitted, though, that it'll be hard not to work with students. Eventually, she will probably find a way to be involved with students somehow, she said.
Colleague Lee Morgan Politis, associate dean of admission, said everyone will miss her terribly, but believes she'll get out there "working her magic in the larger Charlottesville community." Politis described Gregory as "an inspiring collaborator and colleague who, for 22 years, has blessed this university with her strength, wisdom and composure. And patience. She brings out the best in all of us."
"It's been a great journey," Gregory said, bringing up what she learned from her father, who was an educator and activist, and her mother, a teacher.
"They always instilled in me: don't forget about other people – the one next to you and behind you. Anything you can do to make other people's lives better, you should. That's why we're here."
Article Information
September 14, 2020
/content/valerie-gregory-leaves-legacy-championing-welcoming-students