The 33rd Annual Virginia Film Festival announced Tuesday a program of more than 50 films, discussions and special events that will include a series of virtual conversations and a series of drive-in movies presented in two safe and physically distanced settings.
The program will include some of the most celebrated first-run features, documentaries, short films and more on the 2020 film festival circuit, as well as a guest lineup headlined by ​Annette Bening; Leslie Odom Jr.​; ​Ethan Hawke​; former Virginia Gov. ​Terry McAuliffe; NPR host ​Diane Rehm; Obama White House photographer, author and social media star ​Pete Souza;​ and "Breaking Bad" ​and "Better Call Saul" ​creator ​Vince Gilligan.
The Virginia Film Festival is a program of the University of Virginia and its Office of the Provost and Vice Provost for the Arts.
"We are very proud to announce our 2020 program in what obviously is an unprecedented year for the industry and for our world," said Jody Kielbasa, director of the Virginia Film Festival and UVA's vice provost for the arts. "We are mindful of and thankful for our unique position in the local and national arts communities that allows us to continue to do what we do in a virtual format and a limited in-person capacity, and have worked hard to create a program that represents our core values and lives up to our strong reputation as a festival that engages our community in ways that go beyond the films we screen. This year we are particularly proud of the guest lineup we have assembled, who represent so many aspects of the film world and the truly unique times in which we live."
The full 2020 VAFF program will be posted online Thursday at 10 a.m. Virtual all-access passes are on sale now, and tickets to drive-in movies and special presentation events will go on sale online Thursday at noon at ​virginiafilmfestival.org​.
A Commitment to Diversity and Inclusion
This year, the VAFF has rededicated itself to its commitment to promoting equity and inclusion in its programming.
"It is imperative to me," Kielbasa said, "and to our entire staff at the Virginia Film Festival, that we represent and share the stories that reflect the entire spectrum of film artists who are doing so much to shine a light on the world we live in. I am especially proud to say that over 50% of the filmmakers included in our program and the artists, experts and community members participating in our virtual discussions are either women or represent Black, indigenous and people of color communities."
Drive-In Movies
The festival will partner with Dairy Market in Charlottesville and UVA's Morven Farm in southeastern Albemarle County to bring audiences together for safely distanced drive-in movies. Each venue will host one drive-in screening each night of the festival. Films at Morven Farm will begin at 7:30 p.m. and films at Dairy Market will start at 8 p.m.
Opening Night Film: ​"One Night in Miami." The 2020 Virginia Film Festival will open with the upcoming Amazon release "​One Night in Miami," the directorial debut of Academy Award-winning actor Regina King. Based on Kemp Powers' stage play of the same name, ​the film centers around a fictional meeting in February 1964 between Malcolm X, Cassius Clay, Sam Cooke and Jim Brown. Underdog Cassius Clay, soon to be known as Muhammad Ali, has just defeated heavyweight champion Sonny Liston at the Miami Convention Hall and rallies his close friends together to celebrate the win. Over the course of the night, the four share the struggles they've endured as high-profile and influential Black men, and the roles they think they can and should play in the civil rights movement. ​The Opening Night Film is presented by Bank of America and supported by UVA Office for Diversity, Equity and Inclusion.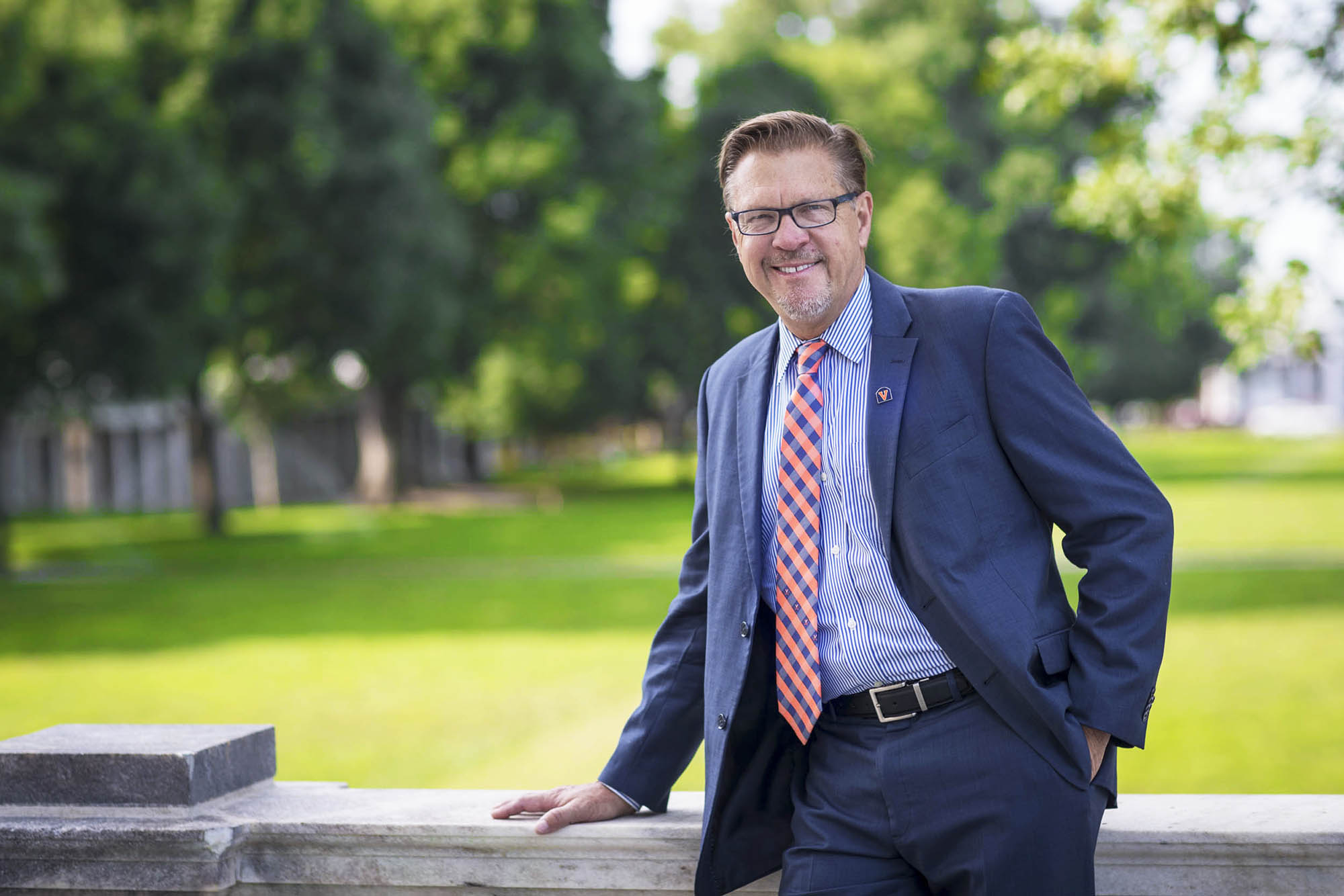 UVA Vice Provost for the Arts Jody Kielbasa directs the Virginia Film Festival. (Photo by Sanjay Suchak, University Communications)
Centerpiece Film: ​"Ammonite." This highly anticipated release from NEON features Kate Winslet as the noted 19th-century British paleontologist Mary Anning living in literal and emotional isolation on the rocky and forbidding English coast. When a visitor leaves his troubled wife (Saoirse Ronan) behind to work with Anning, the two form an awkward and uneasy alliance that blossoms into a powerful and unvarnished love story that changes both lives forever. Directed by Francis Lee (​"God's Own Country"​), "Ammonite​" is generating significant awards season buzz, with Winslet's performance hailed as among the best of her illustrious career.
Closing Night Film: ​"Nomadland​." Perhaps the most acclaimed and discussed film on the 2020 film festival circuit, "Nomadland" ​is director Chloé Zhao's intimate and thoughtful portrayal of life as a modern-day nomad. Following the economic collapse of a company town in rural Nevada, Fern, played by two-time Academy Award winner Frances McDormand, takes off in a van and begins exploring life outside of conventional society in the vast landscape of the American West. Featuring first-time actors living the nomadic lifestyle, whom Zhao and McDormand encountered on the road, this film showcases individuals on the peripheries of our society who are redefining what the "American Dream" really looks like. ​The Closing Night Film is presented by Wells Fargo Bank N.A.
The drive-in movie series will also include​ "G​unda​," a beautiful documentary from Russian director Viktor Kosakovskiy that makes what Indiewire calls a "visionary case for veganism" by welcoming audiences into the world of farm animals, who tell their own story without single human voice or note of music; ​"MLK/FBI,"​ an IFC documentary based on newly declassified documents regarding the federal government's relentless campaign of surveillance and harassment of the Rev. Dr. Martin Luther King Jr; "S#!%house​," a fun, funny and honest coming-of-age story that won the Grand Jury Prize for Narrative Features at the South by Southwest festival this year; and ​"Shiva Baby,"​ Emma Seligman's sharp-witted debut about a directionless 22-year-old Jewish bisexual woman whose return home to participate in a shiva unleashes a torrent of secrets and awkwardness.
The VAFF's Drive-In Movies at Morven Farm are presented by the Office of the Provost and Vice Provost for the Arts and supported by Morven and the Charlottesville Albemarle Convention & Visitors Bureau. The VAFF's Drive-In Movies at Dairy Market are presented by Dairy Market and supported by the AV Company and the Charlottesville Albemarle Convention & Visitors Bureau.
Virtual Special Presentation Events
The VAFF will also offer three virtual Special Presentation Events as part of its 2020 program. Access to each event will be offered for free, and online registration will begin Thursday at noon.
A Conversation with Leslie Odom Jr.​: The multi-talented actor Leslie Odom Jr. discusses his role as the legendary Sam Cooke in our Opening Night Film ​"One Night in Miami,"​ about the remarkable career launched by his Tony Award-winning performance in "Hamilton," and more. The event marks a return to the UVA community for the star, who performed in the 2017 Bicentennial Launch Celebration and headlined the UVA Speaker Series for the Arts in 2019. ​Supported by the UVA Office for Diversity, Equity and Inclusion.
A Tribute to Thomas Newman: Fifteen-time Academy Award-nominated film composer Thomas Newman will discuss his career with Benjamin Rous, director of the Charlottesville Symphony at the University of Virginia. Newman's credits include ​"The Shawshank Redemption,"​ "The Green Mile,"​ "​American Beauty​,"​ "Finding Nemo​," the James Bond films "​Skyfall" ​and ​"Spectre"​ and last year's Golden Globe-winning film for best picture, ​"1917.​" This tribute, which will include clips from these movies and more, will also feature Newman's frequent collaborator, director John Lee Hancock (​"The Blind Side," "​The Alamo​" and "​Saving Mr. Banks"). ​Supported by Charlottesville Radio Group.
Light House Studio Shorts​: Once again this year, the VAFF will showcase the work of the students at Light House Studio in Charlottesville with a selection of short films.
Virtual Program
The VAFF's Virtual Program will include more than 50 features, curated shorts packages, discussions and panels. All events included in the virtual program will be accessible to virtual all-access passholders; individual tickets will go on sale Oct. 21.
Special Guest Conversations
A Conversation with Annette Bening​: Four-time Academy Award nominee ​Annette Bening ​will participate in a conversation with author and Turner Classic Movies host Ben Mankiewicz about some of her many unforgettable performances. ​Presented by UVA Gamma Knife Center.
A Conversation on Showtime's ​"The Good Lord Bird​": Actor, writer, director and four-time Academy Award nominee ​Ethan Hawke w​ill be joined by award-winning author​ James McBride for a conversation around ​"The Good Lord Bird,"​ the new Showtime series based on McBride's book in which Hawke portrays abolitionist John Brown. The conversation will also include Joshua Caleb Johnson​, who co-stars in the series; executive producer and showrunner ​Mark Richard​; and costume designer ​Amy Andrews Harrell​. ​Presented by Virginia Film Office, and supported by New Dominion Bookshop, The UVA Bookstore and the Virginia Festival of the Book.
A Conversation with Pete Souza and Chris Lu: Former Obama and Reagan White House photographer ​Pete Souza ​will discuss the new documentary ​"The Way I See It​," in which he shares iconic and behind-the-scenes photos and remembrances from his time seeing, living and shooting history in the making, in a special conversation with former Deputy Secretary of Labor Chris Lu. ​Supported by C-VILLE Weekly and UVA's Miller Center.
A Conversation with Linda Hamilton: Actress Linda Hamilton gave us one of Hollywood's most iconic action hero female characters as Sarah Connor in "The Terminator" franchise. Following a long self-imposed hiatus from the big screen, Hamilton reprised the character last year at age 62 in ​"Terminator: Dark Fate."​ She will talk with UVA President Jim Ryan about the films and her career .
A Conversation with Vince Gilligan and Mark Johnson:​Vince Gilligan, the creator of Emmy Award-winning series ​"Breaking Bad"​ and its current sequel ​"Better Call Saul," will join his producing partner on the two series, Mark Johnson, to discuss their record-breaking collaboration – a collaboration that began at the inaugural Virginia Film Festival in 1989, where Johnson presented Gilligan with the Governor's Screenwriting Award for his script for "Home Fries,​" which went on to star Drew Barrymore. UVA media studies professor William Little, who teaches a course on ​"Breaking Bad," will moderate.​ ​Supported by Virginia Film Office.
A Conversation with Nicole Kassell: VAFF Program Manager Chandler Ferrebee will moderate a conversation with award-winning filmmaker and Charlottesville native Nicole Kassell, who recently won an Emmy for Best Limited Series for HBO's ​"Watchmen.​" The series, which captured 11 Emmys overall, is inspired by Alan Moore and Dave Gibbons' DC graphic novel and takes viewers into the 1921 Tulsa massacre, known as the single worst incident of racial violence in U.S. history. "​'Watchmen'​ is the rare television show to grow more relevant with time," Ferrebee said, "with its depiction of ordinary people and vigilantes in masks, its ties to Tulsa, and its depiction of race and law enforcement in America."
Spotlight Films
"Boys State," ​Jesse Moss and Amanda McBaine's Sundance Grand Jury Prize-winning documentary takes us inside the Texas Boys State competition, which brings together more than 1,100 high school civics students for a mock government exercise each year. Recently called a "nerdier, less lethal ​'Lord of the Flies'"​ by T​he Atlantic​, the film offers unavoidable parallels to our political present and future and highlights the effects of America's current deep political divides. The film will be preceded by an introduction with South Carolina ​U.S. Sen. Tim Scott​ and will be the subject of a conversation moderated by ​Larry Sabato​, director of the UVA Center for Politics, and including former ​Virginia Gov. Terry McAuliffe​. ​Presented by UVA Center for Politics and supported by The Jefferson Trust.
"When My Time Comes," w​ith a live conversation featuring ​Diane Rehm​, Joe Fab and Diane Naughton. Peabody Award-winner Rehm ​began to examine the option of medical aid in dying after the death of her husband, John Rehm. This documentary feature interweaves the Rehms' experience with those of other patients and families across the U.S., as well as the views of experts, on the issue of medical aid in dying. Supported by New Dominion Bookshop, The UVA Bookstore, and Virginia Festival of the Book.
"Never Too Late: The Doc Severinsen Story," w​ith a conversation featuring Doc Severinsen​. ​After three decades as the colorful bandleader to ​"The Tonight Show​ ​Starring Johnny Carson​," master trumpeter ​Severinsen ​defies nature with a relentless schedule of touring, teaching and performing into his 90s. ​Supported by Charlottesville-Albemarle Airport.
"All In: The Fight for Democracy,"​ ​with an introduction by ​Stacey Abrams ​and discussion featuring Larry Sabato, director of UVA's Center for Politics. This timely documentary traces the history of the right to vote and investigates racist practices of voter suppression and how these barriers continue to disenfranchise predominantly non-white voters today. ​Presented by UVA Center for Politics and supported by UVA Office for Diversity, Equity and Inclusion.
Spotlight Discussions
"The South on Screen: A Conversation with Ray McKinnon​." Actor, writer, and director Ray McKinnon leads a conversation on what it means for a Southern artist to present his culture truthfully and with respect on screen, and the art of telling completely universal and human stories in a distinct and authentic Southern voice.
"The Anti-Social Network​." A special 10th-anniversary screening of David Fincher's ​"The Social Network"​ will be accompanied by a discussion of the social media giant's impact on our society, featuring Roger McNamee, the high-profile Silicon Valley fund manager, venture capitalist, early Facebook investor and Mark Zuckerberg mentor who later wrote the book ​"Zucked: Waking Up to the Facebook Catastrophe". The discussion will be moderated by prominent cultural historian and author Siva Vaidhyanathan, a UVA professor of media studies whose books include ​"Antisocial Media: How Facebook Undermines Democracy" ​and ​"The Googlization of Everything – And Why We Should Worry.​"
"A Conversation on Netflix's ​'Athlete A.'" Directors Bonni Cohen and Jon Shenk will discuss their process in creating ​"Athlete A​," an investigation of decades-long ​systemic abuse and institutionalized corruption within the world of gymnastics. ​The Netflix documentary sheds light on the sexual abuse of hundreds of young athletes by USA Gymnastics team doctor Larry Nassar and the team of tireless investigative journalists at The Indianapolis Star who worked to hold USAG and Nassar accountable. The discussion will be moderated by UVA assistant professor Bonnie Hagerman, who teaches "Women, Gender, and Sport: A History of American Female Athletes."
"A Conversation on Netflix's ​'Giving Voice.'" ​Directors James D. Stern and Fernando Villena discuss their new documentary ​"Giving Voice,"​ an emotional journey centered around six students competing in the annual August Wilson Monologue Competition. Students perform one of famed playwright Wilson's monologues ​from his century cycle of 10 plays focused on the African American experience, allowing a new generation to find their own voice through his work in their increasingly complicated world. ​The discussion will be moderated by Jenny Wales, UVA associate drama professor and Heritage Theatre Festival artistic director.
American Perspectives Series
"During these incredibly divided times," the Virginia Film Festival's Ferrebee said, "there is much debate over what makes someone an American. I feel like the core of that answer lies in a resiliency of spirit, an optimism for a better life and an empathy for your fellow man. We have created the American Perspectives series to showcase the complicated and diverse stories that make up America today."
Each film in the ​American Perspectives Series ​will feature a virtual discussion with the film artists.
"The Evening Hour." Filmmaker Braden King's film tells the story of Cole Freeman, who maintains an uneasy equilibrium in his rural Appalachian town, looking after the old and infirm while selling their excess painkillers to local addicts. His fragile balance is upended with the arrival of an old friend who forces Cole to take action in this beautifully shot and acted film featuring Philip Ettingdr, Michazel Trotter, Emmy nominee Lili Taylor and Oscar nominee Tess Harper.
"Gather." From director Sanjay Rawal, "Gather" is an intimate portrait of the growing movement among Native Americans to reclaim their spiritual, political and cultural identities through food sovereignty, while battling the trauma of centuries of genocide.
"The Giverny Document (Single Channel)." Filmmaker and artist Ja'Tovia Gary uses a variety of experimental filmmaking techniques to craft a poetic, multi-textured cinematic meditation on the safety and bodily autonomy of Black women.
"Good Ol Girl." ​The film​ follows three young Texas cowgirls tasked with carrying on their families' legacies amidst a volatile landscape and industry. The film explores the modern West, a place where the male cowboy mythology must answer to a new, honest and some would say subversive female story.
"Hamtramck, USA."​ Once a Michigan city that was 90% Polish, Hamtramck became the first Muslim-majority city in America. Following the campaigns of individuals seeking to gain representation in city hall, this documentary wrestles with identity politics, power dynamics and the immigrant experience in America.
"Heard." The film​ captures the inspiring stories of four people who grew up in "the projects," surviving and thriving in spite of, and often because of,​ t​he challenges they've had to overcome. Now they're giving back to their home communities and trying to make a better life for those who come behind. ​Presented by VPM.
Women in Film
"As we went through the process of building this program," Ferrebee said, "I was incredibly impressed with and thrilled by the sheer volume of extraordinary work being released this year by women filmmakers. I am really proud to present this series, which I think offers a fascinating and diverse cross-section of what is truly an embarrassment of riches." ​
The Women in Film series is supported by the Virginia Commission for the Arts & National Endowment for the Arts.
"Aggie." Emmy-nominated director Catherine Gund delivers an affectionate tribute with a powerful message in this story of how her mother, art collector and philanthropist Agnes "Aggie" Gund, put her money where her passion was by using the $165 million proceeds from the 2017 sale of Roy Lichtenstein's "Masterpiece" to start the Art for Justice Fund, which works to reform the American criminal system and end mass incarceration.
"Coded Bias." ​The film​ explores the threat artificial intelligence poses to civil rights and democracy by telling the story of fallout of MIT Media Lab researcher Joy Buolamwini's startling discovery that facial recognition does not see dark-skinned faces accurately, and her subsequent journey to push for the first-ever federal legislation to govern against bias in artificial intelligence. Supported by Crutchfield Corporation.
"Freeland." Devi is a fiercely independent woman in her 60s whose toughness, ingenuity and boundless energy have served her well in running her successful black market pot farm in California, but even she cannot prepare for the ultimate disruption of capitalism to her business and world.
"Women in Blue." Filmed from 2017 to 2020, ​"Women in Blue"​ follows Minneapolis' first female police chief, Janeé Harteau, as she works to reform the Minneapolis Police Department by diversifying the ranks and promoting women into every rank of leadership. When she is forced to resign in the wake of a high-profile police shooting, the new chief selects only men as his top brass, and the women left behind are left to grapple with the consequences.
Documentaries
"Statecraft: The Bush 41 Team."​ Directed by Charlottesville-based filmmaker Lori Shinseki and presented by UVA's Miller Center of Public Affairs, ​"Statecraft​" follows the foreign policy team of President George H.W. Bush as it navigates the challenges that came with transitioning to a post-Cold War world at a time when heightened U.S.-Soviet tensions gave way to delicate negotiations between the two former adversaries. ​Presented by The Miller Center and VPM.
"Fish & Men​." Facing the consequences of a demand-driven seafood economy, pioneering fishermen and celebrated chefs are championing a new movement to return sustainability to both fish and fishermen. ​"Fish & Men​" showcases a revolutionary new supply-based model focusing on local, seasonal, sustainable fish – where consumers can discover new varieties of seafood and reconnect once again to those who risk their lives to harvest from the sea.
"The Last Out." Three young Cuban baseball players leave their families and risk exile to train in Central America and chase their dreams of playing in the major leagues. Told with rawness and urgency, this documentary feature reveals the human story of people caught between countries who want nothing more than a better life for their families.
"Feels Good Man​." Artist Matt Furie had no idea when he was creating Pepe the Frog, an innocuous laid-back humanoid amphibian cartoon, that Pepe would transform into a symbol for the hate of the alt-right. This documentary explores an unexpected cultural rift, offering a vivid portrait of an artist battling to regain control of his vandalized creation, set in the very strange reality we've all found ourselves living in. ​Supported by UVA Deliberative Media Lab.
​Guest Programmers
The Virginia Film Festival welcomes back a talented team of guest programmers to present their own unique perspectives through curated series.​ ​The Transborder Blackness & Indigeneity (Indigenidad y Negritud Transfronteriza) Series and ​Middle Eastern & South Asian Film Series are supported by UVA Arts Council.
Federico Cuatlacuatl​ (​Transborder Blackness & Indigeneity [Indigenidad y Negritud Transfronteriza] Series). ​Born in Cholula, Puebla, Mexico, ​Federico Cuatlacuatl​ is an indigenous artist and UVA assistant professor of studio art whose work focuses heavily on disseminating topics of Latinx immigration, social art practice and cultural sustainability.
Joe Fab. The Emmy Award-nominated filmmaker returns with the ​VAFF Shorts Program​, an annual festival favorite. Fab is an accomplished producer, writer and director whose work includes ​"When My Time Comes,"​ a documentary about the right-to-die movement featuring famed NPR host Diane Rehm, part of this year's VAFF program, and the highly acclaimed 2004 release "Paper Clips," which he co-directed.
Samhita Sunya (Middle Eastern & South Asian Film Series​). Sunya​ is an assistant professor of cinema in UVA's Department of Middle Eastern and South Asian Language and Cultures whose interests span world film history, South and West Asian cinemas, intersections of audio-visual media and literature, and sound studies. She also has a curatorial background in the collaborative administration of film series and festivals.
Ilya Tobvis (Jewish & Israeli Film Series). Tobvis, director of the Washington Jewish Film Festival, which each year presents some 70 international films, including documentaries and narratives, from emerging and established directors, that relate to the Jewish experience.
Hidden Gems
"Test Pattern." ​National discussions around inequities in our health system, the #metoo movement and the state of race relations in America come together in this debut feature from director Shatara Michelle Ford. An Austin, Texas, couple's relationship is put to the test when the girlfriend is sexually assaulted and her boyfriend drives her from hospital to hospital in search of a rape kit.
"Jumbo." A seductive and poetic adventure based on strong colorful visuals, this striking narrative feature from director Zoé Wittock follows a shy young woman working in an amusement park who finds love in the most unexpected of places.
"Monsoon." Starring "Crazy Rich Asians" lead Henry Golding, Cambodian-born director Hong Khaou's follow-up to his acclaimed 2014 debut film ​"Lilting"​ is an intimate, fascinating and thoughtful look at the complex intersections between culture and identity through the eyes of a Vietnamese-born, British-raised gay man.
"We are mindful of and thankful for our unique position in the local and national arts communities that allows us to continue to do what we do in a virtual format and a limited in-person capacity, and have worked hard to create a program that represents our core values and lives up to our strong reputation as a festival that engages our community in ways that go beyond the films we screen."

- Jody Kielbasa
"Twilight's Kiss." ​Set against a backdrop of modern life in Hong Kong, this quiet, introspective feature presents the ​struggle between conventional morals and personal desires as two married men in their twilight years fall in love and contemplate a possible future together.
"Electric Jesus." While supergroup Stryper found fame outside of evangelical circles, dozens of "white metal" bands thrived within the wholesome Christian youth-group culture of suburban America. ​"Electric Jesus"​ is about one of those bands, and features actors Judd Nelson and Brian Baumgartner, known to millions as Kevin in NBC's ​"The Office​." S​upported by WTJU 91.1 FM​.
"Dinner in America​." This off-the-wall, daring comedy​ follows unconventional couple Simon and Patty as they embark on a series of misadventures in a dreary Midwestern suburb. Set to the beat of brilliant original songs, this feature film offers a wild ride through the places and people of suburbia – in all their peculiar forms.
Spotlight on Virginia Filmmaking
The festival will spotlight an impressive collection of films that were made in Virginia or have roots in the commonwealth. ​The series is presented by the Virginia Film Office.
"Alice." Charlottesville filmmaker Eduardo Montes-Bradley sits down with composer, conductor and teacher of choral music Alice Parker in this intimate portrait of a true musical pioneer and her lasting impact on choral music and those who experience it. Parker shares stories of her remarkable 70-year career, clearly demonstrating her passion for music, life and kindness.
"The Reunited States." Ben Rekhi offers a window into four Americans working to re-inject the nation with one of its fastest-diminishing resources: civility. From Charlottesville's own Susan Bro and her efforts to honor her daughter Heather Heyer's memory by inspiring others to stand for what they believe in, to David and Erin Leaverton, a Republican couple who travel to all 50 states in an RV to learn firsthand what divides us, the film illustrates the power we have to bring our country back together.
"The Judge: Character, Cases, Courage​." ​Following his appointment to the U.S. District Court by President Lyndon Johnson in 1967, Judge Robert R. Merhige Jr.​ ​presided over several landmark cases, most famously his ruling in favor of public school desegregation in Richmond, a decision met with the extreme public backlash and even threats to his life. This biographical documentary examines one man's love for the law, great personal courage and unfailing fair-mindedness that allowed him to do what he simply referred to as "his job." ​Supported by Hirschler.
Tickets and Access
Virtual all-access passes for the Virginia Film Festival, priced at $65 ($45 for students, free for UVA students through the Arts$ program) are on sale now at virginiafilmfestival.org/passes​. Virtual All-Access passes are valid only for events included in the VAFF's Virtual Program and not for Drive-In Movies and Special Presentations.
Single tickets to events included in the virtual program will be $8 each and will go on sale Oct. 21 at 10 a.m.
For information on passes, tickets and frequently asked questions about the virtual program, visit virginiafilmfestival.org/virtual-program-faq​. For technical support on accessing the virtual program, visit ​virginiafilmfestival.org/technical-support​.
Virtual Special Presentation Events
The VAFF's Virtual Special Presentation Events include the following events: Light House Studio Shorts, A Tribute to Leslie Odom Jr., and A Tribute to Thomas Newman. These events are free, and registration begins Thursday at noon at ​virginiafilmfestival.org​   
Drive-in Movies
Tickets to the drive-in movies are $25 per vehicle, with a limit of five passengers per car. Tickets will go on sale Thursday at noon, and are available in advance only at virginiafilmfestival.org​. For information on what to expect at the drive-in movies, what safety precautions will be in place and other frequently asked questions, visit ​virginiafilmfestival.org/drive-movies-faq​.
The 2020 Virginia Film Festival is presented by The Joseph and Robert Cornell Memorial Foundation. The 2020 Virginia Film Festival is generously supported by the following sustaining sponsors: Bank of America, UVA Office of the Provost and Vice Provost for the Arts, Virginia Film Office, and VPM.
Article Information
October 6, 2020
/content/virginia-film-festival-announces-program-combining-virtual-and-drive-offerings