How could employees at Volkswagen get away with cheating on U.S. emissions tests? Why didn't even one of the company's thousands of employees speak up? What can executives do to prevent such a massive breakdown in business ethics?
Students in the University of Virginia's Darden School of Business are answering those questions this semester with a new case study on the Volkswagen scandal, written by Almand R. Coleman Professor of Business Administration Luann Lynch, who teaches accounting at Darden, and 2016 Darden graduates Elizabeth Bird and Cameron Cutro.
The trio decided to write the case after news broke last year that Volkswagen deliberately installed software that enabled its diesel cars to pass U.S. emissions tests while actually emitting up to 40 times the legal limit of hazardous gases. The cheating could affect as many as 11 million vehicles, and news reports brought Volkswagen sales to a screeching halt, sent shock waves through the business world and set business schools – the institutions that strive to educate ethical business leaders – abuzz.
"I always tell my students that the bar for Darden students is not just to go out and run a profitable business," said University Professor and Elis and Signe Olsson Professor of Business Administration R. Edward Freeman, who teaches business ethics at Darden. "The bar for them is to go out, run a profitable business and make the world better."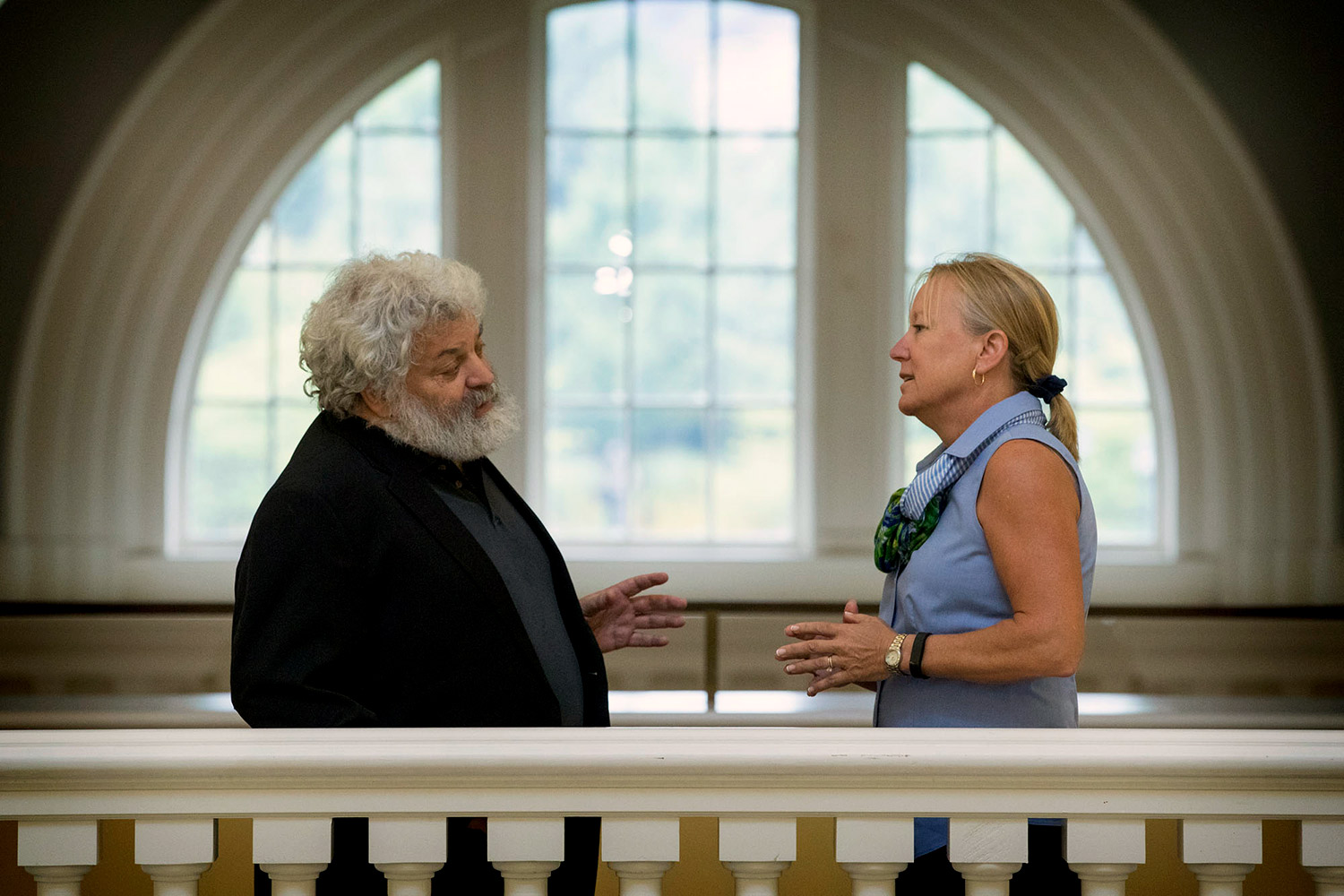 R. Edward Freeman, left, teaches a required business ethics course at Darden, while Luann Lynch, right, incorporates ethics-driven case studies into her elective courses, including a new case study she and two former students wrote about the Volkswagen scandal. (Photo by Dan Addison, University Communications)
This semester, Lynch's students will examine Volkswagen's failure to meet that mission, looking at how company culture could contribute to ethical breakdowns and how they – as future executives and managers – can prevent such fissures. Lynch will focus on three key factors: internal and external pressure points, opportunities or loopholes that enable cheating and employees' ability to rationalize ethics violations.
"Those three factors make up a framework that public accounting firms apply when they are doing audits," Lynch said. "The combination of those three will typically lead to a slippery slope with the temptation to misrepresent information."
In the case study, which is based on publicly available information, Lynch outlines several pressure points affecting Volkswagen employees. The company had set a goal to become the world's largest automaker by 2018 and, to make that happen, Volkswagen needed to succeed in the U.S. market while meeting increasingly stringent emissions regulations and competing with fuel-efficient hybrids. The CEO at the time, Martin Winterkorn, was known for being an exacting boss, and Volkswagen had staked both its reputation and its national pride on the tagline, "The Power of German Engineering."
"Volkswagen was the darling of Germany and such an economic engine in that country that one could see how it felt like it held the country on its shoulders," Lynch said.
The emissions testing process also had a loophole: tests were conducted in the lab, not on the road. This enabled an unknown number of Volkswagen employees to write a "defeat device" into their software code to make lab results appear more favorable than vehicles' actual road performance. The cheat itself was hard to detect because it was embedded in millions of lines of code that would only be fully intelligible to a handful of employees.
"Combined, those factors presented an opportunity for an employee to rationalize what they were doing, given the pressure they were under," Lynch said.
Lynch's class will discuss how executives can decrease pressure on employees, eliminate opportunities for cheating and make sure that the reality of a company's culture reflects the value statements, codes of conduct and other tools used to create an ethical workplace.
"If leaders can design the right systems up front, develop the right corporate culture and alleviate unnecessary pressure, they can be proactive in deterring breakdowns, rather than just reacting to them," Lynch said.
Perhaps most importantly, the leaders themselves must have a strong sense of ethics. In his business ethics course, Freeman asks Darden students to think long and hard about their personal ethics and develop a set of five or six questions to use when ethical conflicts arise in their career. Then, he presents them with a series of complicated case studies to test that framework.
"It is not a matter of teaching them to be ethical or unethical," Freeman said. "I learned ethics at my grandmother's knee. As our students go through their careers, we cannot foresee the ethical issues that will arise. We need to give them the tools to help them think through their values and the logic of dealing with tough issues."
More than 20 years ago, Darden was among the first business schools to make ethics a formal curriculum requirement. Today, the school is home to institutions like the Olsson Center for Applied Ethics and the Institute for Business in Society, which bring together corporate leaders, faculty and students working on ethical and social justice issues.
Freeman, an academic director of the Institute for Business in Society, hopes that such sustained efforts in business education will help counter the prevailing narrative that business is inherently unethical – an idea that comes up repeatedly when scandals like the Volkswagen debacle hit the news.
"Our culture has this idea that business is a morally neutral or amoral thing, and because of that, we don't always frame business decisions in ethical terms," Freeman said. "It becomes easier to rationalize and think 'Oh, I'm just doing my job.'"
"That is what we are trying to change at Darden," he said. "We try to put business and ethics together in everything that we do."
Media Contact
Article Information
September 9, 2016
/content/volkswagen-and-power-ethics-uva-darden-students-take-vw-case