As a huge basketball fan for most of my life, one of my favorite songs has always been "Basketball."
Written and recorded by the rapper Kurtis Blow in 1984, the song is a homage to the sport and many of the stars who played it in the 1970s and 80s, including University of Virginia legend Ralph Sampson.
It has a great beat, a catchy chorus ("We're playing basketball, we love that basketball") and, best of all, name drops just about every player I grew up idolizing.
In the fall – well before COVID-19 would change all our lives – I played "Basketball"  repeatedly at a pick-up game I had at my house for friends and coworkers.
It was then that I had a thought.
What does UVA coach Tony Bennett think of the song?
I figured that, like most people who love basketball, he probably liked it.
I mean, what's not to like about a happy-go-lucky song about give-and-goes, pick-and-rolls and alley-oops?
But then I examined the song more closely.
In the entire 6-minute, 23-second anthem, there are only a couple of references relating to Bennett's favorite part of basketball: DEFENSE.
At that moment, I decided there needed to be a new version of the song, a version that Bennett – the defensive-obsessed coach that he is – and Hoos fans around the world could truly stand behind.   
Fast-forward a couple months.
I'm in the car on a 14-hour ride to Florida with my wife and two kids to visit their grandparents.
I can only listen to the "Frozen" soundtracks so many times.
Stuck in brutal traffic on I-95, I take out my phone, go into the notes section and "Let it go."
With next week marking the one-year anniversary of the Hoos' thrilling run to the 2019 NCAA championship (the Virginia Sports Radio Network is rebroadcasting the Elite Eight and Final Four games this week), UVA Today presents a reimagined version of "Basketball." 
 
(CHORUS:)
They're playing basketball
We love that basketball
They're playing basketball
We love that basketball
They're playing basketball
We love that basketball
They're playing basketball
We love that basketball
They're playing basketball
We love that basketball
They're playing basketball
We love that basketball

Now rapping basketball No. 21 Whitelaw Reid
Basketball is my favorite sport
I like the Hoos D up and down the court
Just like I'm the king on the microphone, so is Kyle Guy and Ty Jerome
I like block shots, you take it to the hoop
My favorite play is swattin' alley-oops
I like the pack-line D, I like stoppin' yo flow
It's Bennett basketball, sit back and watch the show

CHORUS

I used to go to U-Hall and take a whirl
To see Parkhill play, watch the ACC squirrel
And Wally, Raker and Lamp didn't need no rest
They played basketball at its very best
Basketball has always been my thing
I like Bryant Stith and Harold Deane
And number 33 my man Jack Salt
Is the center on my title team

Jeff Jones and De'Andre pulled off incredible feats
Now these players could never be beat
Curtis Staples, and J.R. too
Just give 'em the ball and then you chalk up two
London and Singletary are on the scene
And Ralph Sampson is really mean
Lars Mikalauskas didn't take no junk
And Jay Huff got a monster dunk

Pack-Line D y'all
Yes!
D up! D up! D up!
You can't score on me, man.
Pack-Line D y'all, it's basketball

Tell me, were you in the joint
The night Joey Hoops scored 36 points
Or when the Hoos won league titles back-to-back
And didn't give nobody no kind of slack
Or when Malcolm Brogdon shook the whole damn team
With moves that came right out of a dream
Or when Justin Anderson stood so tall
Playing D with desire
It's basketball

CHORUS

I get the ball and then I go and play
Like a superstar at JPJ
The forwards, the centers and all the guards
The ones you try and be on the playground yards
Me and homeboy would go one-on-one
'Cause playing the game is a lot of fun
Sit by the Corner and watch 'em all
'Cause Whitelaw Reid is rappin' basketball

Now did you see Mamadi the other night
Take that thing up in Carolina's face
He's bad, but I like Kihei Clark, man
Man, do y'all remember the old days
The old days when Buzzy Wilkinson
Used to take the whole team, boy
Used to do it to 'em
Used to burn 'em, used to burn 'em
I saw him burn everyone one night
Man, it was awesome
Hey, y'all see Akil Mitchell man
Oh Akil is my man
I like him
The Hoos play ball
Oh they been ballin'
O.P. was the man
Othell could pick your pocket
Crotty and Junior were dogs
Richard Morgan could shoot the lights out
Big Smooth, Bub, Money Mase …
A.G., Norman, Mike Scott …
Donald, Cory, Travis …
Adam, Ricky, Gus, Ted …
The list goes on and on
My man Terry Holland started it all

CHORUS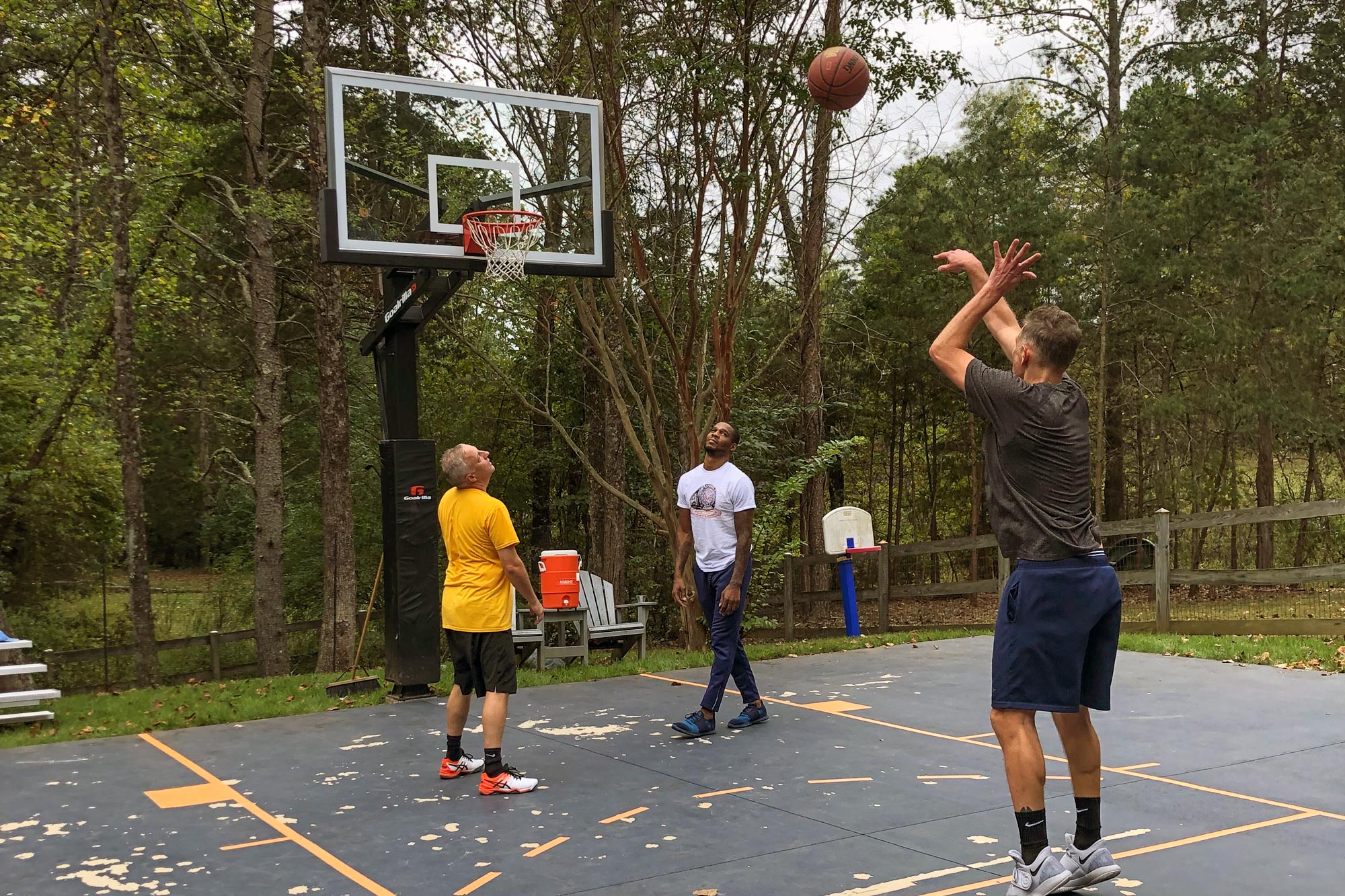 Epilogue
When I finally escaped that I-95 traffic and got back from the trip to Florida, I thought it would be fun to see what a real rapper thought of my work.
I sent my lyrics to A.D. Carson, UVA's assistant professor of hip hop. To my surprise, Carson said he liked it.
To my greater surprise, Carson thought it would be cool if his students rapped and produced the new version of the song.
Ultimately, the coronavirus got in the way of that. Carson, though, hopes to have students take another stab at it in the fall.
Until then, keep going loco for those shot-clock violations, Hoos fans – even if your only option is to watch them on YouTube.
We're playing basketball. We love that bas-ket-ball.
Article Information
April 1, 2020
/content/were-playing-basketball-we-love-basketball-uva-style