In many ways, the University of Virginia Democracy Initiative's Memory Project is a continuation of conversations that have been happening for years at UVA, in Charlottesville and beyond – conversations about how we remember history and how memory shapes and reshapes our public spaces.
Memory Project director Jalane Schmidt is well-versed in such conversations. An associate professor of religious studies, Schmidt teaches courses on race, religion and social change and plans and leads public history events in Charlottesville focused on Civil War memory, Jim Crow segregation and local African American history. She was active in meetings of Charlottesville's Blue Ribbon Commission on Race, Memorials and Public Spaces, established by the city in 2016 to address concerns about Confederate statues in the city, and she co-founded the Monumental Justice Virginia Campaign, which in 2020 successfully lobbied the Virginia General Assembly to overturn a century-old state law that had prohibited localities from removing Confederate statues – a law that the Virginia Supreme Court earlier this month ruled did not apply to Charlottesville's statues.
On Wednesday, Schmidt and the Memory Project, which was recently relaunched with a focus on local and regional history, will host a virtual talk, "Memorializing Racial Trauma: What Americans Can Learn from the Germans," with philosopher and author Susan Neiman and Washington Post columnist Michele Norris. The talk will air from 2 to 3:15 p.m.; you can register here.
We spoke to Schmidt beforehand about her hopes and goals for the Memory Project, ranging from supporting local commemorative activities, guiding educational visits to sites of memory, initiatives teaching more Black history in K-12 schools to a documentary film and events like Wednesday's talk.
Q. How would you describe the focus of the Memory Project?
A. Broadly, the project aims to study how memory is produced and reproduced. More specifically, it is going to be really focused on community outreach and involvement. I especially want to support projects that are already in process in Charlottesville and in other regional cities, such as Richmond or Greensboro, North Carolina.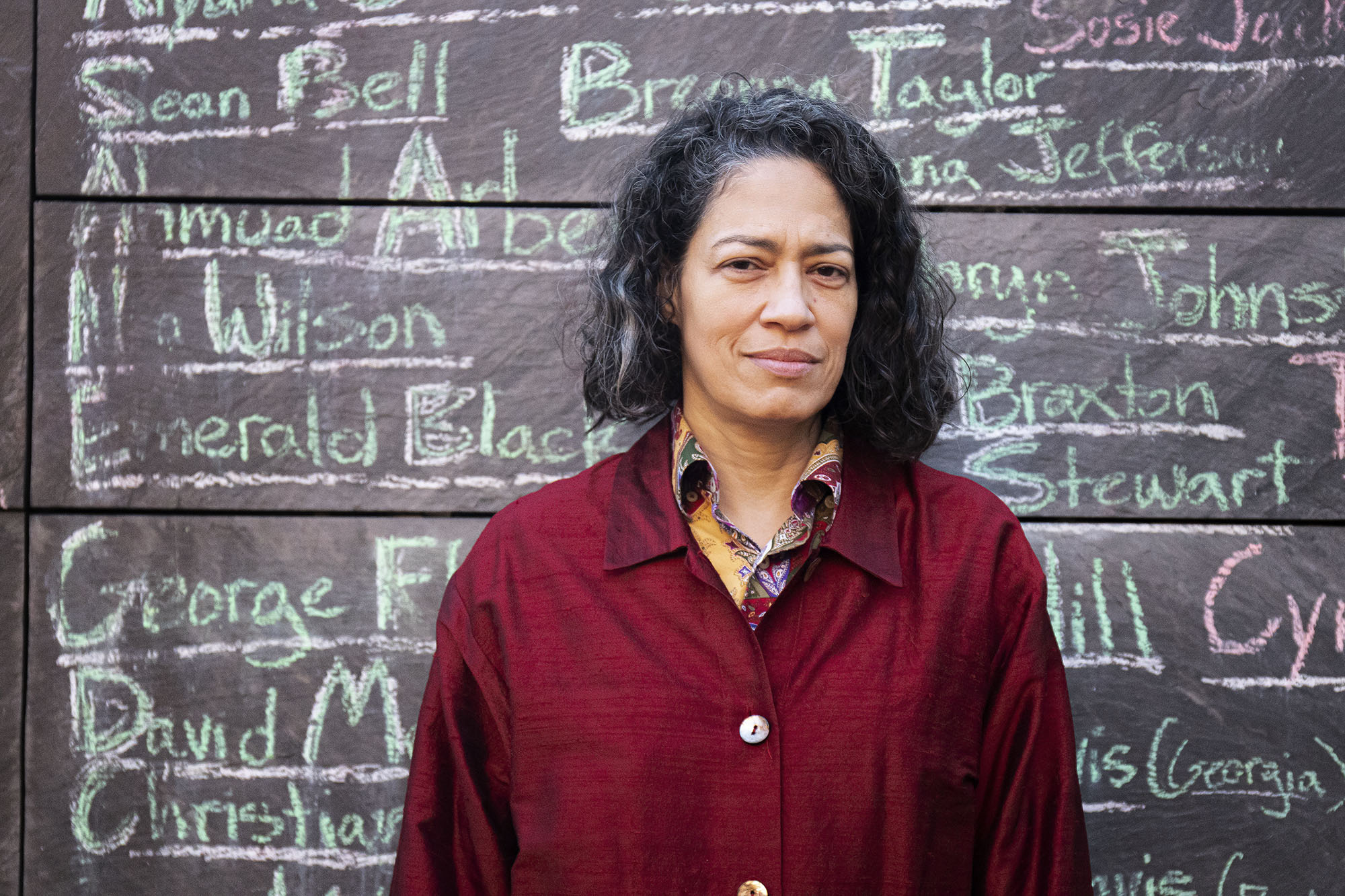 Associate professor of religious studies Jalane Schmidt directs the Memory Project and teaches courses on race, religion and social change. (Photo by Marley Nichelle)
We don't want the work to be only theoretical; we want to participate in and catalyze memory work in these communities by providing support for different educational initiatives, media production, the arts, public history and commemorative events. This will be applied scholarship, very forward-facing and open to the public.
Q. What are some projects you are looking forward to working on?
A. There will be courses, curricula, public-facing events and many community-based projects. The 2016 report from the Blue Ribbon Commission is a helpful guide in many ways, and two of The Memory Project's Advisory Board members, Andrea Douglas and Frank Dukes, were members of that commission. The final report already articulates what people want with respect to racial inclusion in Charlottesville, and that conversation is informing our work.
Votes about Confederate statues have sucked up so much airtime, but there are a lot of other initiatives in that report that have been endorsed by the Charlottesville City Council, such as projects adding more local Black history to school curriculums. In support of that, the Memory Project is sponsoring a local children's literature author, Marc Boston, who is working on books about local history figures and African American history. We are going to publish those books and donate them to schools.
I am also working with Andrea Douglas on professional development opportunities for teachers, who have told us that they are eager to teach more local Black history, but that they lack materials on figures like Isabella Gibbons. That is a gap we can fill.
[Gibbons and her husband, William, were enslaved by University professors and became a teacher and a minister, respectively, after emancipation. She is honored on UVA's new Memorial to Enslaved Laborers.]
Another project in production is a documentary film about local monuments, including the statues of Robert E. Lee and Stonewall Jackson downtown and the George Rogers Clark and Lewis and Clark statues. The documentary will look at the history of these statues and the circumstances in which they were erected, what was said and by whom. It is important to remember that monuments like these are not history, they are memory projects spurred by those who had the power to erect public monuments. They do not always correspond to history.
The documentary, which is supported by the Memory Project and produced by the Field Studio of Richmond, will explore this history in an accessible format. We hope to keep it relatively short, about 30 minutes, so that it can easily be shown in classrooms and at community events.
Those are just a few examples. The project will also support numerous events, from an annual commemoration of Liberation and Freedom Day on March 3 to pop-up panels on statue removal, as well as an undergraduate podcast, "Still We Rise." We are also looking forward to working with the UVA Descendants of Enslaved Communities organization on commemorative and educational projects.
In general, the goal is not to recreate the wheel, but to bring scholarship, conversation and support to community initiatives that are already in process, rather than requiring the public to come to us.
Q. Wednesday's event focuses on what Americans can learn from German memory and memorialization of the Holocaust and the events of World War II. What are some lessons you hope to focus on?
A. I recently published an op-ed in Slate connecting Susan Neiman's work on Germany with what we have gone through in Charlottesville and in the U.S. Neiman, author of "Learning from the Germans: Race and the Memory of Evil," is a white Jewish woman who was born and raised in Atlanta, moved to Berlin and has now lived there for several decades. She has a really unique background and understanding of the two places.
Germans have done a great deal of work regarding the events and memory of the Holocaust, and that work will continue for a while as they reckon with what happened, how it happened, and how it cannot happen again. They have had to have honest, sometimes very painful conversations, and the results in their commemorative landscape are impressive. Americans can learn a lot from that process.
In the U.S., we have racial trauma that we have not done a good job of memorializing, historically. However, there has been a lot of really good public history working going on recently, here in Central Virginia and in places like the National Memorial for Peace and Justice in Montgomery, Alabama, with the Equal Justice Initiative, and at the Whitney Plantation outside New Orleans, Louisiana. People are digging deep and doing the hard work, thinking about how we teach and remember racial trauma.
This work is especially important in Virginia right now, as we remove these Confederate statues and consider what we might instead commemorate in our public spaces. I think talking with Susan Neiman will be a really fruitful conversation.
Q. The Memory Project is very interdisciplinary. Can you give us some examples of connections made across UVA?
A. Absolutely. Looking at the Advisory Board alone, we have an art historian, an artist, an architect and many other great advisers. Many of our advisers also have a lot of experience with these conversations, with public engagement through their prior on the Blue Ribbon Commission or the Memorial to Enslaved Laborers. Faculty members and postdoctoral students are doing research and teaching that spans many parts of the University, and we have had events focused on current politics, such as a panel on the Jan. 6 U.S. Capitol attacks. We have also connected with a great alumna and filmmaker, Micah Watson, and showed some of her films during Black History Month.
The arts are especially important for the kinds of conversations we are having around public space. Memory does not just exist abstractly, it needs scaffolding. We need to be much more deliberate in thinking about how we build that scaffolding, and what we want it to look like. The arts – films, art projects, books – are the resources that support memory, and that build memory in a cumulative way.
Memory is never neutral. We profess to have democratic values, and so we should look at our public landscapes, our art and our classrooms, and ask what we are teaching and what we see as valuable. That is what this work is about.
Media Contact
Article Information
April 12, 2021
/content/what-do-we-choose-remember-qa-memory-project-director-jalane-schmidt