When the British passenger ship RMS Titanic struck an iceberg in the North Atlantic on April 15, 1912, radio operators onboard sent distress messages via shortwave radio and were able to summon the help of another passenger ship, the RMS Carpathia, which also had a shortwave radio – ultimately saving the lives of more than 700 people.
That famous disaster, and the outrage and shock it caused on both sides of the Atlantic, led to national and international laws requiring passenger ships to carry and operate radios and listen for distress calls. Today it is almost impossible to imagine vessels going to sea without two-way radios.
With today's seemingly constant connectivity through the internet and with wireless phones, radio may seem a quaint communications technology of the past. But it still is used for emergency communications and space communications. And with computerization, radio is more powerful and efficient than ever before.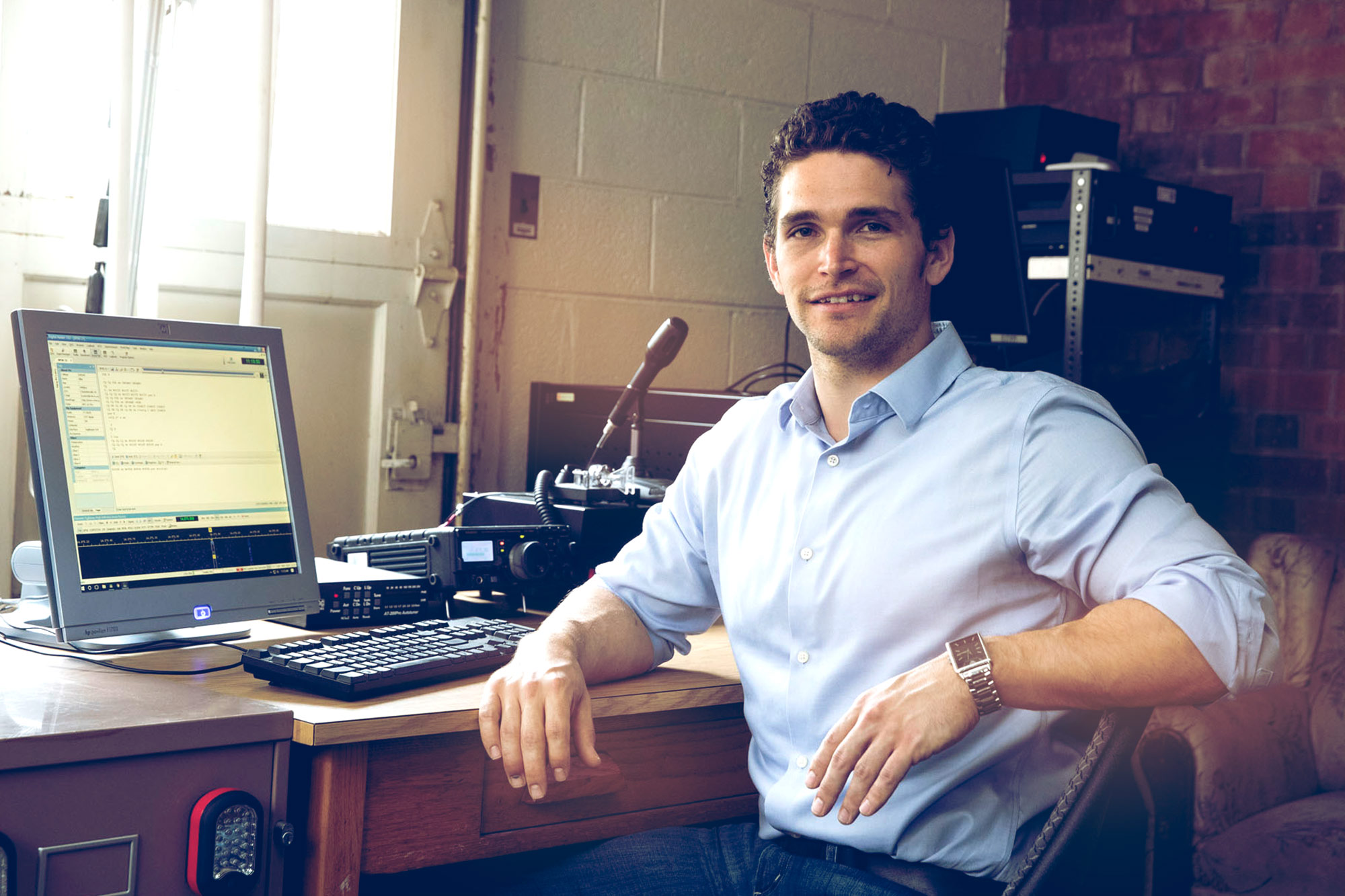 Just ask Mike McPherson, trustee for the University of Virginia's Amateur Radio Club, W4UVA and assistant emergency coordinator for the Albemarle County Amateur Radio Emergency Service. He has used "ham" radios to coordinate county emergency communications a couple of times when tractor-trailer accidents took out wired communications services.
"Licensed amateur radio operators can relay messages between emergency services providers and help coordinate the activities of first responders," he said. "This kind of communication is crucial during natural disasters, such as hurricanes or wildfires or earthquakes – any event that disrupts wired electronic communications in a region."
The UVA club, through McPherson's efforts, is set up to step in and help the communications of UVA's Office of Safety and Emergency Preparedness during any potential crises.
Amateur radio operators can help rescuers locate transponders from downed aircraft in remote areas, and help find lost hikers who carry such equipment. Local clubs also provide communication services for events in remote areas, such as the Jefferson Cup Road Race that passes through areas of southern Albemarle County with intermittent cell service.
W4UVA (the club's call sign and name) has been in existence, with varying levels of activity, since the 1930s. Membership had fallen off in recent years but McPherson, a retired UVA associate vice president, is renewing interest by recruiting student members from the School of Engineering and Applied Science in coordination with Chris Goyne, a professor of mechanical and aerospace engineering who teaches spacecraft design courses.
Goyne needs students with amateur radio licenses to operate a ground tracking station for a student-built satellite that will be launched late next year. Radios will be used to track and collect data from the spacecraft.
"The UVA Amateur Radio Club is a wonderful resource for our spacecraft design students," Goyne said. "We are very fortunate to have the group on Grounds. They know about radios and we know about spacecraft, so the space mission we are working on represents a great opportunity for the two groups to work together on space communications."
The club currently has about 15 members and is growing. Club president Jesse Morgan, an electrical engineer and Ph.D. student in electrical engineering, was introduced to amateur radio as a UVA undergraduate.
"After drawing all of the parallels between the art and the material I was studying in electrical and computer engineering, it made sense to join the club and apply it," he said. "I became president when my colleague moved on and it was necessary to keep the club running."
Morgan's goals for the club include getting as many students licensed as possible, providing radio communication service to the community, and helping students use their participation as an attractor for potential employers, particularly engineering firms.
The UVA Amateur Radio Club, which uses the old UVA nuclear reactor building as its headquarters, invites participation and membership by members of the UVA community. The club must maintain a 51 percent student membership, but faculty and staff are welcome to join. Members are encouraged to earn amateur radio licenses, and training is provided. Dues are $15 per semester. For information, contact McPherson at trustee@w4uva.org, or Morgan at jsm2ne@virginia.edu.
Article Information
April 17, 2017
/content/when-wires-cant-do-job-uva-radio-club-ready-stand-breach