Fifty years have passed since the first class of undergraduate women enrolled at the University of Virginia, a half-century during which the institution has changed significantly. Today, women make up more than half of the undergraduate student body at UVA, which fields varsity teams in 14 women's sports.
Overseeing those teams, as well as 13 on the men's side, is Carla Williams, a pioneer in her profession. When UVA hired Williams in the fall of 2017, she became the first African American woman to be named director of athletics at a school in one of the "Power Five" conferences – the highest tier of collegiate sports.
Other women took notice. During Williams' tenure as AD, major donations from women to UVA athletics have increased. Historically, this group has not had a high profile in fundraising for athletics at the University, but that's changing.
"As women, we are so excited to see other women in leadership roles or excelling in non-traditional positions," Williams said. "It is like an automatic sisterhood that we recognize with a smile or a nod. I can feel the pride and, quite frankly, I can sense the hope that we have for our daughters, little girls and young women in any endeavor they choose."
Much of Williams' focus over the last nine months has been on leading the athletics department through the many challenges of the COVID-19 pandemic. Prior to the pandemic, fundraising for the Master Plan, the project that will transform UVA athletics' North Grounds precinct, was the focus. Major gifts to the Master Plan and other initiatives have come from such women as Dr. Molly Hardie, Lisa Palmer, Amy Griffin, Vivi Weiler, Jane-Ashley Skinner, Roxanne Booth and Cindy Brinker Simmons.
"We need everyone's support for this transformational project, because the Master Plan benefits every single sport, and every sport deserves the benefits these facilities, services and programs bring," Williams said. "Our goal is to provide the best student-athlete experience in the country, because we know we are helping to prepare young people to thrive in life beyond athletics."
Molly Hardie, who lives in Charlottesville, is a 2000 graduate of UVA's School of Medicine. Last fall, she and her husband, Robert Hardie, who has three degrees from UVA, pledged $6 million to the Master Plan and $1 million to the University's new student health facility.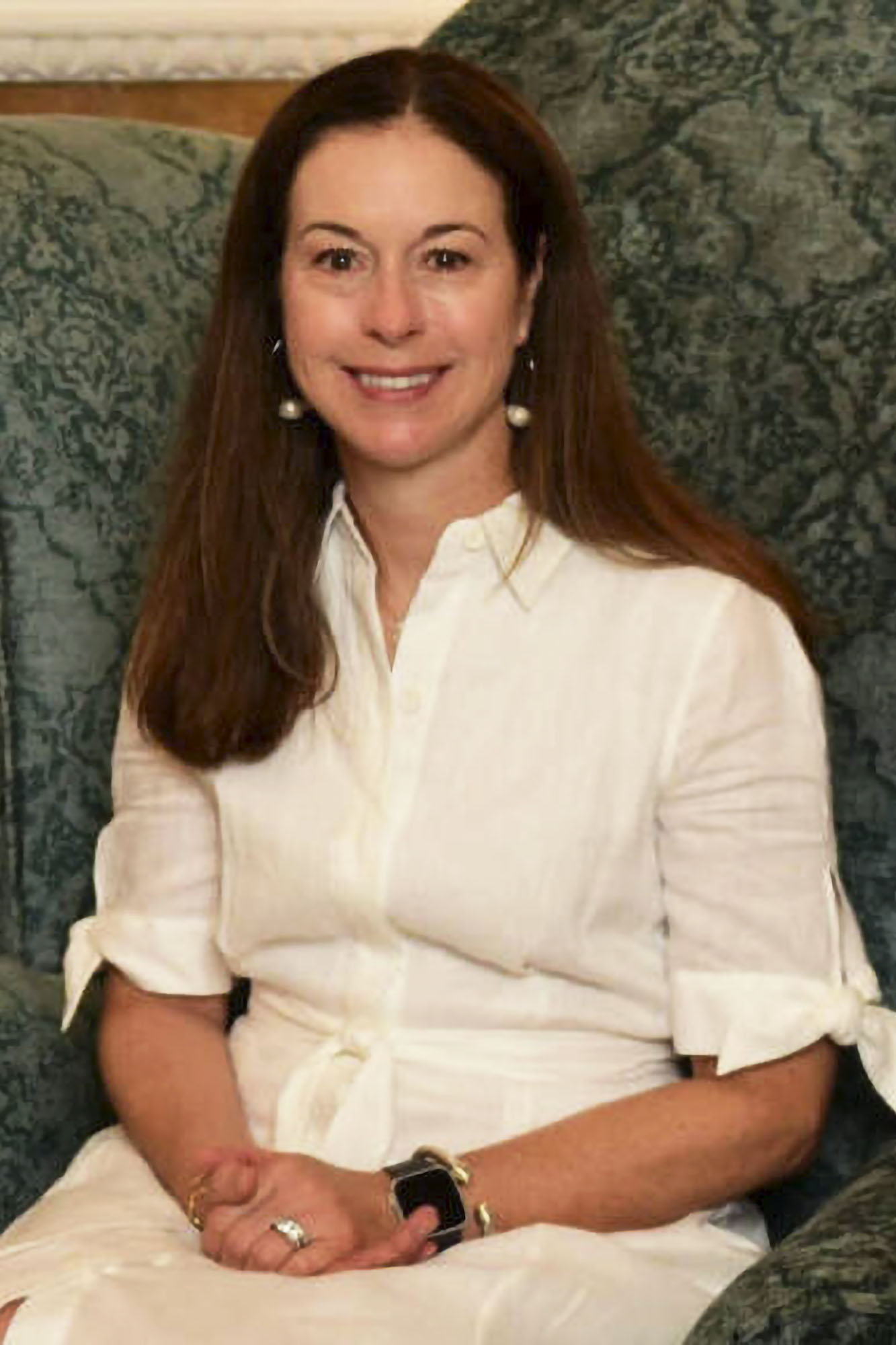 Molly Hardie is a 2000 graduate of UVA's School of Medicine. (Contributed photo)
"Carla is literally one of the most impressive people that I've ever met, male or female, and just being able to hear her vision and talk with her and get to know her as a person made me feel inspired – first of all as a woman," Molly Hardie said. "I think women really need to support other women, especially in leadership positions like this. But she was also able to really articulate the message of athletics in such a way that it made me reflect upon it more than I normally do."
To be sure, UVA athletics received major gifts from women before Williams' arrival in Charlottesville, including Lisa Palmer and Amy Griffin. Both have since formed strong relationships with Williams, a former basketball player at the University of Georgia who has worked in athletics administration at Georgia, Florida State University and Vanderbilt University. Williams, who has a Ph.D. from Florida State, is also a former assistant women's basketball coach at Georgia.
"The fact that the University hired Carla is a big statement," said Palmer, a former softball star at UVA. "I think what people heard, especially women athletes, is, 'Wow, we are recognized.' And as a result, you have more trust in the University as a whole and therefore in the athletics department as a whole, and you're willing to invest in that."
Griffin, who played volleyball at UVA, has a similar viewpoint.
"Having been an athlete herself, Carla talks the talk and she walks the walk," Griffin said, "and she's done all the different jobs that pertain to how you run this department. The administration found someone who cares deeply about the state of athletics. They could not have found a better choice. I'm so thrilled with her being at the school."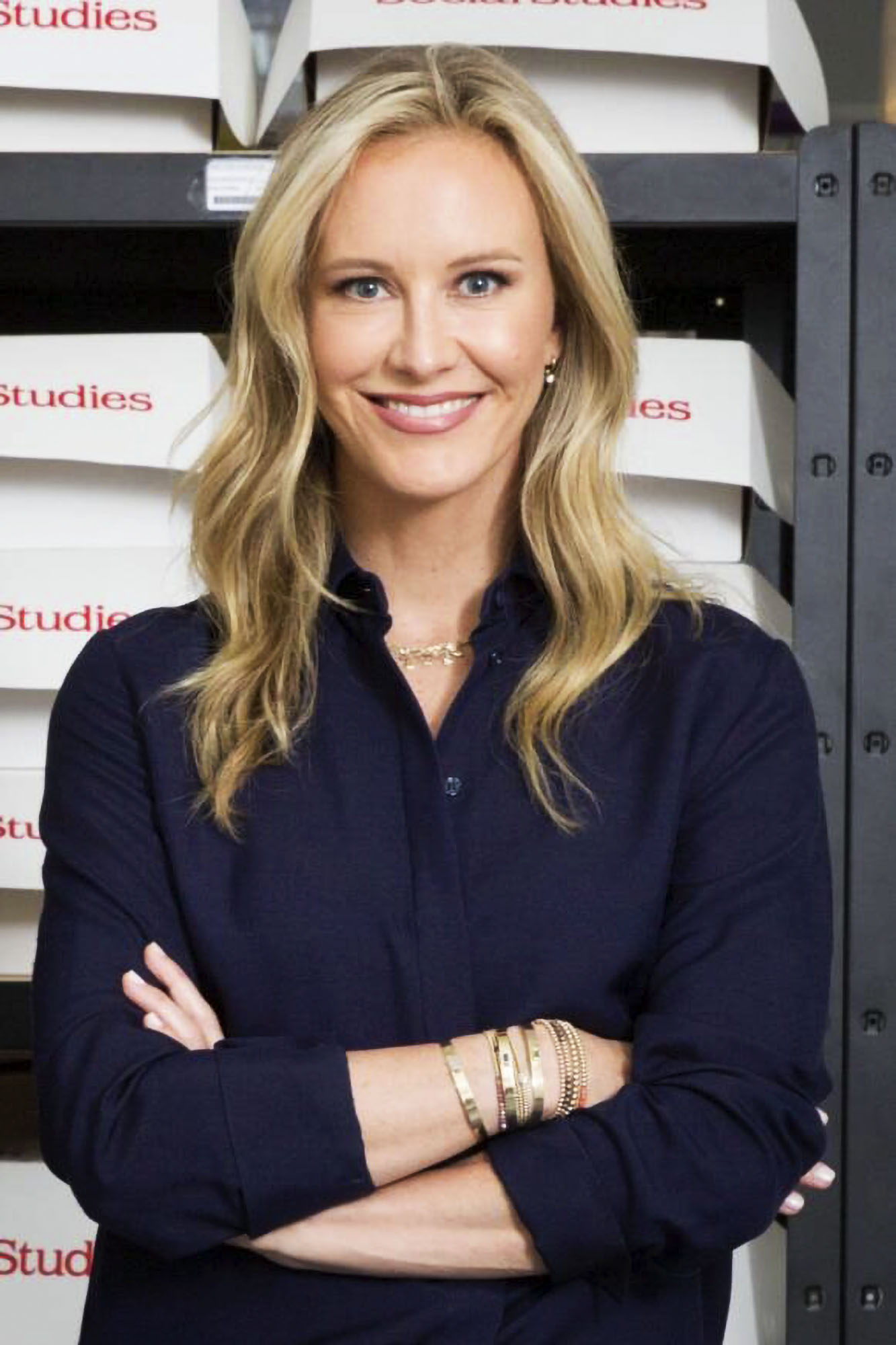 Amy Griffin played volleyball at UVA. (Contributed photo)
Palmer and her mother, Fran Palmer, provided the lead gift for the school's new softball stadium. Palmer Park opened in early March. The Palmers previously had endowed a softball scholarship.
Griffin pledged $5 million in 2011 to help renovate Lannigan Field, the home of the Cavaliers' track and field programs. She also supported renovations to Memorial Gymnasium, home of the UVA volleyball program.
More recently, Griffin gave $200,000 for the operating endowment of the Center for Citizen Leaders and Sports Ethics, a student development program Williams has launched, and $100,000 for a Griffin Leadership Fellowship. That will help cover the operating expenses for student development programming, including career, leadership and personal development, as well as community engagement and academic achievement.
"Carla is so in tune," said Griffin, a 1998 alumna. "She sees things from the ground up, and she came in and recognized the little things as well as the big things. For a lot of the donors, former athletes anyway, a lot of what we care about is the day-to-day experience of the athlete. And I think that experience is everything from the life skills programs to helping the kids get jobs and paying attention to the things that take place after sports."
Early in her tenure, Williams had lunch with Molly Hardie, whose husband serves on UVA's Board of Visitors and had worked with Williams. That lunch inspired Hardie to stage an event for women to meet Williams and listen to her message.
"She's a very eloquent speaker, but she's also very humble," Hardie said, "and she's somebody that's accomplished so many things in her life as a student-athlete, as a coach, going and getting her master's and her Ph.D., and then working up in athletics administration and serving in so many different positions for so many years.
"I felt like when she came to Charlottesville to serve in this position, women in the community in particular needed to support her. I think a lot of times, women enjoy athletics as much as men, but they may leave [athletic philanthropy] to the husbands or the partners. When you have somebody in a leadership position like Carla, who's so inspirational to us as women, and also such a great leader for the University, I think that women need to really get out there and support women."
Working with UVA alumna Pam Edmonds, who also lives in Charlottesville, Hardie organized an event for women called "Hoos With Carla." It was held in May 2019 at Farmington Country Club.
"First we were hoping to get around 150 [attendees], and then we were hoping to break 200," Hardie said. "We wound up getting 230 women there, and I think there might have been a couple men. Carla got up and spoke and shared a lot of personal anecdotes about her own life and her own path to becoming the athletic director that were really relatable to other women. Then she shared some of her thoughts about the Master Plan. We thought it was the greatest feeling sitting there in that room of women supporting women."
Griffin hosted a smaller event for women at which Williams spoke in the fall of 2019 in New York.
"We basically stuffed people into my apartment," Griffin said. "The support was incredible, and the energy was palpable in terms of how Carla is looking at the Master Plan and making sure that all programs are treated fairly."
Booth attended the Hoos With Carla event with her daughter Rachel. Booth and her husband, Rich Booth, live in Charlottesville and are longtime supporters of UVA athletics. They've been as impressed with Williams as with head football coach Bronco Mendenhall and head men's basketball coach Tony Bennett.
"We've known Carla kind of from the beginning and never been disappointed," said Roxanne Booth, whose daughter Morgan graduated from UVA last year. "She's amazing, with her combination of being very frank and very clear-eyed about what's good, what's not good, and what needs work. One of the things I love, as a former manager, is she never tells you about a problem or a weakness or a challenge without an idea or proposal for how to fix it."
The Booths are especially enthusiastic about the Center for Citizen Leaders and Sports Ethics, a major component of the Master Plan.
"Maybe because I'm a mom, it spoke to me as the athletic director looking to the athletes as people, not just as athletes," Roxanne Booth said, "and understanding that there's more to the success of the program and the success of the athletes than what happens on the court or the field. There are lessons you can learn through athletics that translate to being leaders off the court."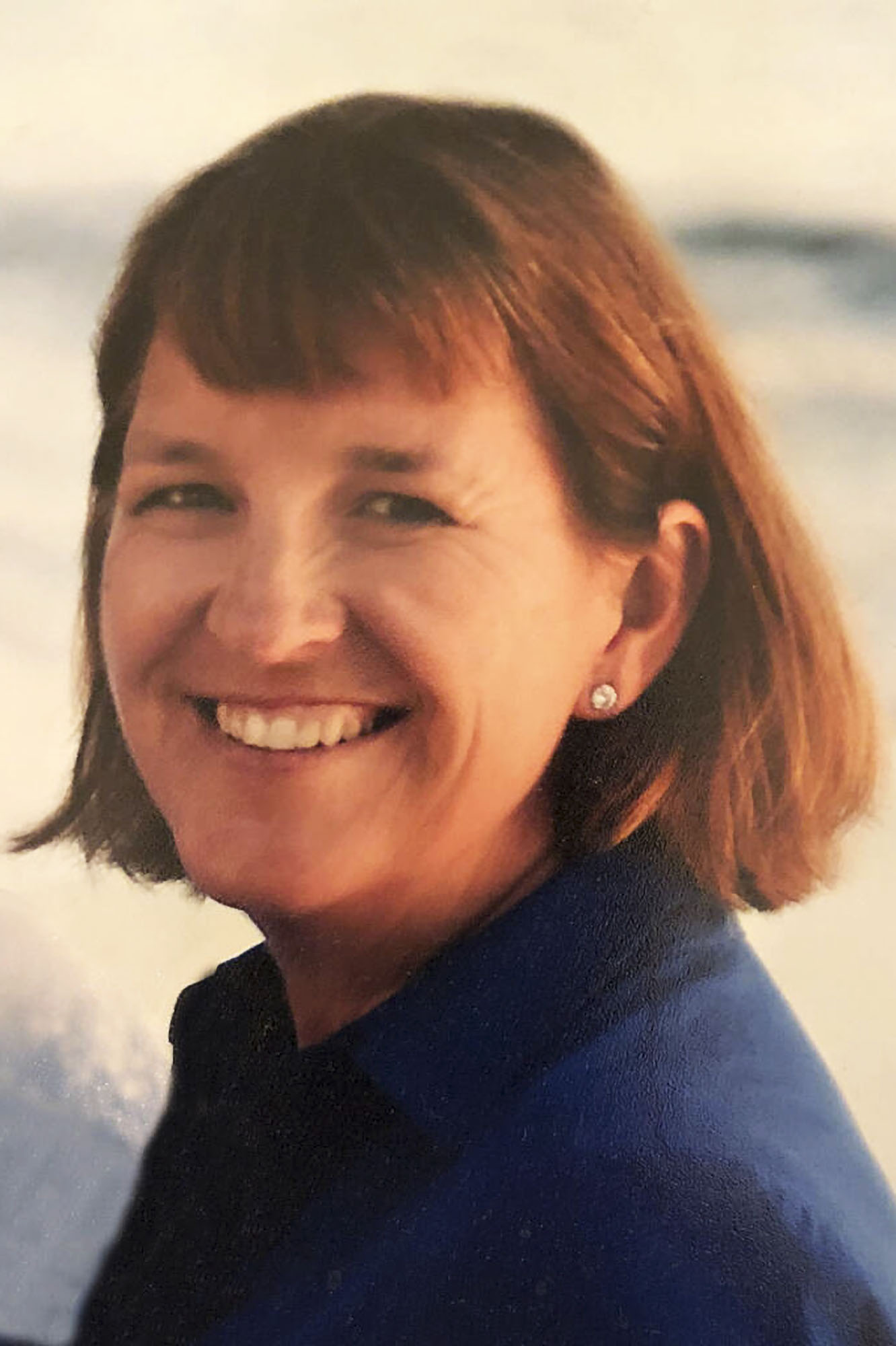 Roxanne Booth is a longtime supporters of UVA athletics. (Contributed photo)
"That's the way that I think Carla takes the athletic experience to the next level. It's not just about wins and losses and championships and excelling – because all that's important, and if that doesn't happen it's going to be a real rough sled anyway, but athletics is not just entertainment. It really is sort of co-curricular at the University, where you are developing skills that matter, and it's not the stick-and-balls skills, it's focus and commitment and diligence and following the rules and representing the University well."
Skinner, who grew up in Charlottesville, graduated from UVA in 1985. She and her husband, Peter Skinner, lease a suite at Scott Stadium and have given substantial amounts to the Master Plan and for facility improvements in football, basketball and baseball.
Jane-Ashley Skinner worked in development at the University for six years in the 1990s, including four with the Virginia Student Aid Foundation, which is now known as the Virginia Athletics Foundation. Before that, she served as director of annual giving for the Georgia Tech Athletic Association during the period in which head football coach Bobby Ross built a championship program in Atlanta.
"I was fortunate to be a part of that building process, and it was very exciting," Skinner said, "and when Carla came in and I got to meet her, I recognized that same energy that she was bringing in. It was easy for me and Peter to cut checks and do the fun stuff – go to the basketball and football games and support those teams – but I wasn't emotionally invested in the success of the overall department."
That changed when she met Williams. "She's just amazing," Skinner said, "and she's inspirational, with how hard she works and her integrity."
Like Griffin, Skinner has been impressed by Williams' commitment to preparing student-athletes for life after sports.
"Every school in America almost, especially at the Power Five level, likes to talk about the concept of the student-athlete and how much they care about the student-athlete," Skinner said. "At Virginia, I think we've practiced what we preach, but it's been limited in scope to: Let's give them a good four-year experience.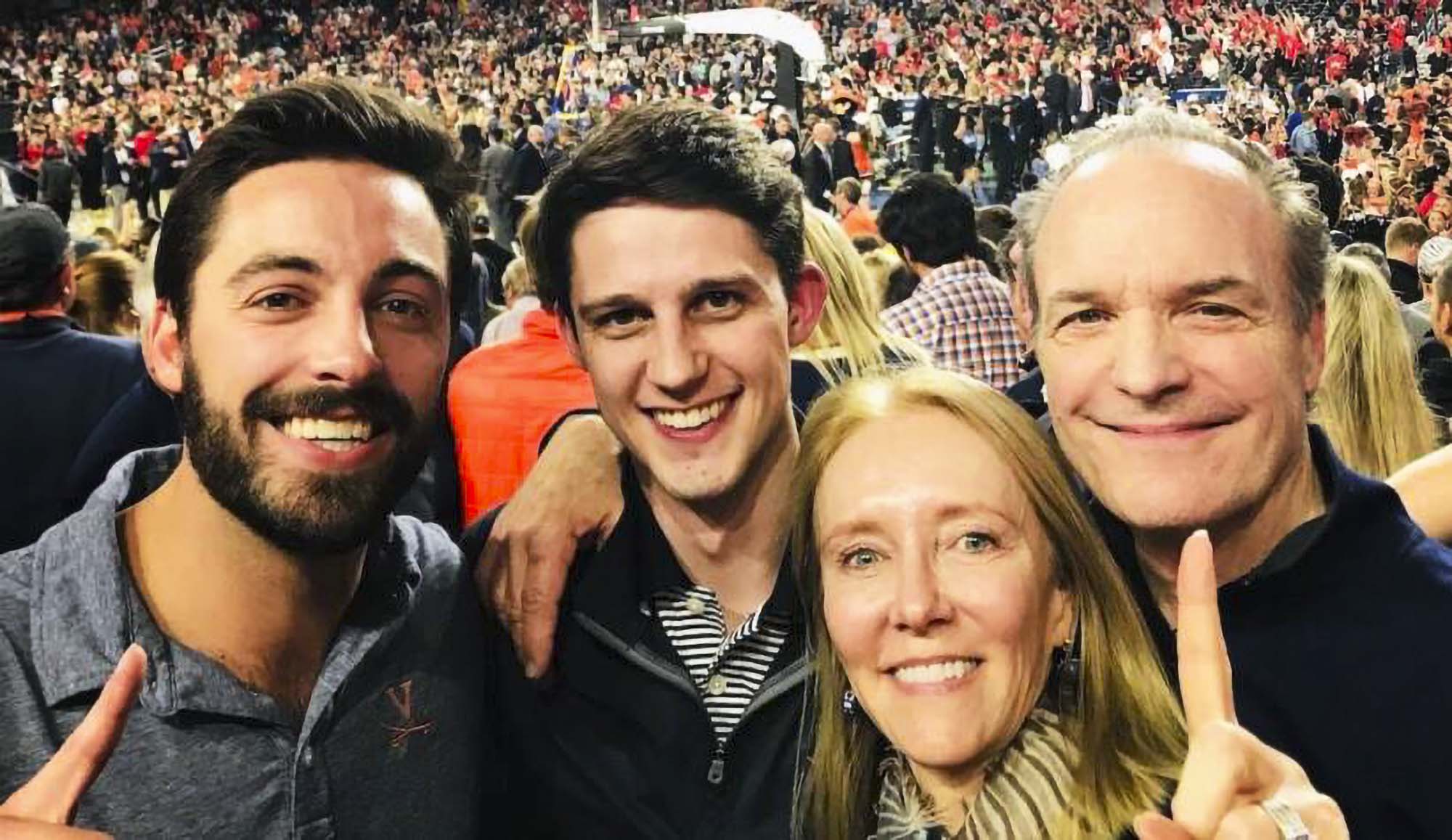 Alumna Jane-Ashley Skinner with her family. (Contributed photo)
"Now Carla is saying this can't be just a four-year experience. This experience has to give these student-athletes a foundation beyond four years, because when the band stops playing, where are these kids going to land, and how are they going to make it in the world? And I think that these student-athletes feel that she really does care about them. This is not about making Virginia look good or some recruiting gimmick. She's fully invested in this process."
Skinner's closest friends include Weiler, who graduated from UVA's McIntire School of Commerce in 1985. Weiler was a student-manager on the football team during her four years at the University, her final three years for head coach George Welsh.
Weiler, whose maiden name is Kopsidas, later married Chris Weiler, who played for Welsh at the U.S. Naval Academy.
When she was at UVA, Weiler said, student-managers received scholarships and varsity letters. So after graduation she began supporting the VAF, then known as the Virginia Student Aid Foundation.
"I felt like since they paid for my schooling, it would be nice to give back," Weiler said. "That was my mindset back then."
Weiler and her husband have three children, all of whom played Division I sports. (The oldest, Matt, played soccer at Kentucky before transferring to UVA, where he played soccer and later joined the football team as a walk-on.)
"We understand how important great facilities are," Weiler said, "and we really believe in supporting, especially from a capital perspective, the facilities of these schools that we love."
The Weilers met Williams in November 2018 at the UVA-Maryland men's basketball game in College Park, Maryland. "We got to spend the evening with Carla and talk to her and get to know her," Weiler said, and that inspired them to pledge $500,000 for the Master Plan.
"It all just came together," Weiler said. "We already believed in the importance of facilities, and we so much believe that if UVA wants to be competitive in the ACC, we've got to have great facilities. But having Carla be a steward of our donation just sealed the deal. I don't think we would have made the donation if we did not trust the person in charge of the place."
Weiler, who worked at Andersen Consulting for 13 years, said she's inspired by everything Williams has accomplished in athletics administration.
"I know how hard it is to have a great career and be at the top of your game while also being a great mother," Weiler said. "So I was like, 'You go, Carla, I'm so proud of you for all of us women. What you have done is just amazing.' And I wanted to support her and show the University that we are so thrilled with this AD."
Brinker Simmons, a 1979 graduate, competed in two sports at UVA: tennis and cross country. A member of the VAF's Board of Trustees, she has created and funded an athletics scholarship endowment at UVA. She's also committed to funding a tennis court in honor of her mother, the late Maureen "Little Mo" Connolly Brinker, at the new UVA tennis complex at the Boar's Head Resort.
A resident of Dallas, Brinker Simmons returns to Charlottesville several times a year, and she helped organize an event at the Colonnade Club, in Pavilion VII on the Lawn, that recognized UVA's first female student-athletes. Williams spoke at the event.
"Carla is forward-thinking," Brinker Simmons said. "She is very experienced, very knowledgeable, and I'm just excited for what she's going to be doing in accelerating what's already an excellent program, certainly in all of our sports, but more specifically in women's sports. I've had the great privilege of getting to know Carla. She is compelling, she is brilliant, and she is fully committed to women's sports at UVA."
Palmer, who lives in Jacksonville, Florida, is the president and chief executive officer of Regency Centers Corps. From her involvement with the VAF, as well as her business career, she's learned that "the more trust you have in what you are investing in, the more likely you are to give," Palmer said.
"When you get to know the leaders and have more trust in the leaders, you tend to be a little bit more passionate, and therefore you're more willing to give up your time and your dollars."
Williams is grateful for the support of Palmer and all the other women who donate to UVA athletics.
"The real story is the fact that more and more women are making a huge impact through philanthropy, and one of the results of that generosity is the empowerment of other women," Williams said. "The philanthropy of these women isn't limited to athletics. They have a heart for service and their desire to make a difference is positively impacting everyone, but especially women, young ladies and little girls who dream of being a part of something bigger than themselves."
Article Information
January 5, 2021
/content/williams-grateful-womens-support