Writing and performing original plays and hip-hop. Learning African dances that enslaved people brought with them from regions of Africa to the American South. Making collages with "found" poetry. Putting broken pottery back together – showing the cracks – using the Japanese kintsugi repair method.
The University of Virginia and local community have reacted in various ways to the white supremacists' Aug. 11 and 12 marches on UVA's Lawn and downtown Charlottesville. This month, which also coincides with Black History Month, UVA's Woodson Institute for African-American and African Studies takes an approach focused on the arts, offering "August in Perspective: Creative Responses" a series culminating March 2.
The program includes workshops "designed to foster community, introspection and reconciliation through art-making, focusing specifically on questions related to race, place, violence, history and memory," Deborah McDowell, Woodson director and English professor, said in introducing the first event. She described it as providing a time to pause, breathe, and possibly, to move the healing process along.
"We have decided to focus attention on neglected approaches to the events of August," she said, "those connected to feeling, embodying, to sensing August, entrusting our bodies and our emotions to reveal the profundity of what we already know: that we are intimately and inextricably connected across differences, across ideologies, demographics, generations, religions and geography."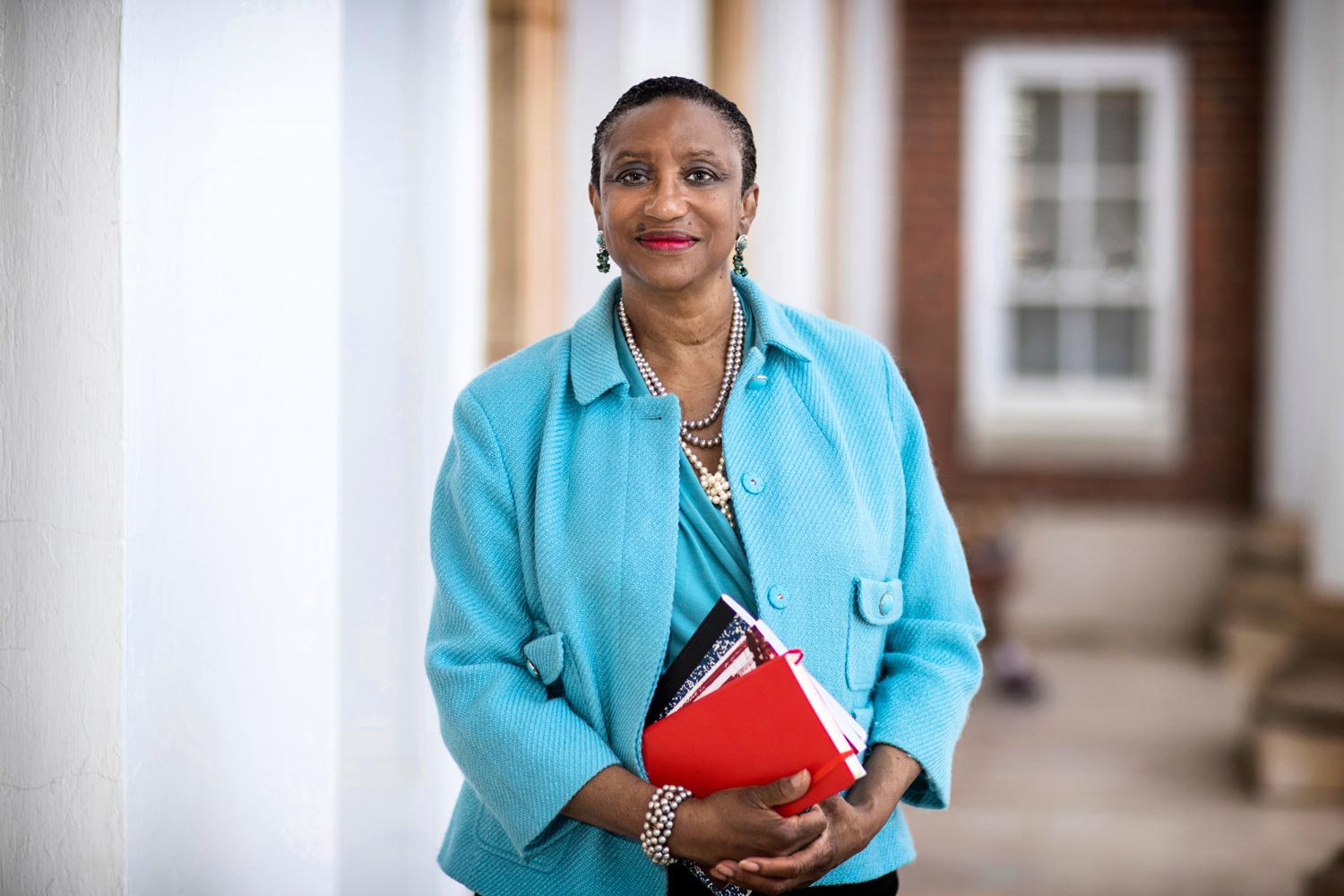 Deborah McDowell, director of the Woodson Institute and Alice Griffin Professor of English, said these workshops are "designed to foster community, introspection and reconciliation through art-making." (Photo by Dan Addison, University Communications)
The program is made possible with support from the College and Graduate School of Arts & Sciences' initiative, "Collective Response: Moving Forward," and from the UVA Arts Council, with participation from faculty members and students in dance, music, drama and creative writing.
On Feb. 1, the Dancing While Black and Dance Diaspora Collective visited from New York and kicked off events with a free performance of "Run Mary Run," with a panel discussion afterward and a workshop on Friday.
"The performance plays on the structure of the ring-shout, an African-American dance form that uses call and response to connect, empower and heal participants," Kim Brooks Mata, artistic director of dance, said after the event that she and Katelyn Hale Wood, assistant professor of drama, organized.
"In the context of 'August in Perspective,' this performance used movement and music to bring community members together, to connect with and learn from rich histories of performance from the black diaspora," Mata said.
Concurrent workshops being held on upcoming Saturdays are free and open to the public, but pre-registration is recommended. UVA students, faculty and staff, local high school students and community members have already been participating. See the website for further details.
A showcase of this creative work, also free and open to the public, will cap the series on March 2 at 7 p.m. at the Haven. A special performance of "A King's Story" by Joshua St. Hill, Amaya Wallace and the Monticello High School drama department, will also be part of the event.
On Saturday beginning at 9 a.m., the Paul Robeson Players, a UVA student-run theater troupe, will lead a 12-hour program in which participants will write, cast, direct and practice a series of original plays organized around the theme, "How to Live in Charlottesville." The participants, who signed up in advance, come from UVA, Piedmont Virginia Community College and Monticello High School's drama department. At the end of the day, they will perform their original work at 9 p.m. in Minor Hall's auditorium (room 125), with a second performance scheduled for the March 2 closing event.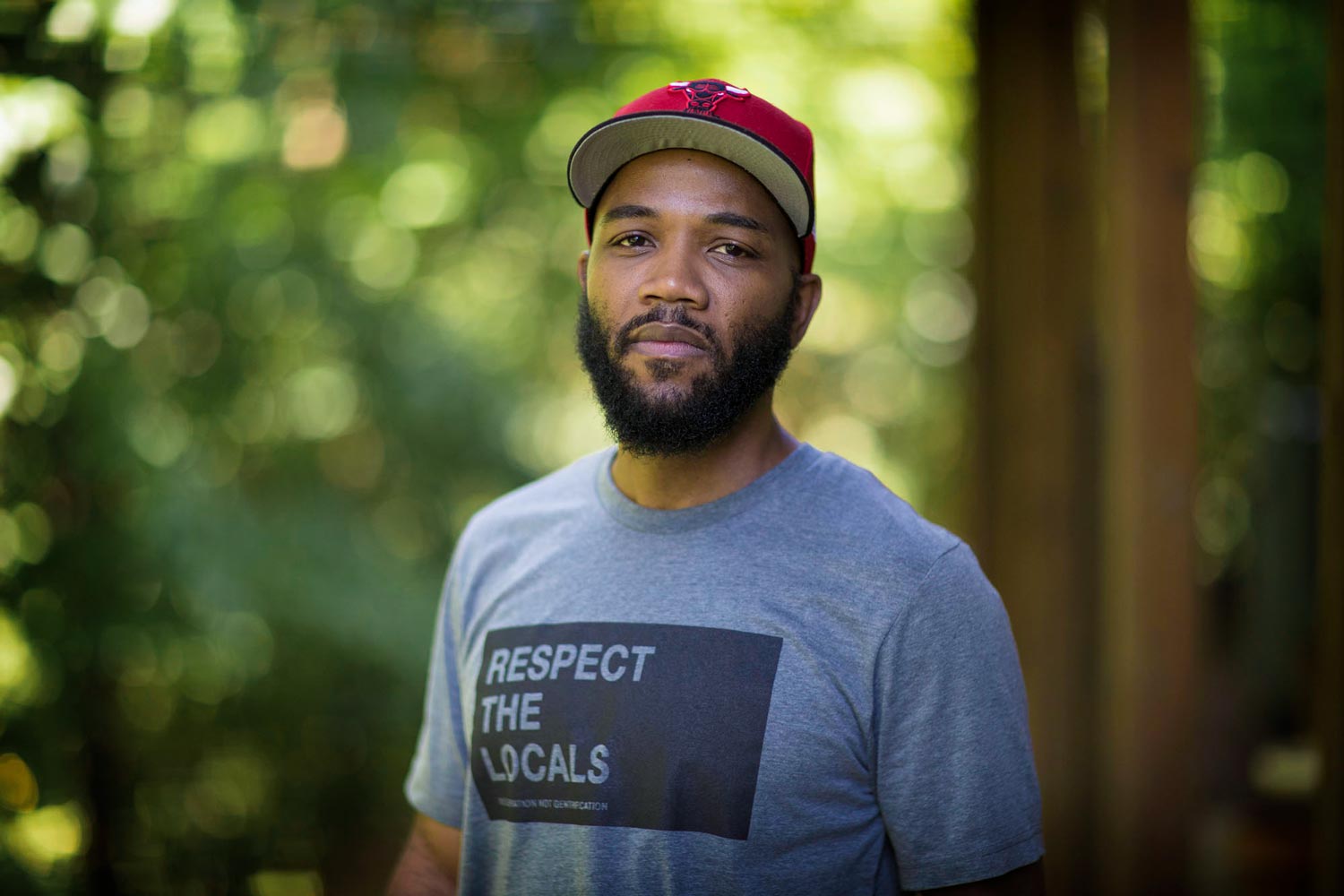 A.D. Carson, UVA assistant professor of hip-hop and the Global South, will lead a workshop, "Musical Reflections on Life in Charlottesville." (Photo by Dan Addison, University Communications)
On Feb. 17, A.D. Carson, UVA assistant professor of hip-hop and the Global South, will present a workshop, stemming from his Rap Lab. Also participating is the PRESENCE Center for Applied Theater Arts, a local group that uses participatory theater, drama therapy and performing arts for personal and social change. He and the group will work with students from the Charlottesville community.
Feb. 24 features three concurrent workshops: "Crafting Spaces of Solidarity and Resistance," comprises three sessions: making found poetry with Sara Brickman, a graduate student in UVA's M.F.A. creative writing program; "solidarity cards" with alumna Destinee Wright; and kintsugi pottery with Ashon Crawley, an assistant professor of African-American studies and religious studies. These workshops will be held from 11 a.m. to 2 p.m. in the Citizen Justice Lab Space in New Cabell Hall room 452. Works created that day will be displayed at the final event on March 2.
Wright, a 2017 UVA graduate with a B.A. in women, gender and sexuality, is a successful small business owner, regional artist and social justice advocate. She began the Solidarity Cards Project after the 2016 election results. While creatively capturing people's feelings and concerns, the project has evolved into an anonymous platform for participants to voice their thoughts about all sorts of social justice and global issues. Wright exhibited the project at the Bridge Progressive Arts Initiative in January.
Brickman said she expects that every participant will gain something different from the Feb. 24 workshop. "My hope is that the workshop will lead participants toward a deeper engagement with the legacy and history of racism, and with their own experiences on Aug. 11 and 12. I believe that there is healing to be had through writing, and also that our process must go beyond individual catharsis and toward a reckoning with our own complicity in the systems that uphold white supremacy, here at UVA and beyond." 
About kintsugi, Crawley said, "The kintsugi practice allows us to ask, 'What can be constructed after brokenness? Is there possibility for beauty after being shattered?'
"Though Aug. 11 and 12 were not the beginnings of a long history of white supremacist violence, the practice of kintsugi will call our attention to considering the way imagination allows us to create after breaking and shattering has been sensed. Kintsugi takes broken pieces and highlights the places of brokenness through color, meaning that we should not hide or obscure the facts of life, the ebbs and flows, the good and bad, but that we should use each occasion to consider alternative formations, alternative possibilities, for flourishing."
Article Information
February 7, 2018
/content/woodson-institutes-august-perspective-creative-responses-calls-body-and-soul