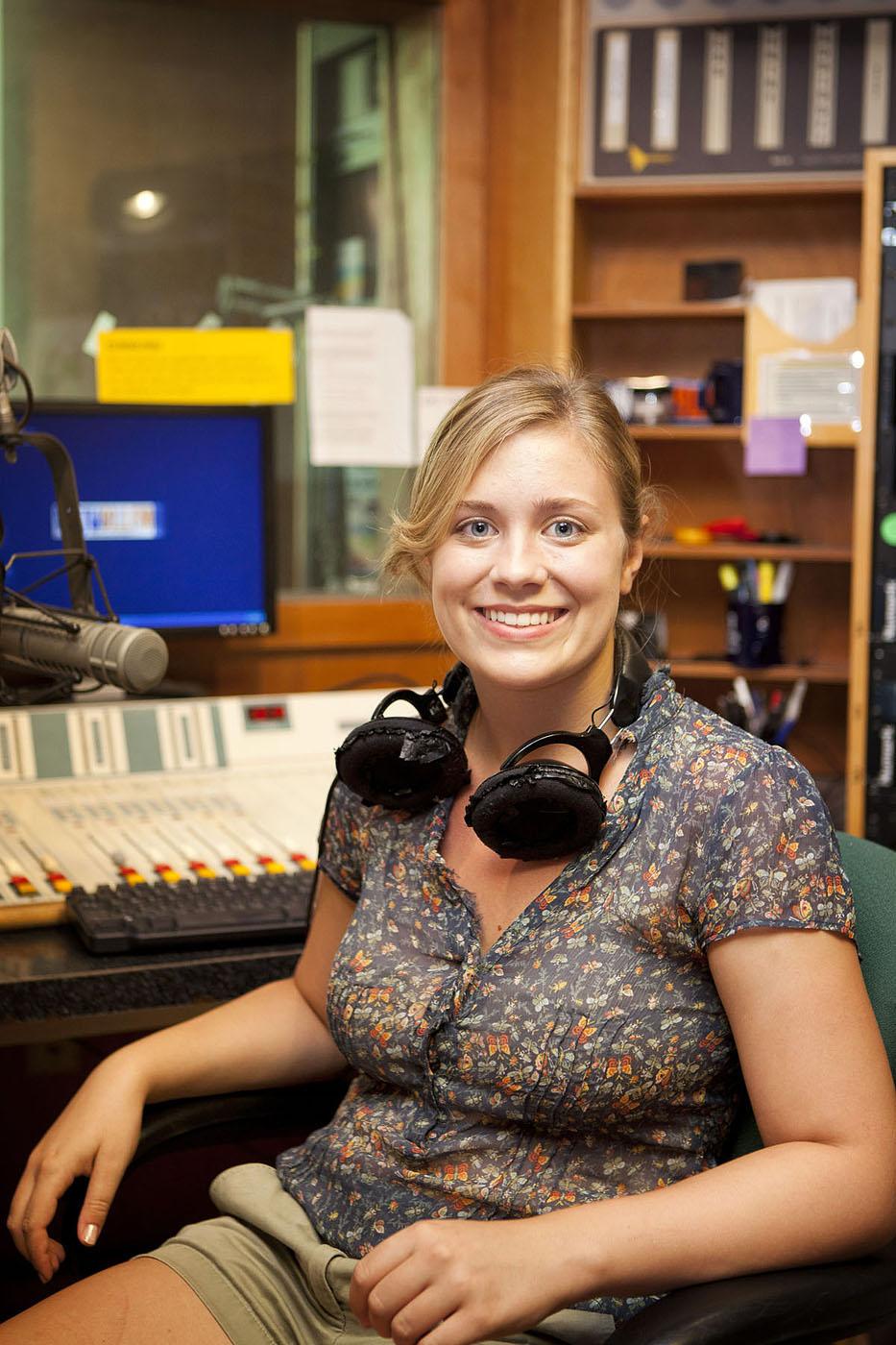 August 23, 2011 — For "Charlie Foxtrot," a disc jockey on WTJU-FM (91.1), the University of Virginia's radio station, the best part of the radio experience is when a truck driver or some other late-night listener calls into her 1 a.m. show, "Mother Popcorn."
Foxtrot – the radio handle of Emma Whittington, a fourth-year comparative literature major in the College of Arts & Sciences – hosts an eclectic WTJU program that takes its name from a James Brown song, but might feature contemporary indie acts like Bon Iver or classics from Herb Alpert and the Tijuana Brass.
"Especially when I play the older stuff, I get a lot more calls from people who say 'I love this song. I used to listen to this when I was younger,'" Whittington said. "That's probably my favorite part about it."
Nathan Moore, who became WTJU's general manager in April, said one of the station's goals for the upcoming year is to increase participation from students like Whittington while maintaining the strong community involvement the station is known for.
The station will host a free welcome-back concert for students at the Chapel on Friday at 8 p.m., featuring local musicians Andrew Cedermark and Sarah White and the Pearls, as well as Roanoke's Eternal Summers. The station also will host a Sept. 9 barbecue for residents of the nearby Lambeth Field Apartments. These events are just part of the WTJU's outreach efforts, Moore said.
"We're planning a dorm drop of 3,500 flyers," he said. "Every room or suite in student housing is going to get one. We really want to get students involved – not only to be listeners, but also to participate."
There are some open on-air spots in different musical genres – the station has rock, folk, jazz and classical departments – and in the news department, but there are also many ways to get involved off the air, Moore said. The station could use help from students interested in marketing or public relations, or in technical areas such digitizing the 40,000-volume CD library or setting up the on-air studio for live musical performances.
Whittington first became involved in the station only a few weeks after arriving at the University as a first-year student. She spent a semester training and substituting before getting her own show.
Working at the station is a way to get a creative thrill from assembling a musical presentation for public consumption, she said, and is also a conduit into the local music community.
"So many people who are involved in the station are also involved in the Charlottesville music scene," she said. "So if you want to get involved, it's a cool way to go about it, because you get exposure to people who are incredibly knowledgeable."
In addition to increasing student participation, Moore said he plans to do more remote broadcasts from around the Charlottesville community. A recent test broadcast during an all-night jazz benefit at Fellini's No. 9 restaurant worked well, he said, and the station is planning to do another Saturday morning from the City Market.
"There's now the possibility for us to do a remote broadcast from anywhere that there is a wired Internet connection, so we can get out there more," Moore said. "It's not just about being visible; it's also about doing community service and helping people come together around a cultural hub."
Such efforts help the station maintain its distinctive footprint in the local community, he said.
"This station is different from so many other stations in that it's not just about, 'Hey, here's our format, and we're just going to push the same 40 songs,'" Moore said. "It's really about having a platform – and our job is to build that platform – from which people share their expertise, passion and skills, and in the process, help the station to serve as a cultural hub."
Moore traces his own involvement in college radio back to his undergraduate days at the University of West Virginia. Afterward, he moved to Madison, Wis., for graduate school and stayed to work at an independent community station and eventually for Free Speech Radio News, a national broadcast.
Moore spent a few months in Charlottesville during the 2008 election, when he served as the national programming coordinator for Pacifica Radio, and said he's glad to be back in the city and at U.Va.
"We were really excited to come back," he said. "I still kind of pinch myself that I've got this job."
The station is in the middle of New Orleans Week, and is planning a jazz fundraiser for the week of Sept. 26.
"We did well in fundraising last year," Moore said. " We need to now maintain that success. It's important that we get as many community members supporting us as we can, and also keep our friends and neighbors close to us."
Whittington said she plans to savor her final year as a disc jockey and hopes to try out some new things, perhaps bringing local or national groups into the studio during "Mother Popcorn."
"It seems like the Charlottesville community itself really values WTJU and there's no reason that the student body shouldn't also," she said. "I think we're always going to be working to make sure that more people know about the station and what it can offer to students."
– by Rob Seal
Media Contact
Director of Media Management and Managing Editor, UVA Today Office of University Communications
rseal@virginia.edu 434-243-3492