The University of Virginia's School of Nursing today announced a $20 million gift from Joanne and Bill Conway to support the enrollment of more than 1,000 students in its programs over the next decade. 
The couple's gift – the largest single gift in the school's history – will help enroll and support more nursing students across two undergraduate pathways in particular: students who transfer into the B.S. in nursing program; and RN-to-B.S.N. students, practicing registered nurses with two-year degrees seeking the personal and professional benefits a baccalaureate degree brings. These students will benefit from scholarship support that will decrease their debt, removing a barrier for individuals seeking a degree.
The gift marks the Conways' third to the UVA School of Nursing. Their previous gifts – totaling $15 million – focused on support and expansion of the school's Clinical Nurse Leader program, ranked No. 2 in the nation by U.S. News & World Report, and established the Clinical Nurse Leader Conway Scholars program.
"This extraordinary gift will have a dramatic impact at UVA, and well beyond," School of Nursing Dean Pam Cipriano, the Sadie Heath Cabaniss Professor of Nursing, said. "In addition to allowing a broader and more diverse body of students to pursue bachelor's degrees, it will help meet a critical need for B.S.N.-prepared nurses throughout the commonwealth and the nation. Study after study has confirmed that patients receive safer care and have better health outcomes when cared for by nurses with a B.S.N. A baccalaureate degree also offers career and economic mobility for nurses, and the opportunity for future advanced practice training.
"This gift is especially meaningful to me," she added, "because of my own experience of being a working nurse who returned to school. I am immensely grateful to Bill and Joanne Conway for their remarkable generosity."
Because retention at the school is high, the School of Nursing has traditionally been able to accept only a small percentage of the highly qualified applicants who apply to the B.S. in nursing program as transfer students. With the Conways' gift, the school will be able to accommodate a greater number of transfers, and develop and launch an accelerated curriculum so these students can complete their bachelor's degrees in two years instead of three, amplifying the program's affordability. Development of this accelerated pathway expands UVA's capacity to enroll more B.S.N. students for their third and fourth years.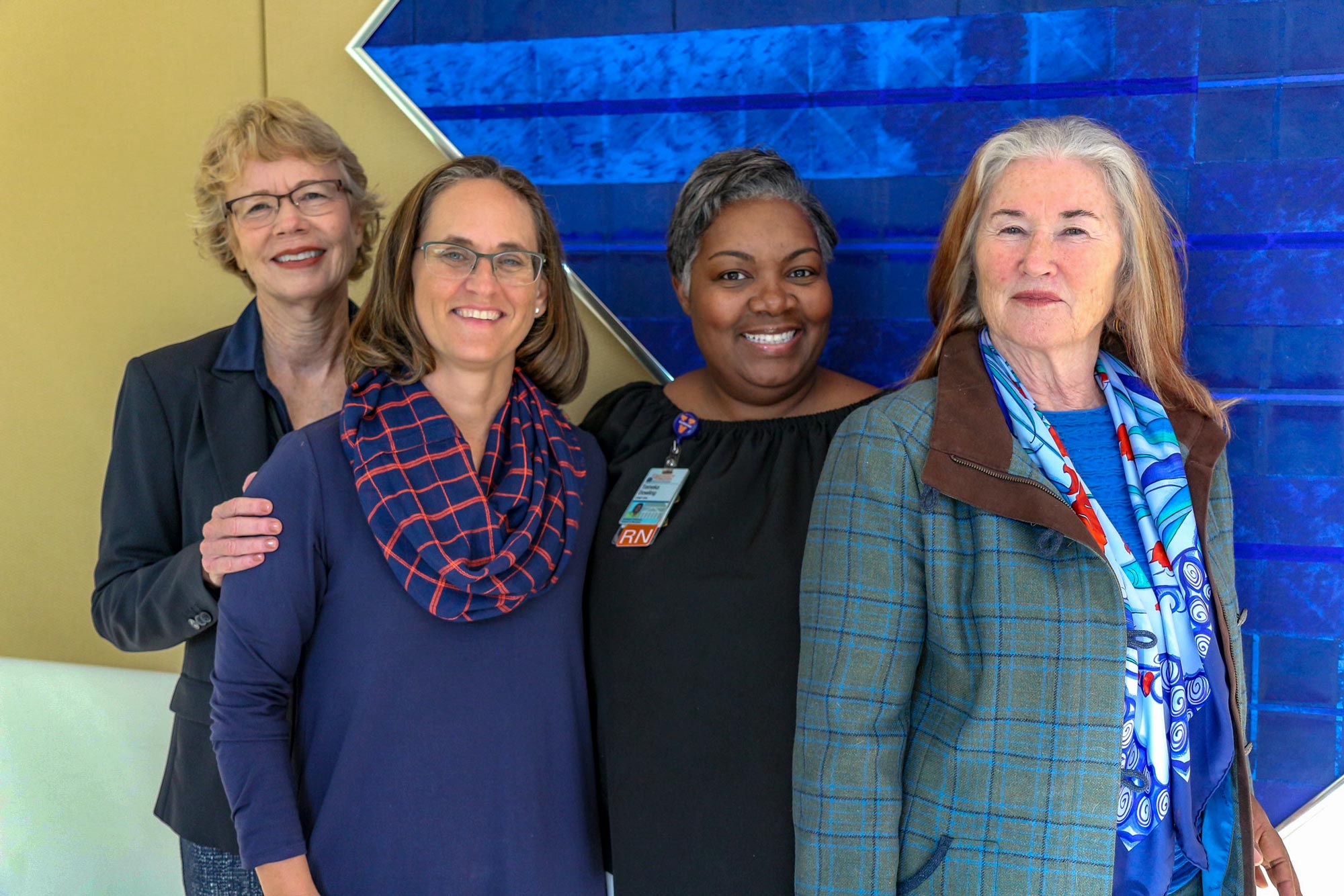 The School of Nursing team that oversees the new Conway grant initiatives includes, from left, Susan Kools, associate dean for diversity and inclusion; Bethany Coyne, assistant professor and BSN program director; Tomeka Dowling, assistant professor and RN-to-BSN program director; and Christine Kennedy, associate dean for academic programs. (Contributed photo)
The Conways' gift will also strengthen the reach of and access to the school's RN-to-B.S.N. program. With the gift, the school will establish satellite sites in Richmond and Northern Virginia, expanding opportunities for nurses throughout the commonwealth to pursue a B.S. in nursing. Already a popular option for working nurses, this expansion will result in tripling the enrollment in the RN-to-B.S.N. program.
An essential portion of the funds will provide for a flexible pool of scholarships and support hiring of educational specialists and community recruiters who will design tailored pathways to help scholarship recipients from diverse and non-traditional backgrounds succeed.
Finally, the Conways' gift will enable the expansion of the school's Mary Morton Parsons Clinical Simulation Learning Center, which provides students and health care professionals access to a variety of safe, realistic clinical simulations to learn and practice care skills with limited consequence and immediate feedback. The school is preparing to convert additional space to accommodate more high-tech simulation, nearly doubling practice space from 9,500 square feet to nearly 18,000 square feet.
"Joanne and I believe that increasing the number of nurses in our nation is a lasting solution to the challenges facing our health care system," Bill Conway said. "We are honored to partner with the UVA School of Nursing to open doors to more students pursuing careers in nursing, and to significantly increase the number of B.S.N.-prepared nurses across the nation."
"Simply put, the world needs more nurses," UVA President Jim Ryan said. "Through their gift, Bill and Joanne Conway will allow us to prepare more nursing students – including those who are working – and ultimately give more patients in Virginia and beyond the world-class care they deserve. I am incredibly grateful for their generosity."
Article Information
January 8, 2020
/content/20-million-school-nursing-gift-will-expand-enrollment-address-workforce-shortages