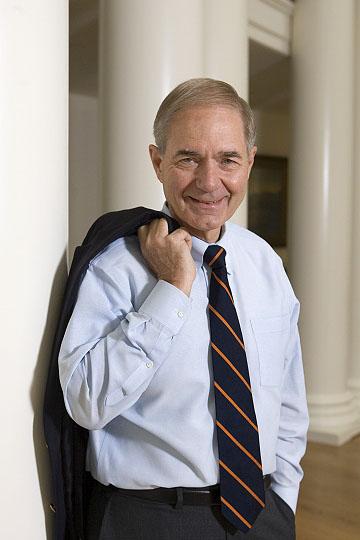 In the closing days of 2010, UVA Today looks back at some of the University's top stories of the past 12 months.
Dec. 21, 2010 — It's probably appropriate that there has been no formal announcement of Leonard W. Sandridge's retirement from the University of Virginia, where he has worked for four decades.
With characteristic modesty, Sandridge worked his way from the ranks of the Audit Department to become executive vice president and chief operating officer. At first, he quietly let it be known that he would retire in December 2010, allowing him to help new President Teresa A. Sullivan ease into her role. She persuaded him to remain a little longer; the new target retirement date is in June, though he will stay on as a part-time adviser for a year afterward.
When he finally does step away, he will leave a major hole to fill. Already, Sullivan is busy redefining the job to parcel out some of the responsibilities that Sandridge handled all by himself.
Here are a few  UVa Today stories that recognized  Sandridge's service to the University and announced a search committee to find his successor.

HR Issues Call for Outstanding Employee Nominations (March 22; announces that U.Va.'s annual Outstanding Contribution Awards have been renamed in Sandridge's honor)
Sandridge Receives General Assembly Commendation (May 19)
Apprentices, Sandridge Honored at Facilities Management Ceremony (July 22)
Sullivan Announces Search Committee to Find Sandridge's Successor (Oct. 13)