Zoe Morse was a high school junior in East Lansing, Michigan, when news of the Flint water crisis hit the headlines in 2014.
"Seeing how close to home that was" – just 46 minutes up Interstate 69 – "yet I was living in such a privileged area not too far away … that affected me," Morse said.
Morse came to the University of Virginia two years later after being recruited to play soccer by UVA head coach and fellow Michigan native Steve Swanson. Since then, she has focused much of her classwork and off-the-field endeavors on the environment.
This year the senior captain, who is majoring in global public health and minoring in environmental science, helped start Green Athletics, a student-run group that collaborates with UVA's Office of Sustainability and the athletics department to encourage and support sustainability across all athletic platforms.
The club – which has organized zero-waste events, reduced water and energy consumption at sports venues and collaborated with Charlottesville residents on projects such as sports gear donations – is one of Morse's many passions.
Morse is also a member of the Student Athlete Mentors, the primary substance abuse prevention program in the athletic department, which also focuses on athletes' mental health and body image, among many things.
How does Morse – a defensive stalwart who has started 83 of the 84 games the Cavaliers have played in her four years – have enough time in the day?
"It's tough scheduling out each week," she said, with a chuckle, "but I just fill my time with things that I care about. When I'm passionate about something, it's not hard to fit into my schedule."
Here are eight things that Morse has loved most about her time at UVA.
Living on the Lawn
"It's been pretty freaking cool!" Morse said. "Last year, I lived in a house with seven of my other teammates, so it was a very different experience than the one I knew I would have on the Lawn. Going into it, I was a little sad about leaving them, but I knew I'd be coming into a whole new community that I'd be excited to meet and get to know. And I've had great experiences.
"Being so central to everything has been an awesome experience. I can come back to my room at any time during the day and walk by people that I know and I get to interact with more people at University, in general, on a day-to-day basis."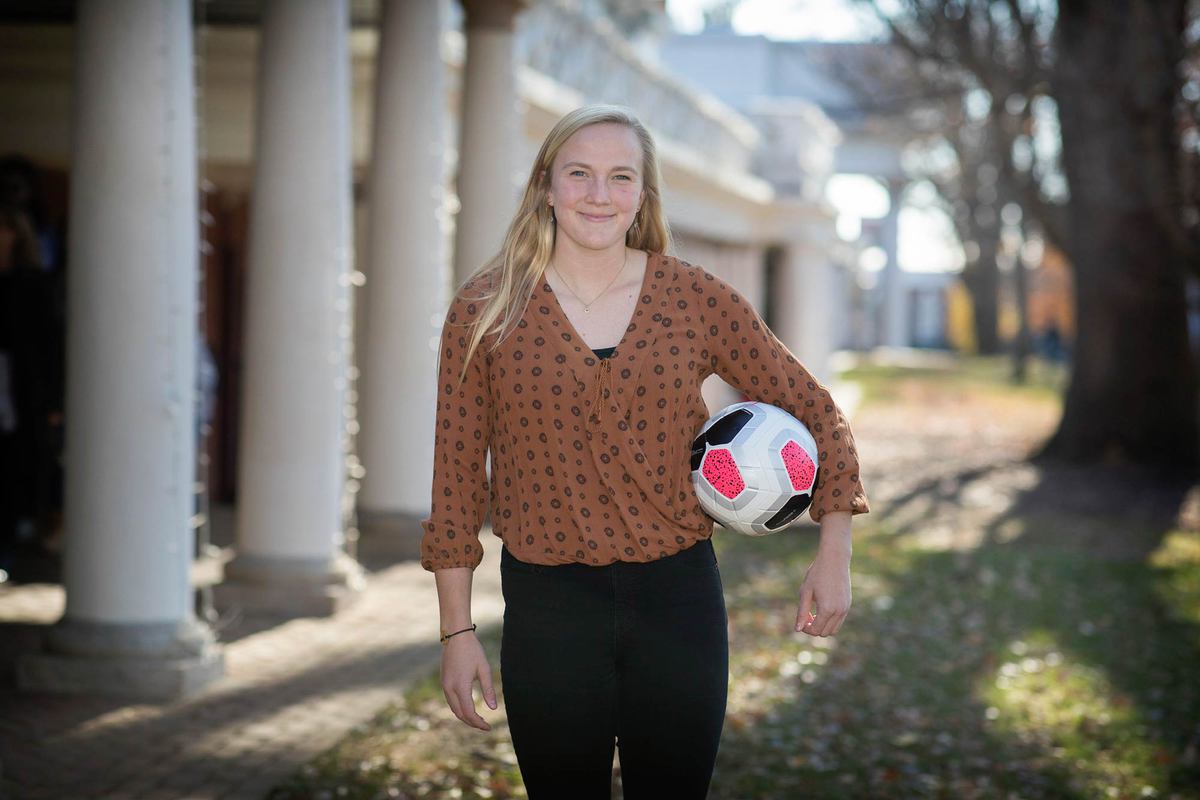 Morse said she takes great pride in being a true student-athlete. (Photo by Dan Addison, University Communications)
Courses
"One of my favorites has been 'Atmosphere and Weather' in the environmental science department," Morse said. "It's a very science-heavy class centered on learning about how our world and atmosphere actually work, which has been really exciting for me.
"I was also in a global sustainability class, which pretty much operates as a set of guest speakers. Each lecture had a new speaker discussing a certain topic that they specialized in. It was really cool to see people around the University doing work around climate change and the environment – and coming at it from different veins of study."
Professors
"My second year, I had the opportunity to do an independent study with professor Fred Damon in the anthropology department and got to work really closely with him," Morse said. "It was focused on topics related to the classes I was taking. I think building a close relationship with a professor that early in my time at UVA has been really rewarding.
"And then professor Brooke Lehmann in the Batten School – I took a social policy class with her. She knows the world of soccer very well and, along with her husband, who's a physician at the University, has been a huge supporter of our team. They've been great people to talk to about options moving forward in the future."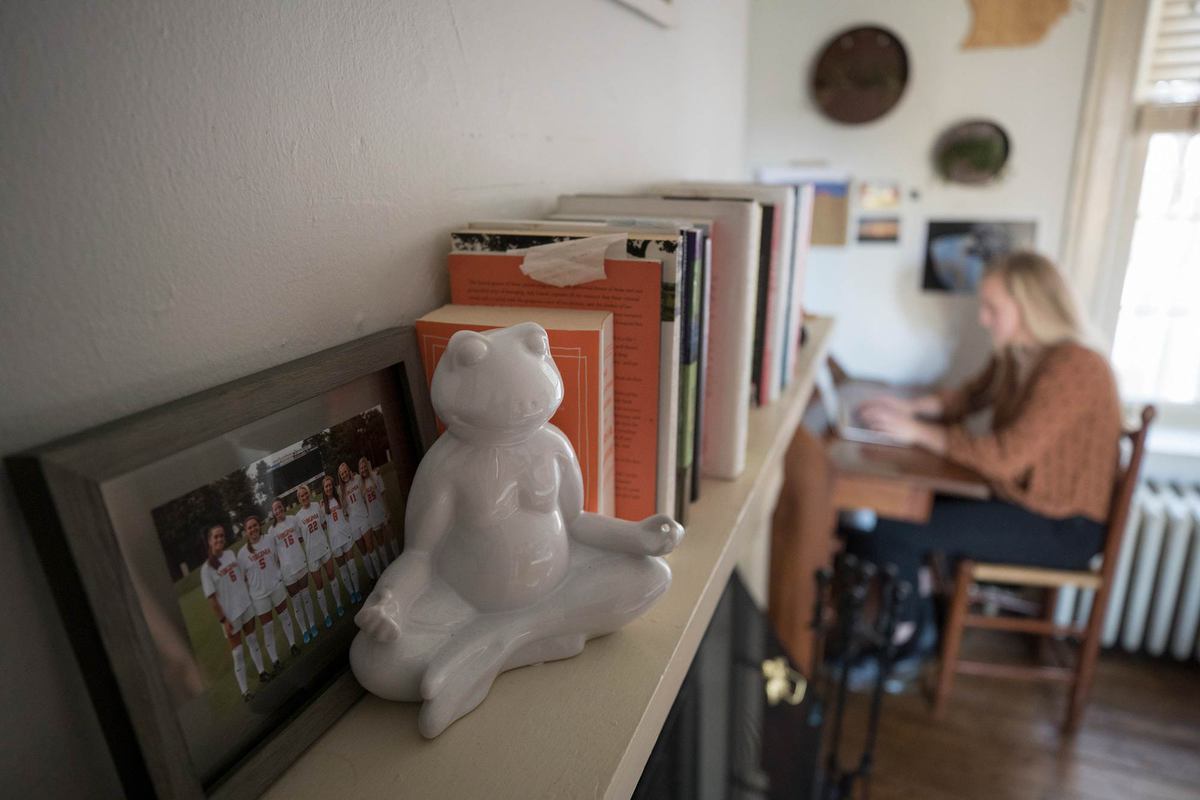 Morse was inspired to live on the Lawn after visiting a former teammate's room. (Photo by Dan Addison, University Communications)
Classmates
"In every class, you get to experience a new group of people who have new perspectives on topics you're studying," Morse said. "I think what's also cool about UVA is the class size. We often find ourselves in 15- to 20-person discussion settings, rather than huge lecture halls, and get to interact even more closely with each other."
Teammates
"I love my team, all the girls on the team, and we get to go through a lot together," Morse said. "Whether those experiences are successes or not, we're by each other's sides the entire time. Getting to build those relationships over the course of my four years has been a beautiful thing."
Klöckner Stadium
"Every time I walk up for a game or anything, it's definitely a special feeling," Morse said. "As I'm getting closer to the end of my time here, I've become even more aware of how special it is and how much I'm going to miss it."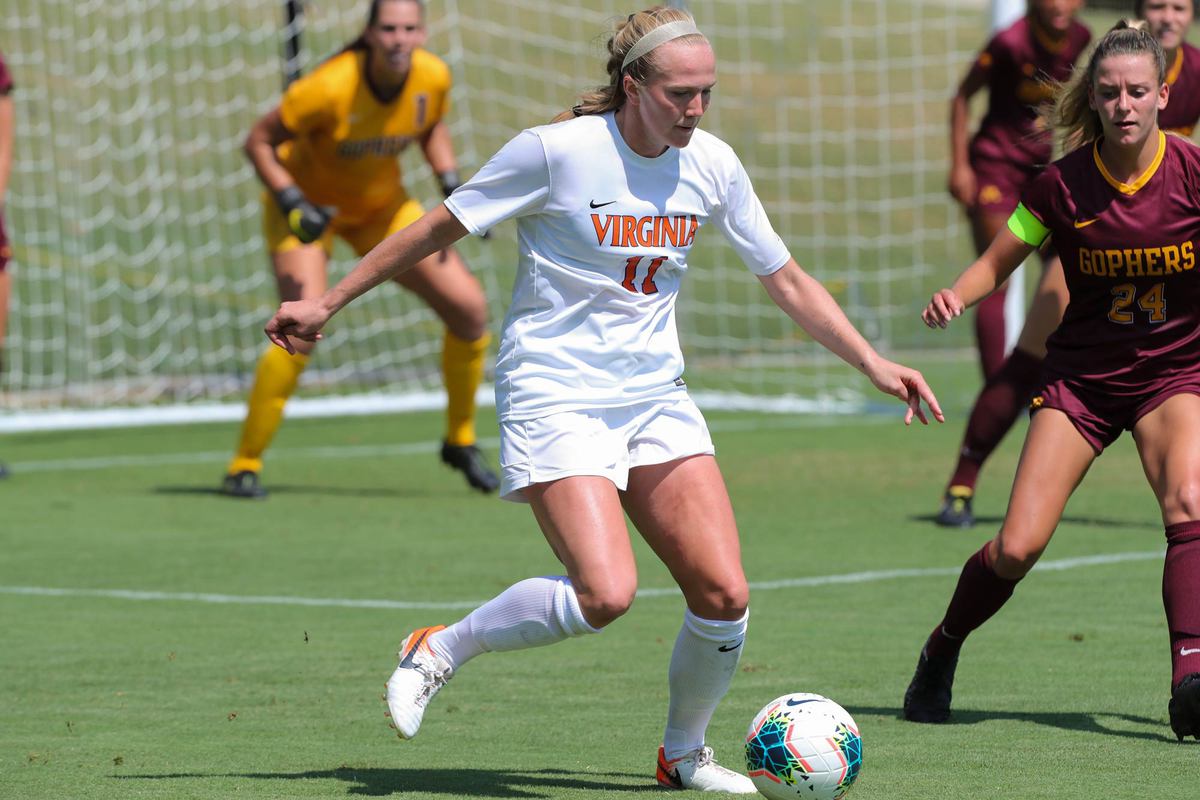 UVA head coach Steve Swanson says Morse, a defender, is good enough to someday play on the U.S. national team. (Photo by Matt Riley, University Athletics)
Head Coach Steve Swanson
"He went to Michigan State, and I grew up right there by their campus – so we have a connection there," Morse said. "Steve is an incredible coach. Just to have the opportunity to play under somebody like that teaching you every day to be a better person and a better player has been awesome.
"But then having the Michigan connection is really cool, too, because each year during the preseason we go to Michigan for about a week to train. Northern Michigan, in my personal opinion, is one of the most beautiful places in the world. To be able to go there with my teammates and play in one of my favorite places has just been incredible."
Student-Athlete Experience
"It's [a] cliché about how [universities] want you to be a student-athlete, not an athlete-student, but UVA really does give you a space to pursue your interest outside of sports while also allowing you to be the best athlete, the best person you can be," Morse said.
"Our athletic department is really trying to help you be well-rounded – a good person, a successful student and a successful athlete. And I think that's something that I'm really proud to say that I've come from."
Article Information
November 20, 2019
/content/8-things-soccer-star-zoe-morse-loves-most-about-uva